Known as the Capital of the Snowy Mountains, Cooma is a great base for exploring the roof top of Australia. There are lots of fun and interesting things to do in Cooma from galleries and museums to nature walks and spectacular lookouts.
Disclosure: Please Note That Some Links In This Post May Be Affiliate Links, And At No Additional Cost To You, We Earn A Small Commission If You Make A Purchase. Commissions Go Toward Maintaining The Curious Campers Website.
Getting to Cooma
It is about 400km to Cooma from Sydney and the drive takes a bit under 5 hours. A visit to Cooma from Canberra is a good day trip. Cooma to Canberra is about 90 minutes and it is a nice drive past Namadgi National Park and on to the Monaro Plain. If you are staying closer to the ski fields, Cooma is 45 minutes from Jindabyne and 70 minutes from Thredbo.
Things to do in Cooma
Snowy Hydro Discovery Centre
Since 1949 the Snowy Hydro Electric scheme has played a huge role in the history of the region. The project brought thousands of workers to the area to build the 16 dams, 145 kilometres of tunnels and aqueducts and roads. How it was achieved, the stories behind the project and how it operates today are all displayed at the Snowy Hydro Discovery Centre located on Yulin Road just off the Monaro Highway on the outskirts of Cooma.
The Snowy Hydro Discovery Centre has interactive displays, theatre experiences, models and artefacts that bring the history and technology behind this massive engineering feat to life. No visit to Cooma is complete without a stop here.
Entry is free and there is plenty of parking for vans and campers. The centre is open weekdays 8.00am – 4.30pm and weekends and public holidays 9.00am -2.00pm. There is also a lovely café which has great coffee, sausage rolls and sandwiches.
Tadeusz Kosciuszko Monument
Not far from the Snowy Hydro Discovery Centre, this is an attraction rather than a thing to do in Cooma. But, if you are driving into Cooma from Canberra, you will pass a rest stop on your left as you come into town. Not only is it a pretty place to stretch your legs before you explore Cooma, but you will also find the Tadeusz Kosciuszko Monument here.
The monument was a gift from the Federal Council of Polish Associations to Cooma to honour the Polish General Kosciuszko. Mount Kosciuszko was named after him by a figure we now associate more with the Australian outback than the high country – Paul Edmund de Strzelecki.
Mount Gladstone Lookout
If you enjoy a view or are heading south out of Cooma, it is worth the short stop at the Mount Gladstone Nature Reserve and Lookout. The turn off is on your left about 7 minutes out of Cooma. The drive takes you up the hill and you park just metres from one the viewing platforms.
There is a wooden viewing platform, or you can climb a small set of stone steps to the turret-like viewing area that has a brass compass showing the direction of other towns. There are sweeping views of the Snowy Mountains and Monaro plains. If you follow a walking track about 200m to the other side on Mount Gladstone there is a second lookout with views of a couple of extinct volcanos rising above the Monaro Plains.
Mount Gladstone Reserve is also a popular mountain bike riding area, maps are available at the visitor centre. There are picnic tables and toilets at the lookout carpark. We also passed Miss Heidi's Tea House at the turn off to Mount Gladstone. It was closed when we went by, but apparently has nice cakes, crepes and strudel.
Nanny Goat Hill Lookout
Nanny Goat Hill Lookout is right in Cooma, access is via a couple of Cooma backstreets, but our GPS got us there no problems. Also part of the Lambie Town Walk, the carpark is right there by the lookout. There are great views over Cooma. Kids will like the nanny goat sculptures which were done by artist Chris Grahm. He was also responsible for the mosaic in Centennial Park.
Cooma Visitors Centre
Definitely worth popping in here to get maps of the local area including maps of Mount Gladstone bike tracks, and some of the walks in Cooma including the Lambie Town Walk and the Lambie Gorge Walk. The Cooma Visitors Centre is open 7 days, 9.00am to 3.00pm.
Centennial Park
Centennial Park is in the heart of Cooma, the gardens are a great place to relax for lunch and kids will love the playground here. There are also several attractions dotted around the park.
Avenue of Flags
The Snowy Mountain Hydro Scheme brought together a workforce from around the world. The Avenue of Flags honours the many countries that the workers came from to work on the project. Since its original construction in 1959 with 28 flags to celebrate the 10th anniversary of the Snowy Hydro project, the avenue was expanded to mark the 50th anniversary and added the flags of 12 more countries to the display.
Cooma Sculptures
Centennial Park also contains a couple of sculptures. One made by sculptor Ian McKay honours the Man from Snowy River by Banjo Patterson and the other is by local artist Rix Wright called The Shearer..
The Cooma Mosaic Timewalk
It is hard to miss these colourful works of art that were created to portray the many facets of Cooma's history since 1823. Designed and created by local TAFE students for a Bicentennial Project, they depict everything from Cooma's Aboriginal heritage to the businesses, industry, natural environment and significant people in the region.
Visit the home of Birdsnest
This will likely only appeal to about half the people who read this list of things to do in Cooma, but for that half of our audience who know about the Birdsnest brand of women's clothing, this is a must do Cooma Attraction. Birdsnest are an online store that seem to be able to send out with amazing speed a whole bag of stuff that you select online (and we can speak from experience how fast they deliver, it's amazing!).
Of all places to have their HQ and only actual store, it happens to be in Cooma. So, anyone who is a customer of theirs can see their impressive warehouse, where the orders get packed and even do some shopping. Loyal Birdsnesters will love it!
They are open weekdays 10.00am – 5.00pm and Saturday 10.00am – 2.00pm and you'll find them at the top of the Main Street (Sharp Street).
Southern Cloud Memorial
Stopping by here is another quick but interesting thing to do in Cooma. You can't miss the striking Southern Cloud Memorial on the corner of the main street, Sharp Street, and Boundary Street that commemorates this ill-fated flight. The aeroplane went missing in 1931 on a flight between Sydney and Melbourne. It was only found 27 years later during the construction of the Snowy Mountains Hydro Scheme.
The memorial contains pieces of the wreckage behind a cage wall and features a pair of 13m long, wing-like arms. It is not only an interesting thing to look at, but there is also an audio presentation which you can hear by pressing the 5 buttons on the side of the Aviation Pioneers Memorial plaque. It might only be a 10-minute stop, but it's worth pulling over for or checking out on the Lambie Town Walk.
Cooma Galleries
Charles Davis Gallery
If you love the Snowy Mountains or wildlife, you need to check out the Charles Davis Gallery. Based in an old church, the restored building is the perfect place to see his great work. The landscape is beautiful already but his images of wombats, echidnas and birds against the snow are fantastic. If you don't want to splurge on a print, there are smaller things to buy, we ended up with a couple of fridge magnets and who knows, when a wall becomes available, we might get something bigger, loved his work.
Raglan Gallery and Cultural Centre
For more traditional art, the Raglan Gallery is on Lambie Street which also features on the Lambie Town Walk. You never know what you will see here, the gallery features exhibitions of different regional artists. The gallery is open from 10.30am to 3.30pm Wednesday to Sunday.
Cooma Museums To Visit
NSW State Corrective Services Museum
One of the great things about regional towns are their hidden surprises and that is the case here. Sure, Cooma has had a prison since 1873, but this is still the last place we expected to find such an amazing museum. There is a $2 entry fee (cash only) so have some gold coins handy, and it is money well spent because there is an eye-popping amount of amazing stuff to see inside.
From the replica of the modern-day cell to handcuff and padlock collections, displays of improvised weapons and escape tools, the spooky padded cell, uniforms and policing equipment and the eerie gallows, you walk from one fascinating display to another.
We got chatting to a serving officer who was working in the museum, and we honestly could have listened to him for hours. Believe it or not, kids will love it here, the guides are so interesting and there is so much to see, it really is a behind the scenes look at a world most of us will hopefully never enter. The NSW State Corrective Services Museum is open Monday to Saturday from 8.30am – 3.15pm. allow 1 to 2 hours to have a look around.
Cooma Car Club Museum
If you want to get to all the best things to do in Cooma, make sure you are in Cooma on a Tuesday. 'Shame you're not here on Tuesday' was something we heard more than once and the Cooma Car Club Museum is the first reason why Tuesday is a good day to be in Cooma.
Featuring a collection of historic cars, motorbikes and trucks, motoring memorabilia, toy cars and an authentic 1950s style diner, the Cooma Car Club Museum is one not to miss, especially if you like your transport history. Every car museum we have been to has a great vibe and judging by the disappointment several locals expressed that we in Cooma on the 'wrong day' makes us regret not seeing this place even more.
So, the Cooma Car Club Museum is open on Tuesdays 9.00am – 1.00pm and on the first Saturday of each month from 9.00am – 3.00pm. Entry is $5 per person, children under 12 are free.
Cooma Monaro Railway Museum
As it turns out, Tuesday is also when the Cooma Monaro Railway Museum is open – as well as Wednesdays and Saturdays 10.00am – 3.00pm. Of course, we swung by Cooma on a Thursday and Friday so really missed the chance for trip down transport memory lane.
Located at the historic Cooma Railway Station, the Cooma Monaro Railway Museum is a work in progress. There are no running trains at present as the lines have fallen into disrepair, but the station has been redeveloped and houses displays. If you are in Cooma on the right day and are a train buff, it could be worth the small entry fee to for a look at what the passionate volunteers are up to.
The museum is also open on the second Sunday of each month when the precinct hosts the monthly CMR Railway Fresh Produce Markets.
Cooma Walks
If you enjoy exploring an area on foot, there are several walks around Cooma that take you both around the town and into the surrounding bushland and reserves. Some are better marked than others, so it will pay to get a map from the Information Centre in Centennial Park before you set off.
Lambie Town Walk
For an insight into Cooma heritage and colonial history, take a stroll on the well-signed easy 5km Lambie Town Walk. It is broken into 3 districts which you could drive between if you are dodging the weather or have a particular area of interest.
The Court House District not only includes this striking building but also the Cooma Gaol, the spectacular Cenotaph and the post office. The Lambie Street District contains a dozen building, mostly homes on Lambie Street that were all connected to significant people and events in the tow's history. And finally there is the Church District with the lovely Anglican, Uniting and Catholic Church buildings.
There is a map and building guide available from the Information Centre that guides you along the 24 sites. The Visitor Information Centre is also a good place to start the walk.
Lambie Gorge Walk
This moderate 3km, 45 minute walk starts near the Southern Cloud Memorial. Follow the cement path behind the show grounds, past the bowls club until it ends at the scrub where you might spot an obscured Lambie Gorge sign in the long grass. From here, follow the red trail markers over uneven ground and rocks towards a lookout over Lambie Gorge.
The view from the lookout is ok and there is some signage along the way at an experimental rock bolt site but the path. The trail feels a bit neglected, the signage is poor in places and we had to beat a path through weeds behind the bowls club but if you want to stretch your legs the Lambie Gorge walk is okay.
Lambie Bush Reserve
This is where things get a little unkempt. We had hoped to get into the bush to Ayres Rock Lookout but this trail is in a poor state of repair (as of January 2023). The entrance including a little playground at the end of Vulcan Street was overgrown and there were no trail markers.
We ventured in a little way and met a local coming out who let us know the trail markers didn't improve. He kindly offered directions but as they became increasingly long we decided to give this walk a miss.
We didn't get to North Ridge Reserve but chatting to people in Cooma this is the spot to try for a bush walk. Maps and trail markers are all in much better order and you can walk your dog through here too.
Things to do near Cooma
If you are in Cooma for a couple of days, there are a couple of things to do near Cooma but before you get to Jindabyne or Canberra.
Macenmist Black Truffles & Wines
If the thought of truffles makes your mouth water, drop by Macenmist Black Truffles in Bredbo north of Cooma. Go on a truffle hunt or have a truffle brunch.
Shut The Gate Wines & Little Grocer
Head to Berridale 25 minutes south of Cooma to explore the gourmet treats and wines at Shut the Gate Wines. There is a lovely garden area and cosy wine tasting room. The gourmet grocery has a delicious range of nibbles and condiments to buy too.
Go for a Scenic Drive to Dalgety
If you have made it Berridale it is worth taking the scenic route back to Cooma via Dalgety. It is the only NSW town on the Snowy River and has several historic buildings and a nice walk along the river where you might spot a platypus. The drive back to Cooma across the Monaro Plains is spectacular for it's rugged and windswept beauty.
Places to Stay in Cooma
If you enjoyed this story you might also like:
Jerrabomberra Wetlands| Mt Kosciuszko Walk | Autumn in Australia
Like it? Pin it for Later…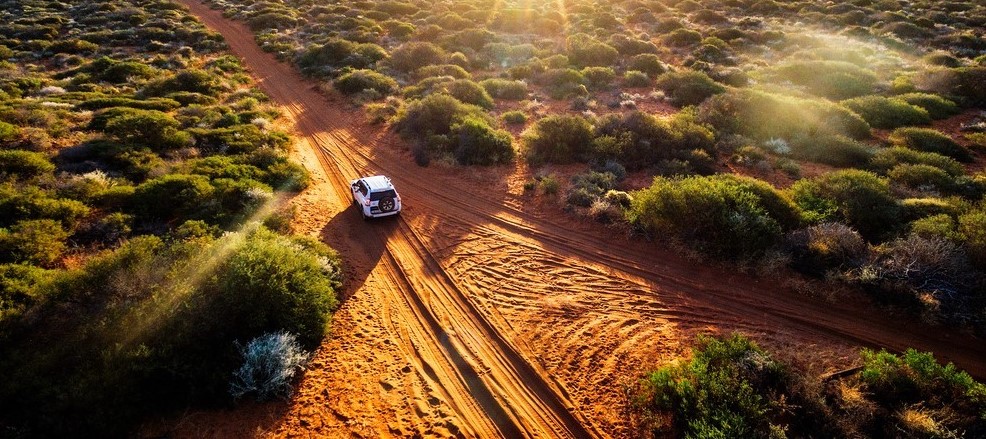 500 THINGS TO DO
Join our mailing list and receive our Free Top 500 things to do in Australia. If you love the Australian Outdoors download this list and keep it handy when you are planning a weekend away or a road trip around Australia.
Recent Posts