Where can you swim in Port Douglas? This beautiful holiday town in tropical north Queensland is surrounded by beautiful beaches but where can you safely swim? This guide to Port Douglas beaches tells you which beaches around Port Douglas are patrolled and have stinger nets. We'll also let you know what facilities are near by and if there are any nearby attractions.
Disclosure: Please Note That Some Links In This Post May Be Affiliate Links, And At No Additional Cost To You, We Earn A Small Commission If You Make A Purchase. Commissions Go Toward Maintaining The Curious Campers Website.
Can you swim at Port Douglas Beaches?
The beautiful warm North Queensland weather makes the idyllic palm-lined beaches a tempting place to cool off and relax but there is a reason you don't see hundred of people in the water. Stingers and crocodiles are present in northern waters.
Saltwater Crocodiles
There are plenty of saltwater crocodiles in the estuaries and creeks around Port Douglas. You just have to go to the Mowbray River bridge at low tide or go on the Port Douglas river cruise to see them. But are they spotted around the Port Douglas beaches? The answer is yes. It is not an everyday occurrence, but they are around so whether you play the odds or not is up to you but there are warning signs there for a reason. Be Crocwise!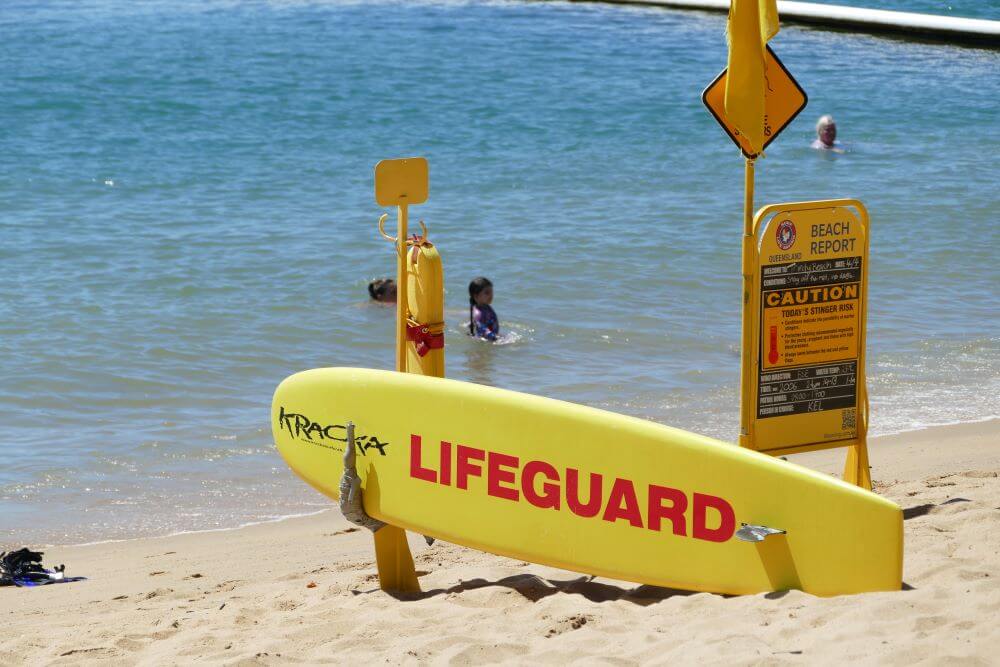 Stingers
Collectively called 'stingers' this group of nasty jellyfish which includes box jelly fish and the smaller Irukandji, are found in the water from November to May. They are still around outside of these months but in far fewer numbers. The best way to avoid them at the beach is to swim within the patrolled netted areas. Outside of these areas you will want to wear a full length stinger suit.
Port Douglas Beaches with Stinger Nets
Four Mile Beach (in Port Douglas)
Ellis Beach (35 minutes from Port Douglas)
Palm Cove (40 minutes from Port Douglas)
Or swim in the freshwater at Mossman Gorge (20 minutes from Port Douglas)
Port Douglas Beaches
Four Mile Beach
Four Mile Beach is the main beach in Port Douglas, and it stretches from the end of Macrossan Street along the Esplanade past a few resorts including Beaches Port Douglas, By the Sea Port Douglas and the imposing Sheraton Grand Mirage.
Four Mile Beach does have a stinger net which is set up near the Port Douglas Surf Club. There are public toilets here and you can grab a snack from The Surfy Bistro. There is parking around here or it is a short walk along the beach from the Macrossan Street End.
Even if you don't get in the water, Four Mile Beach is a beautiful place for a beach week. At the Macrossan Street end you can also access the Four Mile Beach Cliff Walk to Flagstaff Hill Lighthouse. The walk has great views down Four Mile Beach. Or for a quiter spot head to the southern end of the beach to Four Mile Beach Park where you'll also find a playground and public toilets.
Pebbly Beach
Pebbly Beach is about 15 minutes south of Port Douglas. There is no stinger net here, in fact you will have to pull off the side of the Captain Cook Highway to have a look around but it is worth the stop. There is no sand here, the entire beach is made of smooth rounded pebbles that clatter together musically as the small waves wash on to them and retreat. There are no other facilities here but it is worth stopping for a while just to hear the sound of the water on the pebbles.
Oak Beach
Oak Beach is a kilometre or more of beautiful golden sand beach just 15 minutes south of Port Douglas. It is just around the corner from Pebbly Beach. The two very different beaches are separated by the privately run Thala Beach Nature Reserve.
No stinger net here either but with the Grants River mouth at one end, rocky headland at the other and rainforest and reef either side of you, it is a lovely spot for a walk.
Pretty Beach
The name says it all really, and Pretty Beach not only lives up to its name, but it is also a pretty tricky to find. Pretty Beach is about 15 minutes south of Port Douglas. You go past Pebbly Beach and continue about 1.5km past Oak Beach then watch for the Captain Cook Highway to veer right.
Near this bend keep an eye out on your left, the sea side of the car, for the start of a dirt road – this is the access to Pretty Beach. There is just a short drive on the dirt and a short walk from a little car park area to the beach. The entrance to this small, secluded beach is framed by a couple of tall palms. It's a beautiful spot, you'll feel like you have your bit of tropical paradise to yourself.
Ellis Beach
Ellis Beach is just over 30 minutes south of Port Douglas and it is just stunning. The rainforest meets the sand here with beach lined with a mixture of palms and vine covered strangler figs. The 1km long beach has a patrolled stinger net. There are views of Double Island, which you can access from nearby Palm Cove – the kayak turtle tour is a beauty.
There is not a lot in the way of facilities here besides some public toilets and some accommodation but Palm Cove is just a few minutes away if you want some supplies. The sheltered coast here and beautiful views make this one of the loveliest beaches near Port Douglas.
Wonga Beach
After a trip to Mossman Gorge, we decided to head a bit further north and have a look at Wonga Beach. This little town is about 30 minutes north of Port Douglas. Just on the corner of Marlin Drive and the Mossman Daintree Road is the entrance to a small reserve with a playground and access to the beach.
It is a lovely long beach but for our visit the tide was out – along way out so there was a lot more sand than water. Still, for kids there was plenty of room to run around! There are no stinger nets at Wonga Beach, and there was a sign advising that there had been a recent croc sighting.
Wangetti Beach
Wangetti Beach is another beach stop south of Port Douglas with palm trees and great views of the rainforest coming down to the coast. Look for the turn off shortly after the Rex Lookout about 30 minutes south of Port Douglas. There is no stinger net or other facilities at Wangetti Beach, but it is a beautiful place to take in some far north Queensland views.
One thing to look out for at Wangetti Beach are hang gliders. Air Play Hang Gliding run flights from the nearby Rex Lookout and they land at Wangetti Beach. Hartley's Crocodile Adventures is also just a couple of minutes from Wangetti Beach, it's a great way to have a safe, up close croc experience.
Palm Cove
If you are looking for a miniature version of Port Douglas then you will find at Palm Cove – and there is a fantastic beach at Palm Cove too. Palm Cove Beach is 40 minutes south of Port Douglas. There is a stinger net set up so you can not only enjoy the picture-perfect tropical coastline, but you can also slide into the water to cool off too.
There is plenty of accommodation and places to eat at Palm Cove so if you come down here as a day trip from Port Douglas you oant be wanting for much. It is also the access point for Double Island, there are kayaking tours from Palm Cove.
Places to Stay in Port Douglas
If you enjoyed this story you might also like:
Best Queensland Waterfalls | Mossman Gorge Walks | Cairns to Port Douglas Drive
Like it? Pin it for Later…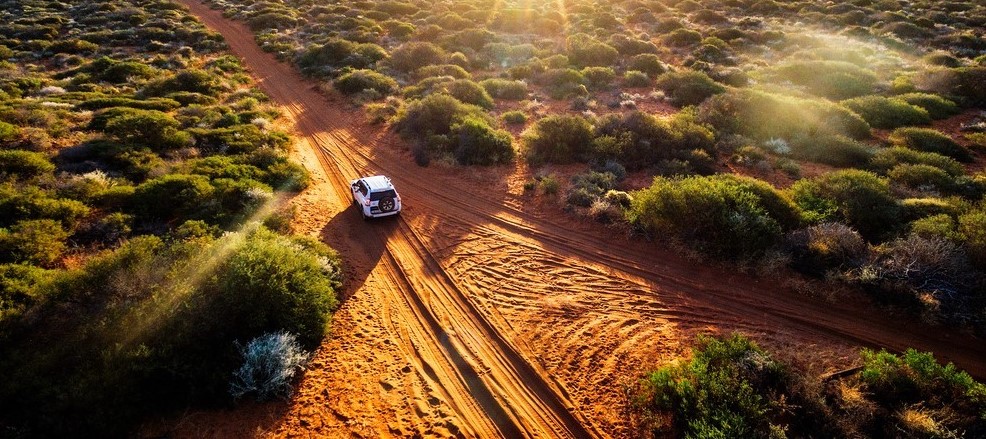 500 THINGS TO DO
Join our mailing list and receive our Free Top 500 things to do in Australia. If you love the Australian Outdoors download this list and keep it handy when you are planning a weekend away or a road trip around Australia.
Recent Posts