Our Daughter and Son-In-Law were about to head off on an eight month trip around Australia and we were looking for a suitable farewell gift. We decided on a Nakie Hammock. We met them at the Mount Lofty Botanic Gardens for a picnic and to try out the hammocks. To say that the Nakie Hammocks were a hit was an understatement! The tricky bit was getting them out of the hammocks when it was time to go home.
Disclosure: Please note that some links in this post may be affiliate links, and at no additional cost to you, we earn a small commission if you make a purchase. Commissions are appreciated and go toward maintaining the Curious Campers website.
Super Easy Set Up
We were pleasantly surprised just how easy the Nakie Hammocks are to set up. With the straps and carabiners there is no need to hope you can remember to tie a good knot. The adjustable straps means you can set up between trees of varying widths. Trees can be anywhere from 2.5m – 4.5m apart. It only takes 1-2 minutes to set up your hammock. We made a timelapse video above and actually had to slow it down as it was too quick! 
Comfy & Fits Two
While Nakie Hammocks are designed to hold two people and up to 300kg, we decided to buy them one each. We figured if you actually wanted to sleep under the stars, it might be more comfy not waking up every time the other person moved! The fabric is light, soft and breathable making it easy get a good night sleep.
The kids already have plans to throw a hammock in their backpack when they head out on a hike so they have a comfy chair to relax in at their favourite lookout or waterfall.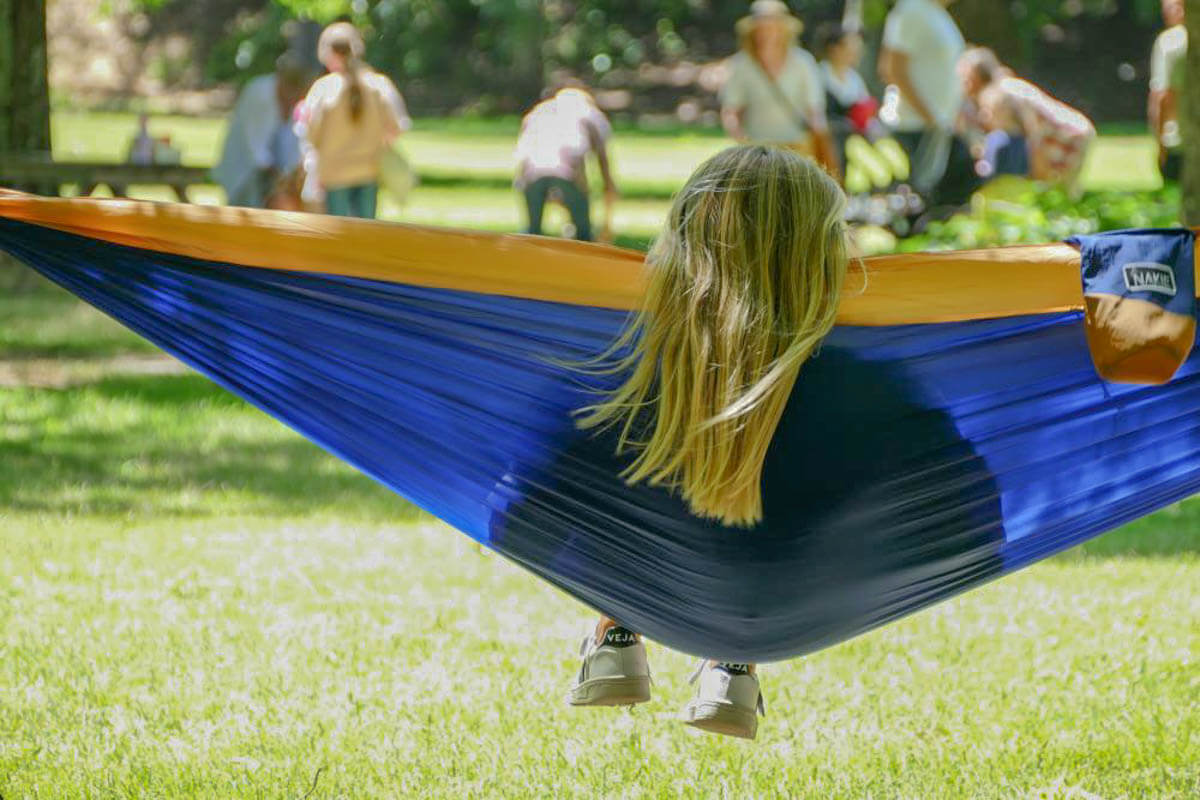 Eco Friendly Nakie Hammock
Nakie uses 37 recycled bottles to make each hammock. Nakie is also committed to reforestation. They plant 4 trees for each hammock purchased and have already planted over 150,000 trees! One of the poorest countries in the world, Madagascar has been chosen for a 5 year reforestation project.  The trees are planted by local villagers which both provides employment and re-establishes fruit trees and local mangrove forests. Nakie's sustainable philosophy makes their hammocks perfect for the eco-concious shopper.
Where Can I Set Up?
The perfect spot to set up your hammock is between two strong trees. Find two trees between 2.5-4.5m apart and presto you can hang your hammock.. No trees? Use your imagination and set up your hammock between a couple of cars. The Nakie Hammock is perfect for camping, caravanning, travelling or just setting up in the backyard at home.
Accessories with your Nakie Hammock
Nakie have designed a bug net and tarp to pair with your Hammock. The bug net keeps any bugs or insects out allowing for a restful night sleep. The tarps are designed to provide protection from the sun or rain.
To round off the perfect outdoor sleeping combo you can grab a puffy outdoor blanket. Made from 54 plastic bottles it is light and compact, stuffing into it's own sack making it easy to throw in the backpack.
You can purchase the bug net, tarp and blanket in a combo deal with your hammock.
Nakie Hammock Size & Storage
Each Nakie Hammock comes in a small bag that is stitched onto the hammock so you can't lose it. The straps come in their own small black bag as pictured above. The bags are small and lightweight making them ideal for backpacks or packing a caravan or van when every extra kilogram can matter.
To top it off, Nakie Hammocks are covered by a lifetime warranty
LIKE IT… PIN IT FOR LATER
500 Things to do
Join our mailing list and receive our Free Top 500 things to do in Australia. If you love Australian Outdoor Experiences download this list and keep it handy when you are planning a weekend away or a road trip around Australia.