If we had to pick our favourite waterfall near Apollo Bay, Little Aire Falls would be it. The 4.5km return walk makes it one of the longer waterfalls walks around Apollo Bay, but for the falls, forest and how few people you see on the track, it is a beautiful way to experience the forests of the Otway Ranges.
Disclosure: Please Note That Some Links In This Post May Be Affiliate Links, And At No Additional Cost To You, We Earn A Small Commission If You Make A Purchase. Commissions Go Toward Maintaining The Curious Campers Website.
Little Aire Falls at a Glance
🚶 4.5km medium difficulty return walk that starts part way along the Triplet Falls Loop track
🚽 There are toilets and picnic tables
🚙 Plenty of parking
🐶 Dogs are not allowed on the Little Aire Falls walk
💧 No swimming at Little Aire Falls
Getting to Little Aire Falls
Little Aire Falls are part of the more popular Triplet Falls walk so look for signs to Triplet Falls as you make your way there.
The easiest way to get to the Little Aire & Triplet Falls is from Apollo Bay via the Forrest – Apollo Bay Road and the Beech Forrest Road. If you are coming from Port Campbell, make your way towards Beech Forest via Lavers Hill.
Turn on to Phillips Track from Beech Forest – Lavers Hill Road. It is about 7km to the Triplet Falls Picnic Ground. The first 4km of Philips Track are sealed, the last 3km are on a dirt road suitable for 2wd. You go past the entrance to the Otway Fly on your way.
When you get there, you'll find a generous car park with several parking areas, picnic tables and toilets.
How hard is the Little Aire Falls Walk?
We arrived at Triplet Falls not really planning to do the 4.5km Little Aire Falls return walk. Our interest in it didn't improve when we read the signs in the car park that describe it as difficult with steep and rough sections.
(There is a wood sign in the carpark that says the Little Aire Falls is a 2.5km/2.5 hour return walk which isn't quite right. The newer signage has the right distance at 4.5km return)
So, we set off on the Triplet Falls walk going in the recommended clockwise direction and about 400m in came to the turn off to the Little Aire Track. We were suddenly overwhelmed with the feeling that if we didn't do it now, then when? So off we went.
Expecting a bit of a slog, we were pleasantly surprised that the Little Aire Track was probably more like a medium difficulty walk. The track was well-formed. There is a section early on that climbs a hill, but the gradient is not severe. From there it undulates but we never felt that it was too demanding.
Walkers of average fitness and mobility will be able to do this walk. It took us 35 minutes one way and 40 minutes back as we took longer to take in the views so allow 1.5 – 2 hours.
What do you see on the Little Aire Falls Walk?
The forest walk to Little Aire Falls is spectacular. Everywhere you look are towering mountain ash trees. You just can't believe their height and width.
You make your way across little bridges, up and down small slopes lined with ferns and along paths where you walk under the drooping fronds of huge tree ferns.
The forest looks and smells amazing. There were plenty of bird calls echoing around the forest too.
The trail ends at a small set of stairs that lead to an elevated viewing platform where Little Aire Falls comes into view.
Little Aire Falls
Earlier on in the day we had stopped by Hopetoun and Beauchamp Falls, but the Little Aire Falls was our favourite. You do view the falls from a slight distance – like you do at Hopetoun – but they are perfectly framed by the forest, it is a stunning view.
Best of all, you are up high enough to see Little Aire Creek flow for 50m across a rock channel before dropping over the falls. It is a fantastic sight. The only thing that would have been handy is somewhere to sit so you could relax and take it all in.
Triplet Falls Loop Walk
The walk back to the Triplet Falls track maybe feels a bit easier than the walk to the falls. We took our time, taking in the views of the forest before re-joining the loop walk.
In hindsight, we would have returned to the car park the way we came. We enjoyed the forest on the Little Aire Walk more than we did on the Triplet Falls walk and the views of Triplet Falls are largely obscured.
Triplet Falls is an easier and shorter walk so if you want to experience the forest, it is still a good option. But, if you have time and the extra energy, we thought the Little Aire Falls walk is the better option here.
Liked it? Pin it for Later…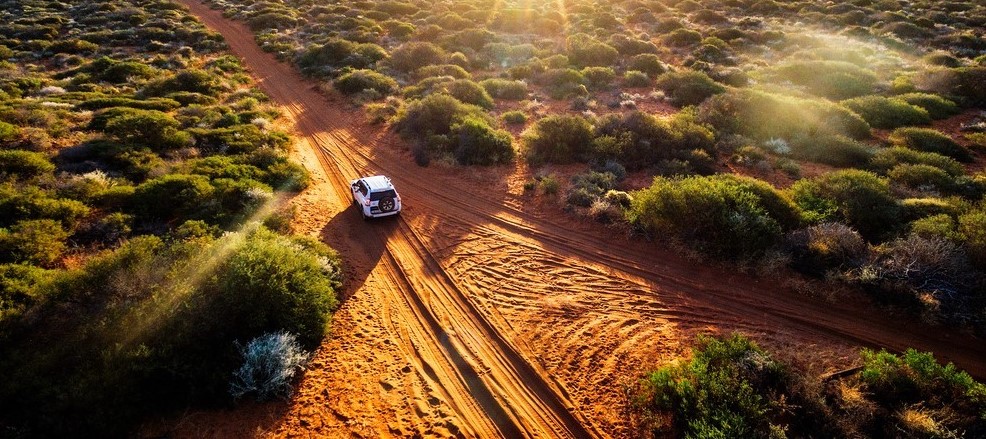 500 THINGS TO DO
Join our mailing list and receive our Free Top 500 things to do in Australia. If you love the Australian Outdoors download this list and keep it handy when you are planning a weekend away or a road trip around Australia.
Recent Posts