Old Tailem Town is a pioneer village in South Australia just over an hour from Adelaide. Drive up the South Eastern Freeway and go past the turn off to Monarto Safari Park. The village is on the right a little before Tailem Bend.
We have driven past Old Tailem Town dozens of times. Every time, I'd say to Nat we should go in one day and have a look around. She would always laugh and tell me it's an outing I'd be doing without her.
And that is the thing about Old Tailem Town. You only need to read a few Trip Advisor reviews to see that people have mixed feelings about the place. So, when Nat told me she was having one of her marathon haircuts on the weekend, I decided it was a chance to finally pay Old Tailem Town a visit.
Disclosure: Please Note That Some Links In This Post May Be Affiliate Links, And At No Additional Cost To You, We Earn A Small Commission If You Make A Purchase. Commissions Go Toward Maintaining The Curious Campers Website.
Part Pioneer Village, Part Labor of Love
There is a saying that expectation shapes our experience. So, if you have been to Flagstaff Hill, or Sovereign Hill and expect to see something similar in Old Tailem Town, think again.
Opened in 1987 by owners Peter and Margaret, Old Tailem Town is part pioneer village, part museum and part labor of love. There is nothing interactive about it and there are no hi-tech effects bringing the place to life. A visit to Old Tailem Town is a self-guided two or three hour walk down memory lane.
At the entrance are a couple of dozen old trucks lined up along the side of the road. They're usually a colorful blur as you pass by them doing 100 kph along the freeway. Up close and at a slower speed they make a spectacular honor guard when you enter the village.
Read More : Quorn's Historical Walk
Entry Fees
As I got out of the car, the British music hall favorite My Bonnie Lies Over the Ocean played from the PA system. The tune gets stuck in my head and I find myself humming it as I go to buy my ticket.
Cost of entry is $28 per adult and a little less for concession holders. There are several variations on family ticket prices depending the number in the group. A family ticket for 2 adults and 2-4 children between 4 and 15 is $65. I spent over 3 hours here and thought the price was fair value. You can pay by cash and EFTPOS.
Mapping out your Visit
Margaret greeted me at the counter. She was in period costume down to the colonial mop cap. At this point, it's again worth pointing out that Old Tailem Town is Margaret and Peter's baby. So, as Margaret explains how a few details on the site map might be wrong, you can only accept it as part of the place's charm.
'Peter changes things around then doesn't tell me so there might be a couple of numbers missing or in the wrong order.'
I'm so amazed by the quantity of buildings and streets, the thought of a few being wrong doesn't seem like a big deal.
The page we're looking at has a list of over 100 numbered buildings on one side and a map of the town with the numbers dotted along a dozen streets on the other.
I collect a copy of the map, go through another door, and find myself in Old Tailem Town. My first impression is that it really feels like you have stepped back 100 years in time. One of the interesting things about Old Tailem Town is that it is a time capsule with several layers.
Themed buildings and displays
First, there are dozens of themed buildings. There is everything from butchers, dentists and a toy shop, to a Salvation Army Citadel. There is a saddlery, draper, chemist, mechanic and the list could go on and on.
You can walk around many of the buildings and feel like you are standing in the post office or bank of years gone by. A few of the displays you can only view from the door, and some you can only look through the doors and windows.
There are also a few buildings/sheds with bigger displays. I spent longer looking at a barbed wire collection than I thought I would. The ship chandler shop isn't much more than a big shed. But it is full of amazing boats including some former speed record holders.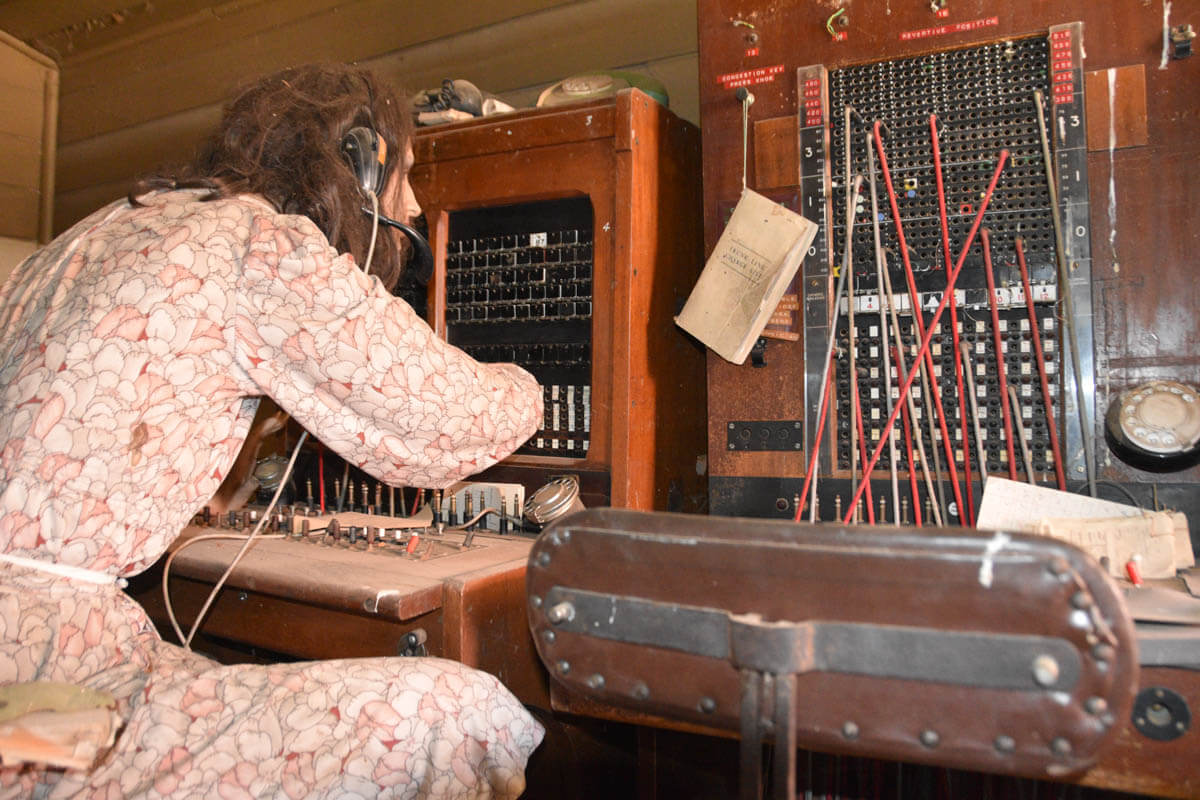 Haunted Horizons Ghost Tours
Some of the displays are 'brought to life' with costumed mannequins. I must admit when I saw the first of these hunched over an old telephone exchange in the post office it made me jump. I thought I was just caught off guard but as I chatted to other visitors, they also mentioned getting a fright. So, be ready!
For a genuinely eerie experience, Haunted Horizons run evening Old Tailem Town ghost tours. The village is touted as one of the most haunted towns in South Australia. Many of the buildings were once real homes and are said to still have the spirits of their owners living in them… Whether you are a believer or not, this two hour tour will make you see Old Tailem Town in a different light!
Historic Buildings
It's not only the displays that are interesting, but the buildings that house them have historic interest too. As mentioned, many of the buildings are houses and offices from all over South Australia. Instead of getting demolished, they were trucked in and re-purposed in Old Tailem Town.
For example, the army recruiting room is the old grain weighbridge shed from Tailem Bend. The dentist is a house from Serviceton circa 1890. The bike shop is the Lamp shed from Murray Bridge circa 1925. The Butcher is the Ambulance Room from the Cheltenham, Racecourse. The gaol next to the police station is in fact the gaol house from the Coorong Lakes town of Narrung circa 1910.
Quite a few buildings are from the Hackham Pioneer Village that was in Adelaide's south but closed in 1988.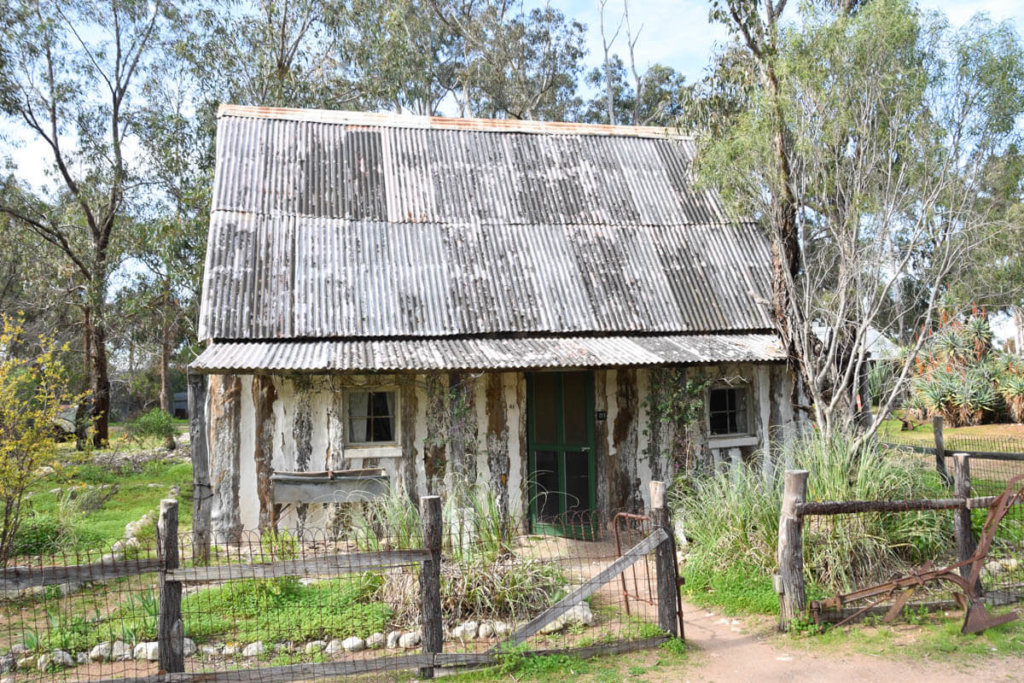 Things made on site
Many of the buildings and sheds were constructed on site using material of the time. Margaret tells me that's how she knows Peter is still alive, she'll notice a new building has appeared somewhere. In fact, he was putting one together when I visited.
In one corner of the park are a collection of reproduction cottages furnished in turn of the century décor. Cow Dung House, the Trappers Hut and the Farmhouse are fun to look through and ponder how times have changed.
Hahndorf Cottage is a replica of the first cottage built in the town of Hahndorf in the Adelaide Hills. Wandering along Hahndorf's main street and taking in the town's German heritage is a great way to spend a day.
Read More : Things to do in the Adelaide Hills
Trash or Treasure?
As well as the buildings and displays, old cars, trucks, and buggies line the streets of Old Tailem Town. Along one side of the town are a series of train carriages. Are all the pieces in pristine condition? No. But it's old, it's fun to look at and it adds a lot of character to the place.
At the back of the village overlooking the River Murray is a path lined with all kinds of things. Rusty machinery, car bodies and farm equipment. It is more of a storage area than a display, but it is still quite a sight.
'The problem is' Margaret tells me, 'whenever someone around here dies their kids want to donate stuff to us. Everything from old cars to dinner sets. I tell you; I have seen enough Bakelite to last me a lifetime!'
And by the looks of it, wonderful Peter and Margaret have a tough time saying no to those offers.
Read More : Visit Warrnambool's Historic Flagstaff Hill
Fun for all Ages
As I made my way back to the entrance, the song It's a long way to Tipperary filled the air. I have been looking around for three hours and feel like I have only scratched the surface. You're sure to find something that takes you back to your childhood. The cans of Leeds Lemonade in the Bake House did it for me.
There were people of all ages walking around and the kids I saw were having a ball. From the bullet riddled police car to the fire station and old fire trucks, they were enthralled. If you are visiting with children, bring a few snacks as only tea and coffee and biscuits are available on site.
Does Old Tailem Town have the polish of some other pioneer villages around Australia? Maybe not. Do bits of it feel a bit tired? Possibly. But Old Tailem Town is a gem of a place doing a great job preserving aspects of Australia's heritage. If you're driving past, it is well worth dropping in for a look.
Read More : Great Accommodation Options in the Adelaide Hills
More to Explore
Heritage Trail
If you want to explore a little more of Tailem Bend's history and you like a walk, try the 25km River Bend Heritage Trail. The track follows the river and takes around nearby Jervois and Wellington. You'll see everything from SA's oldest operating pub to the Pangarinda Botanic Gardens and cliff top views of the river.
Bend Motorsport Park
Opened in 2018, The Bend Motorsport Park hosts has a full calendar of bike and car racing events. The state of the art track offers great views for spectators. If getting onto the track is your idea of fun, there are a range of experiences available from go carts to hot laps in a Mustang. Accommodation is available onsite
Monarto Safari Park
Less than 30 minutes from Tailem Bend, Monarto Safari Park is the largest open range zoo in Australia. Giraffes, cheetahs, chimps and lions, they are all there. This is a full day activity well worth checking out if you are in the area.
Big Olive
You'll find the Big Olive on the Dukes Highway just out of Tailem Bend. If you're into olives, olive oil or even olive soap, stop by their showroom. You'll be olive heaven!
Like it? Pin it for Later…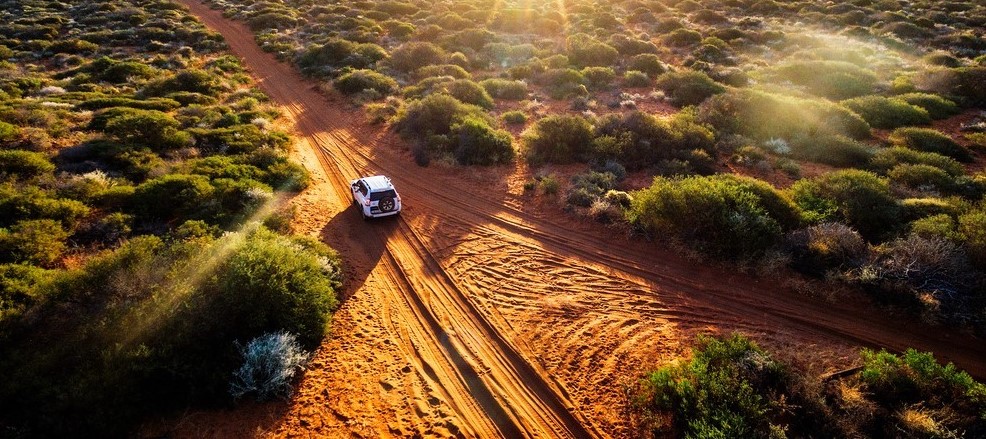 500 THINGS TO DO
Join our mailing list and receive our Free Top 500 things to do in Australia. If you love the Australian Outdoors download this list and keep it handy when you are planning a weekend away or a road trip around Australia.
Recent Posts