If you go to the Red Centre, an Uluru scenic flight is something you should consider. When it comes to big landscapes, taking to the air can be the best way to get the full picture.
When we talk to people about scenic flights, there's a common reaction we get. We see them wince then we have the conversation about value for money. We figure that the perspective you get from the air you can't get any other way. Our pilots have always added a lot to our tours with the information they provide so, all in all, for us they're good value.
We have flown over the Flinders Ranges and the Bungle Bungle Ranges too. They are experiences we still talk about, so we were excited to add an Uluru scenic flight to that list.
Disclosure: Please Note That Some Links In This Post May Be Affiliate Links, And At No Additional Cost To You, We Earn A Small Commission If You Make A Purchase. Commissions Go Toward Maintaining The Curious Campers Website.
Reasons to do an Uluru Scenic Flight
Not sure about scenic flights? If you're going to Central Australia here are the highlights from our flight over Uluru. Hopefully, it inspires you to take to the air.
Fly in a Small Plane
Okay. This might be what stops you taking a scenic flight. But if small planes aren't a phobia and you haven't done it before, give it a go! Being able to see the cockpit, watching the pilot, the noise; it is all super interesting and exciting.
You wear headphones so once you are up you can ask questions. You get to hear the conversation between the plane and tower. Coming in to land you can see the runway line up in front of you. It is quite different to cruising around in your average commercial airliner. It's a lot of fun.
See Yulara from the Air
After take-off, the first thing we saw was a bird's eye view of the Yulara Resort. While seeing Yulara from the air isn't the main reason for doing an Uluru Scenic flight, it is still quite interesting to see how big it is. From the air you realise it is more than a campground or apartment complex. It's a small suburb.
You also get to look down on the camel farm and see the Field of Light area. Again, since you'll be getting around Yulara in a car or bus, it is an interesting and different perspective on the place you are exploring.
As we banked, we also got a great view of the road you drive in on, the Lasseter Highway, winding its way off to the east. You kind of know when you arrive at Uluru that you are in the middle of nowhere. Seeing it from the air brings that home.
Uluru Aerial View
Only a few minutes into the flight you see Uluru. The first thing you appreciate from the air is its shape. You could be forgiven for thinking that Uluru is shaped like a Milky Way chocolate bar. In fact, it is not bar shaped at all. It is much wider, almost heart shape.
Once you get your mind around the shape, it then occurs to you that you can see the top of it. Now that you can't climb Uluru, getting in a plane or helicopter for a scenic flight is the only way you are going to see the top side of The Rock.
The top of Uluru looks vast. From the plane you can see the route climbers took up the rock. The upper surface is over 3 kilometres long and a couple of kilometres wide.
If you were in any doubt that Uluru is one enormous rock, seeing how it dwarfs all around it from the air reinforces how big it is. For us, a low flight over Uluru is the best way to get your head around its size.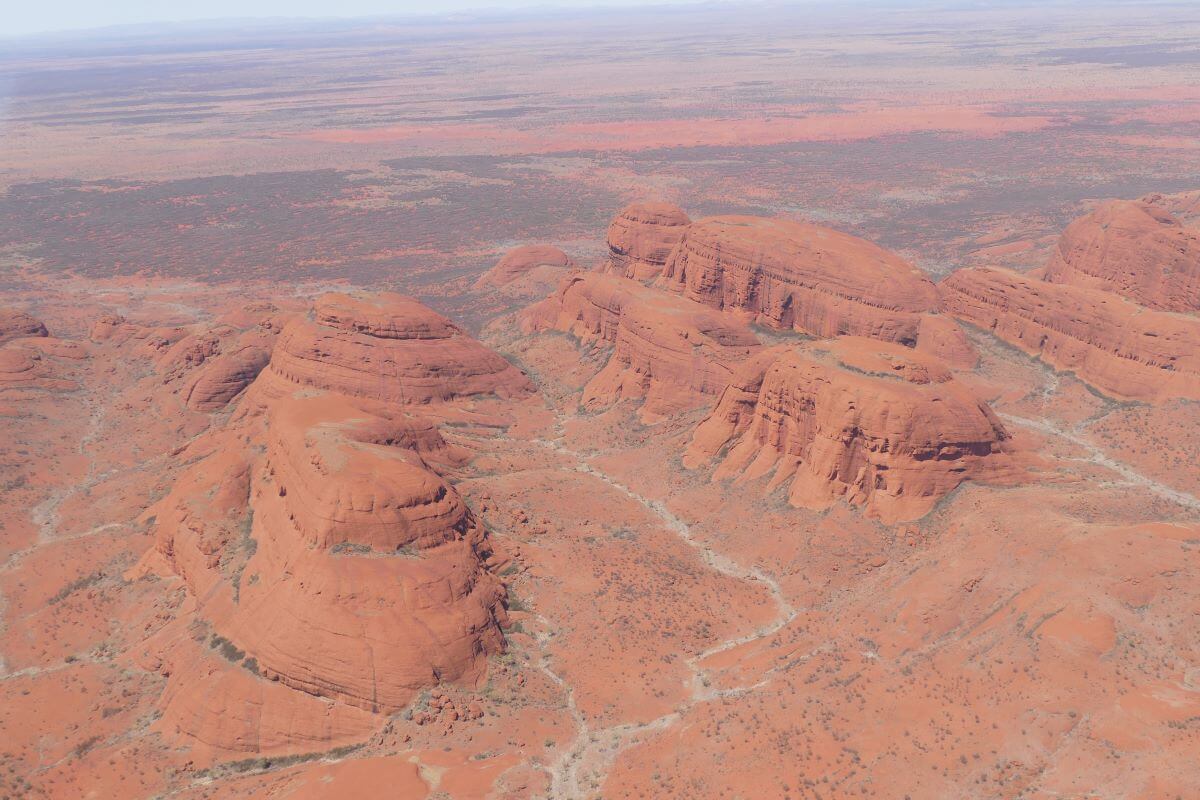 Fly over Kata Tjuta
From Uluru we made our way to Kata Tjuta – The Olgas. On the way you get a distant view of Lake Amadeus too. At 180 kilometres long, it is the biggest salt lake in the Northern Territory. It contains hundreds of millions of tons of salt but given its remote location it is not viable to mine.
We came away from Central Australia thinking that Kata Tjuta is every bit as impressive as Uluru. The highest dome in the 36 rock formation is 200 metres taller than Uluru and the domes cover more area than Uluru.
There is not a lot of public access to Kata Tjuta. The area holds high cultural significance to the local Anagu people. There are two walking tracks which give you a sense of Kata Tjuta but again, you're able to see much more of it from the air.
One of the walks, the Valley of the Wind trail, winds its way around one of the domes. We did the walk, and it is fantastic – a must do. You get right in amongst the domes. It was great flying over the same domes and seeing the route from the air.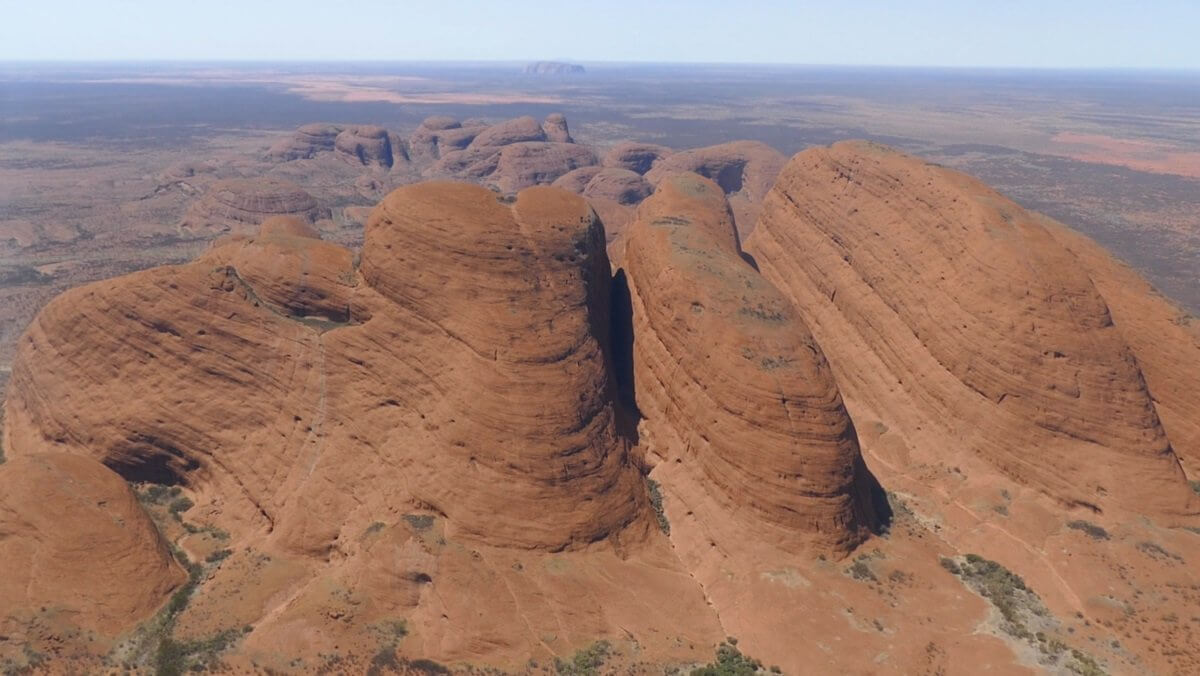 More Great Views of Central Australia
The flight also provides sensational panoramic views. One of the highlights for us was seeing Kata Tjuta, Uluru and Mount Connor all in a row.
Mount Connor is the impressive feature you pass on your way to Uluru on the Lasseter Highway. For unsuspecting visitors, Mount Connor can create premature excitement when it comes into view and you think you're getting your first glimpse of Uluru. It is impressive but looks quite different to Uluru once you are in the air.
Our return flight took us over kilometre long grey ridges that are part of an ancient sea floor that once occupied Central Australia. The ridge lines are not accessible by road. The area is rich in marine fossils from millions of years ago.
Read More : Experience Field of Light for a magical view of Uluru from the ground
Coming in for Landing
As our flight came to an end, we passed Uluru again. The pilot points out that we can't see the horizon beyond it because we have dropped below the height of Uluru. The amazing thing was, when we looked at the ground, everything still looked a long way down. It was a great final reminder of how big it is.
Landing in a small plane is great fun too. You get to see the runway come into view as the plane makes its way down.
When is the best time to fly?
As a rule, the earlier in the day you go up the better the conditions. Later in the day, as the land heats up, things can get a bit bumpy. Talking to our pilot about when to fly, he said you are generally safe turbulence-wise before 10.00am. There can be less of a heat haze then too.
We went up at 10.30am and only had the odd bump on our way back. We never take any chances and always pop a motion sick tablet anyway. Better safe than sorry – a lesson one of us learnt over the Bungle Bungles! Of course if you have your heart set on a sunset flight you will have to take your chances.
The pilots are great at picking the smoothest height to fly. If things do get bumpy or you start feeling queasy they can go to a more friendly altitude.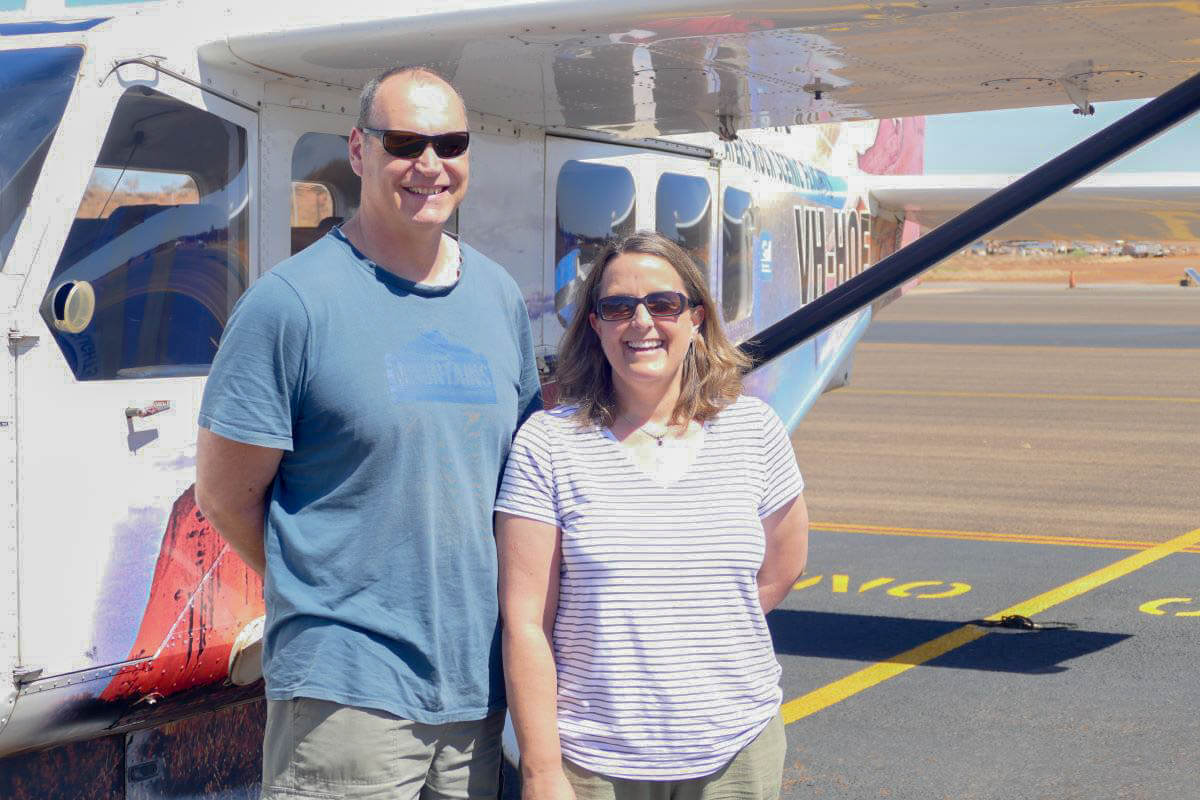 Flight Options
We flew with Ayres Rock Scenic Flights and did a 40 minute Uluru & Kata Tjuta Scenic Flight. There are shorter flights that only go over Uluru but we were keen to see Kata Tjuta as well. There are a range of flight options available. If you want to stay in the air a bit longer, there are flights to Kings Canyon, Gosses Bluff and Lake Amadeus too.
Our scenic flight was in an aeroplane but helicopter flights are also available. Helicopter options tend to be a little more expensive. We've done a helicopter flight over Katherine Gorge and it was a hoot. If you haven't been in a helicopter before, a maiden flight over Uluru would be a memorable adventure.
No matter how you take to the air, think of giving it a go. It's an experience and perspective of these iconic landmarks that you won't soon forget.
National Park Pass
You need a park pass to experience Uluru-Kata Tjuta National Park. Park passes can be purchased online. The money from park passes helps maintain the park's facilities, preserve its World Heritage sites and support traditional owners and their community. Purchase your park pass here.
If you enjoyed this story you might also like:
Quorn Silo Art Show | Driving the Nullarbor | Explore Trephina Gorge
Like it? Pin it for Later…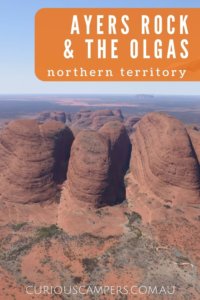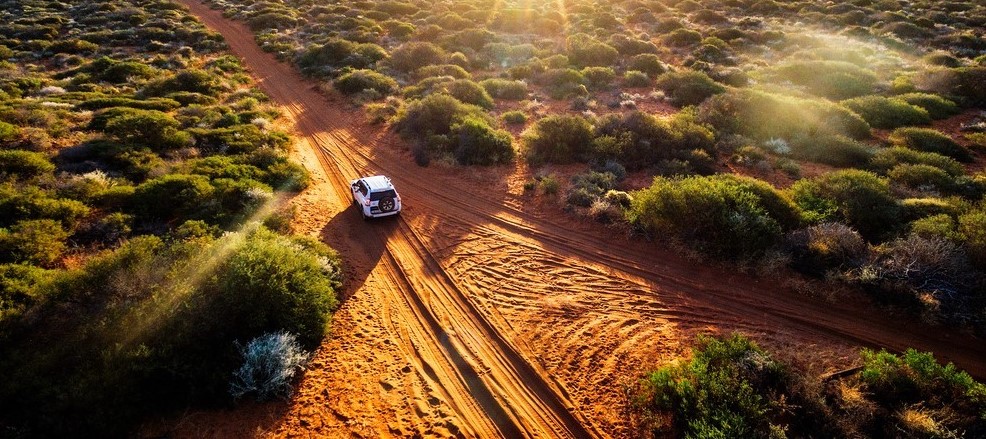 500 THINGS TO DO
Join our mailing list and receive our Free Top 500 things to do in Australia. If you love the Australian Outdoors download this list and keep it handy when you are planning a weekend away or a road trip around Australia.
Recent Posts