What are the best things to do in Port Elliot and Middleton? Read why travellers fall in love with these South Australian seaside towns.
Between them they count galleries and cafes, white sandy beaches and whale watching amongst their many attractions. Located around an hour south of Adelaide, you could spend a day, a weekend or longer exploring these beach-side towns.
Disclosure: Please note that some links in this post may be affiliate links, and at no additional cost to you, we earn a small commission if you make a purchase. Commissions are appreciated and go toward maintaining the Curious Campers website.
The first stop as you travel from Victor Harbor to Goolwa is Port Elliot. It is on the Encounter Bikeway and Cockle Train line.
1. Horseshoe Bay
Although devotees of the local bakery might disagree, the centrepiece of Port Elliot is Horseshoe Bay. The protected crescent shaped beach is a wonderful place to spend the day. There is plenty of sand and rock pools to explore. There is a small jetty at one end of the bay which is a popular fishing spot.
If you want a break from feeling the sand between your toes, right behind the beach is a grass reserve, chairs, tables and picnic facilities. The views are beautiful. From Horseshoe Bay you can also enjoy a few of Port Elliot's other attractions.
2. Flying Fish Café
Located at Horseshoe Bay, the Flying Fish Café is a Port Elliot institution. Named after a boat that came to grief in the bay in 1860, the café serves everything from coffee, ice cream and fish and chips to restaurant quality food. With its views across the picturesque bay you can understand why it is such a popular spot.
3. Harbourmasters Walking Trail
At Horseshoe Bay, near the jetty, you'll find the Harbourmaster's walking trail. The walk takes you up from the bay and over the headland to Rocky Bay, Green Bay and Knights Beach. The 2km circuit also has great views back over Horseshoe bay.
On top of the headland, you'll see the Port Elliot Obelisk and get a great introduction to the history of the area. The remains of the harbourmaster's cottage, built in 1852, are still there. Freeman lookout has great views of the bays and beaches towards Victor Harbor.
Freeman Lookout is also accessible by road and has plenty of car parking.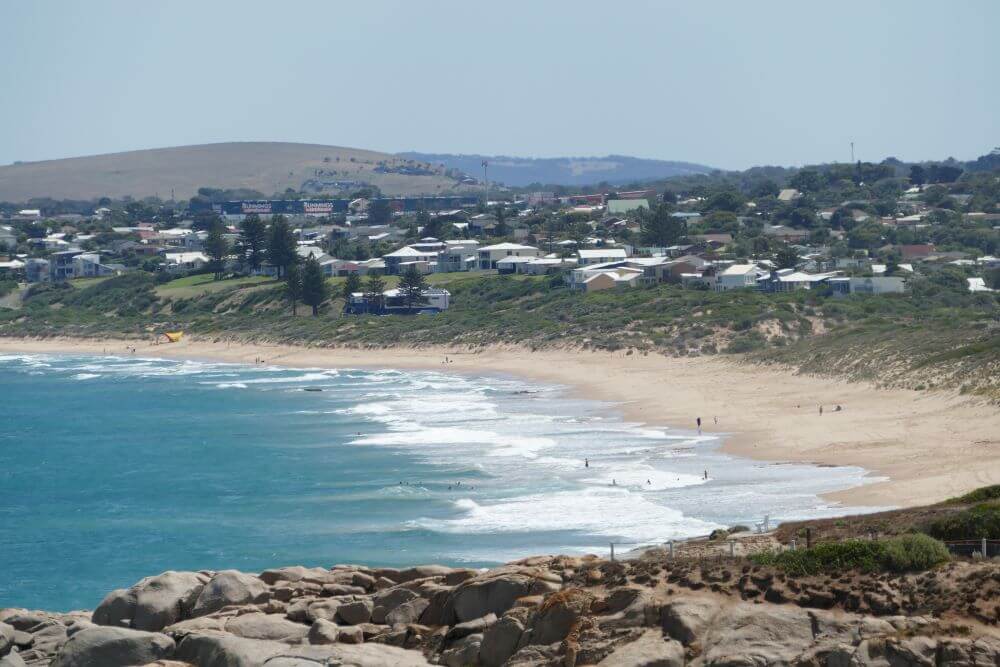 4. Boomer Beach
From Freeman Lookout, the long stretch of sand you see is Boomer beach. Its name comes from the sound of the big dumping waves that can roll in here. If you are after a family friendly beach, this probably isn't it. Popular with surfers, one description of 'Boomers' on a surf forecast website says to be careful of rocks, rips and sharks. Maybe stick to making sandcastles rather than venturing too far into the water!
PERFECT FOR THE BEACH...
The Oz Trail Beach Wagon is a must-have when camping or visiting the beach. The compact design folds down for easy storage. The large wheels make it easy to pull the cart through rough terrain and sand, making it a dream to take with you on holidays. Stop lugging all your gear and order your beach wagon today.
5. Port Elliot Bakery
We have never seen queues at a bakery like those at the Port Elliot Bakery. It is a credit to the staff that you never seem to have to wait too long. On our most recent visit the line was only to the front door, but we have seen it stretch out the door and some way down the street.
Pies, cakes, coffee, vegan or gluten free, there is something for everyone. Keep an eye out for their doughnut of the month. At the time of writing it ws a key lime cheesecake theme but check their Facebook page for the latest creation.
6. Main street History
The main street and side streets of Port Elliot are full of historic buildings, quirky shops and eateries. You can follow two heritage trails around the town – the red walk and the blue walk – that both begin near the Port Elliot train station.
As a nod to the town's retro vibe, in 2017 Port Elliot was transformed into 1950s Goolwa for the remake of the classic Australian film Storm Boy.
Middleton
Middleton only 10 minutes down the road from Port Elliot towards Goolwa, yet has quite a different feel. Besides driving there, you can also walk or ride along the Encounter Bikeway or get off the Cockle train at the Middleton Train station.
 7. Whale Watching
Between June and September, Middleton is a prime location on the Fleurieu Peninsula for whale watching. Basham Beach and Middleton Point are both great spots for seeing adult southern right whales with their calves.
There is a purpose built viewing area at Basham Beach with tiered platforms, information and binoculars. There is also plenty of parking. If the whales are about, there is also great viewing from the beach. Keep in touch with the South Australian Whale Centre in Victor Harbor for the latest news on whale sightings.
8. Surfing
Middleton Beach is a popular spot for surfing. If you don't have your own gear you can hire it at the beach. Lessons are also available. Check out the team at Kombi Surf if you want to hit waves. 
9. Art and Craft Galleries
If you would rather stay dry, Middleton is full of galleries and craft shops. Looking through Blue Temper Iron Works, Artworx Gallery, Ocean Street Art Gallery, Gunther George Paukner Gallery and Kiri Kiri aboriginal art gallery should fill in the morning!
MCLAREN VALE WINERY TOUR & LUNCH
Visit the best wineries, distilleries, breweries and eateries in McLaren Vale with the guided experience of a local. During the full day tour visit to 2-4 wineries or breweries in McLaren Vale. Once you have heard the best options, choose where you would like to stop for lunch. 
500 Things to do
Join our mailing list and receive our Free Top 500 things to do in Australia. If you love Australian Outdoor Experiences download this list and keep it handy when you are planning a weekend away or a road trip around Australia.