The Tasman Peninsula might look like a small area but there are all sorts of things to do. Port Arthur alone will take half a day or more. Then there is everything from the Tasman Arch to the Port Arthur Lavender Farm to explore.
The Tasman Peninsula is home to the Three Capes Track. It's a four day, 48 kilometre hike that takes you from Port Arthur to Fortescue Bay. The walk showcases the areas dramatic coastline and a range of landscapes.
If four day hikes aren't your thing, there is still an enormous amount you can see by car, boat and shorter walks. You won't get to them all in one day, so allow several days to get the most out the area.
Disclosure: Please note that some links in this post may be affiliate links, and at no additional cost to you, we earn a small commission if you make a purchase. Commissions are appreciated and go toward maintaining the Curious Campers website.
Port Arthur
Whether you are a history buff or not, a visit to the convict settlement of Port Arthur is a must. There is so much more to this place than a bunch of old sandstone buildings. The settlement has been so well preserved that as you enter the grounds from the visitor centre, it is like you have been transported to another time.
The beautifully presented grounds are a stark contrast to the harsh conditions endured by the convicts. You can walk through the buildings yourself with information book in hand or there are free guided tours.
The entry fee also includes a short ferry ride around the harbour. The ferry takes you past the dockyard, the Point Puer Boys' Prison and the Isle of the Dead cemetery. There are a range of other tours available at extra cost including a ghost tour and tours of the boys' prison and the cemetery.
PORT ARTHUR CONVICT SETTLEMENT DAY TOUR 
Explore the rich history of Port Arthur with this day tour experience. You'll also get the chance to stop and take photos of the scenic Tasman Arch and Devils Kitchen. A guided walking tour will help you uncover ruins from convict times, including a prison and flour mill. Includes a harbour cruise, where you'll take in the sites of the rugged Tasmanian coastline and discover the Isle of the Dead. 
Remarkable Cave
By all accounts, Remarkable Cave is spectacular. It is only 10 minutes from Port Arthur and, by the time you read this, it will again be open to the public. For our visit it was closed. There was an upgrade of the walkways and car parks going on.
The images of the long tunnel shaped cave with its twin openings towards the ocean look amazing. The improved viewing platforms and new walking trails will no doubt add further to the experience.
Port Arthur Lavender Farm
It wasn't so long ago that if you had said let's go visit a lavender farm, I would have quietly slipped out of the room. But lavender has come a long way from that purple dried flower you generally associate with your grandmother.
It is still purple, but now but the Port Arthur Lavender Farm shows there is a lot more to lavender the Potpourri. There is everything from lavender bath and body products to chocolate, honey and essential oils.
You can take a self-guided walk through the lavender fields – which are spectacular. There is a lovely café where you can enjoy a range of lavender and non-lavender snacks. You can see the lavender oil distillery in action and there are even some purple sheep for the kids to find.
Tasmanian Devil Unzoo
On a visit to Tasmania there are many opportunities to see Tasmanian Devils and learn about the challenges they face. The Unzoo offers a unique way of doing this. Gone are the cages and enclosures of traditional zoos. At the Unzoo you walk through a native botanic garden setting where you can see wildlife in its natural habitat.
There is a full schedule of presentations and feedings throughout the day. They offer an opportunity to get up close to some of the animals including Tassie devils. This is a different take on a zoo. The enthusiasm of the staff speaks to their pride in the place. Check it out and see what you think of this zoo of the future.
TASMAN NATIONAL PARK ATV ADVENTURE TOUR
Get ready for a high-speed sightseeing adventure. With experienced guides showing you the way, you'll enjoy exploring the Tasmanian National Park in a 4×4 ATV. Spot native wildlife and vegetation unique to the area. There's no better way to explore Tasmania's unspoilt wilderness.
Tasman Arch

 & Devil's Kitchen
There is no shortage of dramatic coastline in this part of the world. The Tasman Arch and the Devils Kitchen are a couple of easily accessed features within a couple of minutes of each other. There are several short walks in the area that offer different views of the Arch and Devils Kitchen.
The Tasman Arch is a land bridge over the remains of a collapsed cave. Devils Kitchen is a deep trench between two towering cliffs. The features are spectacular just for their size. When you add in the often big swells coming off the Tasman Sea it takes the spectacle to another level.
Tessellated pavement
This is a rock structure of a different kind. There are no towering cliffs but instead an unusually symmetrical pattern of erosion. Not only is it interesting to look at, this is one of the few places in the world you can see this this type of thing.  
The pavement consists of areas of raised pillow-like rocks and irregularly shaped rectangles. The rocks seem so well organised and lined up that you wouldn't think it is possible that they are naturally formed. This fascinating site is easy to access and leads onto the lovely Pirates Bay beach.
Tasman blowhole
As is the case for any blowhole, to see them at their best it's all about timing. Our visit to the Tasman Blowhole was at possibly the worse time you could choose to see a blowhole. The tide was out, and the sea was calm. As a result, we saw a lot more hole than blow.
It certainly had potential and on another day I'm sure it would be a great. But, like the renovations happening at Remarkable Cave, some things when you travel are beyond your control. Watching and listening to the water force its way into the channel was still fun to see even if it lacked the oomph we had hoped for.
Doo Town
This is one of those quirky gems you happen across when you travel.  Instigated by a shack owner in the 1930s who named his home 'Doo I', his neighbours decided to join in and named their shacks Doo Me and Doo Us.
Since then, most houses in the holiday shack community now have a 'Doo' name. We saw Rum Doo, Doo Little, Xanadoo, Doo Nix and Doodle Doo. Doo Town isn't a big place, so it is worth stopping for a look around to see what other names locals have come up with. Dare I suggest this is a must Doo activity?
Tasman Peninsula Cruise
Seeing the beauty of the Tasman Peninsula from the land and walking trails is one thing. But, getting out on the water is an even more exciting way to experience the rugged and beautiful coastline. We went out on a half day cruise and had a ball. The cliffs and waterfalls are even more amazing when you look at them from the sea.
It is also a great opportunity to spot some marine wildlife. Seals, dolphins, whales and birdlife can all turn up on any given day. We had a blast on our tour.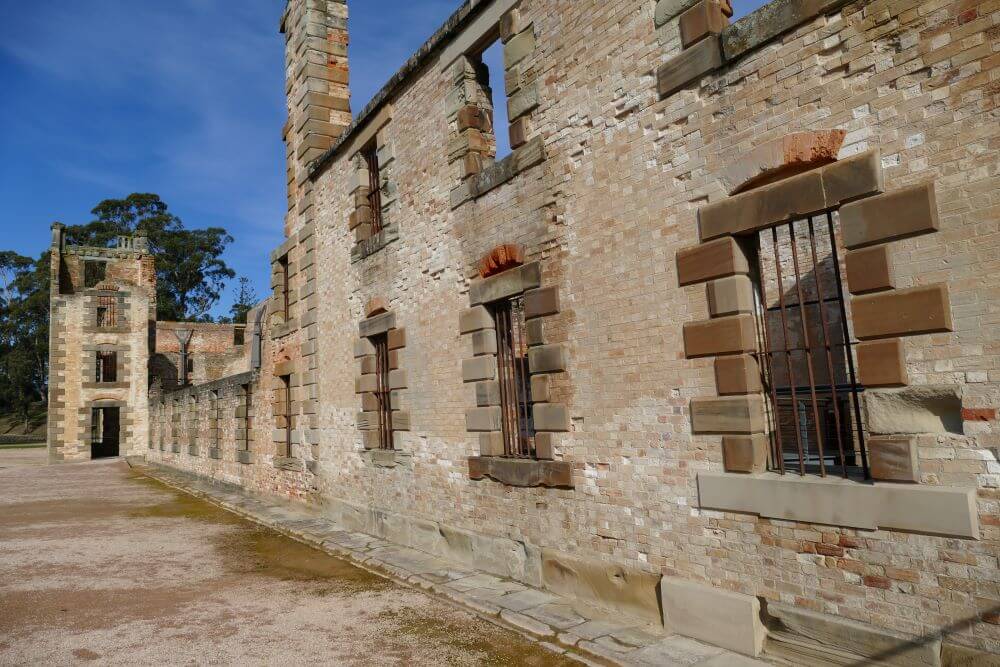 VISIT PORT ARTHUR & TASMAN ISLAND CRUISE
Explore the spectacular coastline between Port Arthur and Eaglehawk Neck via this award winning eco cruise. The custom-built yellow boats cruise into deep-sea caves, past waterfalls, archways and to the foot of Australia's highest sea cliffs and Cape Pillar. Join the search for a range of sea and coastal wildlife such as seals, dolphins, migrating whales and sea birds. After the cruise, you will enjoy lunch and a 3 hour visit to the Port Arthur Historic site.
But Wait, There's More!
Check out the Dog Line if you want to get a bit more convict history. If you have a sweet tooth drop into Federation Chocolate. I highly recommend the licorice lane milk chocolate.
We ran out of time to explore Fortescue Bay. Besides having a beautiful beach, it is also a great spot to see little penguins. You can also get a National Park pass and explore the many trails that run through the Tasman National Park.
500 Things to do
Join our mailing list and receive our Free Top 500 things to do in Australia. If you love Australian Outdoor Experiences download this list and keep it handy when you are planning a weekend away or a road trip around Australia.