The Shark Bay World Heritage zone is about 750km north of Perth. It is an area of great beauty, it's rich in marine life and is home to some of earth's first life forms. There is no shortage of things to do in Shark Bay. The region boasts attractions like Monkey Mia, Shell Beach, Dirk Hartog Island National Park and the Hamelin Pool stromatolites. It's where brilliant turquoise water meets vibrant red desert earth.
Denham is the main town in the region. It is on the door step of Francis Peron National Park, and you can access fishing charters, 4WD tours and wildlife cruises from there. You are also only 30 minutes from Monkey Mia. There are three caravan parks in Denham – book early in peak season between April and October.
Disclosure: Please Note That Some Links In This Post May Be Affiliate Links, And At No Additional Cost To You, We Earn A Small Commission If You Make A Purchase. Commissions Go Toward Maintaining The Curious Campers Website.
Ocean Park Aquarium
This is an interesting aquarium and a bit different to other aquariums you might have visited. Ocean Park Aquarium features species local to the area. Rather than pay and wander around, your first walk through the aquarium is with a guide. It is a great way of doing it. The guides are passionate about what they do and you get lots of info about the exhibits which feature everything from stone fish to sharks.
There is also a lovely café there where you can order a meal or morning tea and sit out on the deck with views out over the water. It is a magic place to end your visit. The aquarium is 15 minutes south of Denham. Here you can also organise 4WD tours or Francois Peron Peninsula, dive trips and nature cruises. It's a fun activity and one of the best things to do in Shark Bay and Denham.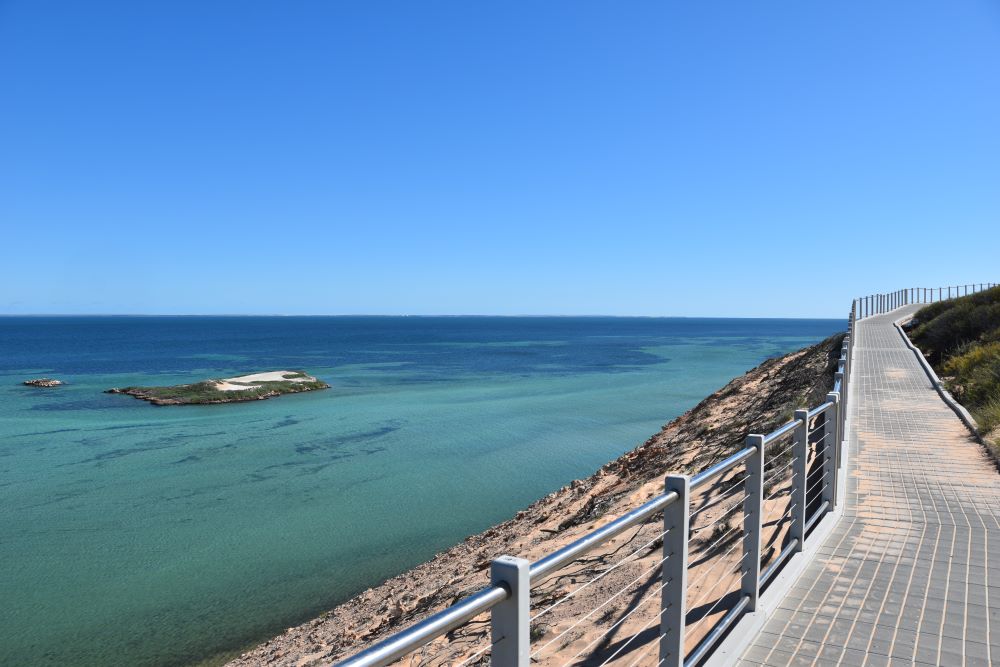 Eagle Bluff Lookout and Boardwalk
About a 20 minute drive south of Denham, Eagle Bluff Lookout and Boardwalk is a great spot to take in the amazing views across the turquoise water of Shark Bay. You are almost directly opposite Useless Loop on the other side of Denham Sound, its white salt mountain shining in the sun.
Closer to the boardwalk, the water below the cliffs is a great spot for wildlife watching. Look out for anything from turtles and rays to sharks and dugongs cruising in the water right in front of the cliffs. We have spotted rays and sharks here, the warmer the weather, the more you are likely to see. Take some binoculars if you want a close up look, but we could still make out things swimming in the clear water without.
Hamelin Pool Stromatolites
There is a great quote from travel writer and historian Bill Bryson – 'it's not the sight of stromatolites that makes them exciting. It's the idea of them'. And that about sums up these most primitive of lifeforms. They are not spectacular. To even the most optimistic onlooker they appear as nothing much more than a mound of black rock. But regarding them as a black lump in the water does them a huge disservice.
Without getting into a time machine, we can view these mounds of cyanobacteria that are amongst the earliest living things on our planet. No, they might not be Instagram selfie material, but seeing them from the boardwalk in the clear water of Hamelin Pool, you have to be a bit impressed.
The stromatolites are 100 km from Denham and form part of the Shark Bay World Heritage Drive. As well as the stromatolites, there is the Boolagoorda Walk which takes you past the old shell block quarry and telegraph station. You cannot swim, snorkel or fish at the site. There is accommodation at the Hamelin Pool Caravan Park.
Please note: the stromatolites can currently be seen from the Hamelin Pool quarry, however the viewing boardwalk is closed due to damage caused by Cyclone Seroja.
Read More : Visit the Lake Thetis Thrombolites
Walk along Shell Beach
Here, the name describes exactly what you'll see – a beach of shells. Rather than sand, the shore is made entirely of billions of tiny white cockle shells. They thrive in the super salty Shark Bay water where they have no natural competition or predators. Shell Beach is about 30 minutes from Denham or 40 minutes from Hamelin Pool Caravan Park.
It is a fabulous sight. The crystal clear water of the bay, the crunch as you walk on the shells and the hiss as the little waves wash onto the shelly shore. The beach stretches for 60km along the Taillefer Isthmus and the little Fragum cockles are between 7 to 10 metres deep. The further you walk along the beach the better the cockles look because of less foot traffic.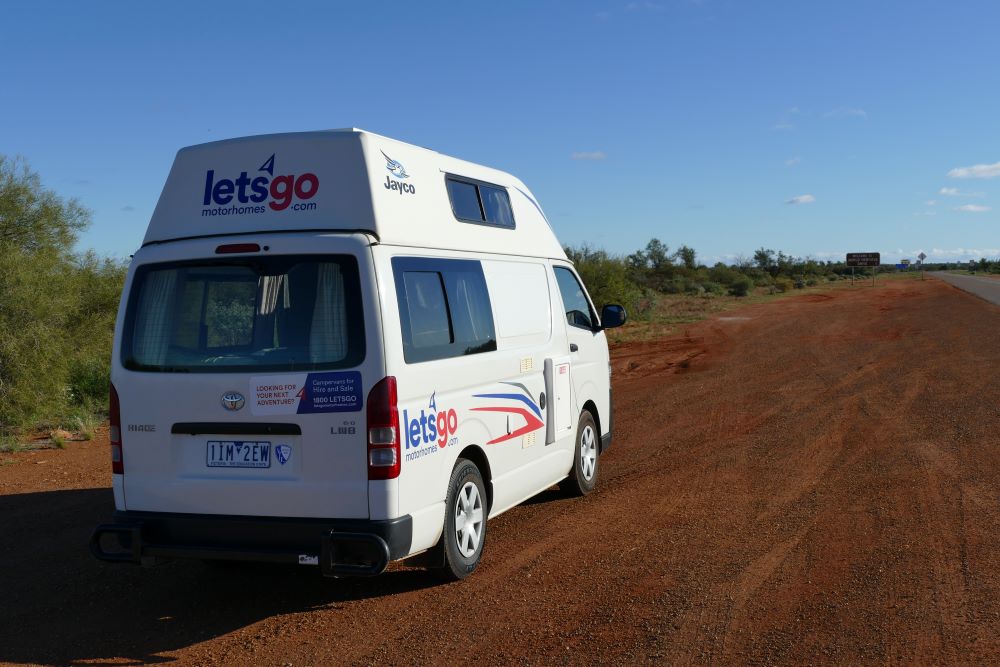 Shark Bay World Heritage Drive
If you want to see all the reasons why Shark Bay is a world heritage area, you can follow the 160km Shark Bay World Heritage Drive. It runs between Hamelin Pool and Monkey Mia. The drive incorporates the history of the early French, English and Dutch explorers along with many of the sites mentioned above. It also takes you to Shell Beach, Eagle Bluff and Denham. While you could do it in a day, as you can see, there are so many things to do around Shark Bay, you might want to give yourself closer to a week to explore the area.
Read More : 14 Day Perth to Exmouth Road Trip Itinerary
Monkey Mia – Dolphins, wildlife cruises and walks
Monkey Mia is one of the best know dolphin interaction locations in Australia and one of the most popular things to do in Denham. Located 20 minutes across the Peron Peninsula from Denham, it is a good but busy spot to view dolphins up close. The local bottlenose dolphin population are well known to the guides who supervise the interactions. If you haven't seen dolphins up close before you will love it.
There is more to monkey than the dolphins. From here you can go on wildlife and sunset cruises too. We went on a wonderful dugong spotting cruise and also saw turtles, dolphins and a sea snake. On shore you can walk the Wulyibidi Yaninyina Trail, a 2.7km loop where you'll see great birdlife, wildflowers in spring and a lot of blue water and red earth.
Accommodation at Monkey Mia is available at RAC Monkey Mia Dolphin Resort. They have everything from dorms and camping sites to family cabins. Entry fees apply to the Monkey Mia Conservation Park, there are day and month passes available.
Stay at Monkey Mia Resort – home to one of the world's best-known dolphin encounters. A tennis court, two swimming pools, hot tub, kayak hire & two restaurants. Situated on the pristine shores of Shark Bay, you won't have to go far to feel the sand between your toes
Scenic Flight from Kalbarri to Monkey Mia – Discover the spectacular aerial views of Western Australia's coast before touching down to visit Monkey Mia. Visit the wild dolphin reserve, watching the bottlenose dolphins playing and being fed.
Francois Peron National Park – 4WD Tour
Francois Peron National Park is just minutes from Denham. If you have your own 4WD, deflate your tires and explore this beautiful area where red cliffs meet turquoise water. We didn't have a 4WD so went on a 4WD tour run by Ocean Park Aquarium and it was a hoot. If you are driving in the park yourself, keep in mind the sand is soft and deep in places so take care. Getting bogged is common. Getting rescued is expensive.
Visit Skipjack Point and Cape Peron for amazing views. Go for a snorkel on the reef at Bottle Bay. From the lookouts, you can spot sharks, rays and dolphins cruising through the crystal clear water. You can camp at several spots including Gregories, Big Lagoon and Herald Bight.
Read More : Our Francois Peron 4WD Experience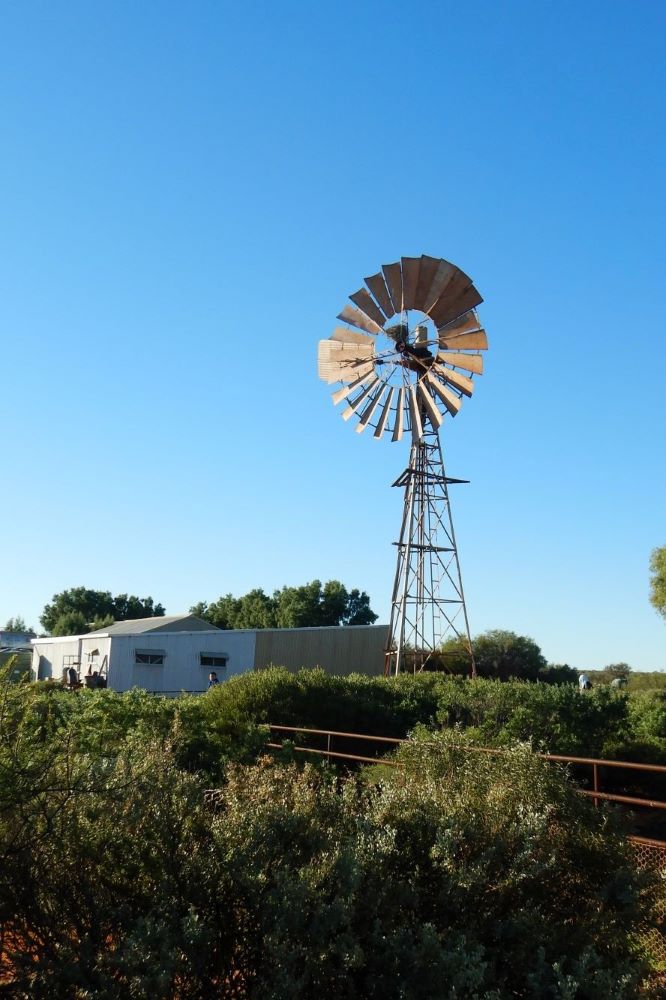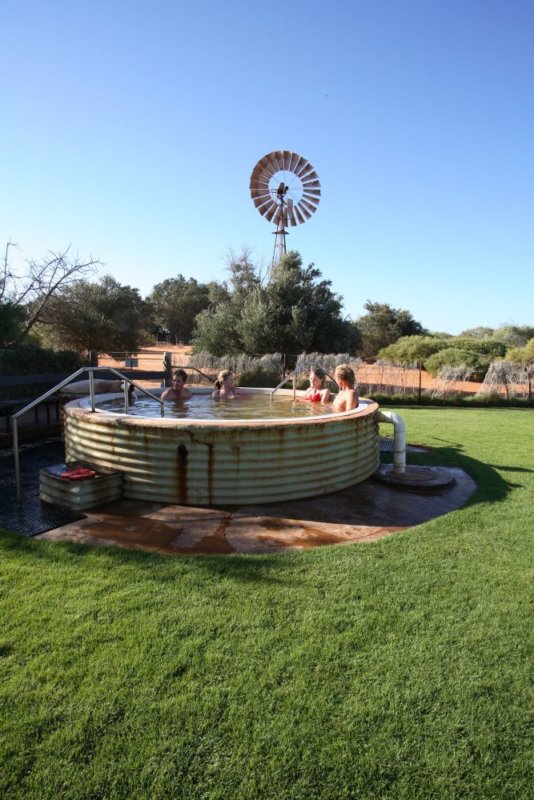 Peron Heritage Precinct + Hot Tub
This area is near the entrance to Francois National Park. It's right there at the point where you should stop to deflate your tires before heading onto the sand tracks. The homestead is the old overseer's quarters which is now an interpretive centre and museum. When we came through it was looking a little tired to be honest.
By far the highlight of the heritage precinct is the artesian hot tub out the back. If you have had a hard day 4WDing and want to relax this is the place. The big tub is a fun spot to kick back, have a drink and watch the local wildlife wander by. There is a grass area and BBQ nearby but bring all your supplies, there is nothing at the station.
Steep Point
If you love a landmark you have to get yourself to Steep Point – the most westerly mainland point in Australia. From Denham you have a 225 km drive ahead of you. The last 30 km is on soft, deep sand so only attempt the drive in a high clearance 4WD. The reward, besides ticking off a major Australian landmark, are amazing clifftop and ocean views.
If you want to stay in the area you can stay at the Shelter Bay Campground. It is only a short drive from Steep Point and the largest campground in the area. You can also stay at The Oven at Steep Point. It is a smaller, exposed campground on the cliff tops. Shelter Bay, as the name suggests, has more protection from the wind and is also a great snorkelling spot.
If you don't have a 4WD drive or want a day off from behind the wheel, tours to Steep Pot from Denham are available.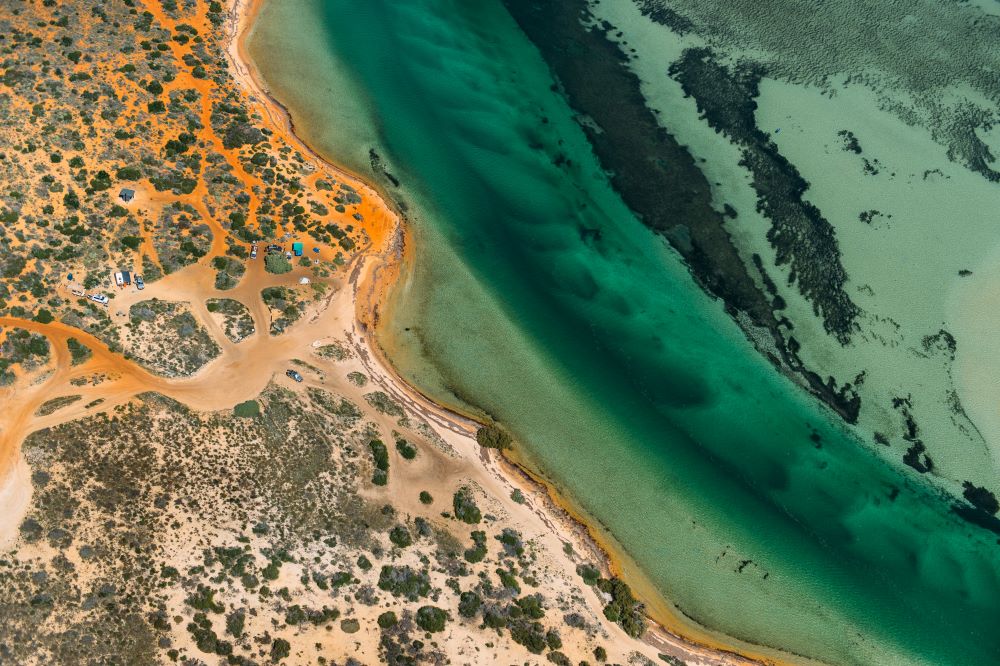 Dirk Hartog Island
If you want a Shark Bay adventure, exploring Dirk Hartog Island is it. As beautiful as it is remote, it's paradise if you like fishing and there's great snorkelling and diving. It is the site of some of the earliest European contact with Australia and has stunning beaches. But experiencing all this isn't easy. You can take your 4WD on a barge from Shelter Bay, fares range $200 – $340 – one way! You can then stay on one of the several campgrounds on the island.
A day trip to Dirk Hartog Island is a good option. Cruises leave from Denham and are a great way to experience the marine life. Turtle Bay is home to one of the biggest breeding populations of loggerhead turtles in Australia. The island also has blowholes, spectacular cliffs, Rose Lake – a pink lake and secluded beaches. Heritage listed Inscription Point has hosted explorers since the early 1600s and is a fascinating spot to visit.
Snorkelling
Snorkellers have a lot of interesting sites to choose from around Shark Bay. If you have a 4WD or boat make sure you check out areas in Francois Peron National Park and off Dirk Hartog Island. At Francois Peron, try the reefs at Bottle Bay or Gregories. If you can have a boat try the Gudrun Wreck 10km off Cape Peron.
On Dirk Hartog Island, Surf point in the south or Sandy point on the island's east coast both have great off the beach snorkelling. For something closer to Denham, try snorkelling off the beach near the Eagle Bluff campsite. Take the track from the campsite south towards the bluff.
Read More : Snorkel Ningaloo Reef at Coral Bay
Shark Bay World Heritage Discovery Centre
This is much more than visitor centre – although it is still a great place to pop into on the main street of Denham for your Shark Bay info. There are displays of historical and scientific items, multi-media exhibits and even an art gallery. One of the highlights of the discovery centre is the permanent and free Fire on the War exhibit. It is a 15 minute 3D movie that looks at the World War 2 naval battle between the HMAS Sydney II and HSK Kormoran.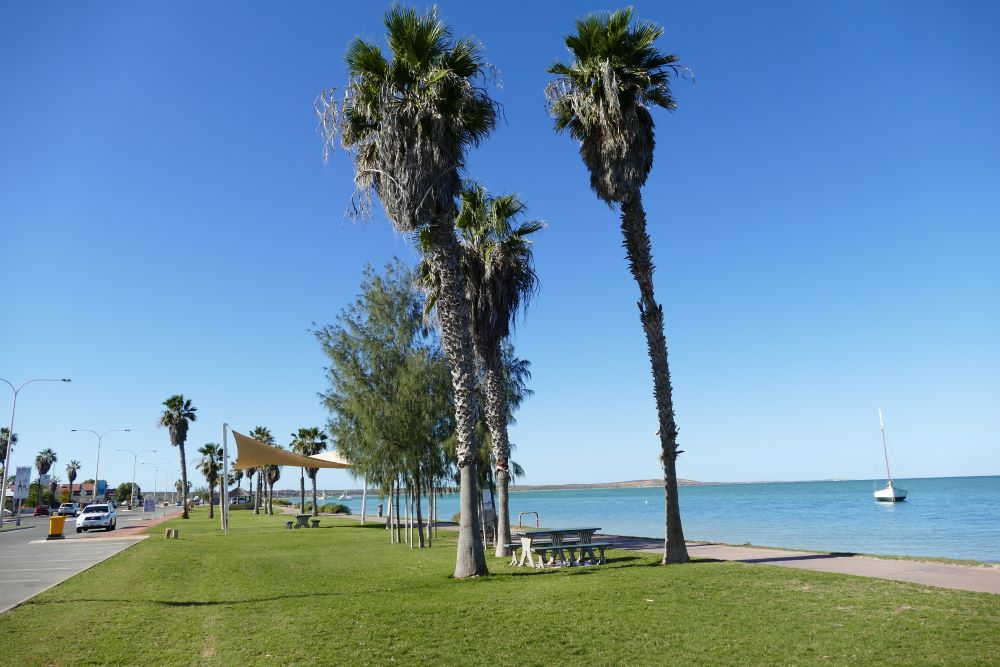 Denham Discovery Trail
This is a fun way to look around Denham. The Discovery Trail takes you on a 12 stop, 2.3km walk around Denham. It starts at the Shark Bay World Heritage Discovery Centre, winds through the back streets of Denham past the old Anglican Church and old gaol then comes back along the foreshore. The trail offers insights into the areas traditional owners, early European settlers, pastoralists, pearlers and local characters.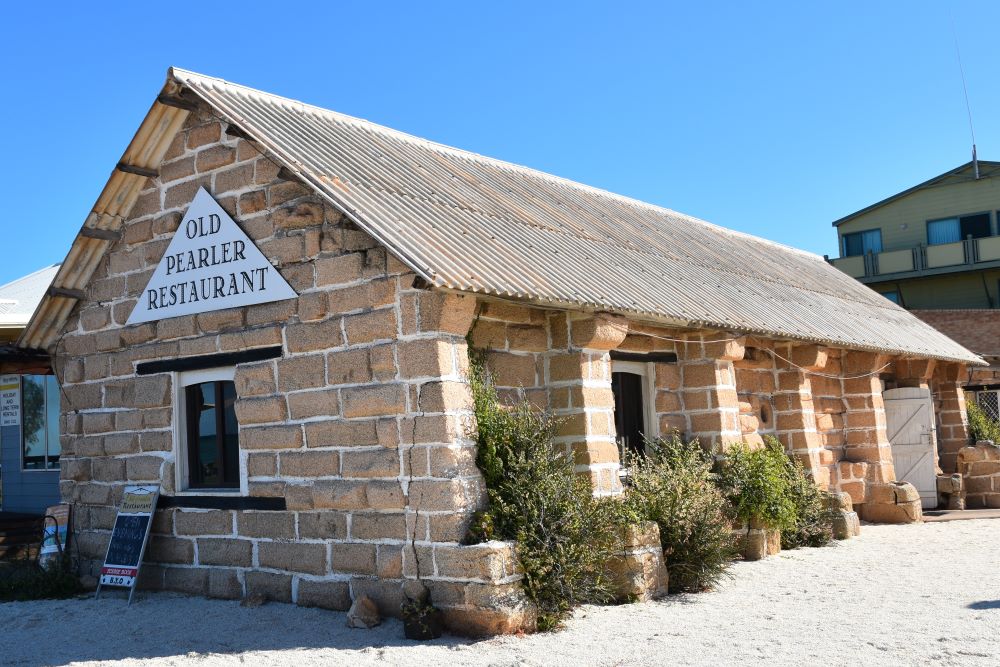 The Old Pearler Restaurant
Even if you don't want to enjoy the sumptuous local seafood on offer, you still have to come by and see this building made entirely out of shells. Not only is it made of coquina shell, it is also decorated with shells and has a charming nautical theme inside. It is only a little place so book early if you want to eat there.
Little Lagoon
Little Lagoon is a few minutes out of Denham and is a great place for swim, BBQ or walk. Its calm water and sandy banks make it a popular spot to cool off. Make you also have a look at the Little Lagoon Creek Lookout. The turn off is on the left from Stella Rowley Drive as you leave Denham. The creek channel is full of critters from turtles to fish and eels. If you swim in the channel wear shoes or avoid standing up – it is full of nasty stone fish.
Read More : Amazing Things to Do in Exmouth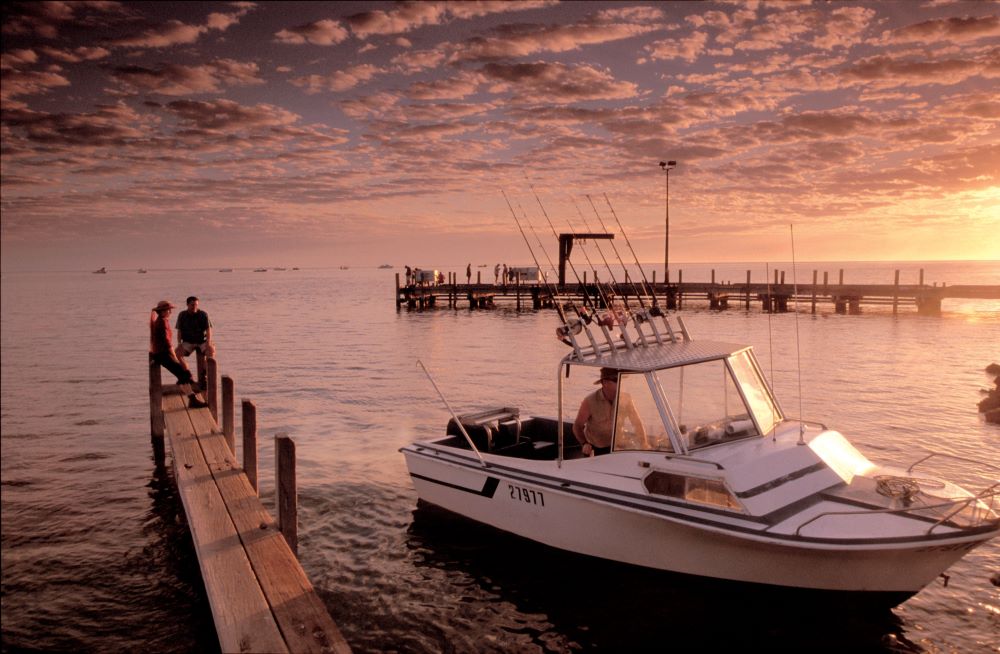 Fishing Charters
We're not revealing state secrets when we say this is a fantastic area to go fishing; in fact it is one of the best fishing locations in Australia. If you don't have a boat there are plenty of chances to get onto the water to catch a big one. Target species include Spanish mackerel, tailor and kingfish to pink snapper and mulloway. Charters leave from Denham and Monkey Mia.
Kite Surfing
As anyone will tell you, it can get a bit breezy along the west coast of Western Australia. While it's not great if you want to go fishing, snorkelling or a calm wildlife cruise, it is great news if you like kite surfing. There are some great spots around Denham and the Peron Peninsula. It is a great way to take in the scenery and wildlife of the area too. Check out the team at Shark Bay Kite Surfing School if you want to give it a go!
National Park Pass
Park fees apply to many of Western Australia's National Parks such as Nambung (The Pinnacles), Karijini and Cape Le Grand. There are 5, 14 and 28 day holiday passes and an annual pass available. You can also pay a daily casual rate per vehicle. There are separate Attraction Passes for some sites and activities such Monkey Mia, the Valley of the Giants Treetop Walk and the Rockingham penguin experience.
A Monkey Mia daily entry fee applies for Monkey Mia Conservation Park in addition to the normal National Park Pass. Adults are $15 & Children $5.
Shark Bay Tours + Accommodation

Like it? Pin it for Later…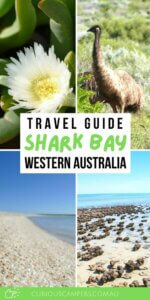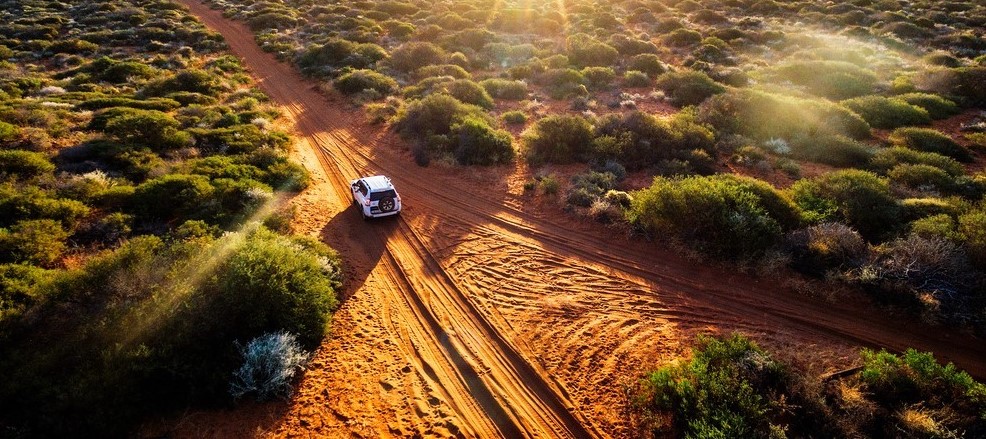 500 THINGS TO DO
Join our mailing list and receive our Free Top 500 things to do in Australia. If you love the Australian Outdoors download this list and keep it handy when you are planning a weekend away or a road trip around Australia.
Recent Posts