There are so many things to do in Mildura it's the perfect holiday spot. From the Murray to Mungo you'll love the area's history and beauty. We have visited Mildura with and without the kids and we think there are things to do here to suit travellers of any age.
Disclosure: Please note that some links in this post may be affiliate links, and at no additional cost to you, we earn a small commission if you make a purchase. Commissions are appreciated and go toward maintaining the Curious Campers website.
Orange World
One of the things Mildura is best known for is Oranges. The place to go for a Mildura orange experience is Orange World. There are three orchard train tours a day through the oranges and avocados.
There is also a wonderful produce shop that you can visit whether you go on the tour or not. The shop has everything from yummy marmalades and orange ice creams to orange cakes and chocolate. Of course, there are also plenty of bags of oranges and bottles of juice to buy too.
Woodsies Gem Shop
This is an amazing place. Gems, fossils, jewellery, there is something for everyone. The inside is bursting with shiny colour. Children will think it's a magic place. There is an 'Aladdin's Cave' that for a gold coin fee, you can go into to see even more gems and fossils.
There is display after display of jewellery made form every crystal or gem you can imagine. Gentlemen, you might be in strife here if your other half is in a shopping mood. There is plenty to attract her eye. On the other hand, if you give a bit here, you might be able to disappear for the day at the next location…
Mildura Holden Motor Museum
Located on the Buronga side of the river, this museum will send any motoring enthusiaston a trip down memory lane. There are around 30 cars on display along with Holden memorabilia and merchandise.
The great thing about the museum is you are walking around with like-minded Holden fans. It creates a friendly vibe where visitors happily swap motoring stories and memories. Admission is $12 for adults and $30 for families. The turn off to our caravan park was next to the museum. The carpark was always busy which speaks to the museum's popularity.
Paddle steamers
There is no better way to experience the river than taking a cruise on a paddle steamer. The sound, the smell, the slow pace. It's hard not to think back to a time when paddle steamers ruled the river. It's also hard to think of a more relaxing way to take in some river scenery. There are a variety of paddle steamer options from Mildura. Don't leave town without giving one a try!
Psyche Bend Pumping Station
The Psyche Bend Pumping Station is a fascinating piece of Mildura's irrigation history. It is only 10 minutes from Mildura in the Kings Billabong Park.
We're no engineers, but the sight of the old steam engine body and tall chimney stacks is impressive. During school and public holidays, they fire up the steam engine which would be a sight to behold. We only saw it because we were setting off from here on a kayaking trip…
BEST COMPACT BBQ FOR CAMPING
If you're after a good quality, easy to use and portable BBQ, then the Weber Baby Q is just what you're looking for. Weber has a great reputation for reliability and ease of use, and the Baby Q is no exception. It's compact, portable and great for camping trips. It's sure to become your 'go to' cooking appliance for anything from fish and vegetables to lamb chops and steaks.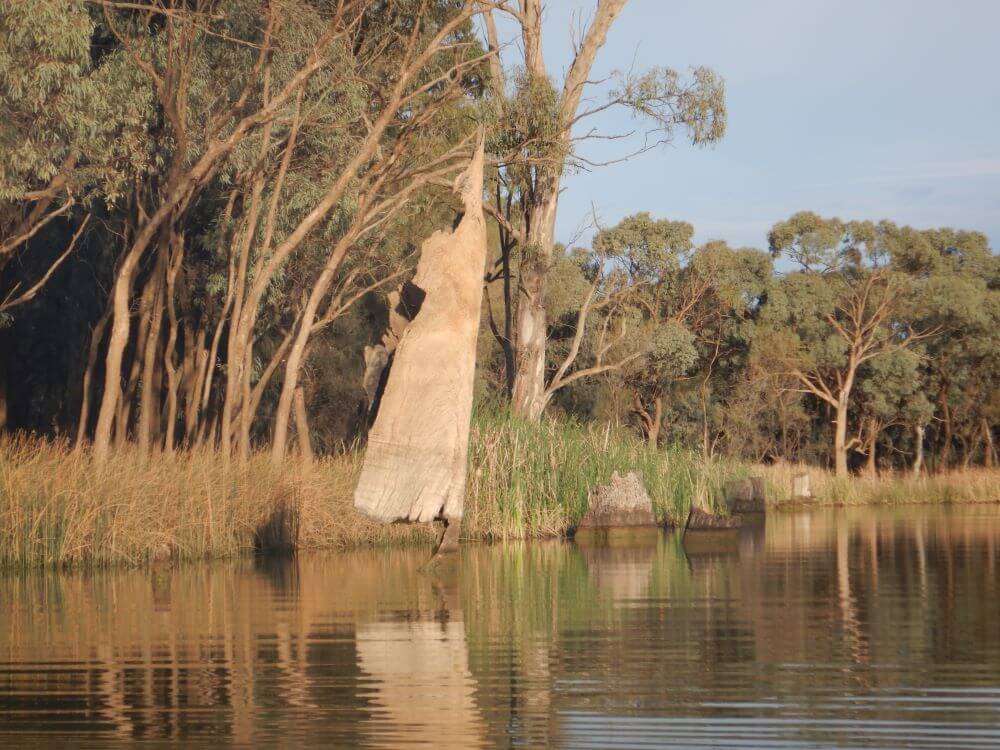 Kings Billabong
If you like getting onto the water, a paddle on Kings Billabong is a must. We hired our kayaks from Wildside Outdoors. They dropped the kayaks off and collected when we were finished which was great service.
The billabong is a fabulous place to explore. There are no currents to deal with. There is plenty of birdlife. We saw pelicans and swans everywhere. The highlight of our paddle was seeing an ibis rookery. It's an ideal paddle for the whole family.
Mildura water play park
If you have littlies and you want to cool off the water play park is the perfect spot. Situated alongside the river, the park has toddler friendly wading pools with waterspouts. There's lots of grass, picnic facilities, playgrounds and plenty of shade. We travel without kids these days but even so, it was still a lovely, cool place to relax and watch the river go by.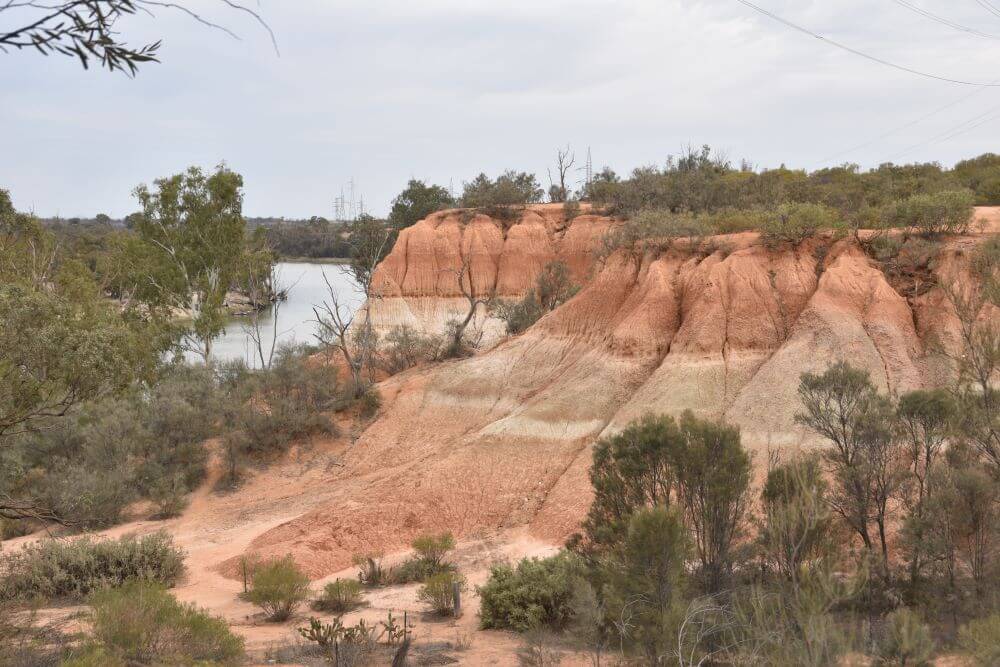 Red cliffs and Big Lizzie
The town of Red Cliffs is 15 minutes from Mildura. We visited to have a look at the Red Cliff Scenic Reserve. There were works going on when we visited which hindered our view, but it was still easy to see how the town got its name.
The other thing to see in Red Cliffs is Big Lizzie. If you or someone in your family likes Tonka trucks, check this out. Big Lizzie is an enormous tractor built in 1915 and used to haul heavy loads through the sandy landscape. If you have a little (or even a grown up) truck lover in your family, they won't soon forget the sight of Big Lizzie.
Perry sandhills
This is another great family activity. Sandboarding the red slopes of the Perry Sandhills is a fun memory our kids still have. The sandhills are located about half an hour from Mildura near Wentworth. These giant red dunes are spectacular whether you are walking over them or sliding down them.
As you walk towards the sandhills from the car park, lookout out on your right for a river red gum. What was once a giant tree, now only has its canopy sticking out above the dunes. It is an amazing experience to climb to the top of the dune and walk amongst the upper branches of the tree.
Photo Credit: Andrew Mather
Australian Inland Botanic Gardens
You don't need to venture far from Mildura to realise you're in a dry environment. It makes the Inland Botanic Gardens an even more amazing place. If you're used to the lush botanic gardens in the state capitals, you will enjoy the contrast here.
The centrepiece is the spectacular rose garden. There is also a great playground for children created from recycled materials. It contains musical instruments that the kids will love making some noise with.
ROAD TRIP PLANNING MADE EASY WITH CAMPS 11
The latest edition of Camps Australia Wide features more sites than ever before, giving campers, caravanners, 4WD enthusiasts, road trippers and other travellers more places to pull up and stay for the night. Travellers who want to take their pet on the road can choose from over 4,000 pet-friendly campsites using Camps 11, making it easy to discover Australia without having to leave your furry (or otherwise) friend behind.
Old Wentworth Gaol
The Old Wentworth Gaol is interesting to look through. It's in amazing condition for its 140 years. You can take a self-guided tour through the buildings and grounds. After it's closure in 1927  the building was used as classrooms for the Wentworth School until 1963. 
Murray Darling junction
For anyone who loves a natural landmark, you must see the junction of two of Australia's most iconic rivers – the Murray and the Darling. There is a tower lookout you can climb to get a better view of the junction. It's a nice spot if you are looking for somewhere to have a picnic lunch.
Wentworth Pioneer Museum
When you visit a region there are some things that, somehow, escape your attention – and this was one of them! We were kicking ourselves later for not having a look through here. Pretty much everyone we chatted to as we moved between Echuca and Mildura said this museum is a beauty.
Since we missed it, we can only report what we have heard. By all accounts it tells a great story of Wentworth's social, indigenous and natural history through a series of very good displays. What else can we say? It's on our list for next time.
AUSTRALIAN MADE PEGLESS CLOTHESLINE
Perfect for caravanning and camping, you can use this pegless clothesline anywhere! I even use mine at home on the balcony... Easy to put up with little occy straps at each end. Tucks away in a draw when not in use - perfect for quick drying of your towels and washing. Makes a great gift idea.
Mungo National Park
You will need at least a day to explore Mungo from Mildura, but it is worth it. Mungo National Park has a moon-like landscape with wind-sculptured rock walls and dunes. It also has an indigenous history dating back 40,000 years.
We went to Mungo for a guided sunset tour. For information about the area and the sunset tour read our post about the experience. It was certainly one of highlights of our stay in Mildura area.
We stayed at Discovery Parks Buronga Riverside Caravan Park enjoying the riverside sites and the gorgeous trees in full flower. We relaxed in the evening with the in-house country music performances and the food cart with delicious paela, baked potatoes and curries. Buronga has a relaxed and quiet vibe looking across the river to busy Mildura
A must do when you visit Mungo National Park is the Walls of China Tour with the Mungo Lodge accredited tour guides. The Sunset Tour provides a fantastic opportunity for photography, and access to the restricted areas allowing you to walk up into the lunette and watch the sun go down.
2 Hour Cruise
10.50am – 1pm
1.50pm – 4pm
This cruise offers a relaxing two hour cruise down through Mildura's Lock 11 (and return) on board the majestic steam driven, Paddle Steamer Melbourne.
​A comprehensive live commentary is provided, providing an educational insight on the Murray Darling River system and their environs, and the history of the paddle boats. Air-conditioned, heated, all weather boat.
A light lunch – sandwiches, cakes, tea/coffee and cool drinks are available on board and the vessel is fully licenced. Adults – $32.00
500 Things to do
Join our mailing list and receive our Free Top 500 things to do in Australia. If you love Australian Outdoor Experiences download this list and keep it handy when you are planning a weekend away or a road trip around Australia.