With Ningaloo Marine Park on its doorstep, you're not short of things to do in Exmouth. This Western Australian Coral Coast town is 1200 km north of Perth. It is the perfect base for exploring Ningaloo Reef, Cape Range National Park and the areas military history.
The best time to visit Exmouth is out of the heat of summer. From April to October you'll have beautiful weather for beachside camping, snorkelling and walks. During this period you also get the chance to swim with the humpback whales and whale sharks.
Disclosure: Please note that some links in this post may be affiliate links, and at no additional cost to you, we earn a small commission if you make a purchase. Commissions are appreciated and go toward maintaining the Curious Campers website.
Ningaloo Visitor Centre
This is one of a couple of visitor centres worth popping into in the area. The other is the Milyering Discovery Centre on the other side of the Peninsula. The Ningaloo Visitor Centre is a lot more than a place to get brochures, maps and book your tours and accommodation. It is also a multi-level museum and aquarium.
For a small fee you can look around the History Gallery, The Range Gallery and the Ningaloo Gallery which all have a range of multi-media displays. The cyclone room and documentary is great. So too is the information and displays about the development of the town from a military outpost to tourism hot spot. There is also a multi-story aquarium if you want to get a taste of the reef.
Snorkelling Ningaloo Reef
You can't go to Exmouth and not snorkel. From the township it is about a 50 minute drive around the Exmouth Peninsula to Ningaloo Reef, the largest fringing coral reef in the world. Turquoise Bay and Oyster Stacks are a couple of great snorkelling spots where you'll everything from colourful fish, to rays and turtles. Read our Exmouth snorkelling guide to find out everything you need to know to see the best of Ningaloo Reef.
Bundegi Beach Credit Tourism Western Australia
Bundegi Beach
While there are some fabulous places around Exmouth to go snorkelling, this isn't really one of them. It is a great place to go for a swim, a kayak or cruise around on a stand up paddle board. It is only 10 minutes from Exmouth. There is a boat ramp and jetty there and you can fish from the beach.
If you do have a kayak, about 3 km south of the beach is the Bundegi Sanctuary Zone. There are a couple of mooring points in the sanctuary where you can tie up and go for a snorkel. It is best to time your kayak and snorkel at high tide so the reef is not exposed. The Bundegi Sanctuary Zone is a no fishing area.
Exmouth Navy Pier Credit: Dive Ningaloo
If you're into scuba diving, you will have heard of this place. The Exmouth Navy Pier is one of the top dives in Australia and one of the best shore dives in the world. The 300m long jetty is still an active navy facility so diving here is by organised tour only.
Because of the need to dive here around the currents and tides, dive times are quite variable. The sea life under the jetty is amazing. There's everything from huge schools of fish to reef sharks and giant cod. Contact Dive Ningaloo for more info.
Kayaking Ningaloo Reef Credit: Tourism Western Australia
Glass Bottom Kayak Hire
For a different view of Ningaloo Reef you can hire a clear bottom kayak. If you are not so much into swimming this is a great way to see all the marine life. You will have to collect your kayak and drive it around to the reef. We were getting around in campervan and unfortunately they didn't deliver or have an office on the reef side of Exmouth Peninsula. You can also book a sea kayak tour in the Bundegi Sanctuary Zone, this is a great option if you don't have your own kayak.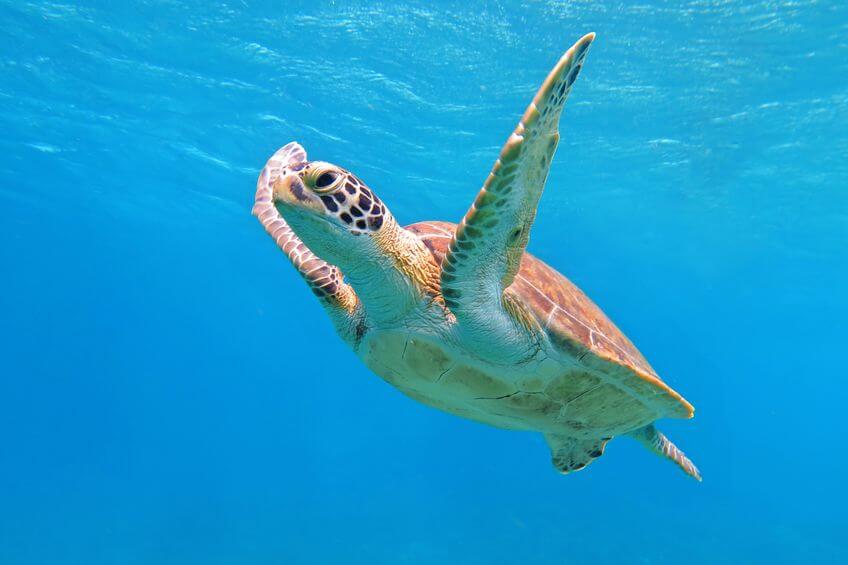 TURTLE TOUR – KAYAK & SNORKEL
Sea kayaking is a great way to experience the magic of Ningaloo. Join us for a half day sea kayak and snorkel adventure in Ningaloo Reef's nursery, the wildlife-rich Bundegi Sanctuary Zone. Spot turtles, rays, and baby reef sharks in the shallows and snorkel from your kayak amongst the sheltered coral reef.
Swimming with Whale Sharks
One of the must do, big ticket activities in Exmouth is swimming with the whale sharks. Whale sharks migrate to Ningaloo's outer Reef between March and September and swimming with them is the experience of a lifetime. It's a full day activity. As well as whale sharks you might also spot humpback whales, turtles, manta rays and dugongs. Read our post on swimming with whale sharks for more details.
BUCKET LIST EXMOUTH WHALE SHARK SWIM
Imagine the most amazing and majestic underwater experience you could possibly have. Visit the world heritage listed Ningaloo Reef which is home to some of the world's most beautiful reef abundant with marine life. Swim with the gentle marine giants as they make their way along the North West Cape during their annual migration.
VLF array
The Naval Communication Station Harold E. Holt is on the tip of the Exmouth Peninsula. You can't miss the 13 towering transmitter masts and web of connecting cables as you drive between Exmouth and Ningaloo Reef. The towers are over 350 metres tall and are a striking structure.
Involved with submarine radio communications, the towers are also the source of many a conspiracy theory – we'll leave Googling those to you. UFO base theories aside, the towers are at their spectacular best at the end of the day when silhouetted against a sunset. A great place to check out the VLF array is from the car park where you can see the SS Mildura wreck…
Wreck of the SS Mildura
Look for the Mildura Wreck Road turn off from the Yardie Creek road as you round North West Cape a few minutes north of Exmouth. The SS Mildura was cattle ship that broke up on the reef during a cyclone in 1907. The remains lie only 80 metres from shore and you can see them at low tide. It is not only the waves that have continued to break up the wreck. It was also used for target practice during World War 2.
Vlamingh Head Lighthouse
If you notice a line of cars leaving your caravan park around sunset, there's a fair chance this is where they're going. The Vlamingh Head Lighthouse is both a spectacular sunset vantage point and an interesting historical site. Signage around the lighthouse describes its history since coming into operation in 1912.
The headland also has some military history. It was the site of anti-aircraft positions and radar stations during World War 2. Signage and the remains of the installations gives you a further insight into Exmouth's military heritage. Nowadays, the headland provides amazing views of Exmouth, Ningaloo Reef and the Indian Ocean. It's also not a bad place to spot migrating whales.
Staircase to the Moon
No doubt you have heard of the Staircase to the Moon, the rippled reflection of the rising moon on the mudflats of Roebuck Bay in Broome. There are other locations where you can experience the effect like Onslow, Dampier and Port Headland but can you see it in Exmouth? The answer is yes and no.
Because of the big tides in these northern towns you get the reflection of the rising moon on the mudflats. The tides are not as big in Exmouth but you can see the full moon rise over the water on the eastern side of Exmouth Peninsula. It's a more watery staircase but still a great sight.
Jurabi Turtle Centre
One of Ningaloo Reefs most loved inhabitants are its sea turtles. The three types that live on Ningaloo are the green, hawksbill and loggerhead sea turtles.  The Jurabi Turtle Centre is just on the Ningaloo side of the North West Cape about 15 minutes from Exmouth. The turtle centre is open year round and has good interpretive signage and some fantastic life-sized turtle models.
Turtle season runs from November to March. At the start of the season you can see females coming in to lay their eggs. If you are lucky, you might catch the hatchlings later in the season making the dash from the beach to the water.
Whale Watching
Not only can you see whale sharks from Exmouth, you can also see and swim with whales. From the start of August to the end of November, Humpback whales migrate through the waters of Ningaloo. There are tours you can go on to spot whales but if you are up for more of an adventure you can also join a swimming with whales tour. We spotted several of them on our whale shark swim (along with turtles, manta rays and dugongs).
NINGALOO SUNSET WHALE WATCHING CRUISE 
If you prefer to stay dry head out on a sunset cruise over Ningaloo Reef. Keep an eye out for whales, dolphins, turtles & more. Enjoy snacks & a drink of bubbles as you watch the sun slowly set over Ningaloo Reef.
The Big Prawn
If you like ticking off Big Things around Australia, Exmouth won't let you down. It is home to the Big Prawn – a 4m tall fibreglass crustacean in the middle of town that celebrates the areas prawn industry. Is it the biggest prawn in Australia? Not quite.  Ballina in northern New South Wales has those bragging rights but if you are a Big Thing aficionado, then Exmouth's Big Prawn is still worth a selfie. Just down the road you will find the Big Whale Shark at the local servo. It's nothing like seeing one underwater but is another Big Thing for your list.
Walk or Kayak around Mangrove Bay
Mangrove Bay is 35 minutes from Exmouth on the Ningaloo side of North West Cape. It is a lovely spot and quite different to the coral lined beaches you see so much of in Cape Range National Park. The area is rich in birdlife, so if you have twitching tendencies take your binoculars. There is a 100m long boardwalk and large bird hide, at dawn or dusk keep an eye out for the many migratory and local birds that call the mangroves home.
At low tide you can walk out in the bay stepping from stone to stone spotting crabs, small fish and birds. In warmer months, when the tide is in look out for baby sharks and rays swimming amongst the mangroves. This is a super spot to kayak around, you're an even better chance of seeing a host of critters swimming around the tidal waters.
Krait & Potshot Memorials
Better known today as an access point to Ningaloo Reef, these memorials are two of many reminders that Exmouth also has a rich military history. You'll find them near Learmonth Airport about 25 minutes from Exmouth. There is a carpark off the main road and it's a short walk to the memorials.
The memorial commemorates two campaigns with some detailed and interesting interpretive signage. Even if you are not a military buff, the stories told here a quite remarkable. The Krait's secretive, high risk and successful mission, if it hasn't already, is a story fit for the big screen.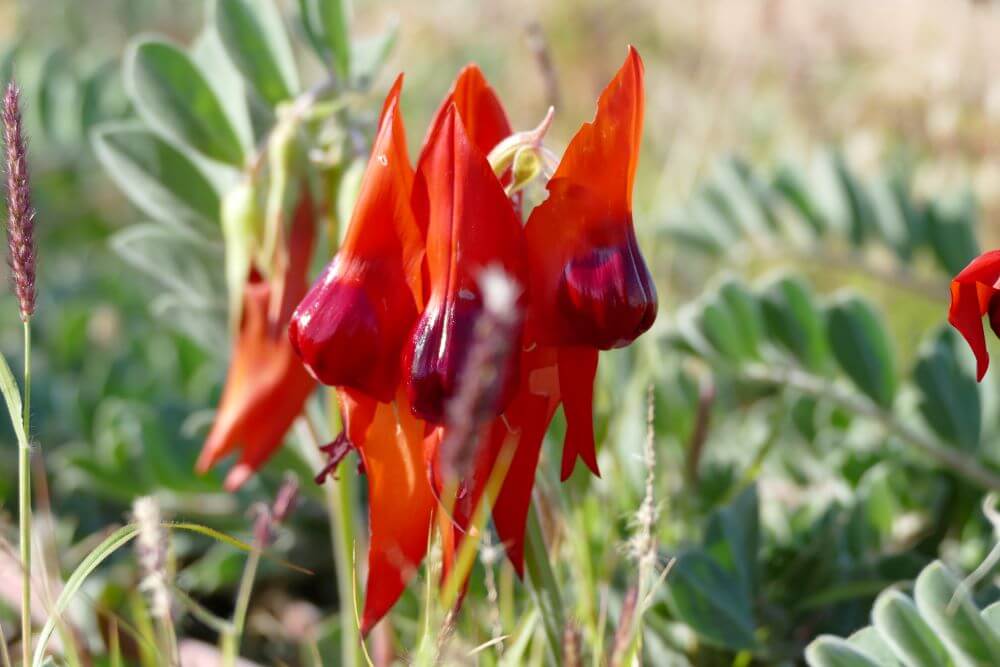 Cape Range National Park
Extending down the western side of the Exmouth Peninsula, Cape Range National Park features canyons, walks, snorkelling spots (see our Exmouth snorkelling guide), campsites and beaches. In late winter and spring follow the Cape Range Trail to see a colourful wildflowers. For our visit in winter, Sturt Desert Peas lined Yardie Creek Road.
Park fees apply for Cape Range National Park. There are 5, 14 and 28 day holiday passes and an annual pass available. You can also pay a daily casual rate per vehicle. There is a pay station on the way into Cape Range National Park or you can purchase online.
Yardie Creek Boat Tour
Located in Cape Range National Park, Yardie Creek is a permanent body of water that winds its way between tall, rugged red cliffs. Tours leave from the Yardie Creek Jetty which is a short walk from the main car park at the end of Yardie Creek Road. It is a 90 minute drive from Exmouth to the jetty. On the way there you'll have great views of the mountain range on one side and Ningaloo reef on the other.
The relaxing cruise runs for one hour and is a great way to learn about the gorge and its flora and fauna. A local family run the Yardie Creek tour and they have a lot of knowledge about the area. They also make the cruise great fun for people of all ages – this is definitely a family friendly activity. Keep an eye out for osprey eagles and the black footed rock wallabies that live on the steep rock walls.
Yardie Nature Walk & Yardie Gorge Trail
If you can't get to the Yardie Creek cruise there is a still a great walk around the gorge you can do. The Yardie Creek Nature Walk is an easy 1.2 fairly flat return walk along the gorge. From there, the Yardie Gorge Trail is a tougher hike that goes up to the top of the gorge, there are some steep sections but it is only another 600m in length. There are great views of the creek, the orange gorge walls and the coast.
We started the walk at the same time the cruise departed and finished about the same time the cruise finished so allow about an hour for the hike. Along the way, because of the acoustics we could clearly make out the commentary which was interesting. We also spotted osprey eagles and caught a fleeting glimpse of a wallaby. In spring you'll also see lots of wildflowers.
Charles Knife Canyon & Thomas Carter Lookout
This is an 11 km windy and at times narrow track. The last part is unsealed but do-able in 2WD if you take it easy. At the top there are great views of the canyon and Exmouth. The turn off is about 20 kilometres south of Exmouth. From the lookout you can access the Badjirrajirra Walk trail, a level 4 6km loop around the top of the range. It's best done between April and October to avoid the heat.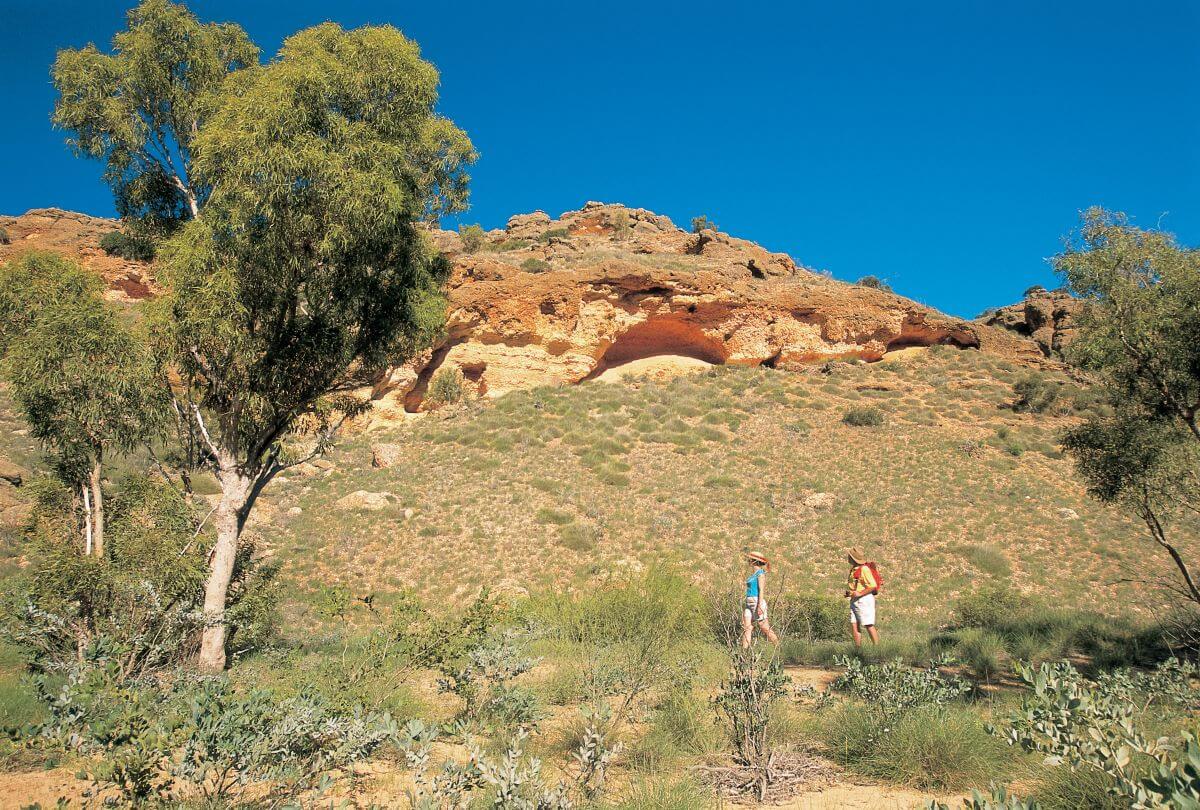 Shothole Canyon Credit: Tourism Western Australia
Shothole Canyon
From the height of Charles Knife Canyon and the lookout, the 4WD only Shothole Canyon drive takes you along the floor of the gorge. Look for the turn off about 15 minutes south of Exmouth. It's a 12km drive along the unsealed track. Check the conditions before you go, the track can be closed by rain.
Mandu Mandu Gorge
Mandu Mandu Gorge is 50 minutes from Exmouth on the Ningaloo Reef side of the peninsula. This is a great walk that gets you into the range and up close to red and orange rock walls. It is also a great spot for wildflower spotting in spring. There is a 3 km loop walk around the gorge that takes you from the sandy floor to the top of the gorge. There are some short steep sections so wear proper shoes and avoid the heat of the day. Keep an eye out for wallabies at dusk.
Cape Range National Park Wildlife
The national park is a great place for nature lovers. Of course the marine life on the reef is amazing – whale sharks, manta rays, turtles… But there is plenty to see on the land too. The birdlife is wonderful. Keep an eye out for sea eagles and osprey eagles. As you drive along Yardie Creek Road watch out for Australian Bustards. The gorges have black flanked wallabies and kangaroos and emu are common-place. On the sand, look out for snakes and lizards.
Cape Range National Park Camping
There are beachside campsites dotted along the length of the Cape Range National Park. A couple of the bigger ones are at Yardie Creek and Osprey Bay but if you want somewhere a bit quieter try sites like Ned's Camp, Kurrajong, Tulki Beach and Mesa. Sites must be pre-booked through Parks and Wildlife WA which you can do up to 6 months in advance. Many of the campgrounds have ocean front locations are perfect for snorkelling, kayaking, fishing or simply relaxing by the beautiful turquoise water.
Sal Salis Ningaloo Reef Luxury Glamping
Exmouth Accommodation
Accommodation options range from national park beach side sites along the reef to apartments in Exmouth. Yardie Creek Homestead on the eastern side of the peninsula is a well located caravan park for exploring the reef and saves you a lot of driving each day. There are several other caravan parks located in Exmouth. If you would like to splash out you could book a night or two at the exclusive Sal Salis Ningaloo Reef Glamping in Cape Range National Park.
2 NIGHTS LUXURY GLAMPING AT SAL SALIS
Searching for paradise? Venture to where the outback meets the reef for a two night stay in an eco-luxe tent. Nestled snugly in the pristine dunes overlooking the fringing Ningaloo Reef, you'll enjoy a coastal wonderland with no distractions. Includes all meals, drinks, snorkel equipment and more.
Froth Craft Brewery
There is so much to do in Exmouth, at the end of the day you'll want somewhere to relax and Froth Craft Brewery is the perfect place. Located in the heart of Exmouth on Kennedy Street, Froth Brewery has a great range of snacks, share plates, pub favourites and a kids menu. And then there's the drinks… no matter your poison, you'll find it here. There's everything from wine to cocktail slushies and of course beer.
There are 16 different craft beers on tap – there's a draught, ale or pilsner for every taste. The place has a fun, relaxed vibe helped along by a regular program of live music. When you're done hiking through gorges, swimming with whale sharks and taking in glorious sunsets, you won't find a better spot to end your day!
LIKE IT… PIN IT FOR LATER
500 Things to do
Join our mailing list and receive our Free Top 500 things to do in Australia. If you love Australian Outdoor Experiences download this list and keep it handy when you are planning a weekend away or a road trip around Australia.