When you start looking all the things to do in Echuca, you'll realise it's a long list. Whether you're interested in the Murray's history or you want to explore the river's natural beauty, here are a few things to get you started. 
Disclosure: Please note that some links in this post may be affiliate links, and at no additional cost to you, we earn a small commission if you make a purchase. Commissions are appreciated and go toward maintaining the Curious Campers website.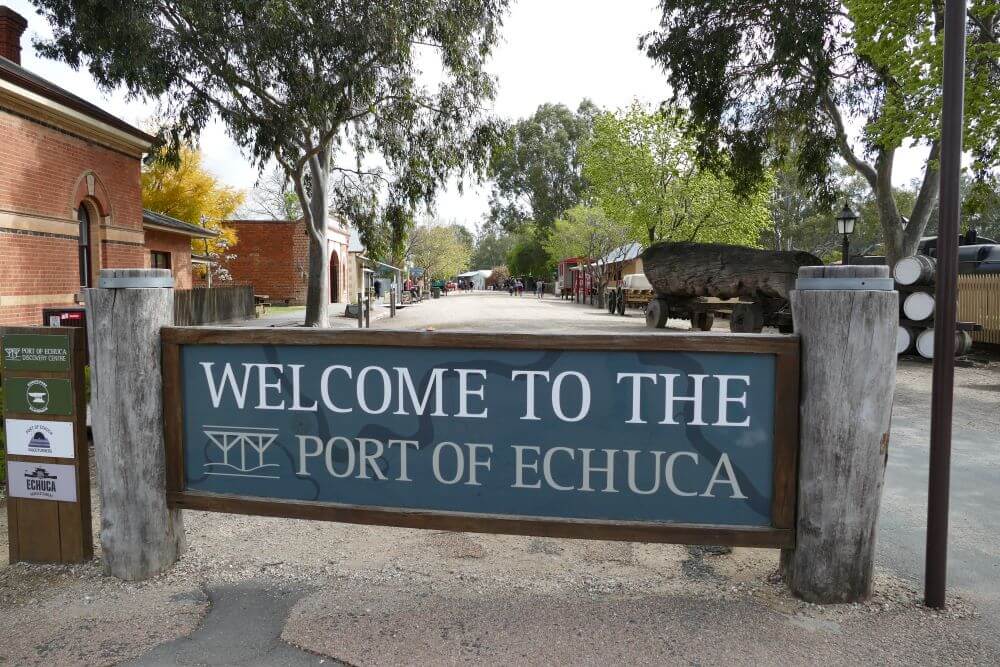 The Port of Echuca
At the heart of Echuca is the port district. Step back in time and get a feel for what a bustling place Echuca was in years gone by. From the imposing wooden wharf and period shops to rows of paddle steamers, the port is a great place to start a river holiday.
Paddle steamer cruise
The easiest way to get on the river is in a paddle steamer. From Echuca, there are no shortage of options to choose from. There are several different paddle steamers operating from the wharf. They offer everything from short sightseeing cruises to packages that include meals and live shows.
We went on the PS Alexander Arbuthnot. The sound of the paddle wheels chopping through the water, the smell of the steam engine and the gentle pace of journey all made for a great river experience.
Bendigo, Echuca & The Murray Full Day Tour
See 2 cities in 1 day. Jump on board the Paddlesteamer Emmylou for a Murray River Cruise.  Put on your hardhats and head underground explore how the miners lived and work at Central Deborah Gold Mine. Take the tram for a tour through the centre of Bendigo. 
Horse and cart ride
There is a lot to see around the township of Echuca. If your feet are getting a bit tired, you can take a horse and carriage ride. Operating on weekends and public holidays, it's a great way to see the esplanade and some of the old buildings.
The carriages are spectacular. We're not talking a simple wooden tray with a few hay bales to sit on. These are full size carriages! When you're sitting up on top you can't help but enjoy the ride.
Book a Rickshaw Pedicab ride around Echuca
You will be taken on a mystery tour around the port of echuca, passing some of the paddle steam boats, taken to historical points of interest and viewing the chocolate factory and wineries. Photos are included in time.
Echuca main street
Once you're done looking around the wharf, go one street over to High Street. Hopefully you are doing a bit of walking because High Street is full of yummy 'sometimes' food. For starters, there is the wonderful two storey Beechworth Bakery, the Echuca Heritage Sweet Company, the Echuca Chocolate Company and the Port Ice Creamery.
Throw in the Echuca Distillery, Echuca Coffee Roasters, the Mad Hatter Tea Shop and The Blackpudding delicatessen and you have a whole lot of foodie fun that will leave you needing only the lightest of dinners.
Paddle on the Murray
Canoe and BBQ boat hire is available from Victoria Park, only a few minutes from the centre of Echuca. You can hire a canoe for a couple of hours. This is plenty of time to paddle past the wharf and up to bridge connecting Echuca Moama.
If you feel like spending longer on the water, you can arrange for a drop off on the Goulburn River. From there you paddle to where there Goulburn meets the Murray. Around 5 hours later you arrive back at Victoria Park. It's a long paddle but you'll see plenty of birdlife and lovely river scenery. Read about our experience of this paddle in our blog post.
The Great Aussie Beer Shed
The Great Aussie Beer Shed is quite possibly the most impressive salute to beer in Australia. There is a huge collection of beer cans, beer signs, tap heads and brewing machinery. Add in a range of other iconic Aussie paraphernalia, and this is one impressive walk down memory lane.
The family owned museum is constantly being added to. So, even if you have been before, it's worth dropping in again to see what's new. Check the Beer Sheds website for opening times. Group tours can be arranged by appointment.
National Holden Motor Museum
Located in the heart of Echuca, this is a must see for any motoring enthusiast. With around 50 cars on display, the privately run museum captures all shapes and styles of Holdens over the past 70 years. There is a great giftshop if you are looking to add to your own collection oh Holden memorabilia.
Staff love seeing the cars that visitors drive to the museum. So, if you're touring the country in a classic old Holden, be sure to drop in and say hello!
Kyabram Fauna park
The Kyabram Fauna Park is half an hour from Echuca. It has a great range of Australian animals including free ranging kangaroos, wallabies and emus. There are feeding and interactive experiences throughout the day. Check their website for times.
We really enjoyed our visit here. There are different habitats to explore including a lake and wetland area which host many bird species. There were also two walk-through aviaries. You can feed parrots in one. The cockatoo aviary had the friendliest sulphur crested white cockatoo you will ever meet. It really likes getting onto your lap for a scratch on the head!
Rochester silo art
Silo art has become a massive thing for regional towns. Rochester, 20 minutes form Echuca, has a done a great job with their silos. There is a visitor book and donation box at the silo as work for carparking, when we were there, was ongoing. When it comes to silo art, it's always best to let the art do the talking…
Koondrook Barham
Koondrook is a small river town one hour from Echuca. If you have a spare morning, following the redgum statue trail around the quiet town is the perfect way to spend it. Against the backdrop of the river and the historic Arbuthnot Sawmill, the statue trail takes you to all points of the town.
The trail features people and animals of significance to the area. You'll see everything from Alexander Arbuthnot and golfer Stuart Appleby to a Murray cod and a wedgetail eagle.
Lockington
Lockington is about 25 minutes from Echuca Moama and there is one good reason to visit – Ciurleo Ice cream parlour and waffle house. Lockington seems an unlikely spot for a great ice cream and waffle house, but it is as good as it sounds! 
Gun Bower Creek
On every trip we discover something we wished we had known about beforehand. For our trip to Echuca and Mildura, that one thing was Gun Bower Creek. The easiest access point is from Cohuna, 45 minutes from Echuca.
The creek and lagoons are stunning. If you are a paddler, you could explore this area for days. There are beautiful unpowered campsites all along the creek. We spent a few hours driving along various tracks and stopping to look out across the lagoons. There were water birds, kangaroos and emus everywhere.
Don't make the same mistake we did; you could easily spend a few days here relaxing. The Cohuna visitor centre is a great place to start for maps and information about the area.
We stayed at Discovery Parks Maiden's Inn Moama in the middle of school holidays the park is rocking with water parks, pools, rock climbing walls and movies but we still had a nice quiet riverside site to relax. Camp Kitchens, Bathrooms, BBQ were modern and very quiet.
Choose from a number of different tour operators who have day cruises, lunch cruises or even dinner packages.
Our Paddle Steamer Cruise was on the PS Alexander Arbuthnot for a day time cruise.
500 Things to do
Join our mailing list and receive our Free Top 500 things to do in Australia. If you love Australian Outdoor Experiences download this list and keep it handy when you are planning a weekend away or a road trip around Australia.