These are some of the best things to do Bicheno, a beautiful coastal town along Tasmania's Great Eastern Drive. Beautiful beaches, delicious seafood, national parks, wildlife and rugged coastline are just a few of Bicheno's attractions. From the roaring spectacle of the Bicheno Blowhole to the super cute little penguins, Bicheno is great place for a beach holiday and the perfect base for exploring nearby Freycinet National Park.
Featured Image: Wineglass Bay Cruises © Wineglass Bay Cruises
Disclosure: Please Note That Some Links In This Post May Be Affiliate Links, And At No Additional Cost To You, We Earn A Small Commission If You Make A Purchase. Commissions Go Toward Maintaining The Curious Campers Website.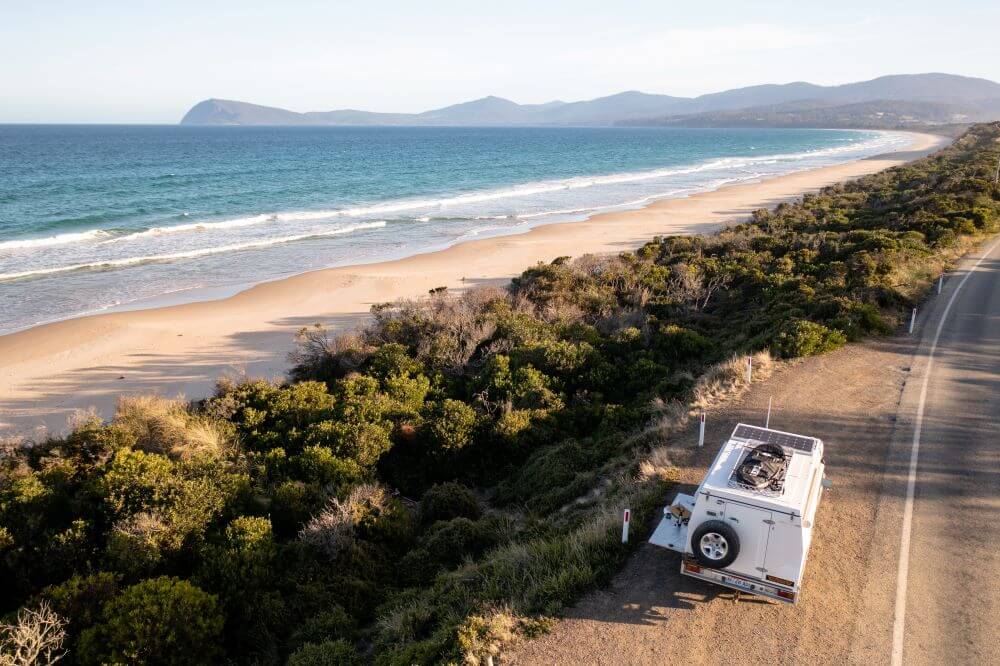 Getting to Bicheno
If you are coming from the south, it is a 2 hour 20 minute drive from Hobart on the Tasman Highway along the coast. Alternatively, you can go inland through the southern midlands and take in the colonial history in Oatlands, Tunbridge and Campbell Town which adds 20 minutes to your drive.
If you have taken the Spirit of Tasmania and arrived in Devonport, you have an inland drive via Campbell Town of 2 hours 40 minutes ahead of you.
How long do I need in Bicheno?
If you just want a beautiful coastal town in Tasmania where you can relax, you could spend a week in Bicheno walking and taking in the views. If you are on a schedule, you could see the best things to do in Bicheno in 2 days. Add a day or two if you want to use Bicheno as a base to explore Freycinet National Park.
Best time to visit Bicheno
Many of the best attractions in Bicheno are outdoors so maybe avoid the middle of winter – although winter has the best diving conditions. From August to November the weather is dryer and you'll see whales heading south. Summer is the best beach weather, but Bicheno is busiest then – February and March you might avoid some of the holiday crowds and see lots of little penguins.
Do I need a ark pass for Freycinet?
Yes, you do need a National Park Pass to enter Freycinet National Park.
Daily Passes are available for $40 per car for entry to national parks for a 24 hour period. (excludes Cradle Mountain). Purchase online at the Parks Pass Portal or at the National Park Visitor Centres.
Alternatively you can purchase a holiday pass for $80 to cover entry to all national parks including Cradle Mountain. Holiday Passes are valid for 2 months.
Specific daily passes for entry to just Cradle Mountain, can be purchased from the Cradle Mountain Visitor Centre.
Free things to do in Bicheno
There are lots of fun free things to do in Bicheno – swim or paddle at Waubs Bay or Redbill Beach, the Bicheno Blowhole is a must, penguin and whale watching, go for a hike in Douglas Aspley National Park.
Things to do in Bicheno for familie?
Eastcoast Nature World is a really fun family day activity. The Bicheno glass bottom boat is a safe and different activity too. Older Children will love the walk across to Diamond Island – crossing the sand bar is a great adventure. The young and young at heart will love the Pondering Frog Café.
Best time to see Penguins
The best time of day to see little penguins is for a couple of hours from dusk. The best time of year to see them is September to January when there are newborn chicks around, but you can spot them year-round.
Things to do in Bicheno
Day Trip to Freycinet National Park
It is only 30 minutes from Bicheno to the spectacular Freycinet National Park. Home to one of Tasmania's most famous landmarks, Wineglass Bay, exploring the walks, beaches and beautiful coastline of Freycinet National Park is a fantastic day trip from Bicheno. We think this is one of the most beautiful parts of Tasmania's coastline. You'll need a National Park pass to enter which you can get online. Here's a few things to have on your list when you visit:
Wineglass Bay Lookout walk – You get great views of the Hazards and the view to Wineglass Bay is one of the most iconic in Tasmania.
Walk to Wineglass Bay beach – for a longer walk continue down to the beach – it is a stunning place.
Cape Tourville Lighthouse – This is an easy walk with sensational views of the coast
Freycinet National Park Tours
Freycinet Walking Tour from Coles Bay – guided walk along Wineglass Bay and the Isthmus Track & Aqua Taxi return
3hr Guided Kayak Tour – Visit secluded bays such as Honeymoon Bay as you glide over crystal clear waters & reefs
Read More: Wineglass Bay Lookout Hike
Wineglass Bay Cruise
This full day tour from Coles Bay around Freycinet National Park is so good it deserves a heading of its own. On our last trip to Tasmania, we only had one day of rain – and it was the day we did this cruise! Sure, blue skies would have been nice, but it was still a spectacular day on the water. This is another of the excellent cruises run by Pennicott Wilderness Journeys. Their guides and service, on the three cruises we have done with them, is first rate.
You cruise along past amazing cliffs, caves, waterfalls, beaches and Schouten Island then weigh anchor in the crystal clear water off Wineglass Bay for lunch. You can see things from the water you would never spot from land – the waterfalls are amazing – and there is plenty of wildlife to see too. We spotted seals, dolphins, sea eagles and albatrosses. If you are there at the right time of year you could also see a whale. It is a great day and a fantastic thing to do from Bicheno.
Wineglass Bay Tours
Wineglass Bay Cruise from Coles Bay – Half day cruise to Wineglass Bay, white sand beaches & rugged cliffs + lunch
Read More: Strahan Scenic Cruise
Douglas Aspley National Park
With Freycinet National Park nearby, it is easy to overlook Douglas Aspley National Park. The park is a 40 minute drive north from Bicheno and is a great place for a half day hike through the diverse Eucalypt forest. There is a bit of everything here – forests, gorges, cliffs, rivers, waterholes, waterfalls and lots of wildlife – it is an interesting place.
You'll find another of Tasmania's 60 Great Short Walks here. The Aspley Gorge walk is a 2-3 hour, 5.6km return hike across the Aspley River to the Aspley waterhole then onto Aspley Gorge. There's a shorter walk to the waterhole and back, it is 1 hour 20 minutes return. If you want more of a challenge, in dry conditions you can rock-hop along the river into Aspley Gorge – add an hour or two to the Aspley Gorge walk if you do this option.
Read More: Leven Canyon Walks and lookouts
See Bicheno Penguins
If you are a big fan of little penguins, rug up and get down to the coastline at dusk. One of the best attractions in Bicheno for wildlife lovers is seeing the local population of little or fairy penguins come to shore each evening. Bicheno is home to around 1000 little penguins and there are different options for seeing them. The most popular way to view the penguins is on a guided tour with Bicheno Penguin Tours.
Some accommodation providers, like Diamond Island Resort, also run nightly tours for guests. But if you want an un-crowded experience head to any stretch of coastline between Redbill Beach and the Bicheno Blowhole at sunset and you are a chance of seeing them. They often turn up at the Lobster Shack near the Gulch. Just remember, the penguins don't like bright light so always use a red or yellow light to spot them in the dark.
Bicheno Penguin Tours
Bicheno Penguin Tours – A short bus ride will take you to the private penguin rookery with an expert guide
East Coast Natureworld
This is a wonderful place to encounter some native wildlife as you wander around the pretty grounds. The sanctuary, which looks after orphaned and injured animals, has a large open range area where you can feed a range of animals from forester kangaroos and wallabies to a collection of different birds. There are also keeper talks at feeding time at the enclosures. The highlight of the visit here is the Tasmanian Devil Night Tour. You go to a special devil hide from where you can watch the devils in their natural habitat. The wine and cheese platter you get to enjoy during the viewing is a nice bonus!
East Coast Natureworld is a 5 minute drive north of Bicheno and it is open daily from 9.30 to 4.00. The Gallery Café will keep you well fed and there is a gift shop and interesting wildlife photography display.
Read More : See more Wildlife in Tasmania
Governor Island Marine Reserve
Tasmania might not be top on your list as a dive location, but its crystal clear water makes it a perfect spot to get your scuba gear on. Governor Island Marine Reserve is one of Tasmania's best scuba diving sites. It is just off the coast across from the Gulch. Along with a huge variety of fish, there are also amazing kelp and sponge gardens. Winter has the best conditions with visibility getting up to 30m. There are a couple of dozen different dive sites in the reserve and conditions can be tricky so going with a local guide is the way to go. It is not suitable for casual snorkellers.
Bicheno Glass Bottom Boat Tour
Go to any of Bicheno's beaches and you'll see how clear the water is, so imagine what you will see aboard a glass bottom boat. These 40 minutes tours depart from the Gulch three times a day. They are a great way to see some of the local marine life. You can spot anything from a range of local fish species to sharks, rays and seals. You'll also get a look at the amazing seaweed beds. Locally owned and operated, your guides know the area like the back of their hand so you get some great commentary on both the sea life and Bicheno's history.
Whalers Hill Lookout
This is a fantastic lookout right in the middle of town, there is a small parking area on the corner of Foster and Fraser Street. The track up Whalers Lookout Scenic Reserve is steepish but the good views and keeping an eye out for birds will keep you going. There are actually two viewing platforms here. When you get to the T junction go left and you will soon arrive at Whalers Lookout. The views looking north up the coast are stunning and signage there is good too.
From there, continue to your right and you will get to a second viewing platform with views over The Gulch. There is more interesting interpretive signage here with the views over the Govenor Island Marine Reserve. If you look carefully or can zoom in with a camera or binoculars, you might spot seals on Alligator Rock. From there you wind you way down the granite hill. The walk takes about 30 minutes which includes time to take in the scenery.
Redbill Beach
This is a beautiful spot with views over to Cod Rock (Diamond Island Nature Reserve). Come here for a surf, snorkel, or cruise around on a stand up paddle board or kayak. The area is also a bird sanctuary. In summer, from dusk, you'll see and hear little penguins. Pied oyster catchers and hooded plovers also nest in the area.
Waubs Beach
Waubs Beach overlooks a lovely turquoise bay that is another great spot for kayaking, paddle boarding, surfing or just playing on the sand. Follow the bike/walking trail south and you'll come to one of the East Coast Whale Trail sites. A bit further on is Peggy's Point which is a great spot for sunrise and sunset viewing – just watch out for waves!
Walk to Diamond Island
If you are the kind of person who enjoys going for a walk and losing track of time, don't go to Diamond Island! Diamond Island sits a couple of hundred metres off the coast at the northern end of Redbill Beach. For an hour or so either side of low tide you can walk out there along a mostly exposed sand bar. The small island is a bird sanctuary – the tracks you'll see out there are made by the island's colony of little penguins. Stay on the rocks as you look around to avoid stomping on any nests.
Keep an eye on the time, you do not want to get stuck on Diamond Island when the incoming tide causes the sand bar to disappear!
Read More : Maria Island Beaches, Walks & Wildlife
Bicheno Foreshore Walk
This popular 6km out and back walk takes you past some of Bicheno's best attractions and along some great coastline. It runs between the Bicheno Blowhole and Redbill Bay. Along the way you walk over sand and rock, past the Gulch, Peggy's Point and Waubs Bay. It gets a little steep in parts, but it is generally an easy walk and with so much to see, it's a fun family walk too.
Bicheno History Trail
To delve a little deeper into Bicheno's history you can follow a 16 stop heritage trail around the streets of Bicheno. The buildings featured on the trail each have a plaque with information on the town's founders and development.
Read More : Things to do on the Tasman Peninsula
Bicheno Blowhole
The Bicheno Blowhole is a beauty, it is one of the more reliable blowholes we have seen. Even on a seemingly calm day you can get a tall spray of water. If you aim to visit when its high tide, you can't go wrong. Visit on a stormy day and you will really see something! The water erupts through a hole in the roof a granite rock cave carved out over thousands of years by the ocean. The shape of the spray can vary from a tall geyser to a big fan of water.
To get to the blowhole, follow The Esplanade south past the Gulch, along the coast until you get to car park. The blowhole is sign posted from there. It is only a short walk across the rocks to get there but you are likely to see and hear it from the carpark. One of the best things about the Bicheno Blowhole is that you can walk around it and view the jet of water from different angles. You can get close enough to it to get a drenching so keep an eye on it and watch your footing if you are in the splash zone.
Stop at the Spiky Bridge
This unusual convict-built bridge was constructed in 1843 and if you are in the neighbourhood, it is worth a look. You'll find it about 45 minutes south of Bicheno just on the Hobart side of Swansea. It is an unusual sight as you travel along the Tasman Highway which hugs the coast along this stretch. As well as looking a little out of place it also has an unusual design. The parapet, or the walls either side of the bride, have been finished with rocks placed vertically which give the bridge its spiky appearance and name. There is a carpark near the bridge, it's not a long stop but still worth hopping out of the car for.
Impressive Whale Watching
Bicheno is on the East Coast Whale Trail, which consists of a series of towns that are good spots for whale watching. Towns on the trail have signs with whale information at whale watching vantage points. In Bicheno, Waubs Bay and the Bicheno Blowhole are where signs are located.
For great whale watching views it is also hard to go past Whalers Hill Lookout which was used for just this thing. For up to the minute information on where whales are, you can also follow the Bicheno Whale Watching Facebook page. You can spot humpback whales swimming north from May to July and Southern Right whales from June to September. You'll see them both heading south between September and November.
Whale Watching Tours
Wineglass Bay Cruise from Coles Bay – Half day cruise to Wineglass Bay, humpback whales & dolphins + lunch
Read More : See Whales at the Head of the Bight in South Australia
Indulge at the Lobster Shack
If you love seafood, and in particular lobster, no matter where you decide to travel in Tasmania, you'll have to find a way to get to Bicheno to visit the Lobster Shack. It's an institution in Bicheno. Just metres from the water with views across the Gulch, the balcony is the perfect place to dine out on one of their famous lobster rolls. Not a fan of Lobster? You can try some local oysters, calamari or fish and chips too but it's the local lobster that is the hero of the menu. You can wash it all down with some local east coast wine or cider. In the evenings, listen out for the local little penguins returning shore.
Pondering Frog Café
We dropped in here after a cruise around Freycinet Bay. It is right on the corner of the turn off to Coles Bay. First, if you like frogs and any decoration that has anything to do with a frog, you'll love it here. From the giant frog out the front to the frog figurines inside, the décor is unmistakably green. The food is good too. There's everything from seafood chowder and homemade ice cream (it was delicious) to an all-day breakfast. There is plenty of room for kids to run around and a nice outdoor area. And what owner Lester can't tell you about the region isn't worth knowing.
More Places to Eat in Bicheno
Farm Shed East Coast Wine Centre
This is perfect thing to do in Bicheno if the weather is wet. In a lovely modern rustic setting you can taste the best of Tasmania's wine and gin. The farm shed design is a great setting and you can sample and buy wine from across Tasmania.
Bicheno Food and Wine Festival
You need to be in the right place at the right time for this annual event but check it out if you are around Bicheno in November. This ticketed event has food and wine stalls from around the region. There is also a plenty of live music and events for kids. It is a big weekend – look out for it in the second half of November.
Little Bay Patisserie
Pastries, tarts, biscuits, cakes and mouth-watering croissants (the ham and cheese croissant…delicious!). You might also find the best coffee in Bicheno here too. It's definitely worth popping in for morning tea or brunch. You'll find the Little Bay Patisserie on Burgess Street; it is open Wednesday to Sunday.
Melshell Oyster Shack
If you love sucking down an oyster, you have to visit the Melshell Oyster Shack 40 minutes from Bicheno in Dolphin Sands. See a working oyster farm as you enjoy the local product and a range of other local seafood. Wash it all down with local wine too. There are cheese platters, and you can cook your own seafood kebabs right there at your table. It is a beautiful spot with outdoor seating. Open Monday to Friday.
Read More : A Weekend on Bruny Island
Bicheno Accommodation
Diamond Island Resort – Self Contained apartment with ocean views, restaurant + free private penguin viewing
Jetty's End Bicheno – Holiday Home with 3 br, kitchen, restaurant, tennis court. 2 minute walk to beach
Like it? Pin it for Later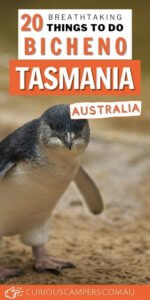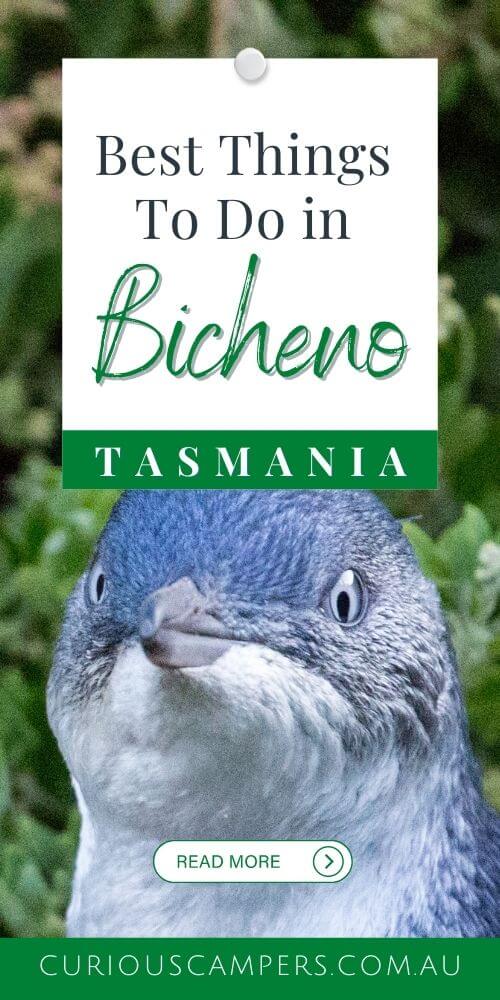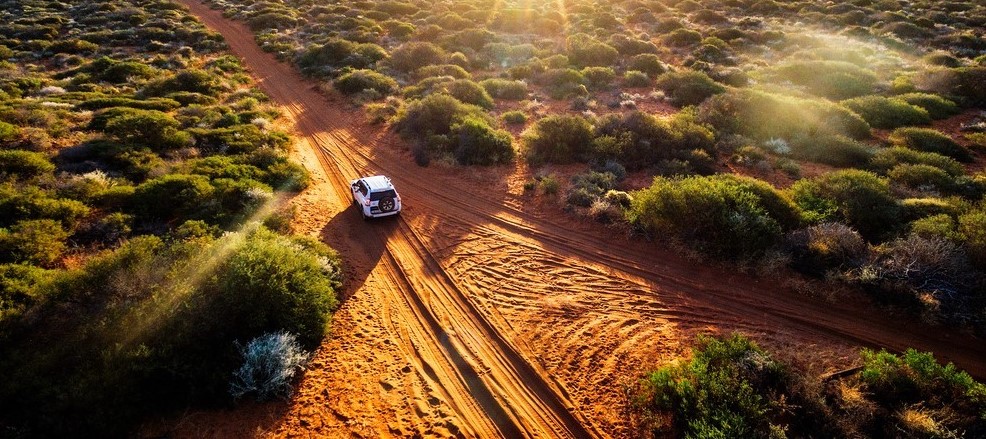 500 THINGS TO DO
Join our mailing list and receive our Free Top 500 things to do in Australia. If you love the Australian Outdoors download this list and keep it handy when you are planning a weekend away or a road trip around Australia.
Recent Posts: