The Savannah Way is an epic 3700km journey across Australia's tropical north. It stretches from Cairns, goes through the Northern Territory, and finishes in Broome.
You can drive the full length of the Savannah Way or break it into sections and take your time to explore. Here we're going to take a closer look at the leg from Cairns to the Northern Territory border. We will take you to stunning national parks, ancient lava tubes and fossil sites. Visit outback towns, beautiful swimming holes and waterfalls.
The direct route from Cairns to the Northern Territory border is around 1100 kms. But as you will see, there are many stops and small detours along the way that you won't want to miss. The Savannah Way is best explored during the dry season from April to September. In the wet season some roads become impassable after rain.
Disclosure: Please note that some links in this post may be affiliate links, and at no additional cost to you, we earn a small commission if you make a purchase. Commissions are appreciated and go toward maintaining the Curious Campers website.
Cairns
Cairns is the starting point for our road trip. Before hitting the road, make sure you give yourself time to explore the area. Far North Queensland is a great base for seeing the World Heritage Listed Great Barrier Reef.
Day trips leave from Cairns and there are lots of options for seeing the reef.  You can snorkel, dive or even go to underwater pontoons where you can see the reef without getting wet. If you prefer to stay dry, go to Fitzroy or Green Island for a day trip. The tropical beaches are beautiful, there are water sports and clear turquoise water.
2 hours north of Cairns is another World Heritage Listed area – the Daintree Rainforest. At the Daintree Discovery Centre you can explore the forest at ground level or on treetop walks. Take a cruise on the Daintree River and spot some saltwater crocodiles. Or for a change of pace, try ziplining through the forest canopy.
There are lots of fun activities for kids. See a crocodile show at Hartley's Crocodile Farm or take a dip at the Cairns Esplanade Lagoon. There are croc' free pools, sandy beaches, water fountains and BBQs – it's a relaxing place to spend the day.
If you are looking to spend a few extra days in Cairns make sure you check out this link with plenty of great things to do in Cairns.
Kuranda
Cairns to Kuranda (Daytrip) 27km (30 min)
We took the Kuranda Scenic Railway from Cairns to Kuranda. It winds through Barron Gorge, past waterfalls, over bridges and through the forest. The return journey on the Skyrail Cableway has great views of the rainforest and Cairns. The glass floor gives you a bird's eye view of the trees below.
In Kuranda you can look through the markets and visit local wildlife destinations. The Australian Butterfly Sanctuary is home to over 1500 butterflies. As you walk through the aviary you will find butterflies flitting around you, we even had some land on us.
If you like your wildlife cuddly, visit the Kuranda Koala Gardens. You can hug a koala and see wallabies, wombats, quokkas, and gliders. Less cuddly but still great to see are a range of reptiles. See frogs, lizards, turtles, freshwater crocs, and some huge pythons.
KURANDA VILLIAGE, SKYRAIL & SCENIC RAIL ADVENTURE
Self-drive and park at Skyrail Rainforest Cableway Smithfield Terminal for this incredible rainforest adventure. Your pass includes tickets for both the Skyrail Rainforest Cableway and the Kuranda Scenic Rail, as well as discounted entry to the best Kuranda attractions.

Mareeba
Cairns to Mareeba – 62km (1 hour)
Mareeba is a great spot for foodies. Grab some fresh tropical fruit from local farms. Try some coffee from the local plantations or sample the local wineries. Visit the Mareeba Markets on the second and fifth Saturdays of the month. The annual outback Rodeo is in July and the Multi-Cultural Festival takes place in August. To cool off, drop into the rock pools at Emerald Creek Falls or Davies Creek Falls.
Not far from Mareeba you will find the privately owned Granite Gorge Nature Park. With cabins and campsites you can stay a night or two and explore the boulders and swimming holes. Wildlife is plentiful with the Mareeba Rock Wallaby, possums, dingoes, quolls and turtles to spot.
If you enjoy a bit of bird watching, the Mareeba Wetlands has a diverse range of birds. Brolgas and Sarus Cranes roost there in November and December but there is lots to see from April. Try a dawn or dusk tour to see the most birdlife. You can also try your hand at fly fishing, or paddle a canoe through the lagoons.
Millaa Millaa Waterfall Circuit
Ravenshoe – Atherton Tablelands
Mareeba to Ravenshoe 85km (1 hour 10 minutes)
Ravenshoe sits 930 above sea level, and is the highest town in Queensland. Part of the Atherton Tablelands, there are great waterfalls, walks, and rainforests. Ravenshoe finds itself on the Atherton Tablelands Food Trail. There is everything from dairies and distilleries to coffee plantation. Look out for the giant high oleic peanuts. Try one and you'll never eat regular peanuts again!
The Millaa Millaa Waterfall Circuit is a lovely drive. Surrounded by lush gardens, Millaa Millaa Falls are spectacular. Go for a dip in the cool water, you might even even spot a platypus. Further along the circuit you will come to Zillie Falls and Ellinjaa Falls. It's an easy drive with good parking, viewing platforms, parks and BBQ facilities along the way. Have your camera handy, you'll be taking lots of pictures!
Near Ravenshoe are the natural mineral springs at Innot Hot Springs. Take care as some of the water reaches 75 degrees Celsius. Next door is the Hot Springs Village. If you stay there you get access to the seven pools which you can relax in.
ATHERTON TABLELANDS WATERFALLS TOUR
Immerse yourself in Northern Queensland's waterfalls, rainforests, and other natural wonders on this full-day tour from Cairns. Admire the untouched scenery and stop to swim in the famous Millaa Millaa, and Josephine Falls. 
Undara Experience
Ravenshoe to Undara 144km (1 hour 45minutes)
The Undara Volcanic National Park was one of our favourite stops on the Savannah Way. Created by volcanic activity 190,000 years ago, the park features huge caves formed by lava. Bayliss Cave is 1.3km long, 11m high and 20m wide. The caves can be dangerous, so access is only by guided tour.
The area comes alive at sunset. Thousands of micro-bats leave the caves. Snakes wait in the trees hoping for a micro-bat snack. You'll see kangaroos, wallabies and a variety of birds on a tour of the Savvanah grasslands near the caves.
Undara has a range of accommodation. There is everything from converted train carriages to cabins and camp sites.
DARWIN TO CAIRNS CAMPING ADVENTURE TOUR
A 11-day adventure-filled trip traveling from Darwin to Cairns through the most remote parts of the Savannah Way.  Travel east through Kakadu, Mataranka, Lorella Springs and Lawn Hill, arriving in the tropical rainforest near Cairns.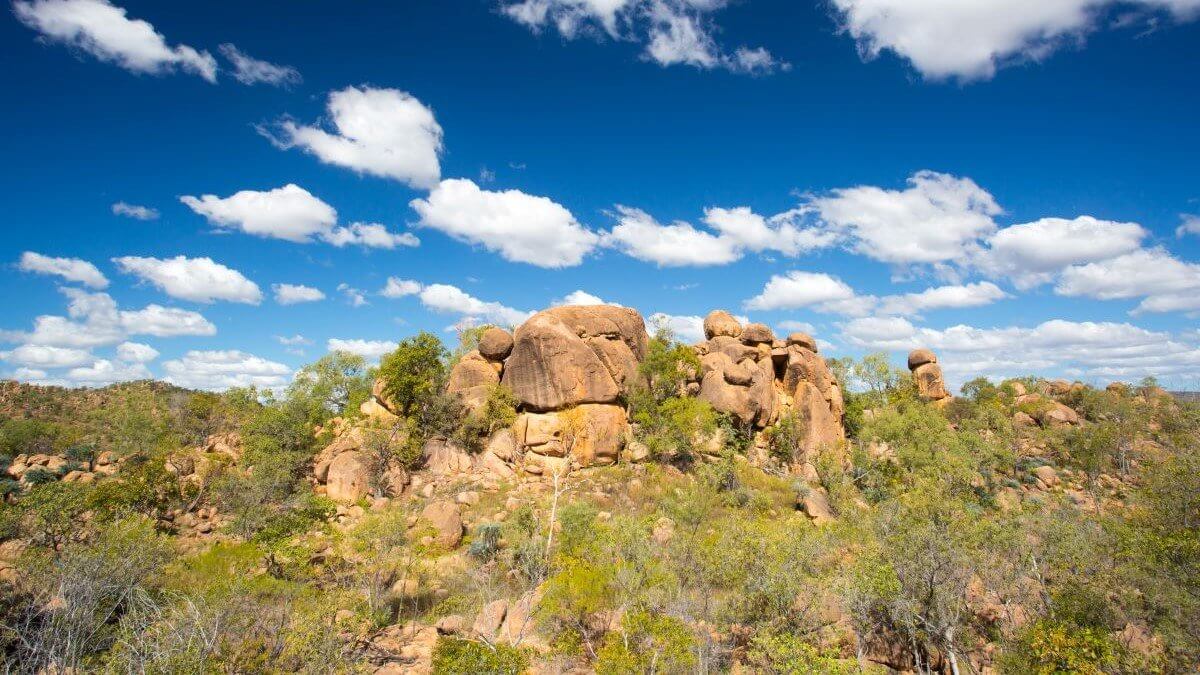 Mount Surprise
Undara to Mount Surprise 94km (2 hours)
If finding a glittering gem has always been a dream of yours, Mount Surprise is where it could come true. The Gem Den has all the information and equipment you need to find that hidden treasure. The O'Briens Creek fossicking site is where you might find topaz, garnet and quartz.
If you are in town on a Thursday afternoon you can take a ride on the Savannahlander railway to Einasleigh. Have a look around Einasleigh or take a tour to Cobbold Gorge or Undara and return to Mt Surprise by bus.
Talaroo Station Hot Springs is  15 minutes from Mt Surprise on a working cattle property. The springs are super hot, but create a pool which has a constant temperature of 35 degrees. Some bush camping is available at the springs.
Bedrock Village Caravan Park has cabins, drive through powered sites and grassed unpowered sites. There's also a pool, 9 hole mini golf course and outdoor dining.
Cobbold Gorge
Mount Surprise to Cobbold Gorge 300km (4 hours 30 minutes)
Chris from Aquarius Traveller shares her experiences of Cobbold Gorge.
Outback Queensland wouldn't be complete without visiting Cobbold Gorge. It might be a small gorge, but it has a huge personality and is an amazing experience to explore firsthand.
Unlike other gorges within National Parks, Cobbold Gorge is privately owned. The only way to visit and see the gorge is through an organised tour. You can choose from a boat tour, gliding through on a stand-up paddle board or flying over in a helicopter.
The boat tour is the most popular and the easiest way to experience and enjoy the gorge. The boat tour is also the only way to walk over the glass bridge. The glass bridge is 11metres wide and spans the gorge. You can see through the bottom of the bridge which so you get great views of the gorge below.
The stand-up Paddle board is an interesting experience! The boards are smaller and shorter than normal to fit into the gorge which makes them less stable. You can see the gorge on the helicopter ride, but the best bit is the view of the countryside and cattle station.
Accommodation is available through the tour operators. There is camping and several different style cabins onsite. While staying at the gorge is convenient, there are more options if you stay in Forsayth. It does mean though, that you have 2 hour return trip to the gorge on a dirt road.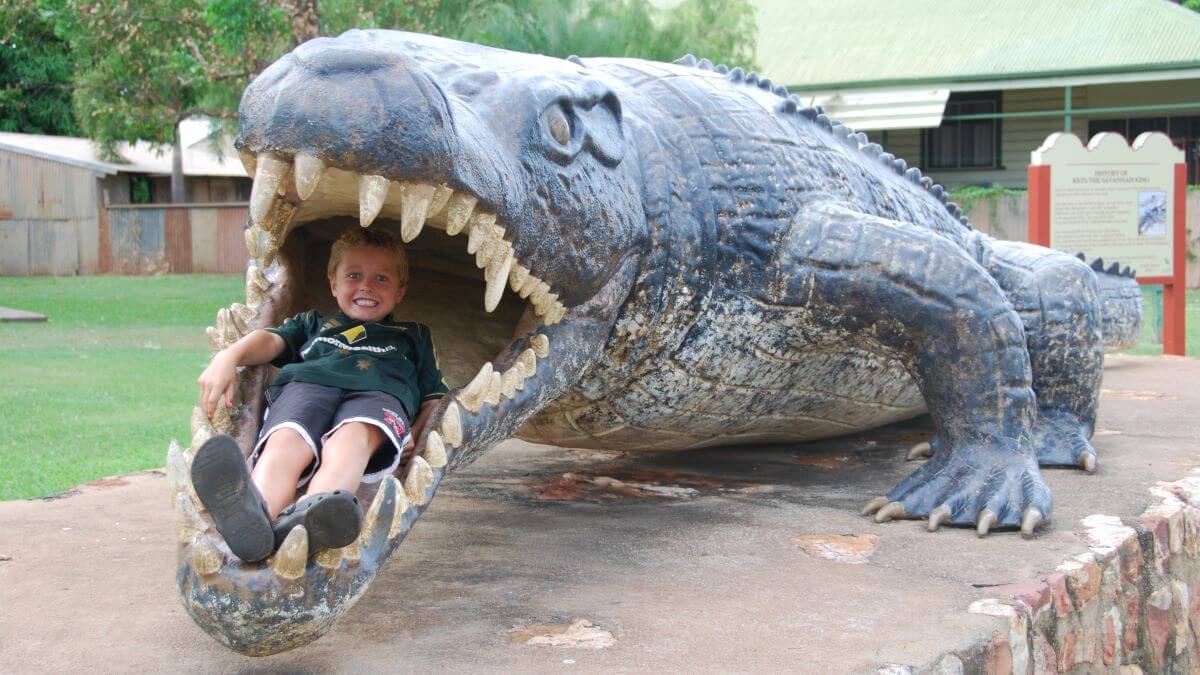 Normanton
Cobbold Gorge to Normanton 386km (4 hours 30 minutes)
See the life-sized statue of Krys the Croc! Coming in at a scary 8.64 metres long, Krys was Australia's largest known saltwater crocodile ever caught. You realise how huge it was when the kids climb into his open mouth!  Krystina Pawlowski killed the croc in 1957 with a single shot on the banks of the Norman River.
Take a ride on the Gulflander train. Its original purpose was to link the goldfields at Croydon to the river port at Normanton. Today you can jump aboard and ride through wetlands, grasslands and the Savannah.
The most famous building in town is the purple pub, or as it is officially known – the Purple Pub Brolga Palms Motel. Grab a photo and stop in for a pub meal of steak or barramundi.
Karumba is a short daytrip from Normanton (71km). Karumba is a small fishing town on the Gulf of Carpentaria. Visit for the day and enjoy a croc tour along the Norman River and mangrove mud flats or watch the sunset over the Gulf.
Along the way visit Mutton Hole Wetlands, November to April is the best time. The area attracts many birds including brolgas, jabirus, pelicans, cranes and whistling-ducks.
Burketown
Karumba to Burketown 280km (3 hours 15 mintues)
Read any guide to Burketown and you soon realise it is big on fishing. If you want to catch a barramundi, Burketown is the place to go. Peak fishing time is after the wet season – April to June – but there are fish around through to November.
Burketown is also a favourite spot for cloud watchers. During September and October, you can spot the Morning Glory cloud bank. The ribbon of cloud is only one or two kilometres across and can be hundreds of kilometres long. Scenic flights of the cloud are available. The thermals associated with the cloud bank also make it popular with gliders and hang gliders.
The best way to see the best of Burketown and the gulf country is with local operator Yagurli Tours. Experiences include fishing charters, star gazing, river cruises and cultural tours. The sunset cruise on the Albert River is a highlight. Also check out the old artesian bore that has become a colourful natural sculpture.
There are several accommodation options. You can try the Burketown pub and the local caravan park. The Savannah Lodge has self-contained cabins. Bush camping is available on Gangalidda Garawa country. You need a permit to camp there and they are available at the Burketown Visitor Centre.
DARWIN TO CAIRNS CAMPING ADVENTURE TOUR
A 11-day adventure-filled trip traveling from Darwin to Cairns through the most remote parts of the Savannah Way.  Travel east through Kakadu, Mataranka, Lorella Springs and Lawn Hill, arriving in the tropical rainforest near Cairns. 

Lawn Hill National Park
Burketown to Lawn Hill 230km (3 hours)
Boodjamulla (Lawn Hill) National Park's is best experienced at water level. Paddle your way through the gorge or take on of the walking trails to the lookouts over the Lower and Upper Gorge. The park is teeming with wildlife. Look out for freshwater turtles, crocodiles, spitting Archer fish, pythons and lizards.
The Riversleigh World Heritage Fossil site is within the National Park. It has a rich collection of mammal and reptile fossils. Short guided and self guided walks are available. The guided tour will take you right into the fossil laboratory and the kids can even take part in a fossil 'dig'.
Adel's Grove is privately owned land, 10km from the Lawn Hill Gorge. Accommodation options range from unpowered camp sites to a variety of camping and meal options. A cruise along Lawn Hill Creek departs in the afternoons from Adel's Grove. Relax with a drink and nibbles as you look out for a croc, barramundi or the local birdlife. For something a little more active, hire a canoe from Adel's Grove or Lawn Hill Gorge and go for a paddle.
Northern Territory Border
Lawn Hill – Hells Gate  179km (2 hours 30 mininutes)
Hells Gate – Northern Territory Border 50km (25 minutes)
After leaving Lawn Hill you will head over the border into the Northern Territory just after the Hell's Gate Road house stop. Hell's Gate has a range of basic accommodation options, food, drinks and fuel.
As you travel along the Savannah Way you will visit many Queensland National Parks including the Great Barrier Reef Marine Park, Daintree, Millstream Falls, Undara Volcanic, Kuranda, Lawn Hill, Curtian Fig, and Barron Falls National Park.
A range of camping options are available, from Cape Tribulation in the Daintree to Boodjamulla (Lawn Hill) National Park in Lawn Hill Gorge. Camping is also offered near the Riversleigh World Heritage Site at Miyumba camping area.
Camping in Queensland National Parks cost $6.75 per night per person or $27 per family per night. Click here for a Queensland National Parks Camping Brochure.
LIKE IT… PIN IT FOR LATER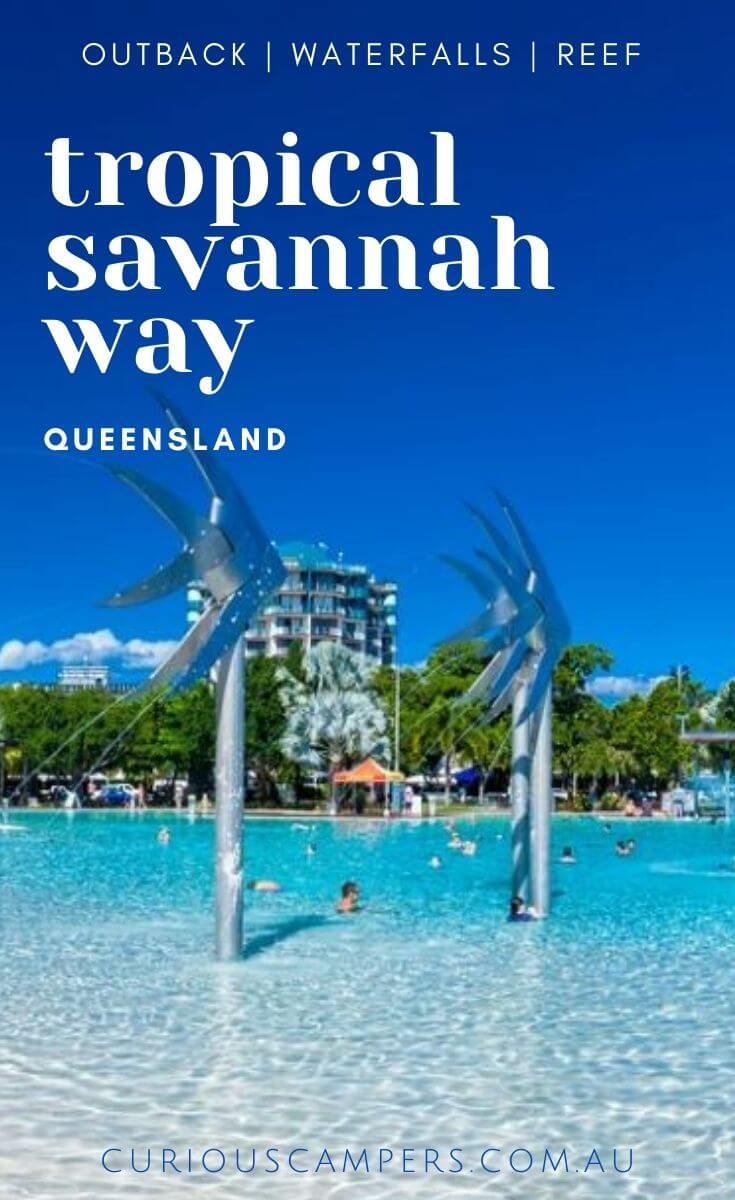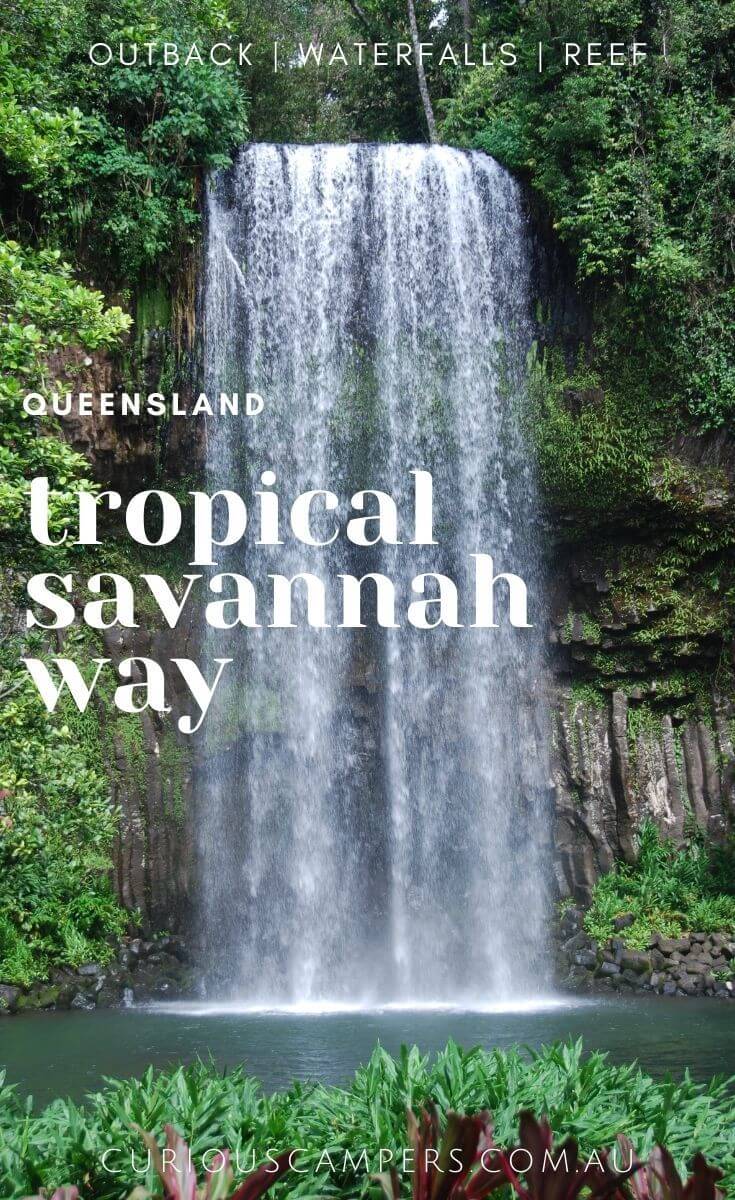 500 Things to do
Join our mailing list and receive our Free Top 500 things to do in Australia. If you love Australian Outdoor Experiences download this list and keep it handy when you are planning a weekend away or a road trip around Australia.