Geraldton is a perfect long weekend getaway from Perth or a fun stop on your tour of Western Australia's Coral Coast. You won't be short of things to do in Geraldton; it is a town with a vibrant art scene and a rich sense of history. The foreshore has a relaxed vibe with cafes and stunning beach views. Give yourself a few days to take in all of Geraldton's attractions; there is a surprise around every corner!
Disclosure: Please note that some links in this post may be affiliate links, and at no additional cost to you, we earn a small commission if you make a purchase. Commissions are appreciated and go toward maintaining the Curious Campers website.
Houtman Abrolhos Islands Credit Tourism Western Australia
Abrolhos Islands
In recent years the Houtman Abrolhos Islands have seen a huge surge in interest from travellers. Once known for its pearling and fishing industry, the 122 islands are now visited for their natural beauty. The islands attract nature lovers, snorkelers, divers and anglers. You can cruise or fly to the islands from Geraldton, they lie about 60km off the coast.
There are a range of travel options available from day trips to multi day adventure tours. The area is now a National Park and tourist numbers on the islands are regulated. From the shipwreck history of the Batavia to a unique wildlife experience, seeing the Abrolhos Islands will be one of the best things you do in Geraldton.
Credit Tourism Western Australia
FULL DAY TOUR OF THE ABROLHOS ISLANDS
The beautiful scenic flight includes overflying the fascinating islands in the Pelsaert Group, the Easter Group and the Wallabi Group. You will see beautiful coral, marine life and fishermen's camps and pearl farms. Walk down to Turtle Bay for morning tea, and snorkelling over the coral in Turtle Bay. Take a guided nature walk which includes bird watching and wallabi spotting. 
Hutt Lagoon – As we saw it!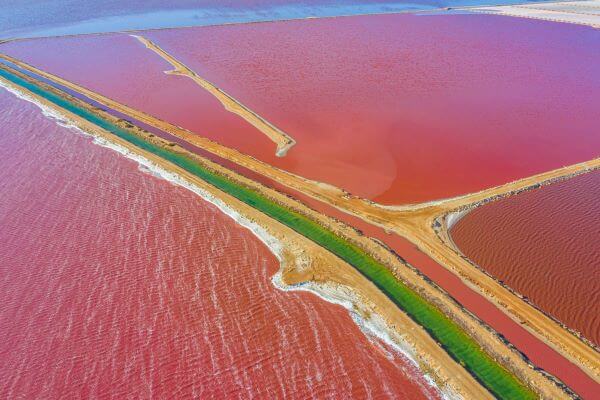 Hutt Lagoon – On a good day!
Hutt Lagoon – The Pink Lake
The north of Western Australia is well known for red earth meeting turquoise water. You can see another striking colour clash when you go to Hutt Lagoon, about an hour north of Geraldton. The water can look like bright strawberry milk. The saline water gets its colour from a carotenoid-producing algae, the intensity of the pink varies with the seasons and weather. It is at its pinkest in summer on a sunny day.
For our visit we were lucky to get any colour at all. It was cloudy and windy all day, but the sun did manage to break through for a few minutes while we were there. Even in these less than ideal conditions, Hutt Lagoon was still a great sight even if it was musk rather than pink!
Abrolhos Islands West of Geraldton Credit Tourism Western Australia & Steve Fraser Photography
Scenic Flight from Geraldton
To appreciate the size and beauty of the Abrolhos Islands or the Pink Lake try a scenic flight. See historic shipwrecks, the vivid contrast of the Pink Lake and turquoise ocean water and the reefs around the Abrolhos Island. Flights can range in time from an hour to a full day. Check out the tours on offer from local operators Geraldton Air Charters and Shine Aviation Services.
PINK LAKE & ABROLHOS ISLAND NATURE TOUR
Fly over the beautiful Abrolhos Islands and land on the East Wallabi Island, we will walk to Turtle Bay to have some coffee and tea. After that you can feel free to have a guided nature walk or you can do snorkeling at the corals. On return enjoy the Pink Lake from the air.
Lynton Convict Depot
On your way to or from Hutt Lagoon, it is worth stopping at the Lynton Heritage Site. The stone buildings were constructed in the mid-1850s and were the first convict facilities built north of Fremantle. There are several buildings on the site. The magistrate's quarters and the hiring depot have been restored, but it is still easy to get a sense of what life was like at the depot.
It operated for less than three years before the authorities realised it was too expensive to run. It was also too hard to grow fresh vegetables – so scurvy was a problem. There is signage around the site that has lots of information on both the people who called the depot home and the officials that ran the site. It really is one of those places that you walk around and wonder how anyone could have lived there 170 years ago.
HMAS Sydney II Memorial
Watching over Geraldton from Mount Scott is the moving and eye-catching HMAS Sydney II memorial. It commemorates the loss of the Sydney II in 1941 and her 645 crew. The memorial has several components, you'll need a bit of time to take them all in. The dominant feature is the Dome of Souls, a curved sculpture of 645 seagulls. The lone figure of the Waiting Woman sculpture looking out to sea is an evocative image.
The memorial also includes a Wall of Remembrance, a Pool of Remembrance and a stele. You can drive and park at the top of the memorial or you can walk the curved path to the top. Guided tours of the memorial are available and are a great way to get a deeper appreciation of the site. The HMAS Sydney II Memorial also has an excellent website.
Point Moore Lighthouse
It feels like every lighthouse we visit has a claim to fame and the Point Moore Lighthouse is no different. Built in 1878, it is the first all steel tower built in mainland Australia. You can't go inside it but the 34m tall, red and white striped lighthouse cuts a prominent figure on the Geraldton skyline near Lighthouse Beach. It might not have a dramatic clifftop position, but it is still an imposing site on the Geraldton shoreline.
Museum of Geraldton
There are excellent Discovery Centres all along the Coral Coast. There's the Ningaloo Discovery Centre in Exmouth and the Shark Bay centre in Denham. This is another beauty. The Geraldton Museum has a great range of displays that explore the regions indigenous, European and natural history. They also host exhibitions in a lovely gallery. There was a wildlife photography display on when we were there. The place is well worth a visit, it is right on the waterfront near the marina.
Geraldton Regional Art Gallery
Housed in the lovely old Town Hall building, the Geraldton Regional Art Gallery, or GRAG, is a fun place to look through. It houses a range of artwork from local, national and international artists and has a regular calendar of exhibitions. A major event for the gallery is the biennial Mid West Art Prize for West Australian artists. You can't miss the building, outside the entrance is a 4 metre tall human sculpture called Protective Memory.
Geraldton Public Art
Art in Geraldton is not limited to the Regional Art Gallery. It spills out into the streets and parks. On the Street Art Trail, you'll see bright murals dotted around town and all sorts of sculptures and installations along the waterfront. We have travelled through a lot of towns, few have as much art as you see on around Geraldton. Even the toilets are fancy, check out the Rubik's Cube public toilets near Champion Beach.
Horizon Sphere
There's one piece of art that deserves special attention – it is one of the most Insta-worthy spots in Geraldton. The Horizon Sphere, or Big Marble as it appears on Google Maps, is a 1.5 metre tall acrylic sphere full of water designed by artist Lucy Humphrey. That might not sound too exciting but between its shape and the water inside, it has a magical impact on the light that passes through it.
The inverted and distorted views you see through the sphere are both great fun and beautiful to look at. The Horizon sphere is on the coast in Beresford Reserve a couple of minutes from the town centre. The view through the sphere is most spectacular at sunset when you look west and see the dusk colours appear in it.
Geraldton Wildflowers
When you are in the town that lends its name to one of Australia's best known wildflowers – Geraldton Wax – it's a fair bet Geraldton will have a great wildflower season. From July to October, you won't have to drive far to see carpets of colour covering the landscape. A few spots to try are the Chapman River Regional Park, Greenough River Nature Park and Mills Point Lookout. Nearby Mullewa has a 2.8km wildflower walk and a slightly more rugged 2.4km bushland trail that are both worth walking in wildflower season.
Geraldton Wildlife Parks
There are a couple of small wildlife parks around Geraldton that are both good places to go if you are travelling with kids. Waminda Wildlife Sanctuay has a collection of native and farm animals. You need to book to go but entry is by donation, and you're guaranteed to have a personal and fun time meeting the birds and animals that call the sanctuary home.
Greenough Wildlife Park is just north of Geraldton. As well as some fury friends they also have a growing collection of reptiles. The biggest of them is a croc which you can see being fed if you visit the park on the right day. The park has limited opening hours so check their website for details. Both parks are small but are run by passionate locals who provide wonderful up close and informative wildlife experiences.
Geraldton Foreshore
The foreshore precinct is a beautiful spot to spend a morning or afternoon. Between the esplanade and the marina there are bike/walking paths, playgrounds, a waterpark and art and sculptures. There are cafes dotted along the waterfront too where you can take it easy and look out over the water. The Jaffle Shack and Dome Café are both worth a visit.
Geraldton Heritage Trails
Geraldton is a town that likes its heritage trails. If you enjoy an interpretive walk past historic buildings and learning about the pioneers of a town, you're spoilt for choice in Geraldton. Start with the 2km West End Heritage Trail. Follow the triangle markers around the wharf area beginning at the Geraldton Port Authority Building.
The 1.1km Mullewa's Town Heritage Walk takes you through the commercial heart of Geraldton. The 22 sites give you a great insight into Geraldton's early businesses, social life and local identities. Follow the blue markers. The Monsignor Hawes Heritage Trail gives an insight into an important local figure. He was an architect of international renown, and Catholic priest. His good relationship with local indigenous people is also celebrated along the trail.
Bill Sewell Complex
No, this isn't a medical condition but a must visit site for history buffs. A 650m interpretive trail takes you around the site of the impressive 19th century Old Victoria Hospital. Also on the site are the old gaol – which now houses a craft centre – and the original town hall. The sign boards do a great job painting a picture of everything from the brutality of life in the gaol to a bubonic plague outbreak. You'll see the stories associated with the site and the wonderful architecture of the hospital.
Platform Markets
If you find yourself in Geraldton on a Sunday morning, make sure you get to the Platform Markets. Located on the platform of the old railway station, the historic building comes to life with a fun range of stalls selling food, art and craft. The markets run from 8-12am on Sunday morning.
The Tin Head
If you like collectables, particularly anything that comes in a tin, you have to see this display. Open every other Sunday or by appointment, this is the biggest collection of tins in Australia. It has everything from familiar biscuit tins to tins from all over the world. They are meticulously arranged in categories, and you could spend hours looking through them all. This private collection has to be seen to be believed!
The Esplanade and Seal Rock
For a different and spectacular view of Geraldton go to the end of the Esplanade to the lookout. The elevated platforms give you great views back over the foreshore and Champion Bay. If there are ships coming into the harbour, you'll get a great view of them here too. There are walkways, playgrounds and BBQ facilities along the Esplanade. Take binoculars or a zoom camera. Seal Rock is just off the Esplanade, and you can often see the seals resting on the rocks or in the water.
GRAB YOUR HANDY WA ROAD & 4WD ATLAS
Plan and navigate your trip with state-wide atlas, with detailed coverage of Perth and Southwest Western Australia. Find an adventure with a list of the state's Top 50 4WD Trips, which each have a track grading, distances, contact information and an atlas reference. There's even detailed information on Western Australia's Top 25 National Parks, including camping areas. A list of private camping areas and caravan parks and visitor centres. 
Geraldton Beaches
When you are in a town flanked by the Indian Ocean, there is a good chance you'll have a nice collection of beaches to choose from. And Geraldton has plenty! Town Beach, Champion Beach, Sunset Beach and Point Moore Beach are all close to town. There is a dozen more beaches within half an hour of the town centre. Several have vehicle access including Coronation, Glenfield and Drummund Beach which are all north of town.
From swimming and snorkelling to fishing and surfing, there is a beach for you. Snorkellers try Pages or Sunset Beach. For a surf, check out Separation Point, Back Beach or St Georges Beach. You can fish at all beaches, and most are dog friendly. Depending on which beach you go to, you'll find toilets, playgrounds, shelters, showers and BBQs. Pages and Drummond Beach have the best range of facilities.
Sunset Cruises
The perfect way to end your day in Geraldton is with a sunset cruise. Coastal Western Australia knows how to put on a sunset and there isn't a better way to enjoy it than being on the water. Sip on a drink, have something to eat and spot a seal or dolphin from your front row seat as the sun lights up the Indian Ocean horizon.
Mill Point Lookout
About 20 minutes out of Geraldton on your right you will see the turn off for Mills Point Lookout. There are great views here over the Chapman Valley's rolling hills. It was a bit gloomy the day we visited but it was still worth stopping to take in the scenery. It is also a good place to visit in wildflower season.
Ilgarijiri (Things Belonging to the Sky)
Yamaji Drive Trail
If you are looking for a longer trail, the 195km long Yamaji Drive trail takes you to 14 significant indigenous sites. There is interpretive signage at each of the stops. The trail begins on the Esplanade in Geraldton and takes you to 6 places in town. It then takes you south to Greenough and east through Ellendale Pool to Mullewa. Along the way you'll see important historic, natural and cultural sites.
The Leaning Tree
It can be a bit breezy around Geraldton and if you ever needed proof of this you only need to stop and look at the Leaning Tree. You'll find it in Greenough, about 15 minutes south of Geraldton. The tree lies blown flat by the prevailing southerly winds. There is a spot to pull over and see it close up. If you miss it, don't worry. The official Leaning Tree is by no means the only one in town. Between Greenough and Geraldton, you'll see several lines of tree all blown flat, they're an interesting sight.
Lighthouse Keepers Cottage Museum
Located at Bluff Point a few minutes north of Geraldton, this is a must visit for lighthouse enthusiasts. Tours run by the local historical society will show you a range of photographs and items from the time the cottage was in use. There are picnic facilities in the adjacent reserve and there is enough parking to cater for caravans. Check with the Visitor Centre for opening times.
There is a 2km walk you can do between Bluff Point and Rundle Park. At the Bluff Point end, you'll see the original Bluff Point Lighthouse. It's a pretty thing and to our eyes quite a bit more appealing than the more modern Point Moore Lighthouse at the other end of town. Rundle Park has a nice playground, picnic and BBQ facilities.
Ellendale Pool Credit Tourism Western Australia
Ellendale Pool
This is a beautiful camping spot or day visit about 35 minutes southeast of Geraldton. The Greenough River meanders through a gumtree lined gorge with tall cliff walls. There is a nice walk you can do along the river, and this is a good spot to come and see wildflowers from July to October. Ellendale Pool is a stop on the Yamaji Drive. You'll find signage describing the significance of the place in indigenous and European history.
Campers will pay about $7 a night per car and can stay for up to a week. There are toilets and BBQ facilities. The campsites set back from the river will comfortably accommodate larger vans.
A DAY PACK PERFECT FOR ALL ADVENTURES
The Black Wolf Titanium 35 Day Pack is ideal for your daily commute or day hike. The mesh back panel allows airflow around your back, to keep you cool on warm days. It has two large compartments, the lower of which provides enough space for shoes, plus numerous organiser pockets. Topped off with hydration compatibility, audio pouch and a rain cover – there's not much left to ask for in a backpack!
Greenough Museum and Gardens
This convict built museum has a range of collections that tell the story of the areas Indigenous people and early European pioneers. It is set in a beautiful garden that features everything from lovely old trees, peaceful nooks and a vege garden from where you can try local produce. Besides its permanent collections, the museum also has special exhibitions. There is no catering on site, but you can bring your lunch and picnic in the gardens. There is a small entry fee, allow a couple of hours to have a good look around.
Greenough River Nature Walking Trail
Walking, paddling, fishing, cycling… the Greenough River and walking trail is a beautiful spot to do it. The reserve is about 15 minutes south of Geraldton. There are several places along the river where you can access walking/bike trails. You can go for a dip at Devlin Pool. Take your camera and look out for some of the area's rich birdlife.
LIKE IT… PIN IT FOR LATER
500 Things to do
Join our mailing list and receive our Free Top 500 things to do in Australia. If you love Australian Outdoor Experiences download this list and keep it handy when you are planning a weekend away or a road trip around Australia.