Check the website, get the details of the  Super Pit blast times and plan your day. It sounds simple, but seeing a super pit blast was tricker than we thought…
As soon as you see the word 'super' in a name your expectations rise. Superman – he can fly. Supersonic – something that travels very fast. Superstore – an amazing place to shop.
So, when you describe a pit as super, you can only imagine that it's one impressive hole in the ground.
And it is.
Disclosure: Please Note That Some Links In This Post May Be Affiliate Links, And At No Additional Cost To You, We Earn A Small Commission If You Make A Purchase. Commissions Go Toward Maintaining The Curious Campers Website.
Super Sized
As you step onto the viewing platform of Kalgoorlie's Super Pit, you're struck by its immense scale. There is nothing modest about it. It is super in every way whether you consider its 3.5-kilometre length, 1.5-kilometre width or 600-metre depth. In the ultimate nod to its impressiveness, it is apparently visible from space.
Peering into the pit is like looking down on another world. The activity is mesmerizing – you just can't look away. Super-sized excavators dump loads of gold bearing ore into super-sized trucks that crawl their way up the terraced sides of the pit to the surface. This goes on twenty-four hours a day, seven days a week.
We watched the activity for some time and took photos of us being dwarfed by enormous tyres and scoops. Besides wishing we could sit in one of the giant trucks, there was one other thing left to do. See a blast.
Super Pit Blast Times
Everyone we spoke to warned us that the blast schedule was a fickle thing. They could occur at short notice and get cancelled without warning. The Super Pit has its own website with blast times, however, the nimble nature of the blast schedule was often too much for it to keep up with.
We only had two full days in Kalgoorlie so our window for seeing a blast was short. As a result, we were ready to drop whatever we were doing to get to the pit in time. On our first day in town we checked the website every thirty minutes only to see that there was a delay. The waiting game ended by mid-afternoon. The blast now wasn't taking place until tomorrow.
We weren't the only ones on blast watch. Peter and Erik, our neighbours at the caravan park were too. They were a couple of young Dutch guys travelling around Australia in a car I wouldn't drive around the block. They couldn't be less concerned, however, and were having the time of their lives.
We shared our disappointment at not yet seeing a blast. They had been in Kalgoorlie a couple of days longer than us. Todays cancellation made it their third in as many days. We were glad we hadn't been through too many days of blast chasing. Even after one day we could see how it could become a preoccupying and frustrating obsession.
Blast Time
Blast watch started early the next day with news a detonation was set for 12.30 pm. We had a slow morning, keeping one eye on the clock and the other on some approaching storm clouds. Several more checks confirmed the time had not changed. We headed to the pit early to get a front row view.
The Lookout is occasionally moved to accommodate the changing pit. The current location is at the top of Outram Street in Boulder (off the Goldfields Highway, 6.4km south of Hannan Street). The Super Pit Lookout is open 7am to 7pm daily.
The clouds that had been building all morning were now all but upon us. The wind had picked up and the skies were dark. My first thought was that it would make for a great back drop for the explosion.
We briefly wondered if the weather might cause a delay or cancellation, but the excitement got the better of us. Instead, we reasoned the effect of the wind would be different at the bottom of the pit. We concluded there wouldn't be a problem.
We turned into the car park and Erik pulled up next to us. He couldn't hide his excitement at the idea of finally getting a reward for his blast chasing. We hadn't taken many steps towards the viewing platform when we became aware of more dust in the air than usual.
Against all common sense I tried to convince myself that the wind was causing the red haze. We reached the viewing platform and looked down. Instead of the usual activity, we could only see a huge red cloud billowing from the bottom of the pit.
So Close!
Peter, greeted us at the platform. He had a huge grin on his face. There was no more cause for optimism, we had missed it. The blast had gone ahead a few minutes early because of the deteriorating weather.
Erik knew straight away that he had missed his chance. He was pacing about with his hands on his head, a pained expression on his face, muttering under his breath. He was speaking Dutch but it wasn't difficult to figure out what he was saying.
I turned to his beaming mate and against all hope asked if it really was that good or was the whole thing over-rated? His grin broadened, and he put a reassuring hand on my shoulder.
'It wasn't so good,' he replied through a badly suppressed smile.
'You're only saying that to make me feel better, aren't you?' I asked.
'Yes! It was the most incredible thing I've seen!' Peter started to describe the ground rumbling experience that we'd missed by less than five minutes. It took all the good grace I could muster to listen with any enthusiasm.
Peter received a couple of good-natured punches to the arm from his travelling companion for enjoying the whole thing a bit too much.
I wanted to stand in the dust and mourn our near miss, but the weather forced us back to camp. We had to rescue our things from the rain – the joys of camping!
Super Frustrating
That night my daily journal entry began with a poem about our Super Pit experience. It started…
Oh blast, Oh blast
Oh, what a farce!
We were on time
But the moment had passed…
I soon ran out of rhyming words except for the last verse. It finished with something about feeling quite downcast and being aghast. If I could have come up with a rhyming line about being super disappointed that would have made it in there too!
Read More : Perth Day Trip ideas
If you enjoyed this story you might also like:
Adelaide to Perth Road Trip Planner| Driving the Nullarbor | The Pinnacles
Like it? Pin it for Later…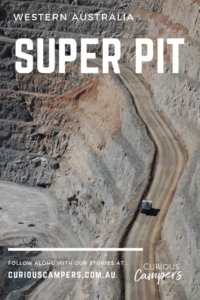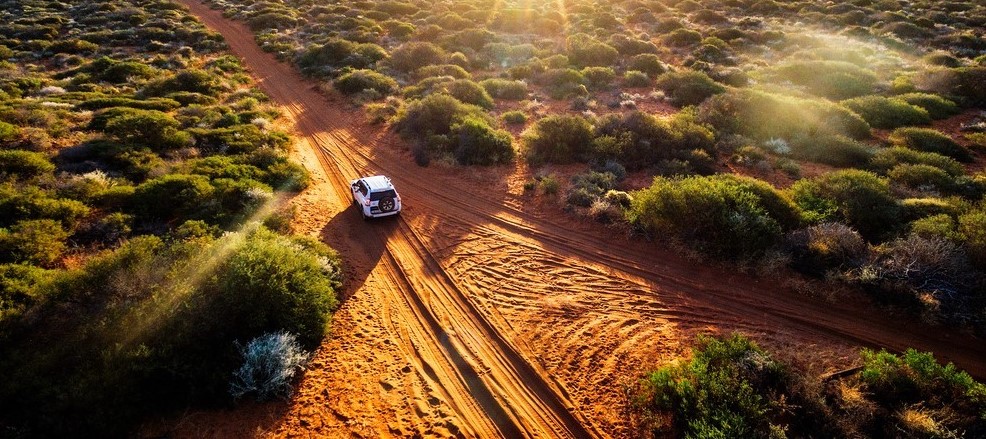 500 THINGS TO DO
Join our mailing list and receive our Free Top 500 things to do in Australia. If you love the Australian Outdoors download this list and keep it handy when you are planning a weekend away or a road trip around Australia.
Recent Posts