Snorkelling at Second Valley in South Australia is sometimes over-looked in favour of the nearby Rapid Bay Jetty. But, for the adventurous snorkeller, Second Valley is a great place to explore.
Located about an hour and a half from Adelaide, Second Valley is a picturesque drive south along the Fleurieu Peninsula. It has a small caravan park and cafe but shop-wise, that is about it.
If you need supplies for the day, stock up at Yankalilla on your way through. You might want to bring a lunch because Second Valley is a great spot to spend a day.
Disclosure: Please Note That Some Links In This Post May Be Affiliate Links, And At No Additional Cost To You, We Earn A Small Commission If You Make A Purchase. Commissions Go Toward Maintaining The Curious Campers Website.
Second Valley is a Hidden Gem
Tucked between rolling hills and sheer cliff faces, Second Valley has a bit of everything. There is a lovely little protected beach. The jetty is a top spot if you like fishing for squid. The rocky coastline makes for fun kayaking and the hill walks offer great views.
It can be a busy place in summer, but it is worth visiting year round. In winter when the hills are green they look amazing against the water and a cloudless sky. When the tide and wind is up, the beach can disappear completely below the waves. it's an amazing sight but not the best swimming conditions!
There is one road into Second Valley, and it takes you to the jetty. There are a dozen car parks at the end of the road, but you will need to be early to get one. This is a popular place with fishers and kayakers. There are more car parks located either side of the road opposite the caravan park.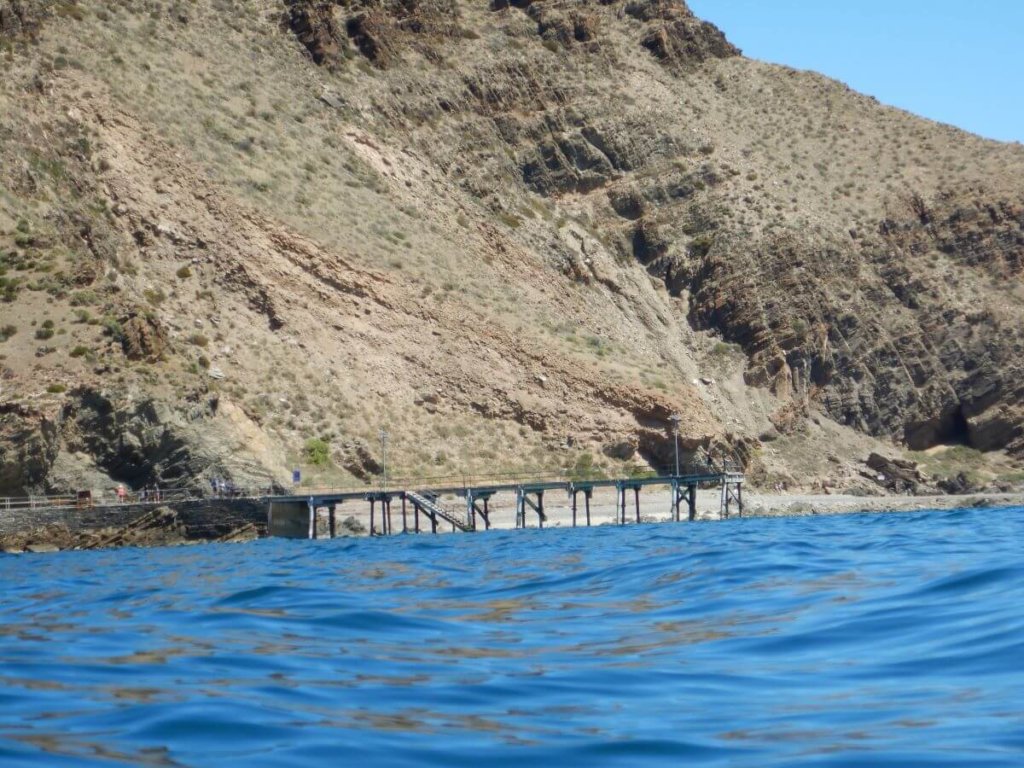 A Snorkeller's Snorkel
There are three snorkelling options at Second Valley.
The first is to stay within the sheltered bay. For less experienced snorkellers this is the way to go. To be honest, there is not an abundance of life to see but you will spot a few small fish darting around.
After this, the options require some snorkelling experience and are not for beginners. There is a bit of ground to cover and, even on a nice day, there can be currents and swells to deal with.
Bays & Caves
There are a couple of bays to the left of the jetty you can explore. It is easiest to walk around to the first bay after the jetty. There is a path you can take to get there. It is a rocky walk so some kind of footwear is a good idea.
The best feature of snorkelling in this area is the caves and swim throughs. From where you enter the water there is another small bay to the left with a large cave entrance. A little further on from that is a rock feature you can swim through. The calmer the conditions are the better for this area.
If getting close to the caves look like a challenge, there are also a couple of small bommies near the swim through that have some fish life on them. Closer to shore, there is a lot of sea grass where you'll see schools of small fish. Leafy sea dragons are also here but their camouflage makes them tricky to spot!
Again, be aware of currents. Swimming back to your starting point can sometimes be hard work. It's best to explore this area on the change of tide.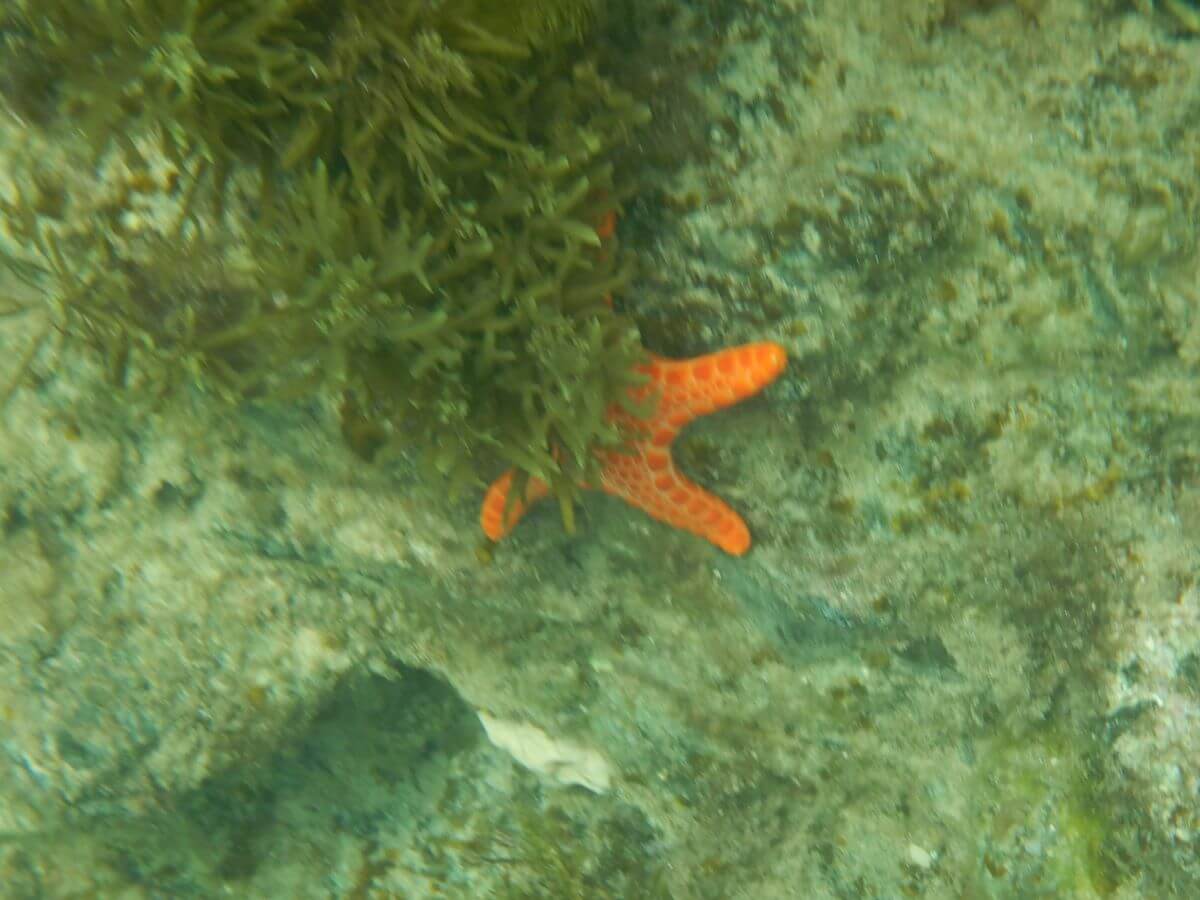 Lasseter's Reef
For lots of fish, the place to go is Lasseter's reef. This too has its challenges because it is quite a way from shore. The reef is about 400 metres out from the beach, in line with the toilet block. We were lucky enough to once find a mud map of the reef but, try as we could, we weren't able to find it again so sorry, we can't link to it!
We were a bit nervous about locating the reef as there are no signs of it from shore. As we walked down to the beach, we joked how good it would be if we got to the water, looked out and saw a boat flying a blue and white diver's flag to mark the spot.
We couldn't believe it when that was exactly what happened. We double-checked with a group of divers who had just left the water. They confirmed that yes, the boat was sitting on top of the reef.
Read More: South Australia's top snorkelling spots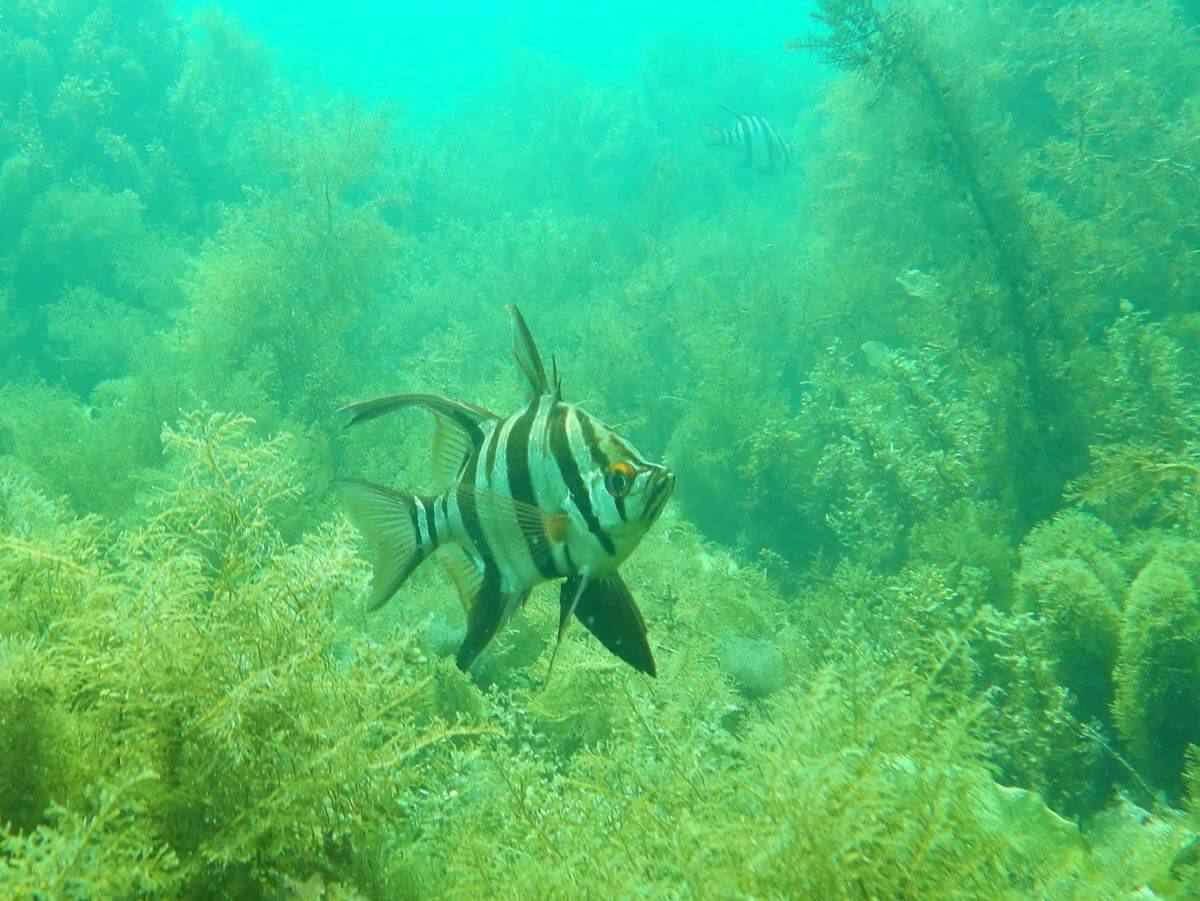 Finding the Lasseter's Reef
As it turns out, the lost mud map was a good guide. That's not to say we weren't unhappy to have the boat to aim for. The map was correct when it described a swim of 400 metres or so. It is a fair way out. During our snorkel, we actually had a Sea Rescue boat cruise past and ask if we were okay.
From the beach, you pass over a couple of hundred metres of sandy bottom then some sea grass appears. It gets thicker and thicker until you hit the bommie. It's hard to miss, rising from the sea floor and covered in plants.
What's there?
The reef is about 50 metres across and has a lot of fish life on it. Depth over the reef ranges from 2 to 5 meters. It contains a few little valleys which are fun to dive into. We saw bigger fish there including some iridescent blue devils. There are steep drop offs on the south and western edges of the reef. If there are divers around this is where they will be.
We would have spent an hour floating above the reef spotting different types of fish. In our shorty wetsuits that was long enough as even in summer, the water temperature here only gets to the low 20s. Plus, you have a bit of a swim to get back to shore and you don't want to be doing that on low energy.
If you are a keen snorkeller, a solid swimmer and like an adventure give Lasseter's reef in Second Valley a try. It won't disappoint. If the snorkel sounds daunting, get yourself to Second Valley anyway. It is a beautiful place to spend a day. When you have finished at Second Valley head down the road to Rapid Bay
Second Valley Accommodation
The Second Valley Caravan Park is a great little park set in the valley between the rolling hills. From $30 p/n for a powered site it's a great place to set up for a few days. The Jetty Store has basic supplies, takeaway meals and fishing bait and tackle.
If you enjoyed this story you might also like:
Snorkel Ewens Ponds | Swim with Giant Cuttlefish | Snorkel Christmas Island
Like it? Pin it for Later…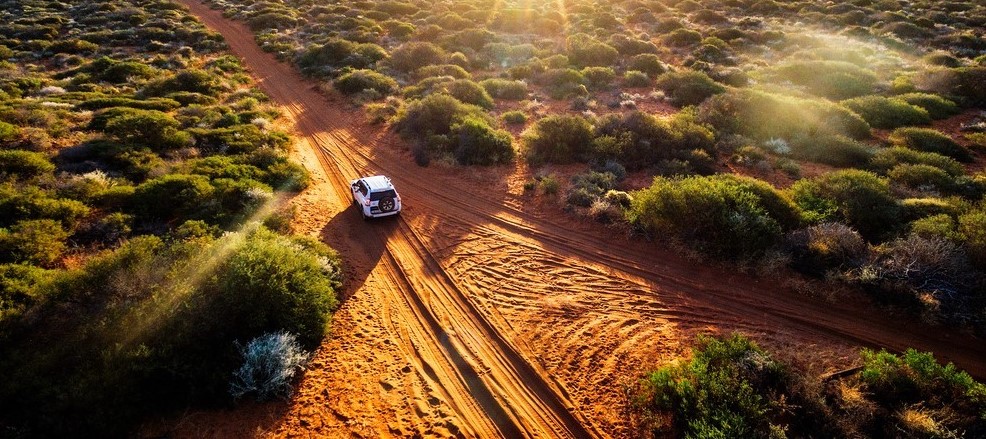 500 THINGS TO DO
Join our mailing list and receive our Free Top 500 things to do in Australia. If you love the Australian Outdoors download this list and keep it handy when you are planning a weekend away or a road trip around Australia.
Recent Posts