Redbank Gorge is one of the most beautiful places in the West MacDonnell Ranges. There is a lot to do there from camping to walks and wildlife spotting. For us though, we couldn't wait to explore Redbank Gorge's towering red walls and pools close up. That meant getting in there with our lilos!
As we discovered, there are some practical issues when travelling through a gorge on a blow up pool toy. We'll explain what they are so you can have the same fun we did. But first…
Disclosure: Please note that some links in this post may be affiliate links, and at no additional cost to you, we earn a small commission if you make a purchase. Commissions are appreciated and go toward maintaining the Curious Campers website.
Getting to Redbank Gorge
Redbank Gorge is in the Tjoritja West MacDonnell National Park. It is 156km from Alice Springs along Namatjira Drive (known too as the Red Centre Way). You can also get to it from Hermannsberg or Kings Canyon via Larapinta Drive.
Namatjira Drive is a sealed road but from the turn off to Redbank Gorge it is 5 kilometres on an unsealed track to the gorge carpark. Advice is that vehicles going into Redbank need high clearance. For our drive the track was a little corrugated but otherwise in good condition. If there has been rain recently you should check what the road is like before you head in.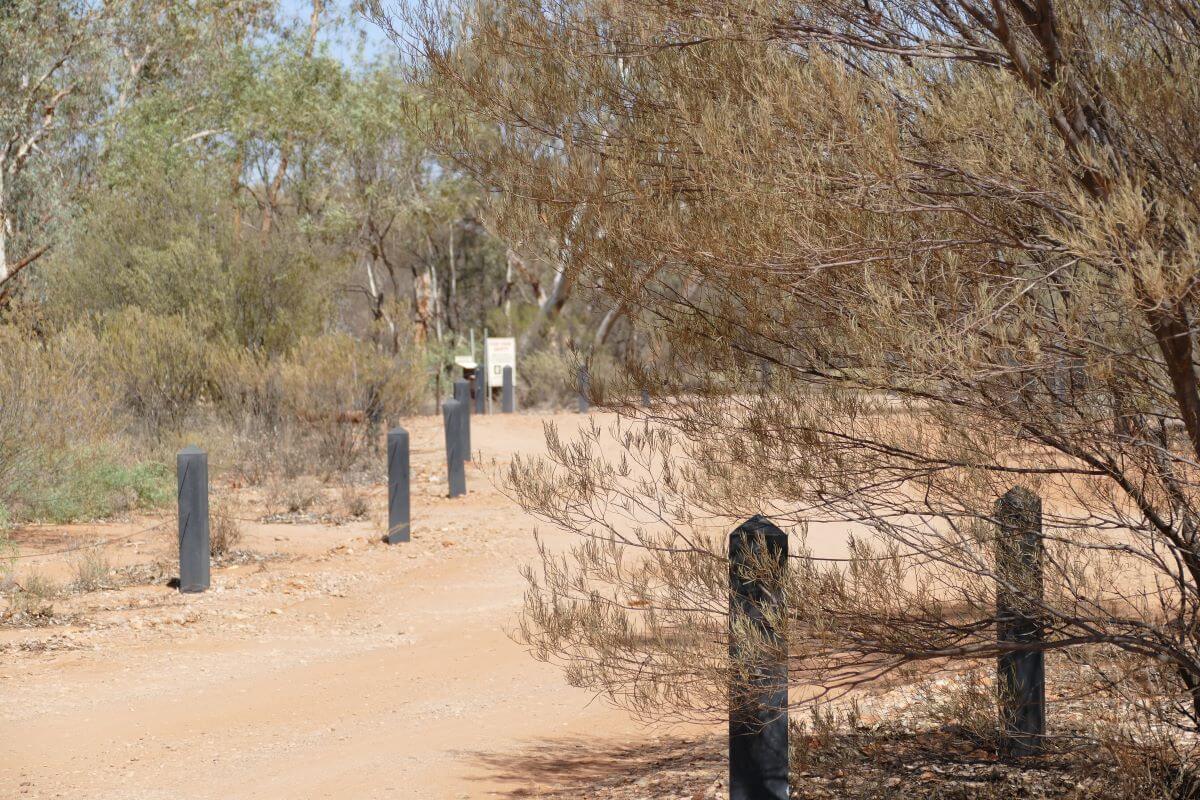 Redbank Gorge Camping
There are two campgrounds, the Woodland and the Ridgetop camping areas. Both have toilet and wood BBQ facilities. The Woodland area caters for caravans and also has gas BBQs. BYO water and firewood.
The campground works on a first come first serve basis. You can only pay in cash and sites are around $5 per adult a night. You'll see turn-offs to the camping areas as you drive to the Gorge Carpark.
Redbank Gorge Walks
The Larapinta Trail is a 223 kilometre hike through the East and West MacDonnell Ranges. Broken into 12 sections, the last two are both accessed at Redbank Gorge.
Section 11 can either start or finish at Redbank Gorge. Section 12 is a day hike to the top of Mount Sonder. Allow 4 to 6 hours for the 15 kilometre out and back hike to the summit. The Sonder Summit hike is steep and rough so be well prepared before you go. Of course the views at the top will make the effort worthwhile.
You can look at the Mount Sonder summit from a less tiring distance. There is a shorter but still steep, 2.5 kilometre hike to the Mount Sonder Lookout.
There is a short 10 minute walk from the carpark that gives you a nice view of creek bed and the gorge. The most popular walk is the 2 kilometre walk along and in the creek bed to the gorge.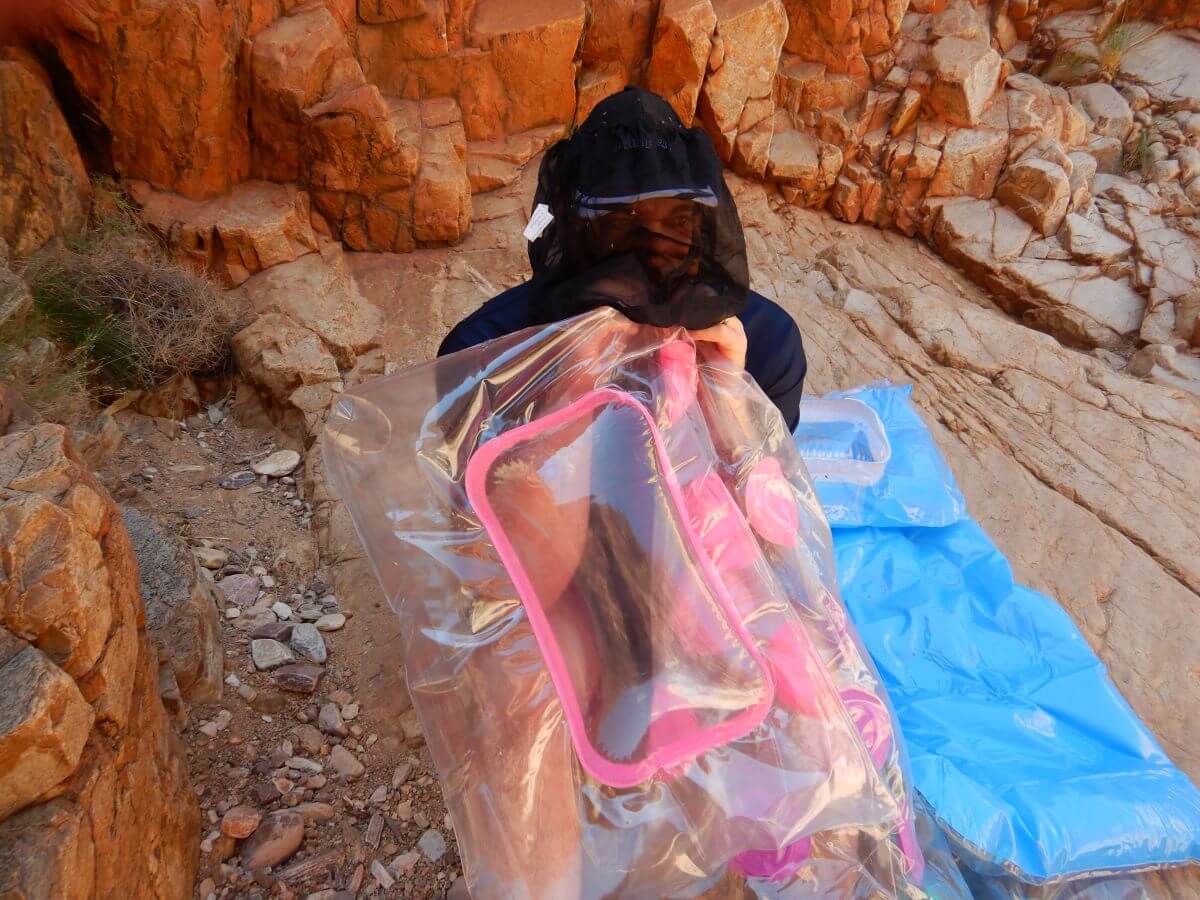 How are the Flies?
Bad. We have seen some flies on our travels, but nothing beats what we encountered at Redbank Gorge. If, like us, you have never bothered with a fly net, you, like us, might decide to wear one here. We were there in early October and they were impossible. Friends who were at Redbank Gorge in July had the same experience. So do yourself a favour, at least have the fly nets ready to deploy.
WEST MACDONNELL RANGES DAY TRIP FROM ALICE SPRINGS
Enjoy highlights such as Simpsons Gap, Ormiston Gorge, Ochre Pits, Standley Chasm and Ellery Creek. Have time to enjoy the region's natural beauty and capture photo ops of the Australian Outback as you hike into rock canyons, swim in hidden waterholes and see historical sites. 

Redbank Gorge Pools – Lilo time!
One of the best things about Redbank Gorge are its towering walls and the chain of small ponds. Every time we read about the pools, we also read that despite the air temperature, the water can be freezing cold.
There was no way we weren't going to explore the pools. We'd also read lying on a pool toy was a good way to not get as cold. So, while we were at the camping shop buying our fly nets, we also grabbed a couple of inflatable lilos.
Getting to the water
Tip 1 for this adventure, wear sturdy shoes. You might be lilo-bound, but you'll need to walk in across some uneven terrain. The walk from the carpark to the gorge and back is only 2 kilometres. It's an easy walk to start with along a dirt path next to the creek bed.
About a quarter of the way in, the dirt path ends, and you walk the rest of the way in the creek bed. At first you walk through soft, coarse sand but for the last third you have to hop from one large rock to another.
It might only be a one kilometre walk but with the heat, the flies and the awkward footing it feels a lot further. And of course, at least one of you will have a backpack for carrying your lilos and some water. The first pool, when you get to it, is a welcome relief and the tall red gorge walls are breathtaking.
Lilo or tube?
Speaking of breathtaking, once you have taken in the views, it is time to blow up your pool toy. This is where tip 2 comes in. While it might sound like fun floating down a gorge in a giant unicorn or flamingo, remember you need to inflate it.
Now, you could inflate back at the carpark, but we don't recommend it. The walk to the gorge is one you'll want your hands for whether it's mopping sweat, swatting flies or taking pictures. You could take a foot pump but it's another thing to carry. It didn't take us too long to blow up the lilos but in hindsight a tube might have been quicker and lighter to carry.
Whatever style you go for, I guarantee you one thing. Once you're done, everyone who has walked to the gorge and not brought a pool toy will be looking at you wishing they had. Or, they might of thought we were a bit crazy, but let's go with option one.
GO PRO HERO 7 ACTION CAMERA
Throw you GoPro in the backpack for the best photos and videos on the go. With 12 megapixel photos and 4k video with Stabilisation features it's ideal for action adventures.  The best thing is it's waterproof and perfect for snorkelling, and kayaking. It's small, tough and takes amazing videos. It's a must to record your adventures. We also bought the accessory kit, a spare battery & the water dome.
Launching a lilo in Redbank Gorge
With our lilos inflated and our gear trustingly stashed away in a rocky alcove, we made our way to the water's edge. We waded into the chilly but refreshing pool, jumped onto our lilos and learnt what is tip 3…
When you're covered in sunscreen, a bit sweaty and you jump on a wet plastic pool toy expect to slide straight off. Again, this is where sitting in a tube might have worked better. Jumping onto one end our lilos and sliding inelegantly off the other into the 15 degree water was yet another, but less enjoyable, breathtaking event.
When we did get our balance and launching technique under control we could enjoy the view – and it was incredible. Readers, if you can, you have to get into the water. It is an immersive way to see the gorge, a totally different experience from looking at it from the shore. It's not only the novel perspective you get of the height and colour of the walls. There's the sound of the water lapping against the rock, hearing the breeze whistle through gorge and seeing fish swim around you.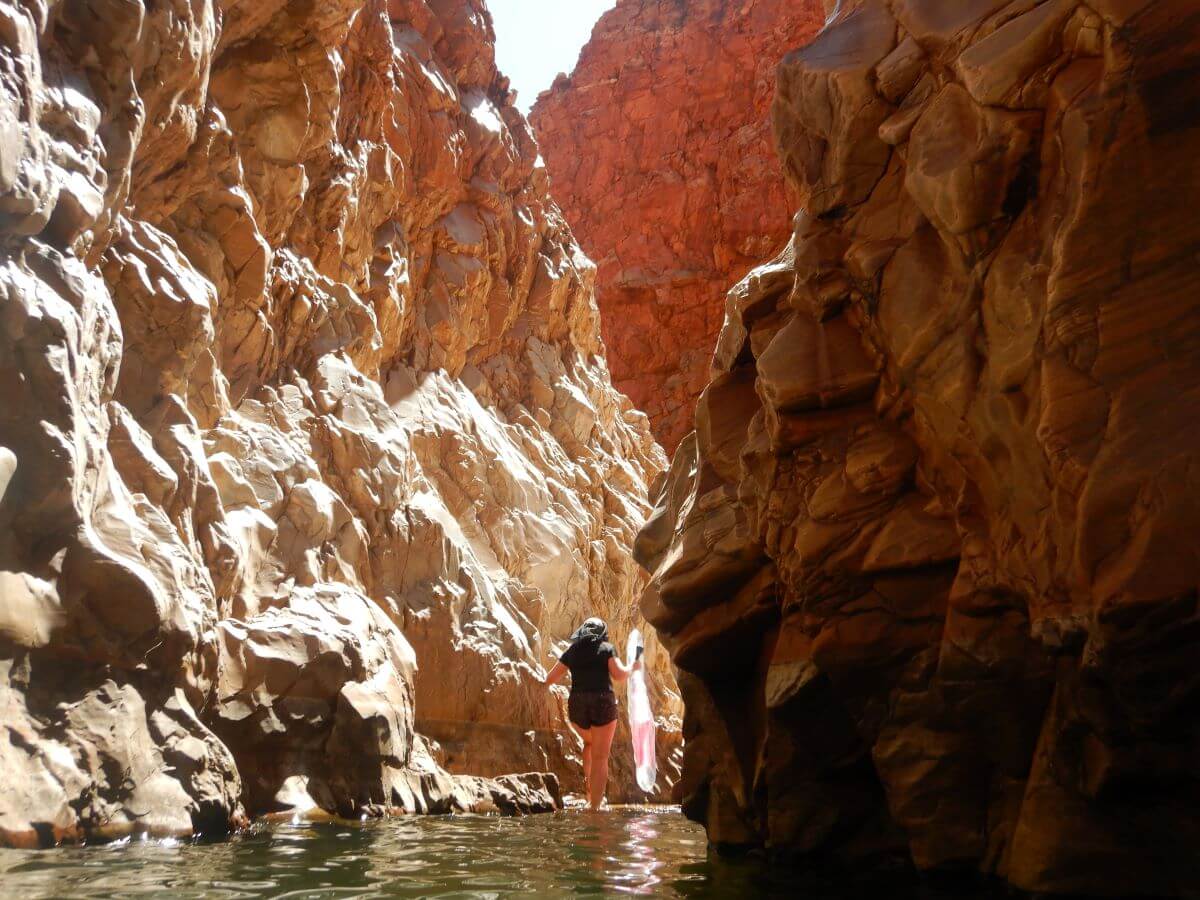 More slipping and sliding
The main pool, the one you see at the end of the walk is the largest. From there you paddle into a narrow passage where the water meets a step of rock. We had to get out to continue our journey, but it wasn't straight forward.
Tip 4…The smooth rocks between the pools are super slippery. It was so slippery we wished we had our reef boots for better grip but then it is another thing to carry. So take your time, you'll want to be slow and steady as you move between the pools.
The little rocky passes between the pools were no more than a few metres long. We pretty much threw our lilos across them, the smooth rock floor and walls didn't present much of a puncture risk. Between the slippery rocks and the slippery lilos we had a bit of fun getting back on our rides each time.
Amazing views
The further into the gorge we went the quieter it became. The breeze blew through the narrow pass. We'd finally left the flies behind. We sat on our lilos staring up at the walls or lay down and watched fish dart around. As the sun moved across the sky, different sections of the walls lit up.
We finally got to a wall of rock we couldn't pass so had to turn back. We'd made it into 4 or 5 pools. With our lilo skills improving, we made it back to the first pool with fewer slips, slides and splashes.
Back at pool one we floated around taking in the view of the gorge from the water. The breeze pushed us from one side to the other. We watched zebra finches come down and drink and other birds fly from holes in the walls.
One of our favourite places is Karijini National Park in Western Australia. It has beautiful gorges, waterholes and amazing geology. We both agreed Redbank Gorge was as good.
NIKON COOLPIX W300 ACTION CAMERA
We love our Nikon Coolpix Camera, it's perfect for snorkelling, kayaking, swimming and throwing in your bag on a hike. Many of the photos in this post have been taken with the Nikon Coolpix. Whether it be a thrilling snorkel expedition, or a relaxing holiday by the beach, this camera will capture it all. It's waterproof, shockproof, cold-resistant & dustproof.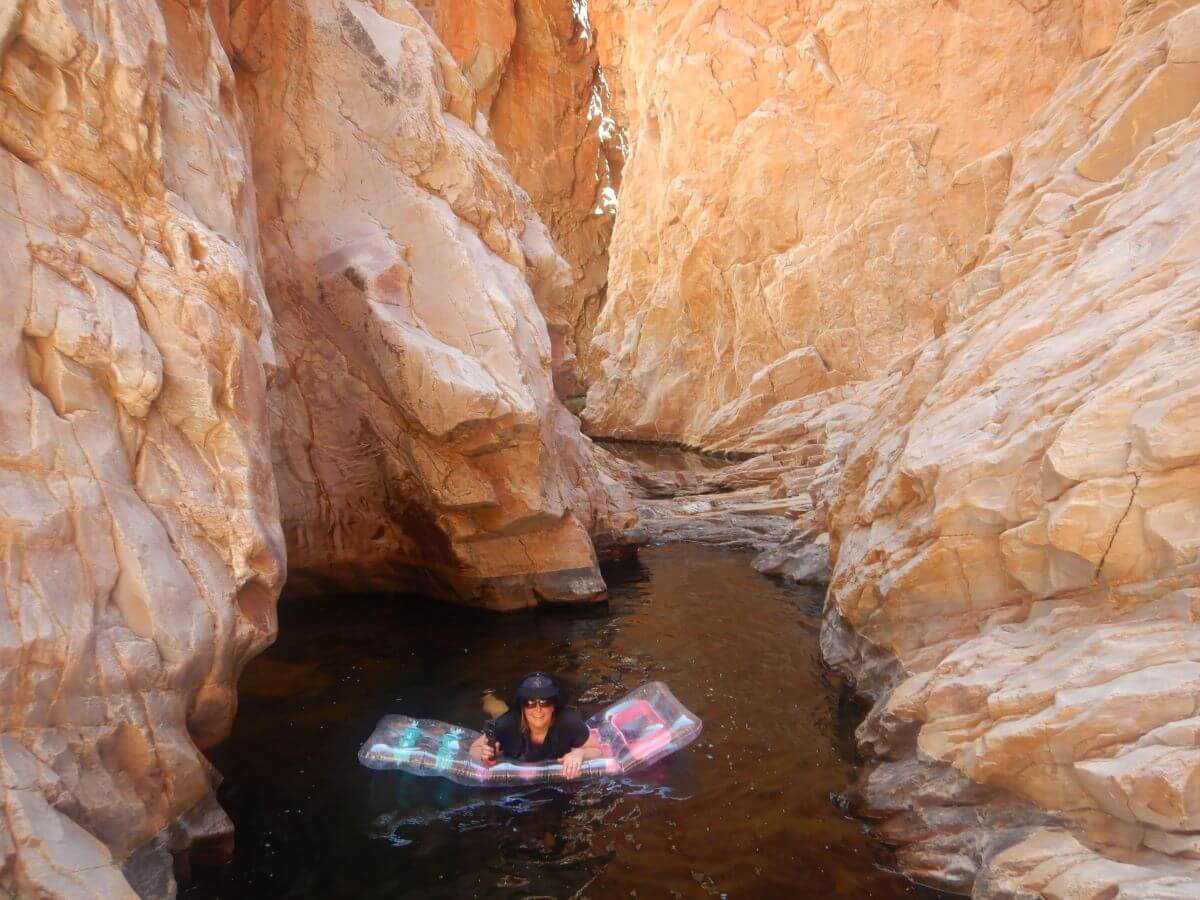 Deflating
When we finally left the water our toes were just starting to go numb. Coping with the flies and the walk back seemed harder after the tranquillity of the gorge. But they weren't the biggest challenge.
As it turns out, deflating a lilo is almost as hard as blowing it up. Trying to squeeze enough air out to fit them into the backpack again was quite a challenge. It was all worth it though. Redbank Gorge was one of our favourite spots in the West MacDonnell Ranges. You will love it too.
ORDER YOUR FLY NET - AN OUTBACK ESSENTIAL
Keep flies and mozzies at bay! A fly net is an essential item in the Aussie outback, more-so for your sanity when those pesky flies keep disappearing up your nose, in your ears or even more annoying is when they get stuck between your eye and the lens of your sunglasses. Click and order.
Tjoritja / West MacDonnell National Park stretches 161km west of Alice Springs. Known as Tjoritja by the Traditional Owners, the land is highly significant for local Aranda Aboriginal culture.  A National Park Pass is not required but a small fee is charge to enter Standley Chasm which is privately operated by local Aboriginal owners.
Swimming –  The larger water holes include Ellery Creek Big Hole, Ormiston Gorge and Redbank Gorge. But beware swimming holes are extremely cold, even in summer.
Walking – a good way to experience the spectacular views in this Park is by walking. There are numerous marked tracks ranging from easy to multi-day hikes.
Camping – Ellery Creek Big Hole and Redbank Gorge provide basic facilities. Serpentine Chalet and 2-Mile (4WD only) provide camping sites with no facilities. Ormiston Gorge provides camping facilities including showers and flush toilets. Camping fees (Cash) apply.
Overnight visitors to Tjoritja / West MacDonnell National Park are required to bring their own water supplies.
Fireplaces are provided at some sites & most sites offer free gas BBQs.
LIKE IT… PIN IT FOR LATER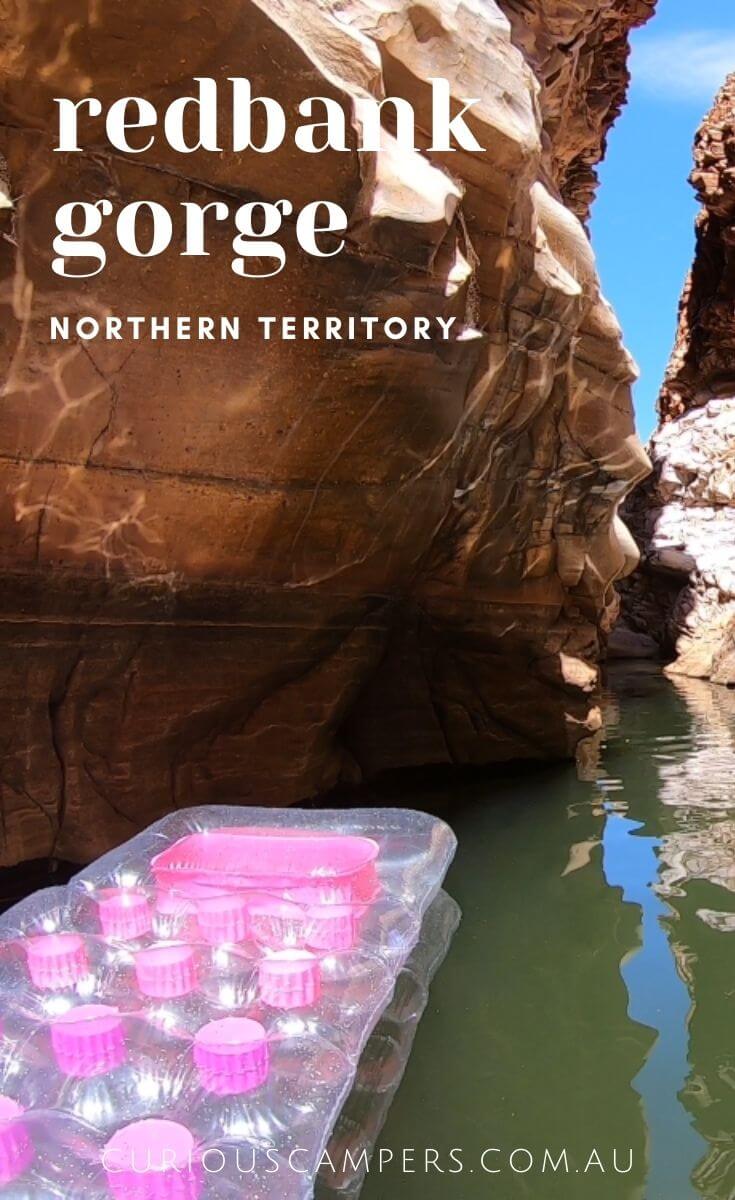 500 Things to do
Join our mailing list and receive our Free Top 500 things to do in Australia. If you love Australian Outdoor Experiences download this list and keep it handy when you are planning a weekend away or a road trip around Australia.