Rawnsley Park Station is a great base for your trip to the Flinders Ranges. It is not your average campground. Without even leaving Rawnsley Park, this working sheep station provides a great taste of what the Flinders has to offer.
Disclosure: Please note that some links in this post may be affiliate links, and at no additional cost to you, we earn a small commission if you make a purchase. Commissions are appreciated and go toward maintaining the Curious Campers website.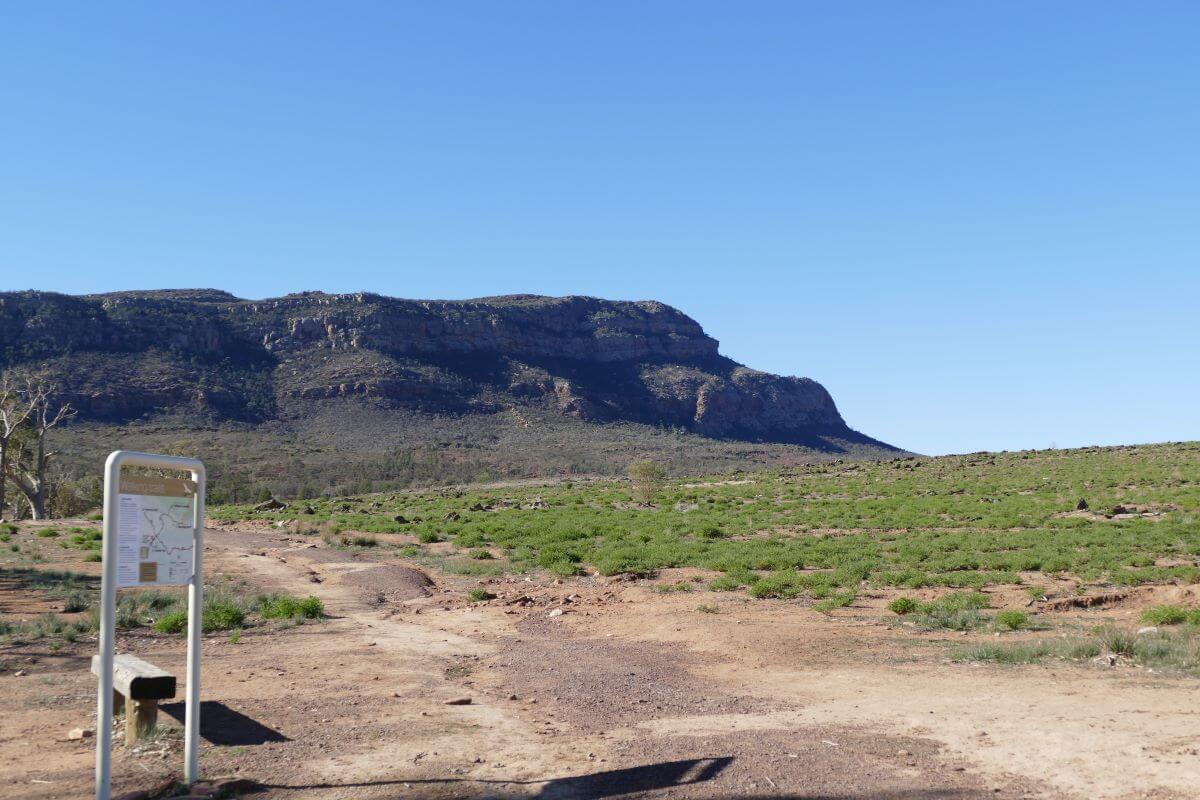 Where is Rawnsley Park Station?
Rawnsley Park Station is about five hours north of Adelaide. If you are planning a trip to the Flinders, it's a great base to explore the area. Wilpena Pound, Brachina and Parachilna Gorge and Blinman are all nearby.
The station is set in typical Flinders Ranges landscape. The imposing Rawnsley Bluff looks over the station. In all directions, there's great scenery including the western wall of Wilpena Pound and Chase and Elder Ranges.
You'll see native pines, river red gums and abundant wildlife throughout the station. If you want an outback getaway, settling in at Rawnsley for a week is a great option.
Rawnsley Park Accommodation
One of the great things about Rawnsley Park is the range of accommodation. There is a campground for people like us that get around with a caravan or camper. The sites are good sized and many of them have fire pits. If you don't bring your accommodation with you, you're spoilt for choice.
There is everything from holiday units to the homestead to luxury eco-villas. We stayed in the eco-villas a couple of years ago for a special event and they are fantastic. If you like the idea of seeing the Flinders but prefer returning to some creature comforts at the end of the day, the eco-villas are for you.
And, if you want to travel in a large group, there is The Bunkhouse which sleeps up to 22! It has its own amenities, laundry and kitchen. It's the perfect spot for a big family get-together.
STAY IN THE LUXURY RAWNSLEY PARK ECO VILLA
Relax in the beautiful eco-villa overlooking Rawnley Park Station. Sip on a glass of wine on the verandah as the sunsets. Cook up a storm in your villa or dine at Station Woolshed Restaurant. Centrally located in the Flinders Ranges for you to explore the Flinders Ranges National Park.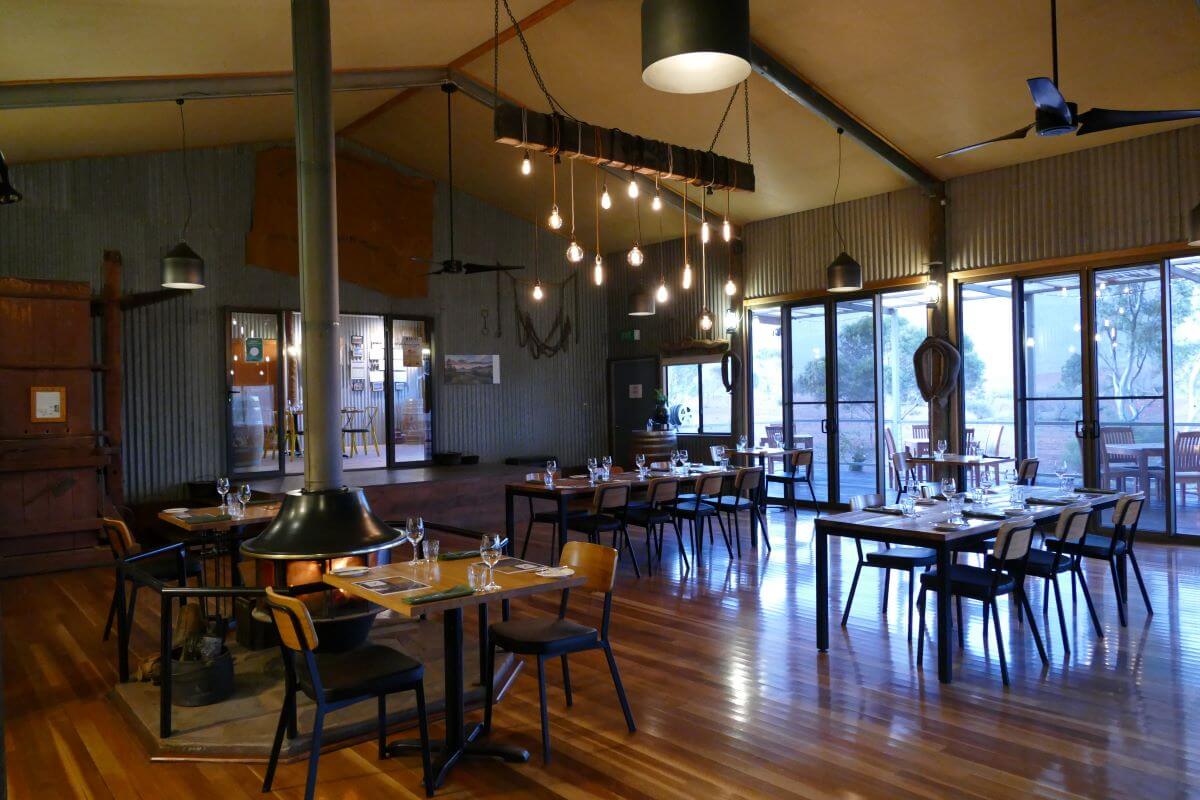 Woolshed Restaurant
Another thing you get at Rawnsley Park that you don't get at your average park is a great restaurant.
First, don't let the rustic exterior of the building fool you. The atmosphere inside is fantastic. Polished floor boards, high ceilings and outback décor give the restaurant lots of character.
If you think a place called the Woolshed Restaurant on a sheep station should cook up some good lamb – you're right! From the hamburger (maybe the best I have ever had) to the Lamb Tasting complete with matched wines, you'll be in foodie heaven.
In winter there are fires going to keep away the chill and in warmer months you can relax on the deck and take in the views. The Woolshed is always popular, you'll need to book if you are planning a visit.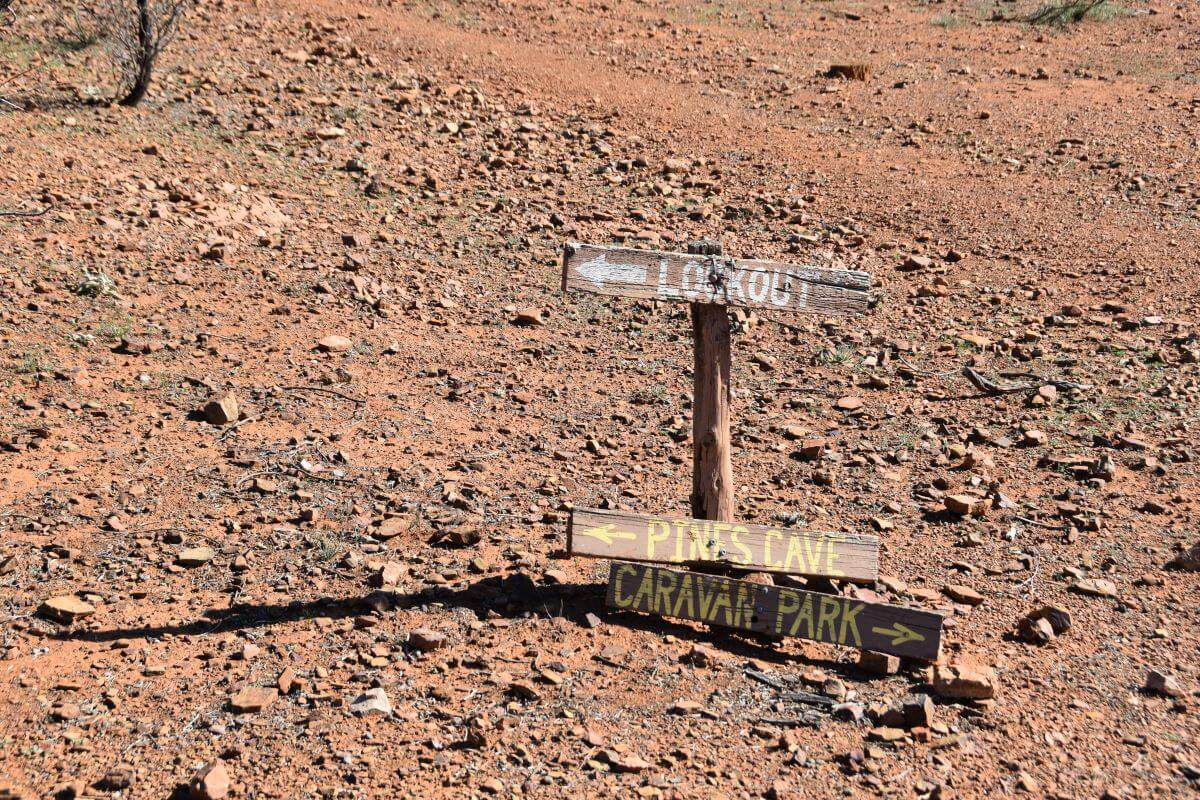 Things to do at Rawnsley Park
You can get a great feel for the Flinders Ranges without leaving Rawnsley Park Station. From bike rides and walks to self-drive tours and scenic flights, there are plenty of ways to explore the area.
When you check in, get a bushwalking guide for the station. There is a big information board about the walks in the park too. We did several of the walks marked around the property. Here are some of the highlights…
FLINDERS RANGES 3 Day 4WD Eco Tour 
Discover the Flinders Ranges on a 3-day tour from Adelaide. You'll look for wildlife at natural attractions like Wilpena Pound, go wine tasting in the Clare Valley, visit the mountain range's oldest town, Melrose. All meals are included, & you have 4 accommodation options - camping, a cabin, deluxe cabin or villa.
 Alison's Saddle and Clem's Corner
These two walks cover part of the Ulawdna Range on the eastern side of Rawnsley Park. They provide great views towards Hawker and the Elder Range. Alison's Saddle is a 45 minute return hike. There is a bit of a hill to make your way up. Your reward for getting to the top is great views of the pine covered valley below.
The 4.6 kilometre Clem Corner walk follows a loop trail. This is a great walk. It starts with an easy walk past the dam and through the park. The purple and orange you see in the rocks is striking against the blue sky. The trail then climbs up a dry creek channel and pops out at the lookout.
Once you have taken a few pictures, the path takes a spectacular course along the side of the hill then winds its way down to Kangaroo Creek. It was one of our favourite walks in the Flinders.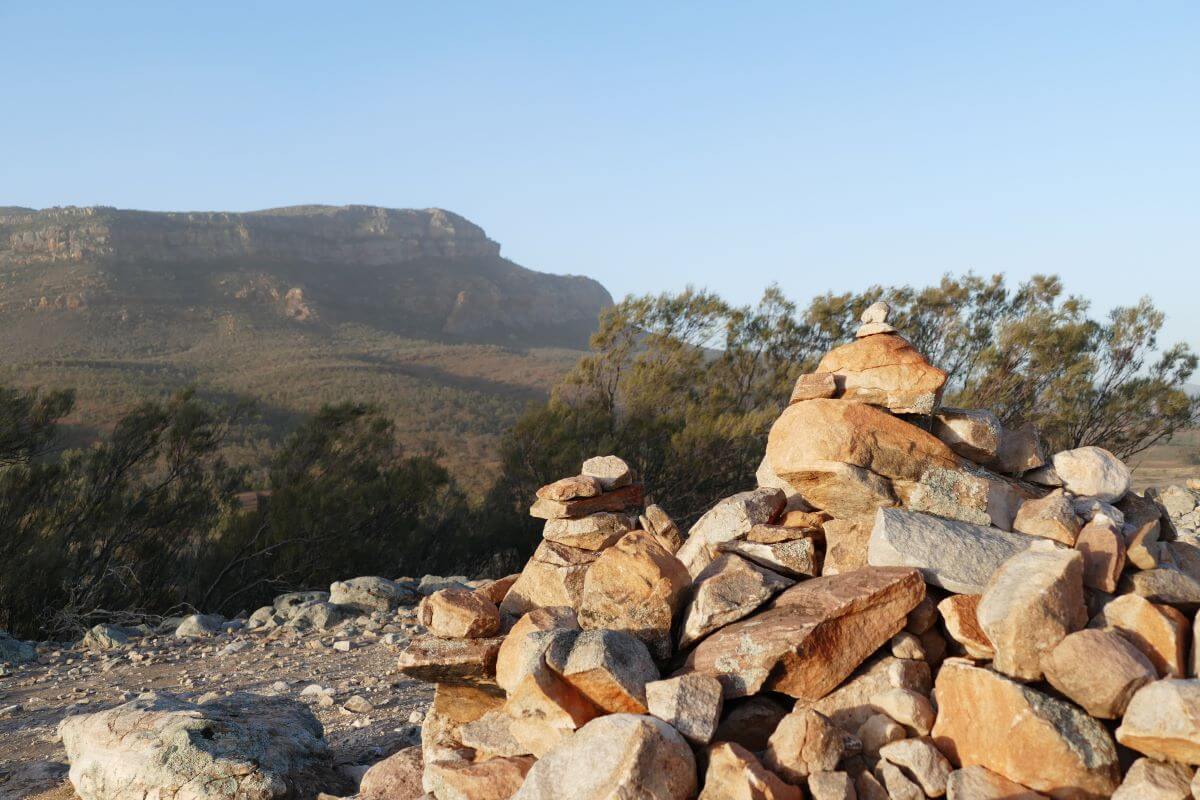 Rawnsley Bluff and Twidale Top
If hiking to St Mary Peak is on your to do list there is a great warmup you can do at Rawnsley Park. Rawnsley Bluff is a hard five hour return walk/scramble. For your effort you are rewarded with the view from the bluff and the Wilpena Lookout.
Rawnsley Bluff has a great view over Chace Range. From the Wilpena Lookout there are amazing views looking down the middle of the Wilpena Pound. Be prepared for these walks, they are tough.
From the Rawnsley Bluff carpark you can also walk to Twidale Top. This easy 45 minute walk takes you to the flat top of a mesa.
For our walk onto Twidale Top it was blowing a gale and there was dust everywhere but the view across Rawnsley Park was still good. On a better day, you would also have a great view of the hillside leading to Rawnsley Bluff.
There's no walking required at Station Hill lookout. The turnoff is on the same side of the road as the Rawnsley Bluff lookout. We got some take away from the Woolshed Restaurant and had dinner at the lookout as the sun went down. Beautiful!
HYDRATION BACKPACK FOR HIKING
Perfect for walking in rugged or slippery terrain when you need your hands free & have to keep yourself hydrated. The Camelbak Sabre is an extremely tough and versatile pack that lets you can carry two litres of water when you're on the go. The closed cell insulation keeps water cool for hours and has extra room for your keys, phone and cards.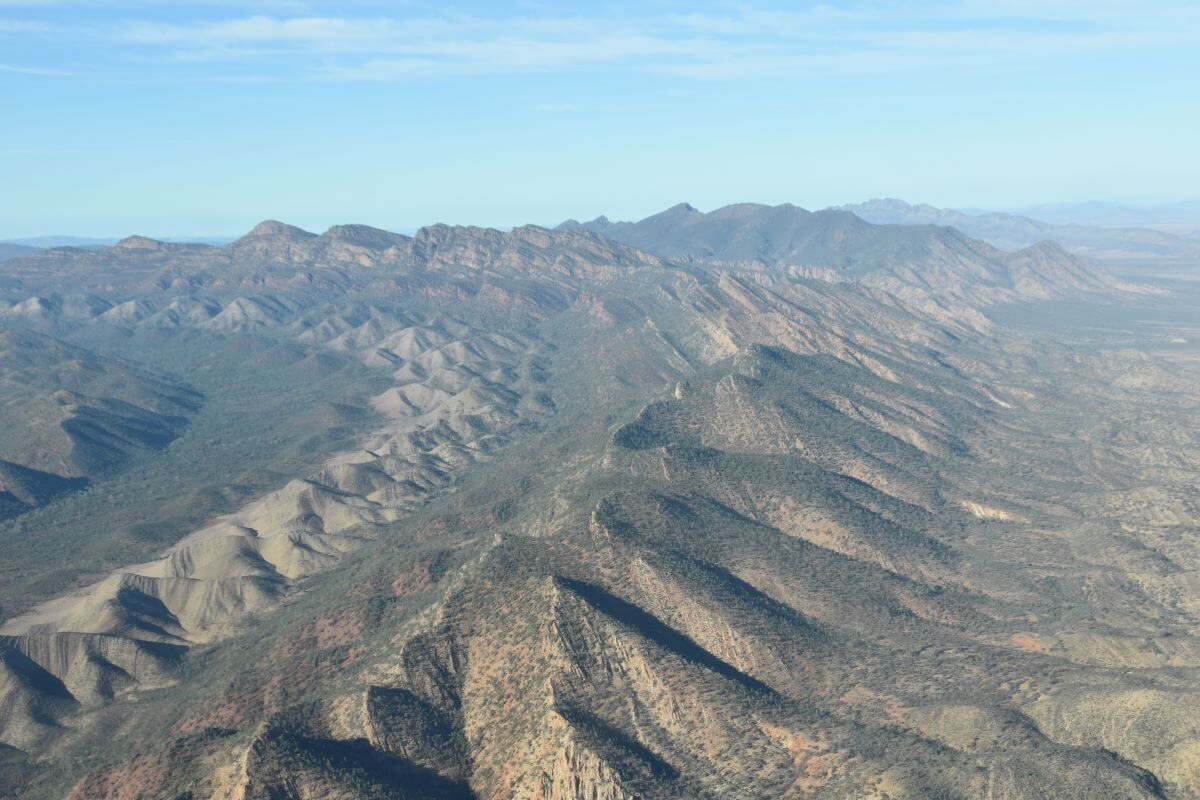 Scenic flights and Heli-camping
For the best view of all you can't beat taking to the air. Scenic flights are available from the Rawnsley airstrip over the Flinders, Lake Eyre and to Arkaroola.
While you are thinking of being airborne, you might want to try heli-camping! Get flown by helicopter to the top of Chase Range. Watch the sun set on the Flinders Rangers while your accommodation and food for the night are set up for you.
Spend the night in what must be one of the most spectacular campsites in Australia. Cook yourself a mountain top breakfast in the morning before your flight back to the station.
Bike trails
There are some great bike tracks to explore around Rawnsley Station. The 'Flinders Ranges by Bike' (FRBB) path also runs through Rawnsley and takes you to Wilpena Pound and beyond.
The 200 kilometre loop track takes you as far as Gum Creek. Keen cyclists will want to have a closer look at the FRBB route as it passes through some spectacular parts of the Flinders. Bike and helmet hire is available from the station.
Chase range drive
If you prefer to get around on four wheels, there is a great self-drive track. The main drive is suitable for AWDs with an extra circuit available for more serious 4WDing. The track runs through neighbouring Arkapena Station but you need to pay for access and get the key at Rawnsley Park.
The drive takes 3.5 (AWD) or 4.5 (4WD) hours and cost $40 or $50 respectively. For that, from the comfort of your own car, you get great views of the Chace and ABC ranges. Unlike the Brachina and Parachilna Gorge Roads which can get busier, here you will feel like you have a little bit of the Flinders Ranges all to yourself.
Wildlife
We saw everything from kangaroos and emus to wedge-tailed eagles and red caped robins. Spotting wildlife is a bit of a lucky dip. You never know what is going to turn up where. If you like bird spotting, take binoculars with you on the walks because there was plenty to see. Don't forget, you're on a working station so expect to see a few sheep too!
Sheep grazing near Rawnsley Bluff
STAY IN THE LUXURY RAWNSLEY PARK ECO VILLA
Relax in the beautiful eco-villa overlooking Rawnley Park Station. Sip on a glass of wine on the verandah as the sunsets. Cook up a storm in your villa or dine at Station Woolshed Restaurant. Centrally located in the Flinders Ranges for you to explore the Flinders Ranges National Park.
Rawnsley Park Station is located outside the National Park but if you are planning to explore Wilpena and the Flinders Ranges National Park you will need a Park Pass. A Daily Park Pass ($11 per vehicle) can be purchased at the Wilpena Pound Visitor's Centre. 
Kangaroos, Euros (wallaroos) and emus; we saw plenty of them. It was a bit cool for lizards and snakes to be out but keep an eye out for them in warmer months. 
If you enjoyed this story you might also like:
LIKE IT? PIN IT FOR LATER
500 Things to do
Join our mailing list and receive our Free Top 500 things to do in Australia. If you love Australian Outdoor Experiences download this list and keep it handy when you are planning a weekend away or a road trip around Australia.