Rapid Bay jetty in South Australia is famous for the schools of fish and colourful soft corals that live there. Rapid Bay is South Australia's best known dive site, but it is also a great spot for snorkellers.
Rapid Bay is about an hour and a half south of Adelaide on the Fleurieu Peninsula. It's a lovely drive that takes you past the Myponga Reservoir, Second Valley and into Yankalilla. All are worth looking around if you have time.
Sections of the old jetty have recently collapsed into the water. Snorkellers and Divers have been advised to avoid swimming near the old jetty while its safety is being assessed.
Disclosure: Please Note That Some Links In This Post May Be Affiliate Links, And At No Additional Cost To You, We Earn A Small Commission If You Make A Purchase. Commissions Go Toward Maintaining The Curious Campers Website.
Hobart Wreck Lookout
On your way to Rapid Bay, you'll pass the HMAS Hobart lookout. It has great views of the coast and information about the HMAS Hobart. The Hobart was sunk in Yankalilla Bay in 2002 to create a dive site. The wreck lies about 8 kilometres offshore and you need a permit to dive there.
When you arrive at the Rapid Bay Jetty you notice a couple of things. The first is the abundance of car parking. Even if it is a busy day or if you are towing something, you should find room on the waterfront. The next thing you notice is that there are two jetties.
Rapid Bay Jetty – the Old & the New
BHP built the original jetty in the 1940s to support a limestone quarry. It was nearly 500m long and had a T section at the end where ships could dock. The quarry stopped operating in 1991 and the jetty became a popular dive spot.
In 2004 a storm damaged the jetty and it closed to the public. In 2009, a new 240 metre long jetty opened 50 metres north of the old jetty.
The new jetty provided another site for marine life to colonise. It also has a fantastic purpose built platform for snorkellers and divers to access the water. It is nice and wide and lets you pretty much just walk into the water.
Aim for the T-Section
While you will see fish under both jetties, the T section of the original jetty is where the best viewing is. That was the great thing about the old jetty. You could walk out to the T, get into the water and be in the thick of it. Now there is a 250m swim involved.
Once you are in the water it is a good idea to head towards the old jetty. Rapid Bay is also a popular fishing spot and you'll want to avoid any lines or squid jigs. While walking to the T would be easier, the swim out isn't really a chore as there is plenty to see.
Tropical Colour
The sponges and soft corals are brightest near the surface. It always surprises us how colourful they are, it's the sort of thing you might expect in more tropical waters. Take your time looking at the pylons. The amount of life on them is amazing!
Busy crabs, colourful nudibranchs and soft corals: the pylons are a great place to explore. Even if you get to the end of jetty and the visibility isn't great, seeing the life on the pylons still makes it worth the swim out.
The Rapid Bay jetty is also known for its population of leafy sea dragons. You might get lucky and see them near the pylons, but they are most often seen on the sea floor amongst the sea grass. Keep an eye out for dolphins and seals too. From time to time they come and say hello to the divers.
Leafy Sea Dragon Information
Grow up to 35cm long
Can live for 2-3 years
Found in SA, WA & Victoria
Live on kelp reefs from 4m – 30m deep
They are related to seahorses
Great camouflage with seagrass
Snorkelling Tips
The Rapid Bay Jetty is a great snorkel but make sure you weigh up a few things before you give it a go.
From the platform on the new jetty, it is a 500 metre swim to the T and back. If the distance is a bit daunting, you can still see a lot of fish near the old jetty without going all the way out.
South Australian water can be cool. Most of the year, water temps at Rapid Bay are below 20 degrees and in summer they creep into the low 20s. Even in summer, we would recommend wearing a shorty wetsuit.
At worst it will provide protection if you rub against a pylon. At best it will let you stay in the water a little longer to enjoy the experience.
Currents can be an issue under the jetty. The best time to snorkel is at the change of tide or when there is one of South Australia's dodge or neap tides. Dodge tides are a period of small variation between low and high tides. These occur once or twice a month in South Australia.
Another great snorkel that's nearby: Second Valley
Other Rapid Bay Facilities
Besides a couple of jetties, a big carpark and a beach there isn't much else at Rapid Bay. If you are staying for the day you can get supplies from nearby Yankalilla. There are no toilets near the jetty. The closest facilities are in the adjacent campground.
The council run campground works on a first come, first serve basis. The park manager comes around to collect the fees. At the time of writing they are $12.50 per adult per night ($15 over long weekends) and $7.50 for kids aged 8 -12. Families (2+2) are $30 per night. It is a busy place in the holiday season so get there early if you're looking for a site.
Whether you visit for half a day or stay in the campground you'll love Rapid Bay. There is a reason it is South Australia's go to snorkelling and dive location. Grab you face mask and fins and check it out!
Rapid Bay Accommodation
Have you every been able to pitch the tent or back the caravan directly onto the foreshore? Rapid Bay Campground is a great little low cost campground. Prices start at $12.50 per adult a night and $7.50 for kids. Sites must be booked and paid for in cash. All sites are unpowered and the amenities are cold water only. Despite this it is a popular little campground that you don't want to miss!
If you enjoyed this story you might also like:
Things to do in Goolwa | Swim with Giant Cuttlefish | Lunch at McLaren Vale
Like it? Pin it for Later…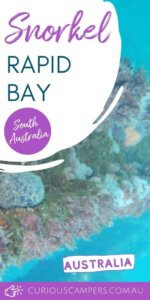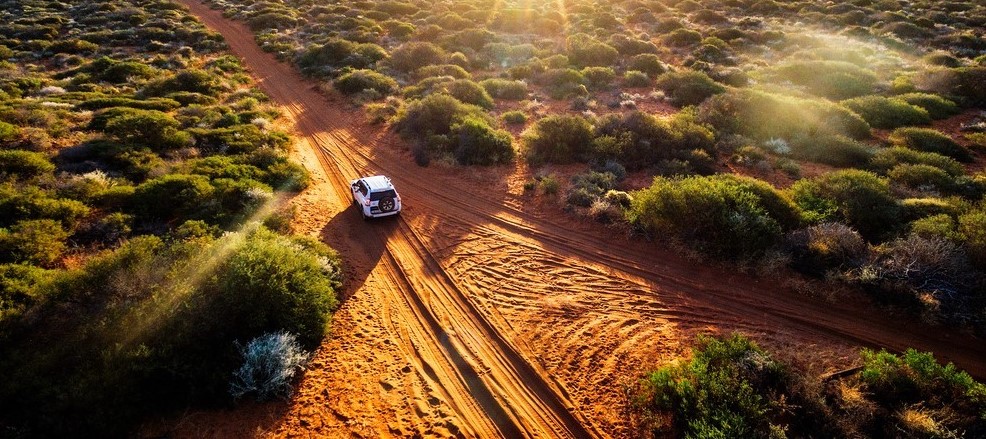 500 THINGS TO DO
Join our mailing list and receive our Free Top 500 things to do in Australia. If you love the Australian Outdoors download this list and keep it handy when you are planning a weekend away or a road trip around Australia.
Recent Posts