Touring Parachilna Gorge is one of the best day trips in the Flinders Ranges. Besides the gorge, you'll see some amazing lookouts, explore Blinman and visit the iconic Prairie Hotel.
Parachilna Gorge Road between Blinman and Parachilna is 32 kilometres long. But, give yourself a full day to see everything in the area.
Disclosure: Please note that some links in this post may be affiliate links, and at no additional cost to you, we earn a small commission if you make a purchase. Commissions are appreciated and go toward maintaining the Curious Campers website.
Getting to Parachilna Gorge
If you're based at Wilpena Pound or Rawnsley Park, head north along Flinders Ranges Way towards Blinman. There is a lot to see in the first leg of the trip and Blinman is a great spot for lunch – more on that later.
The drive from Wilpena Pound to Blinman is only 60 kilometres but you'll want time to take in the scenery. There are some great lookouts and we also stopped a few times to watch a couple of wedge-tailed eagles.
Hucks lookout
Not long after you see the turn-off to Bunyeroo Gorge, on the same side of the road you'll come to Hucks Lookout. There are great views here back over Wilpena Pound and the ABC Range.
Why 'ABC'? It's nothing to do with any of the peaks resembling letters of the alphabet. When the range was discovered it was thought to have 26 peaks. Of course, it is impossible to drive around the Flinders, see the ABC Range and not start counting.
The other feature of this easy to access lookout is the grass trees. These stumpy green tufts with their spear-like flowers are great looking plants. It's hard to resist getting a picture of the grass trees – or yaccas – with the hills in the background.
Stay at Wilpena Pound Resort
Wilpena Pound Resort is the only accommodation located within Flinders Ranges National Park. Choose from hotel rooms, to 'glamping' safari tents, and powered and unpowered bush campsites. Walk from your accommodation into Wilpena Pound.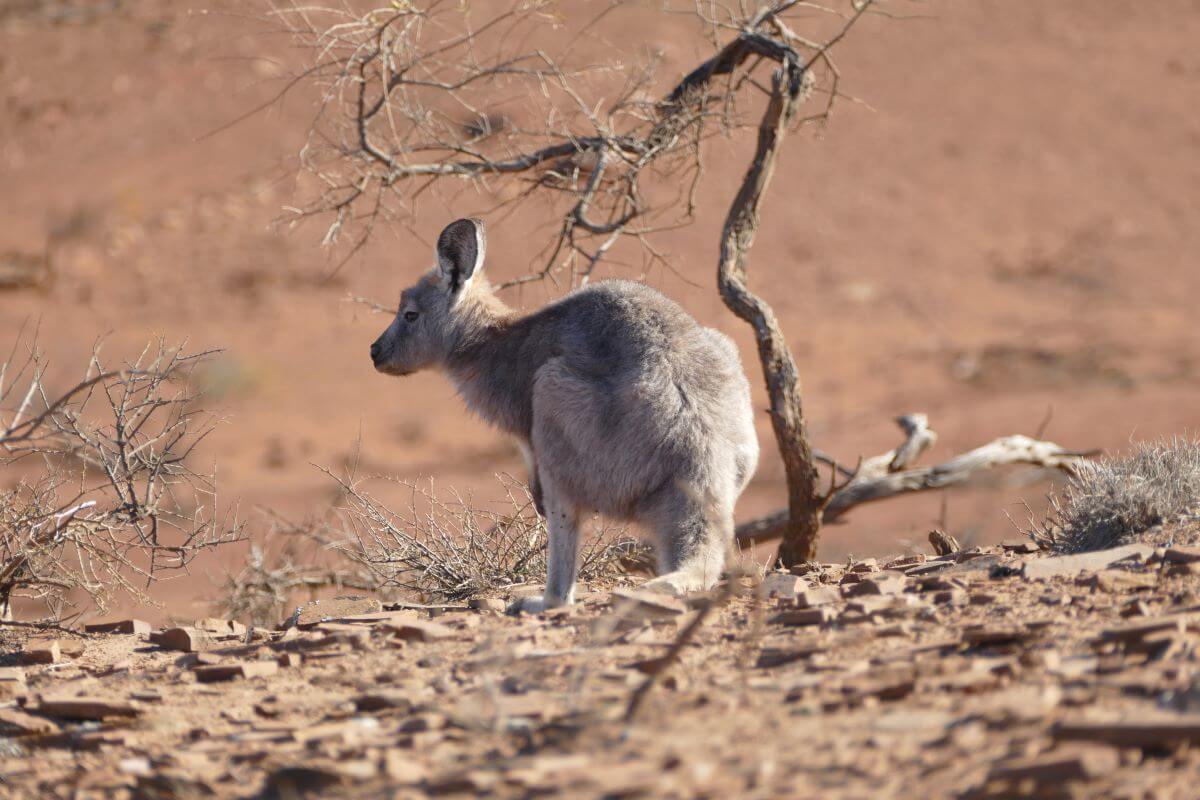 Stokes Hill Lookout
Not far up the road is another great view. Stokes Hill Lookout is on the right and is not quite as easy to get to as Hucks Lookout. If you are towing a van, best not try to get to the top as it gets quite steep. There is a vantage point part way up.
We stopped here mid-morning and there were kangaroos everywhere so keep an eye out as you drive up and down. The view from the top is a beauty. You can see Wilpena Pound and Elder, Heysen, Chase and Bunker Range.
If you aren't sure which range is where, there is a pool table-sized model of the area to help you get your bearings. It is an impressive and useful thing. There are also several signs describing the Dreamtime stories of the Adnyamathanha people.
The 360 degree views make Stokes Hill a top spot to be at sunset.
Great Wall of China
Go past the turn off to Brachina Gorge and keep an eye out on your right for the turn off to the Great Wall of China. The sign to the turn off is at the turn off and, for our visit, was facing parallel to the road so it is easy to miss.
The Great Wall of China, as the name suggests, is a long wall of ironstone that sits along the top of a ridge. The closer you get to it, the more impressive it looks. You can drive right up to the base of the hill then walk up further to get an even better view of the wall.
Try as we did, it wasn't easy to get a picture that does the wall justice. It's one of those things that you just have to stand back and take in with your own eyes. It is definitely worth doing the U-turn when you miss the turn off for a look.
Blinman
Blinman has a couple of claims to fame. At an elevation of 610m it claims to be South Australia's highest town. It also doesn't belong to a local government council. So yes, on the one hand they don't pay council rates but they do have to dispose of their own rubbish. They also have all but undrinkable water and very expensive power from a diesel generator.
Despite these hardships, and a population in the mid-thirties, Blinman offers a lot to visitors. The cornerstone of the town is the Blinman copper mine that operated between 1862 and 1907.
Blinman Mine Tour
You can do a self-guided walk around the mine, but we did the 70 minute guided tour and thought it was brilliant. Tours run throughout the year except for a short break in January.
From April to the end of October tours run hourly between 10 and 3. There are three tours a day from November to April. You can get a family ticket (2+2) for $70, adults $28.50 and kids less than 15 are $12.
The tour takes you into the mine and is a fascinating journey back in time. You learn all about life in the mine and how the mine shaped the town. With hard hats and torches on, you walk deep into the mine which comes to life thanks to a few modern special effects and the enthusiasm and knowledge of the guides.
More things to do in Blinman
Depending on what takes your fancy there are a couple of options for lunch in Blinman. The North Blinman Hotel is a ripper. It has great food and is the perfect spot to grab lunch before you hit Parachilna Gorge Road.
If you want to keep the mine theme going, you must try the Cornish pasties from the café. Made how the Cornish miners would have eaten them a 100 years ago, I'm not kidding when I say it was the best Cornish pasty I have ever had.
If you are spending longer in Blinman, you can also take a scenic flight from here and get a bird's eye view of the ranges. And one we have on our list to do next time is a camel trek. These aren't 20 minute laps of an oval. With Flinders and Beyond Camel Treks you can spend up to 2 weeks exploring the Flinders by camel.
FLINDERS RANGES 3 Day 4WD Eco Tour 
Discover the Flinders Ranges on a 3-day tour from Adelaide. You'll look for wildlife at natural attractions like Wilpena Pound, go wine tasting in the Clare Valley, visit the mountain range's oldest town, Melrose. All meals are included, & you have 4 accommodation options - camping, a cabin, deluxe cabin or villa.
Parachilna Gorge Road
With a head full of history and stomach full of Cornish pasty it is time to hit Parachilna Gorge Road. The turn off is right there in Blinman. At the other end of Blinman is Glass Gorge Road.
Glass Gorge Road is a tighter, bumpier 60 kilometre track that comes out in Parachilna Gorge. It is a great alternate route if you have taken the Parachilna Gorge road before. There are some spectacular lookouts along the way.
The first half of the Parachilna Gorge Road drive is on a good dirt road. The scenery is great with ranges and strikingly shaped and coloured rock around every corner.
At about the halfway point of the drive you'll come to Angorichina Tourist Village. It has everything from accommodation and fuel to groceries and souvenirs. They also offer some basic mechanical services and mountain bike hire.
You can also access Blinman Pools from the Angorichina Tourist Park. This challenging 12 kilometre return walk along the Parachilna and Blinman Creeks goes through some great scenery. The spring-fed pools are a welcome sight on a hot day!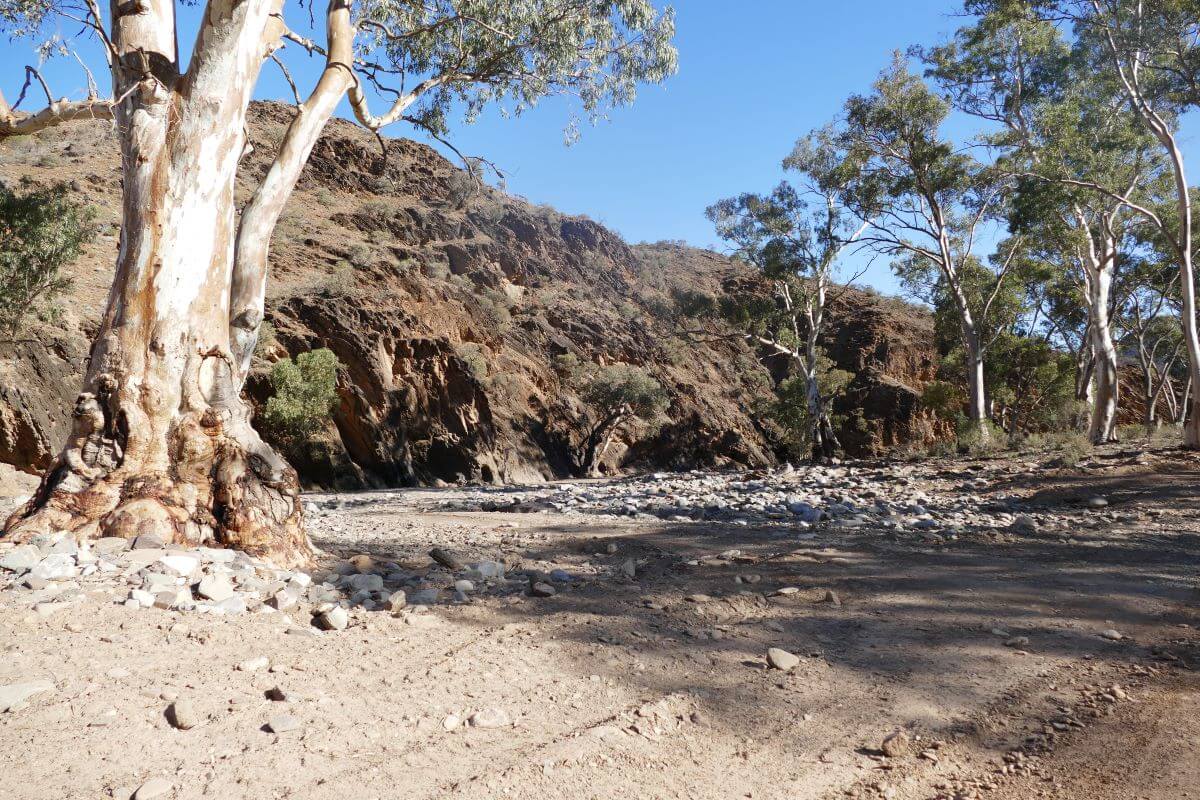 Parachilna Gorge
Beyond Angorichina Tourist Park the landscape changes as you head into the high walled gorge section of the drive. The last third of the drive is a little rougher. More often it feels like you are driving along dry creek channels than dirt road.
Before you reach the gorge itself, you'll drive past the Parachilna Campground. Like all the camp sites in the Flinders, it is well maintained and spacious. Sites need to be booked. Just up the road you'll come to the trail head for the 1200 kilometre Heysen trail. 
The scenery through Parachilna Gorge is great and you will see plenty of wildlife. We found ourselves imagining how different the place would look after a summer down pour (it would likely be impassable too). Through the gorge you drive between tall rock faces and river red gum lined overflows.
Prairie Hotel
From Parachilna Gorge, it is a straight, short drive to Parachilna and the Prairie Hotel. We knew this pub had a big reputation, but when it came into view we were still amazed by its size. You won't have to ask Siri where it is in Parachilna, you can't miss it!
The Prairie Hotel is famous for its food. People come from far and wide to try the feral mixed grill featuring kangaroo, emu and camel. We couldn't wait to try it but to our dismay the hotel was closed because of coronavirus. There is also accommodation at the hotel.
With the pub shut, Parachilna was a bit quiet for our visit. We had the Ediachrin fossil display across the road all to ourselves!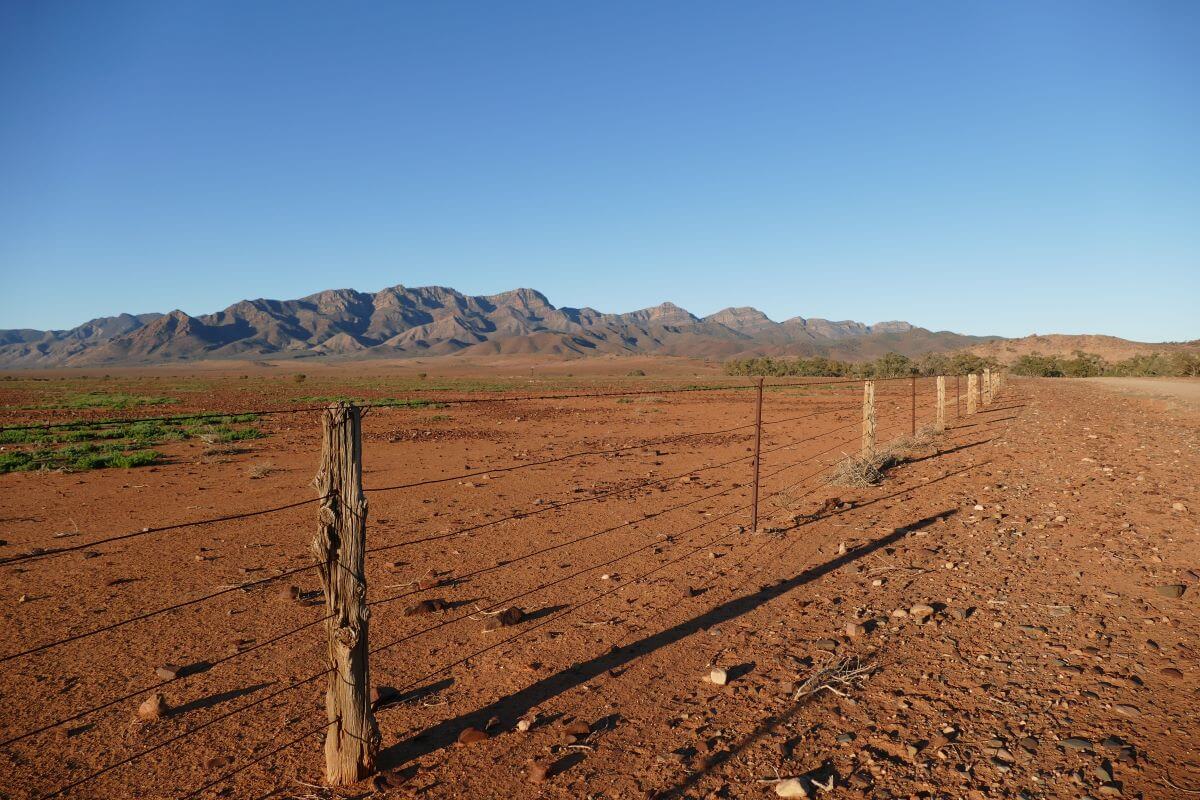 Moralana Scenic Drive
It is a great drive on the Outback Highway back towards Wilpena Pound, Rawnsley Park or Hawker.  On one side of the road, the sun lights up the side of the Heysen Range. To the west, you look out over the flat desert plain towards Lake Torrens. Also keep an eye out for wedge-tailed eagles. We saw 8 or 10 of them along the highway before the turn off to the Moralana Scenic Drive.
The Moralana drive is not only a short cut to Wilpena Pound or Rawnsley Park Station, there is also some nice scenery. The 28 kilometre drive is on an unsealed road. If you take it easy, a 2WD will get through. All vehicles should avoid the track if there has been rain.
The track takes you through Arkaba and Merna Morna Stations. Around every corner you get great views of Elder Range or Wilpena Pound. The second half of the afternoon is a great time to do the drive with the sun on the ranges.
You'll also want to watch out for kangaroos and euros. Particularly around dusk, they are everywhere! The drive is a great way to finish your Parachilna Gorge day trip.
ROAD TRIP PLANNING MADE EASY WITH CAMPS 11
The latest edition of Camps Australia Wide features more sites than ever before, giving campers, caravanners, 4WD enthusiasts, road trippers and other travellers more places to pull up and stay for the night. Travellers who want to take their pet on the road can choose from over 4,000 pet-friendly campsites using Camps 11, making it easy to discover Australia without having to leave your furry (or otherwise) friend behind.
While we were staying at Rawnsley Park Station you can stay locally on Parachilna Gorge Road at Angorichina Tourist Park. Here you can choose from cottages, cabins, dormitory or powered or bush camping sites. It's a great base to explore this area and has spectacular views of the ABC and Heysen Ranges.
The 1,200 kilometre hiking Heysen Trail passes through some of South Australia's most diverse landscapes. The Northern Trailhead commences at Parachilna Gorge in the Flinders Ranges and heads south to Cape Jervis. There are numerous campsites up and down Parachilna Gorge, often on the banks of the Parachilna Creek. You can access water at the water tank at the Parachilna Gorge trailhead.
We saw plenty of Kangaroos, Euros (wallaroos) and emus. Wedge-tailed eagles are plentiful in the area so keep an eye out in the sky or roadside. It was a bit cool for lizards and snakes to be out but keep an eye out for them in warmer months.
500 Things to do
Join our mailing list and receive our Free Top 500 things to do in Australia. If you love Australian Outdoor Experiences download this list and keep it handy when you are planning a weekend away or a road trip around Australia.