The Olive Pink Botanic Garden is a must see when you're in Alice Springs. As well as a great collection of arid climate plants, there's also wildlife, history and nice food. We ended up visiting twice.
Our first visit was at dusk to try and spot black footed rock wallabies. We came back a few days later to check out the Bean Tree Café and more of the gardens. It's a wonderful place. For a $5 donation you get a guide to the garden that has maps and descriptions of the plants. Make sure you get one for the self-guided tours and trails.
Here are our top reasons why you should put the Olive Pink Botanic Garden on your list of things to do in Alice Springs.
Disclosure: Please note that some links in this post may be affiliate links, and at no additional cost to you, we earn a small commission if you make a purchase. Commissions are appreciated and go toward maintaining the Curious Campers website.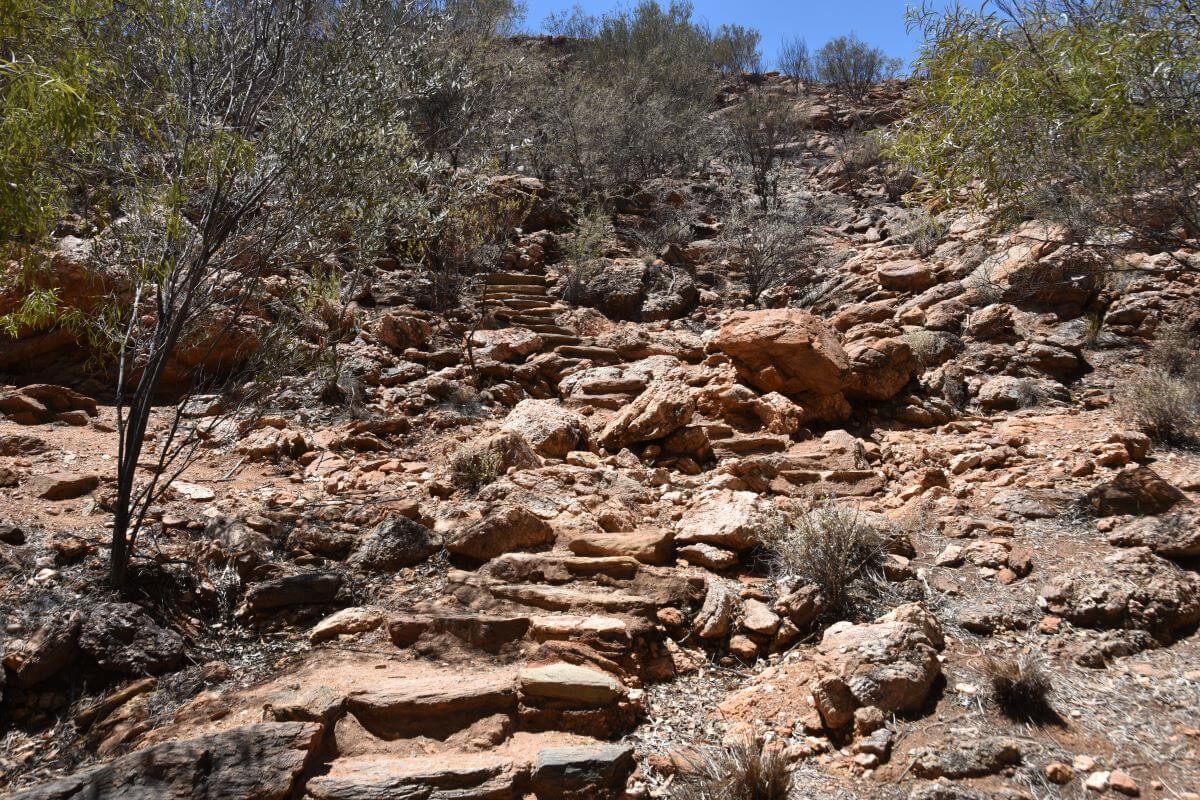 Hill Walk – Arrernte Trail
The dominant feature of the Olive Pink Garden is Annie Meyers Hill. It's called Tharrarletneme by the local Arrernte people. It's a 30 minute walk up a track that is a little steep and uneven in places.
As you wind your way up to the top you can follow the numbered plant trail. For each number there is information in the guidebook about the plant. There are around 17 plants to spot. They include everything from the great sounding Dead Finish shrub, to a native fig at the top of the hill that seems to be growing out of a rock.
The views from the top are wonderful. The main path forks off in two directions. There are views across Alice Springs, over the gardens and along the Todd River.
ALICE SPRINGS DESERT PARK ENTRY
Avoid the queue and grab your tickets online to Alice Springs Desert Park. Explore the plants, animals, and people of the desert during a self-guided visit. Learn about the arid regions of central Australia, find out what resides in a waterhole and which critters come out at night. See native Australian desert birds and wildlife in natural enclosures.
Black footed rock wallabies
We went to the gardens late in the day hoping to see some black footed rock wallabies. When you see the rocky slopes of Annie Meyers Hill you'll think yep, perfect rock wallaby habitat.
As we learnt trying to spot yellow footed rock wallabies, the trick is seeing them in plain sight. They blend in so well with their surroundings, you need to look hard to notice them or hope they move.
We ended up seeing two. Like their yellow footed cousins down south, they are great looking animals. As it turned out, you won't only spot them at dusk. When we came back the next day, we saw one on a rock at the bottom of the hill. Judging by the signs in the café they often make an appearance there too.
Bird Attracting Garden
To be honest, it felt like everywhere we went on our Central Australia trip we saw heaps of birds. So, when you create a garden to attract them you can't go too wrong. If you have time to sit still in the bird garden, you could spot all sorts of species.
Ring neck parrots were busy as we did a lap of the garden. We also spotted finches, a couple of different honey eaters and a superb blue wren. The guidebook has a calendar of when you can spot some more notable species in the garden.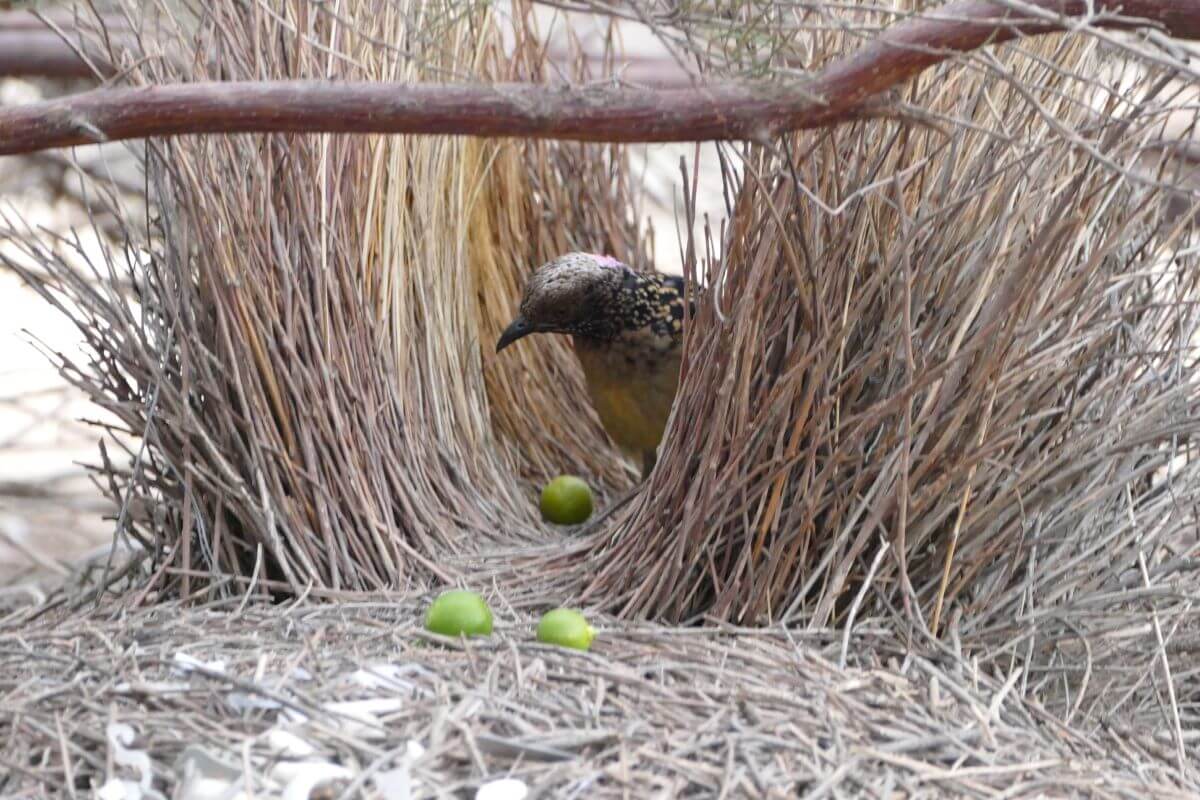 Bower Birds
So cool they get a heading of their own, the star of the bird attracting garden is the  Western Bowerbird. Most of us are familiar with the satin bowerbird and their nests adorned with bits of blue.
The Western Bowerbird is a mottled yellow and dark brown colour. The nest we saw at the base of a tree had shiny white or silver objects around it rather than anything blue. As we watched, the bird was busy around the garden returning with all kinds of things to add to the nest.
We were a bit late in the year to see the males perform their elaborate courting rituals but we could have sat and watched it tending its nest for hours.
BEST CAMERA FOR WILDLIFE PHOTOGRAPHY
We love our Panasonic Lumix Fz1000 Compact Camera. It is the perfect camera for wildlife photography. It has the most amazing zoom and is not too heavy or big. You can easily use this camera in auto mode or switch to manual settings. The auto scene modes such as sunset are fabulous!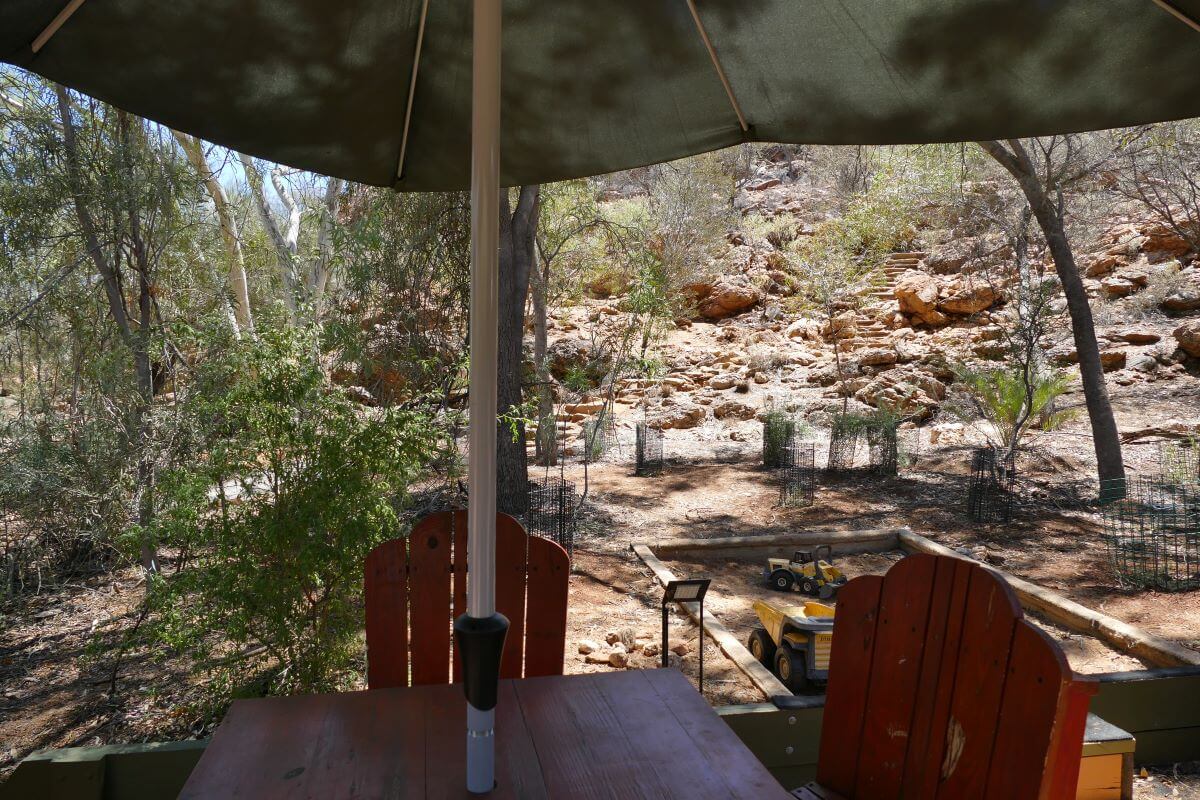 The Bean Tree Café
The café in the gardens is fantastic. They claim to be the best garden café for 1000 kilometres. Even if this wasn't geographically the case, they might still be right. From their fruit smoothies to the burgers and salads, everything we had was delicious.
The café is set in a lovely, shaded spot and is the perfect place to relax after you have explored the gardens. While it didn't happen for us, it isn't uncommon for some of the parks wildlife to wander by to see what's happening.
Opening times vary with the seasons. For our visit, they were open Thursday to Sunday. Check their Facebook page for current hours on your visit, you won't want to miss out!
Wattle walk
This is another of the self-guided walks you can do through the park. It is an easy, 15 minute circuit that leaves from near the café. Again, have your booklet with you so you can learn more about the various plants along the walk.
The Wattle Walk has some bigger trees on it including several types of Mulga and Wattle. In spring you'll see a lot of yellow blossoms through this part of the garden. Our highlight was seeing a kangaroo and joey hop along the base of Annie Meyer Hill and settle under a Mulga tree.
Mallee walk
Another short walk, this 15 minute circuit also leaves from near the café. The self-guided loop features a dozen different types of Eucalyptus trees. We live in southern Australia, so it was great seeing some Eucalypts we don't get in our cooler part of the world.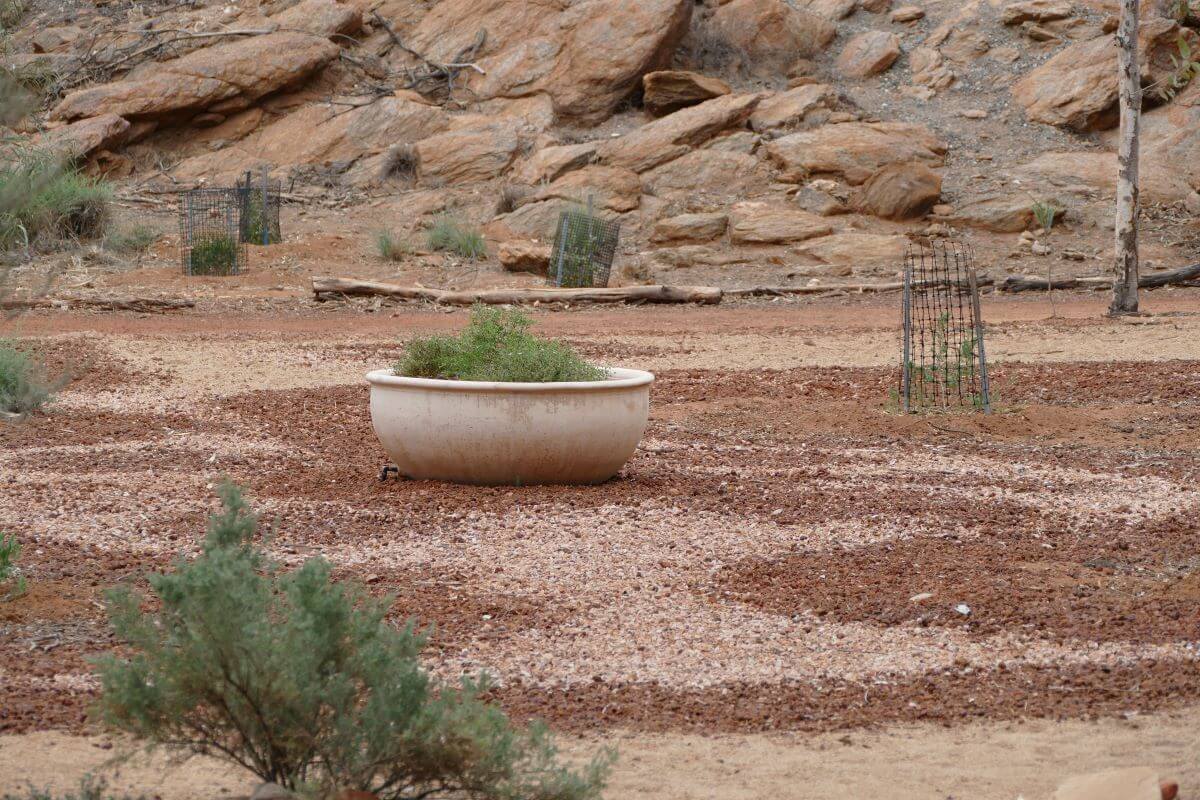 Sculptures
Part of the fun of the Olive Pink Gardens is the variety of things you can see. Yes, there are plenty of plants, there's the wildlife and again, I have to mention those burgers. There is also art and sculptures.
Keep an eye out for gravel art, decorated seats, rustic garden arches and big sculptures. The art and sculptures blend in so harmoniously with the environment they are easy to miss.
Of course, some pieces are more obvious. Our favourite was the giant bird which you'll you'll have no trouble spotting in the bird attracting garden.
More wildlife
Besides the wallabies and birds, you might catch a glimpse of some other wildlife. The Waterholes right behind the Café Garden provide refuge to a range of reptiles. It was a bit chilly for them to appear when we were there.
As you walk towards the Blakeman Garden there are signs saying to look out for snakes and goannas. We also spotted a wallaby along here sitting on a rock not far up the hill.
We also came across a tree full of butterflies emerging from their cocoons which was quite a sight.
BOOK YOUR STAY AT OORAMINNA HOMESTEAD
Book your outback station stay at Ooraminna. Choose from four unique cabins - stone, timber, log or tin.  The 600 acre property is only 30 minutes from Alice Springs.  It has a rugged desert beauty with rocky escarpments and views of the Ooraminna Hills. Relax in style.
Olive Pink Trail
Last, but by no means least, is Olive Pink. She established the gardens in 1956. The gardens were first named The Australian Arid Regions Nature Reserve. She lived at the gardens until her death in 1975 aged 91. Described as 'indomitable' and 'unforgettable', Olive Pink was a much admired local character.
She was a person of many talents and in a lot of ways was ahead of her time. She was an anthropologist, artist and aboriginal rights advocate. She was also a pioneer in cultivating Australia's native flora. 
Her dedication to the garden is commemorated in the Olive Pink Trail. The trail begins near the Gazebo in the heart of the gardens. The one way, 6 station walk takes you past some of her original Bean Tree plantings, the site where she lived and interpretive signage.
Olive Pink Botanic Garden Map
LIKE IT… PIN IT FOR LATER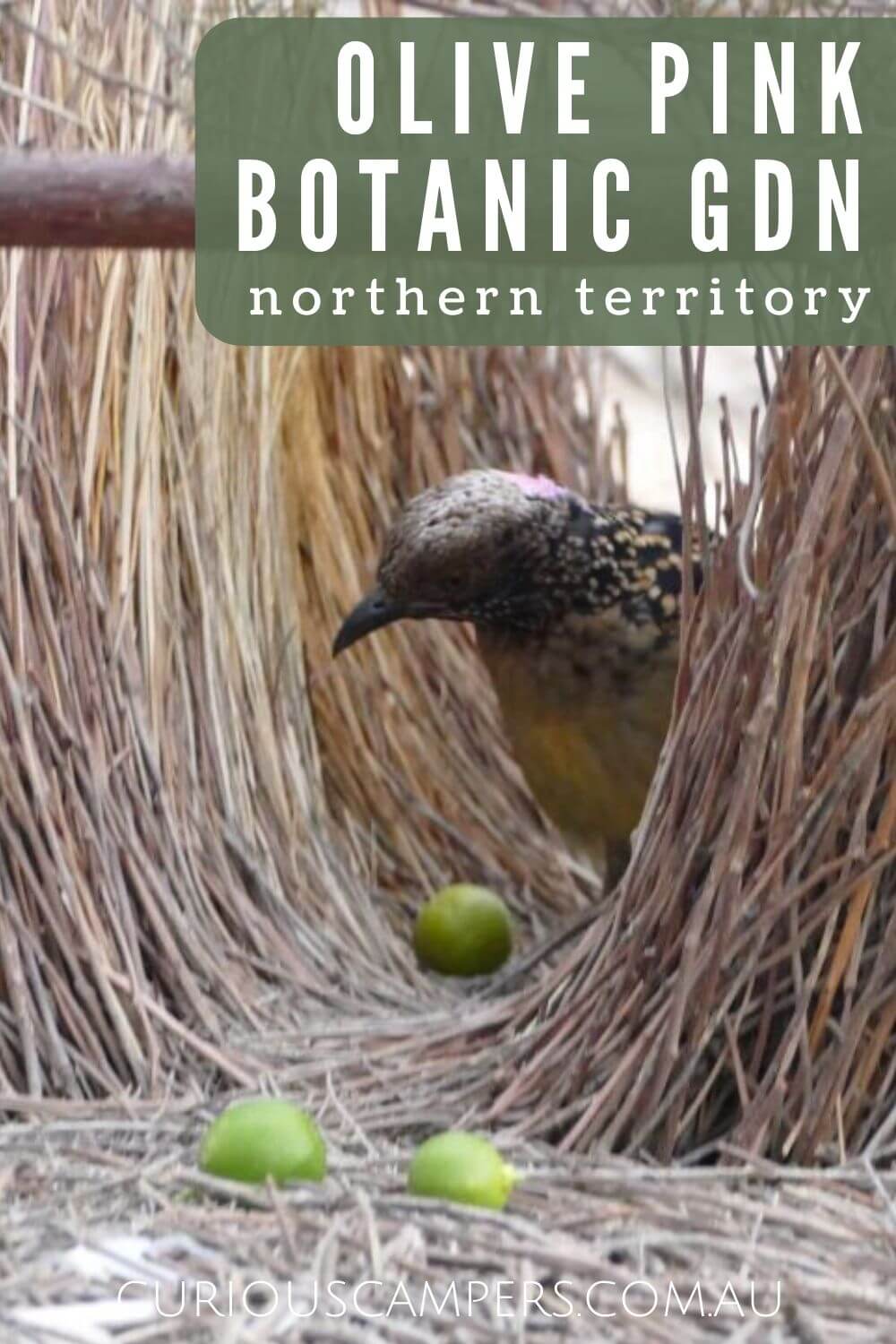 500 Things to do
Join our mailing list and receive our Free Top 500 things to do in Australia. If you love Australian Outdoor Experiences download this list and keep it handy when you are planning a weekend away or a road trip around Australia.