A Murray River kayak is the perfect way to see Australia's best known waterway. You can go at your own pace, enjoy the wildlife found in the many lagoons and billabongs and access creeks larger vessels can't.
Go with the Flow
We had a riverside campsite for our stay in Echuca. After we had set up camp, we relaxed with a drink and watched the water flow past – and it was flowing quickly. Thanks to a recent water release, the river was a couple of metres higher than normal and moving at a good speed.
Encouraged by the swift movement of the water, we decided to do a longer paddle than usual. Our last paddle had been just a couple hours along the Harriet River on Kangaroo Island. The good conditions made us go for over double that.
Echuca Boat and Canoe hire dropped us on the Goulburn River, 5 kilometres from where it enters the Murray. From the Murray, we had a 20 kilometre paddle back to where we collected the kayaks. It was a 5 ½ hour trip all up.
Murray (no kidding, that's his name), along with his two dogs, drove us to the launch site near Stewarts Bridge road. It's fair to say that, as we negotiated the scotch thistles, we didn't push off from an official boat ramp. Still, the bank was low enough for us to get away without any problems.
Disclosure: Please Note That Some Links In This Post May Be Affiliate Links, And At No Additional Cost To You, We Earn A Small Commission If You Make A Purchase. Commissions Are Appreciated And Go Toward Maintaining The Curious Campers Website.
Goulburn River
The Goulburn River is narrower than the Murray and the 5 kilometres section we did was one of the best parts of the paddle. The Goulburn was also moving at a good pace. We often stopped paddling, let the river do the work and floated along watching the wildlife.
The trees either side of the channel were full of galahs and cockatoos. Their screeching and squawking filled the air as they flew in and out of hollows in the tree trunks. We also saw a few kites perched high in the trees.
At one point we saw one swoop down and try to snatch a small duck from the water. The duck got away and dropped back into the river with a splash. As Nat pointed out, that was literally one very lucky duck.
Murray River Kayak
We reached the junction of the Murray and Goulburn rivers feeling pretty good. We'd drifted as much as we had paddled. It had been a relaxing journey to that point, but that changed as we entered the Murray.
The first thing we noticed was that the water wasn't moving like it was in the Goulburn. The 'free ride' we thought we were going to have seemed to disappear in the wider channel. Someone also turned on a wind machine. We hadn't noticed a breath of wind on the Goulburn River. But, no sooner had we started down the Murray, a stiff head wind blew up.
The river's meandering course meant sometimes the wind was at our backs. When it wasn't, it was hard work. Little waves broke over the front of our kayaks and there were times when it felt like you were paddling on the spot. The wind didn't spoil the activity, but it did make it more challenging!
Read More : We also enjoyed our kayak of Kings Billabong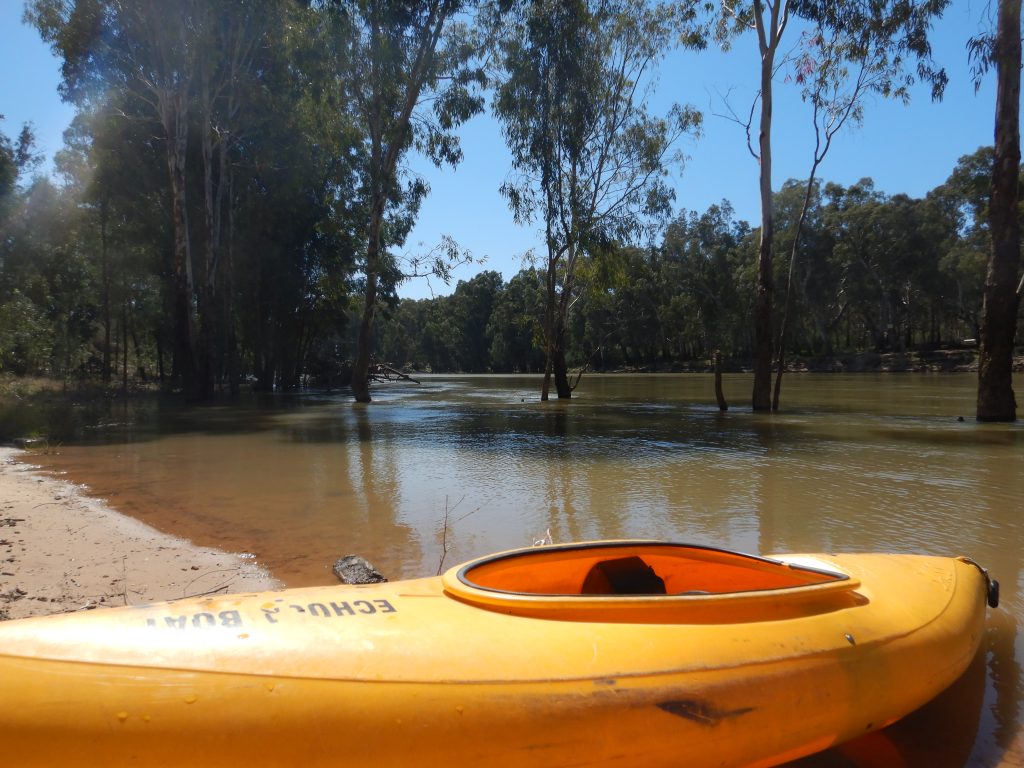 River Life
While we didn't see as much wildlife along the Murray, the scenery was still lovely. Red gums lined the banks. Many of them seemed to be hanging onto the edges by only a few slender roots. Other trees had lost the fight to stay up and now created wooden arches to paddle beneath.
We passed several campsites on the Victorian side and made a mental note to check them out another time. They were right on the river and looked like the perfect spot to put your feet up and watch the world, or river, go by.
Three or four hours into our paddle we stopped for lunch. There weren't that many places to come to shore. Between steep banks and private property signs, finding a spot to eat and stretch our legs was tricky. We managed to find a little 'beach' and pulled in there.
River Markers
For those who follow in our footsteps, the low bank we slid onto was near river marker 1720. If, like us, you don't have much to do with the Murray, you might not have heard of river markers.
These large blue and white signs occur every 2 kilometres. The number on the marker represents how far you are from the river mouth. We'd been counting them down from 1728 since we entered the Murray from the Goulburn.
Navigating the river had been straight forward until we came to a T-intersection. After telling one of us off for not having their life jacket done up (no names. But it was Nat), we watched as the river police boat took a left turn. The current was pushing us that way too so that's we way paddled.
We figured that when we saw the next river marker, it would confirm that we were going in the right direction. When the next marker didn't appear when we thought it should, we began to panic. While logic said we were going in the right direction, it wasn't until we spotted our van in our caravan park in Moama that we relaxed.
Out Waterproof Cameras
Historic Echuca
Shortly after that, a river marker appeared. It wasn't the one we had been looking for. Maybe we had missed it, or perhaps it had been on a tree that had fallen into the river. Either way, it was a huge relief to know we didn't have to backtrack!
Not long after that we reached Echuca. The sound of paddle steamer horns and churning paddle wheels filled the water. As enjoyable as the natural scenery of the river was, this connection to the history of the river was great to see.
Three paddle steamers came past us in the opposite direction. From the water we could feel their paddle wheels churning through the water and smell the steam from the engines. Their names – PS Alexander Arbuthnot, Emmylou and Canberra had a class to them that the house boats we saw – Cruise and Booze and Gone Troppo – seem to lack.
We paddled under the bridge that connects Echuca and Moama then on to the historic Echuca wharf. We thought it looked impressive when we had walked along it the previous day. It's even better from the water.
We saw more paddle steamers docked there. You also get a great sense of the wharf's size and impressive design from the water. You can only image the hustle and bustle of the place back in its heyday. The wharf was a welcome distraction from our increasingly aching backs and butts.
Read More : Try paddling with platypus at Lake Elizabeth
A little tired but lots of fun
Not far past the wharf our finishing line came onto view. The grassy banks of Victoria Park appeared, and we made our way back to where we had first collected our kayaks. We were tired, but seeing even a little stretch of the Murray from the water had been a great experience.
Echuca Accommodation
We stayed at Discovery Parks Maiden's Inn Moama in the middle of school holidays the park is rocking with water parks, pools, rock climbing walls and movies but we still had a nice quiet riverside site to relax. Camp Kitchens, Bathrooms, BBQ were modern and very quiet.
If you enjoyed this story you might also like:
Kayaking Kings Billabong |  Kayak on Kangaroo Island |  Things to see and do in Mildura
Like it? Pin it for Later…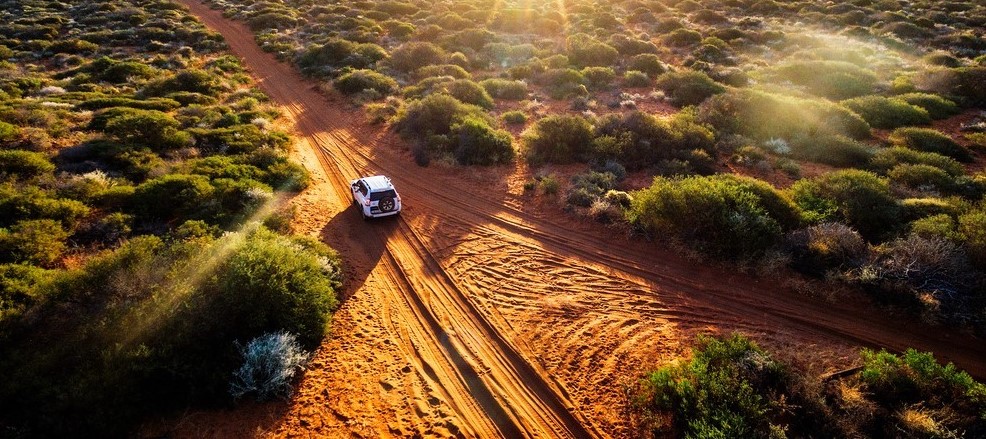 500 THINGS TO DO
Join our mailing list and receive our Free Top 500 things to do in Australia. If you love the Australian Outdoors download this list and keep it handy when you are planning a weekend away or a road trip around Australia.
Recent Posts