Mt Surprise and fossicking go hand in hand. For Nat, Mt Surprise fossicking was the first chance to test her plan of funding our trip around Australia with gems. It was a simple enough idea and, with young kids helping, how could it possibly go wrong?
How do you fund your travels? Some people rent out their house. Others sell everything. A lot pick up a bit of work as they go around. We put a tenant in our house during our seven months on the road. But for Nat, rental income was only ever plan B. She was convinced we would pay for our travels by fossicking for gems.
Disclosure: Please Note That Some Links In This Post May Be Affiliate Links, And At No Additional Cost To You, We Earn A Small Commission If You Make A Purchase. Commissions Go Toward Maintaining The Curious Campers Website.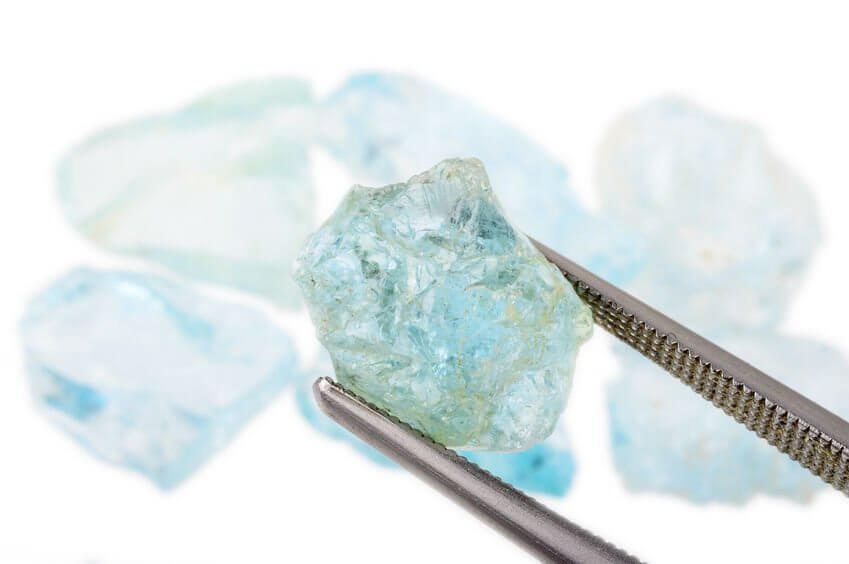 It's easy!
'It'll only take one good one and we'll be set. Lots of people do it'.
'Really? Lots of people?' Her conviction had me picturing us pulling off to the side of the road, kicking over a few rocks and finding a nest of rubies. And honestly, who hasn't dreamed of doing that?
Earlier in our trip we had fossicked for agate in Norseman. Is it valuable? Not really. But we found heaps of it – in fact the challenge was finding a rock that wasn't agate. Our agate success reinforced Nat's belief that we were destined to discover the Welcome Stranger of aquamarines in O'Brien's Creek along the Savannah Way near Mount Surprise.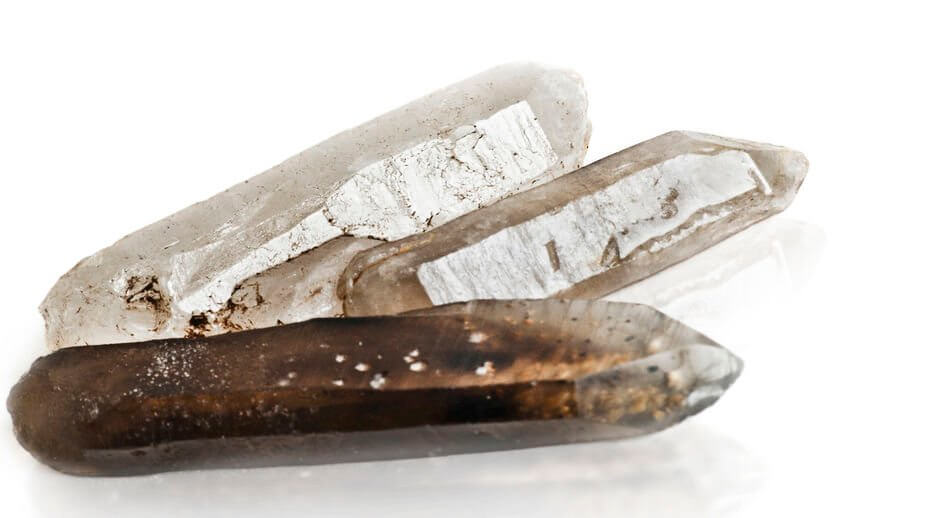 Gearing up
The Gem Den in Mount Surprise supplied us with a license, maps, picks and shovels. As we handed the gear around, the kids reminisced about the ease and speed of our agate discovery. I'm sure our Norseman success had them imagining a carpet of colourful, glistening gems scattered across the creek bed. But then, we were handed a big circular sieve and a stand. The kids examined it with suspicion.
'What's that for? We didn't need one of them to find agate'. I felt bad having to do it, but their fossicking dreams needed a dose of reality. 'The things we'll be looking for today are going to be a bit smaller than the agate we found in Norseman. That's why we have to use this sieve to find them.'
Managing expectations
When they asked how much smaller I knew it would be cause for concern. 'Well let's say you could hold one piece of agate in your hand. If we find anything here, you'll be able to hold fifty of them in your hand.'
Since I was hoping the kids would share in the back-breaking work, I shouldn't have painted such a grim comparison. Even so, I thought it was worth managing their expectations. They seemed to be preparing themselves for the prospecting equivalent of strawberry picking.
Squashing the kid's hopes was one thing. Controlling Nat's excitement was quite another. There was no swaying her belief that we were about to solve all our money issues.
I'm certain she saw us arriving at our next park, walking into reception and slapping a couple of colourful gems on the counter. 'That should about cover it' she'd say to the grateful park managers.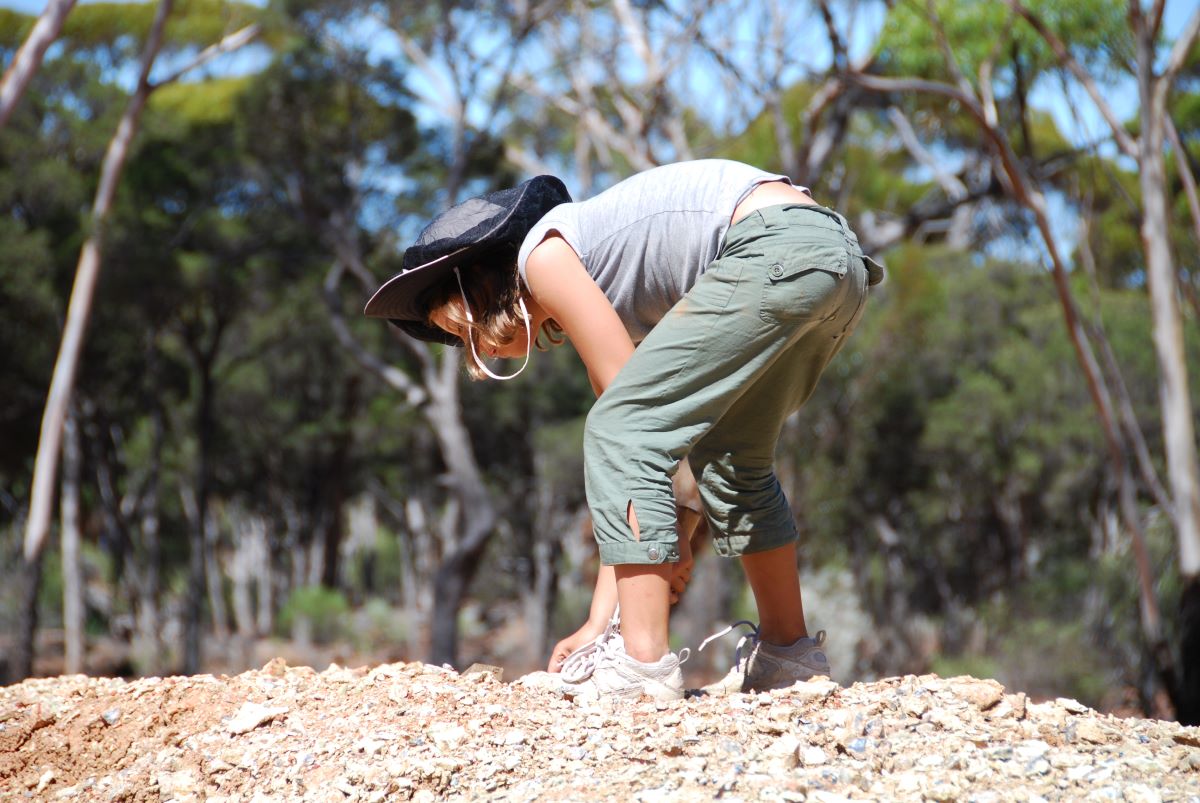 Down to Business
The first step to discovering untold riches is to figure out where to dig. We were given some pointers on which parts of O'Brien's Creek were best. They weren't hard to find, as they had already been well and truly excavated. There were also plenty of areas that hadn't been turned over. We found ourselves debating two options.
We could continue digging an existing hole in the hope that the last person had given up just one shovel full of gravel away from hitting the mother lode. Alternatively, we could start a new hole, where there might be untold riches right beneath the surface.
We decided to start afresh with our own hole but after a while we swapped to a hole someone else had been working on. Neither yielded any results.
To the kid's credit, they put their back into it for a couple of hours before they ran out of puff. With not even a hint of success to keep them going they dug, picked and sieved with very few complaints.
Keep Trying
It was slow, hard and, ultimately, unsuccessful work. Nat was convinced that every shovel load of gravel would be 'the one' but it never came. She accepted that we would have to work for our fortune so with confidence still intact, we tried a new location.
Our second site was in a more isolated spot. Rather than digging in the main creek bed, we went to the narrow channels feeding into it. As we walked along them, there was less evidence of other people trying their luck there recently. Although it was rockier and the digging harder, we felt like we were on more virgin ground.
Nat and I toiled away for another couple of hours. The kids had given up assisting with the physical labour some time ago. Liam was sitting on a rock watching Nat and I kill ourselves. Caitlin had gone for a walk in a different channel. It was from there she returned with a big grin on her face. Standing in front of us she opened her hand to reveal a little piece of blue tinted crystal.
' I just found it sitting on the surface.' This was typical Caitlin. As chaotic as her bedroom always was, she possessed a supernatural ability to find a needle in a hay stack. The gift eluded her when trying to locate any of her own missing possessions. However, she was uncanny at finding things for other people.
One Last Try
Nat's resolve, which had been unshakeable, was showing signs of weakening. Our backs ached, blisters were forming, and our mouths were full of dust. To top it off, Caitlin's discovery without even the use of a garden trowel was more than a little deflating.
'Do you think it's a sign we should call it a day?'
'You know what?' she said with resignation, 'we'll be in Sapphire in a month or two. Emeralds and rubies are more my thing anyway. Let's sieve this last pile and finish up.' I could sense her disappointment. It looked like we'd be paying for our next park by credit card after all.
Reward at Last!
Nat emptied the last load of gravel into the sieve. I swirled it around then, through eyes stinging with sweat, I spotted something.
'Hey! There's something here!' Nat stared into the metal bowl. As a final reward for the day's work, a tiny piece of topaz and what looked like the remains of a broken coke bottle emerged from the gravel.
Nat beamed. Coke bottle or not, we had found something. Was it going to pay for our trip? Not this time but at least we proved we could fossick for something other than agate.
We returned our gear to the Gem Den and showed off the fruits of our labour. Our topaz discovery was confirmed and what I thought was broken glass turned out to be a few slithers of Smokey quartz.
Despite our finds, Nat's disappointment that her fossicking plan had not worked out was obvious. Maybe expecting to uncover a treasure trove of gems after only one day was a little ambitious. Even so, I felt bad that her hard work and unbreakable optimism had been so poorly rewarded. There was only one thing to do.
Read More: Try your hand at fossicking in Sapphire
Guaranteed Success!
The good people at the Gem Den, anticipating the regular shattering of people's fossicking dreams, sell bags of gravel guaranteed to contain four or five gems.
When you first see them, you laugh. They must be for those poor people who don't find anything, you figure. Bit of an easy way out…
At the other end of the day, having found nothing, your opinion of the bags changes. What a good idea you think, a lovely souvenir.
That afternoon, while Nat lifted her spirits with a game of mini-golf, I went back to the shop and bought a bag of gravel. That evening I presented her with her very own bag of Mount Surprise guaranteed surprises. She was delighted.
Within minutes, she had 'unearthed' some topaz, an aquamarine, some nicer pieces of Smoky quartz and a piece of moonstone. No dust, no sweat, no blisters – it was all very civilised and very much appreciated.
Yes, our Mount Surprise fossicking ended up costing us money – the opposite of our original goal, but it was a great adventure. Nat's attention soon turned to Sapphire where, apparently, an Aladdin's Cave of rubies, emeralds and sapphires awaited us.
Accommodation in Mount Surprise
The kids were very excited by the prospect of staying at the Bedrock Village Caravan Park. Despite the initial disappointment of not finding Bam-Bam and Dinosaurs on arrival the kids loved the mini golf and the pool. The shared dinner around the campfire pit and the gemshop were also great.
If you are looking for a low cost or free campgrounds this list of 34 campgrounds around outback Queensland is worth checking out.
If you enjoyed this story you might also like:
Queensland Wildlife Experiences | The Pinnacles | Nature Spotting – the Platypus
Like it? Pin it for Later…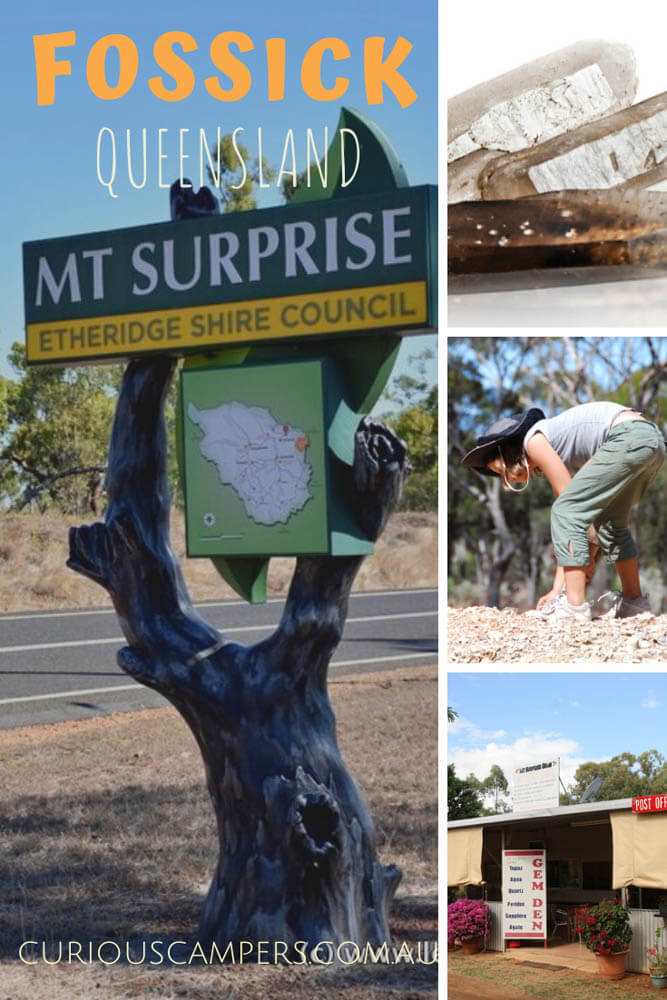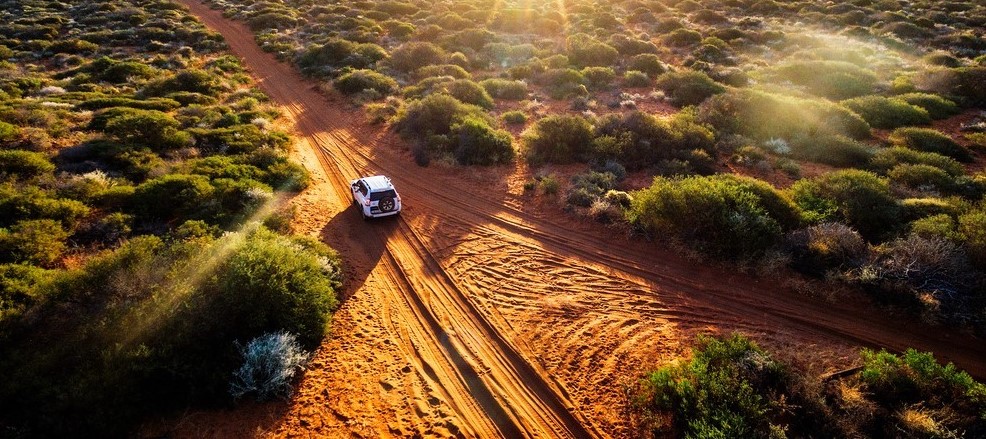 500 THINGS TO DO
Join our mailing list and receive our Free Top 500 things to do in Australia. If you love the Australian Outdoors download this list and keep it handy when you are planning a weekend away or a road trip around Australia.
Recent Posts