Mount Gambier's attractions range from water-filled sinkholes to glowing mushrooms and shipwrecks. Located in South Australia's Lower South East, it is the perfect stop on a Melbourne to Adelaide road trip. If you like exploring unique landscapes, Mount Gambier's volcanic cones, caves and pine forests are for you.
Disclosure: Please note that some links in this post may be affiliate links, and at no additional cost to you, we earn a small commission if you make a purchase. Commissions are appreciated and go toward maintaining the Curious Campers website.
The Blue Lake
Mount Gambier's most famous attraction is the Blue Lake. It occupies a volcanic crater which on its own is a spectacular sight. But, from mid-December to March the water in the lake turns a bright royal blue. You really do have to see it to believe it.
You would swear black and blue, that pictures of it have been computer enhanced, but no, the water really is that colour. Doing the 3.6km walk around the lake is a popular activity. There are several lookouts along the way where you can see the lake and surrounds from different angles.
Blue Lake Aquifer Tour
Currently unavailable
If walking around the Blue Lake isn't enough, there is a tour you can do that takes you down closer to the surface. On the tour you get to ride in a glass lift and walk through tunnels as you learn about the history and engineering behind Mount Gambier's water supply.
The 45 minute tour runs on the hour, opening times do vary across the year. Prices start at $11.00 per adult and $31 for a 2 + 4 family. It's a fun and interesting tour and the view of the lake at water level is pretty good too.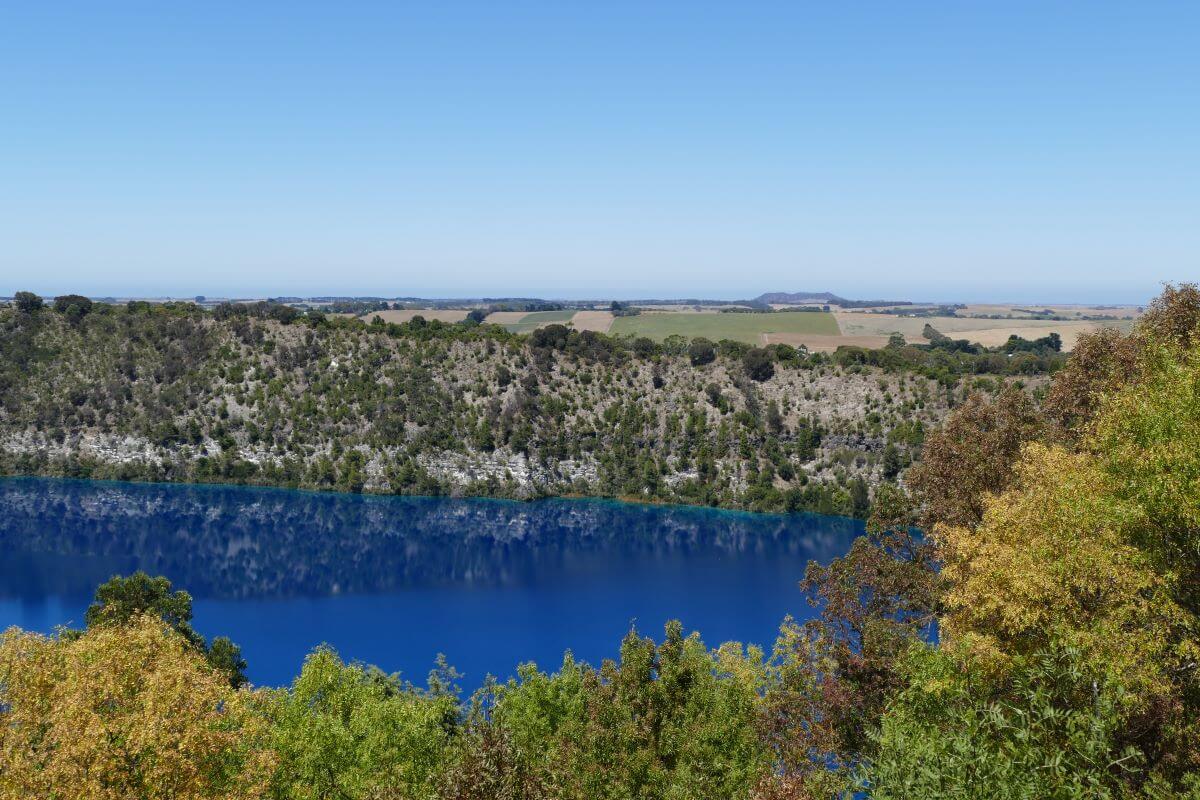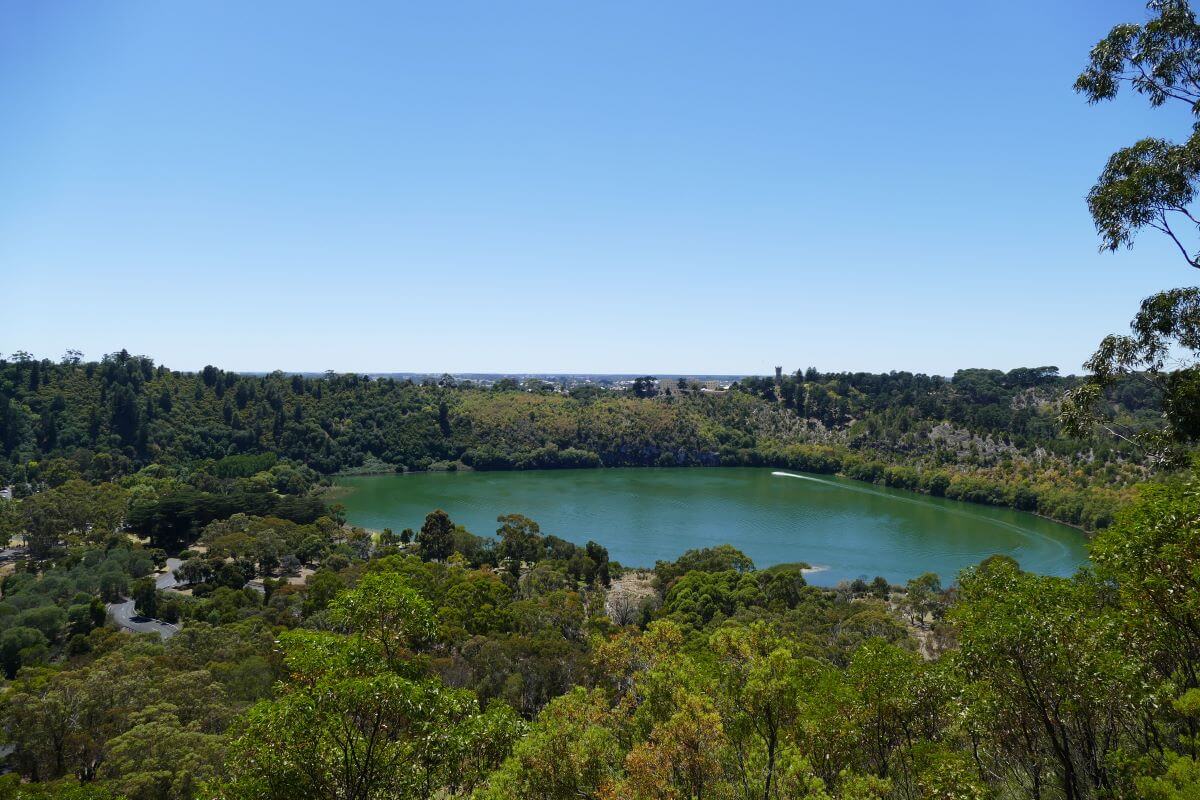 Crater Lakes lookouts
The Blue Lake is one of four lakes that make up the Crater Lake precinct in Mount Gambier. A great way to appreciate the collection of lakes is from one of the 14 lookouts in the area. The highest of them is the Centenary Tower Lookout. It's a steep walk from the carpark but at the top you get panoramic views across greater Mount Gambier. If the tower flag is flying, the tower is open and for a small fee you can go in, see photographic displays and relax at a café.
Castle Lookout between the Blue Lake and Leg of Mutton is also popular. If you feel like a bit of exercise, from near the Castle Lookout you can climb the 150 steps to Hoo Hoo Lookout for great views across Leg of Mutton Lake. If the stairs are a bit daunting, you can also drive there.
With the Blue Lake the dominant feature there are no shortage of vantage points to take it in. As you drive or walk around the lake you can stop at the Stephen Henty, Apex and Blue Lake Lookouts to take in the views.
OUR FAVOURITE LANDSCAPE CAMERA
If you are looking for a good DSLR the Nikon D5600 is light and easy to use, but its image quality is terrific, and the vari-angle screen makes it supremely versatile. 
It's our all rounder camera that we take with us on each trip. Great for landscapes, people and for use in low light. It's not too complicated and a good camera for those who enjoy photography.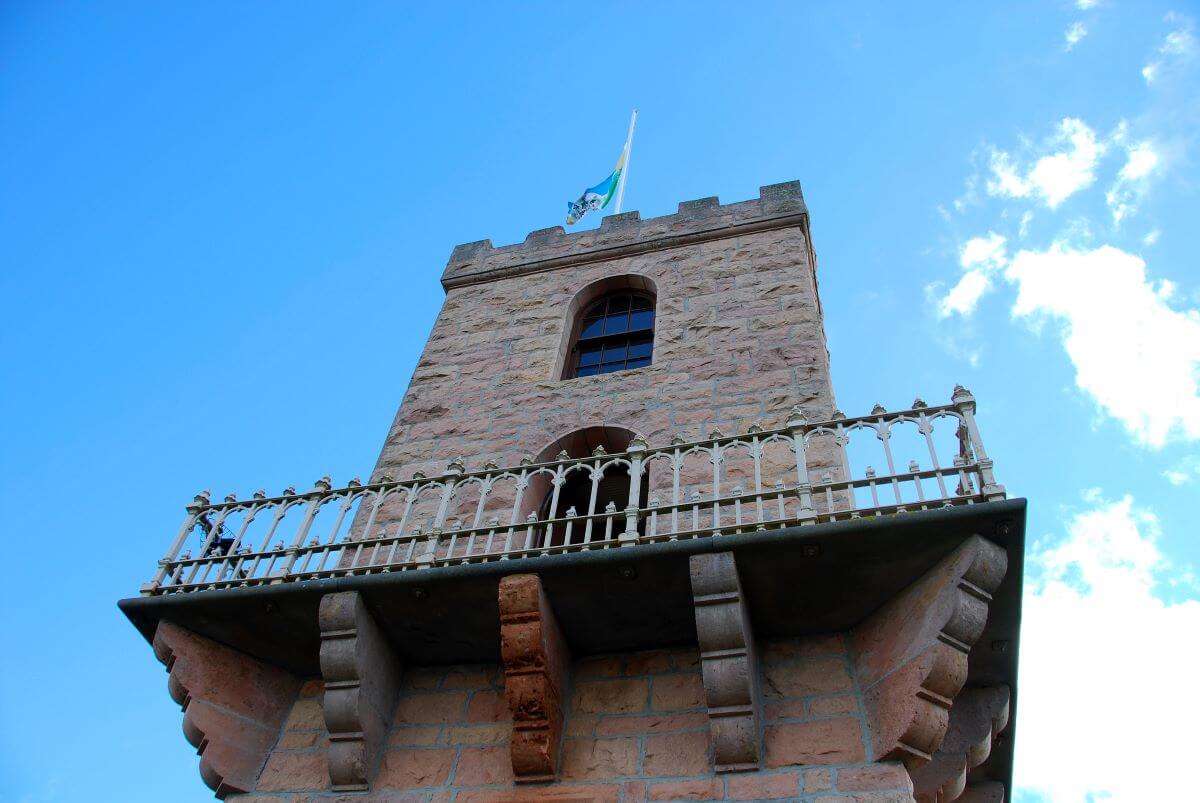 Crater Lakes Walks
There are several walks through the crater lake precinct. The obvious one is the Blue Lake Circuit (3.6km). The slightly longer and more challenging Mountain Trail (4.2km) does a lap of Valley Lake and up to Centenary Tower.
For a shorter option, the Leg of Mutton Lake walk (1.6km) takes you down onto the dry lake bed amongst the amazing gardens there. The Rook Walk/Pepperpot Trail (1.7km) goes around the outside of Leg of Mutton Lake.
Lady Nelson Discovery Centre
It's not often a visitor centre is an attraction in its own right, but that is the case here. The Lady Nelson Discovery Centre commemorates the ship that first sailed along South Australia's coast. The centre has a replica of the ship out the front – you can't miss it.
The discovery centre features wetlands and runs a free documentary movie about the region. There is a fossil display, an interactive marine life exhibit and information about local Boandik culture too.
The staff are about as friendly and helpful as we have come across at any visitor centre. It is the perfect place, after you have read our list of Mount Gambier attractions, to find out about all the things to do in Mount Gambier.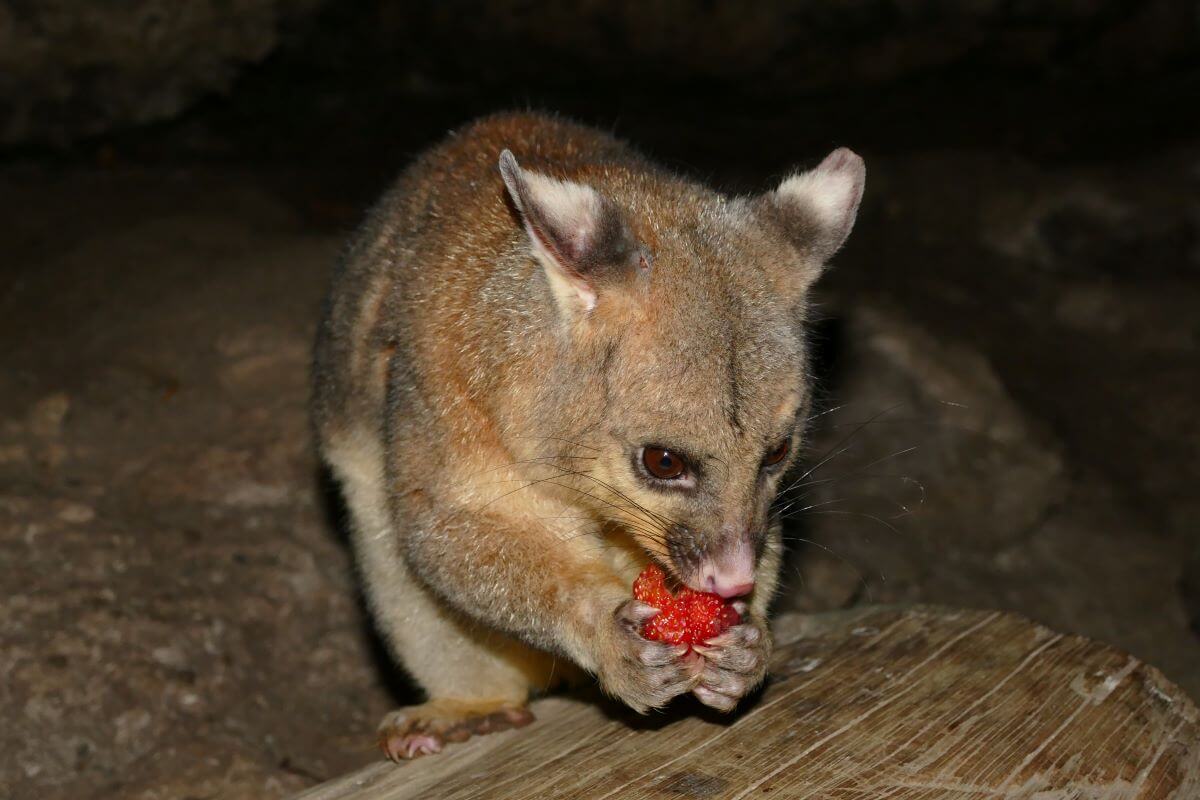 Possum Feeding at Umpherston Sinkhole
Okay, so possums might not be much fun if they live in your ceiling or make a mess of your fruit trees. But when you can hand feed them as they crawl from the holes and ivy vines at the Umpherston sinkhole it is great fun.
This is a great activity for the young and the young at heart. Make your way to the sinkhole after dark. Bring some fruit (bananas and strawberries went down well on our visit) and keep an eye out for movement in the shadows. It won't be long before a brushtail possum is sidling up to you for a feed. Even if you don't like possums you have to see the gardens at Umpherston sinkhole. They are beautiful and worth the visit night or day.
Engelbrecht Caves
This is another of the many caves dotted around Mount Gambier. It is a well-known spot for cave divers. Unlike some of the other caves around town, you can only access it on a paid tour. Prices start at around $15 per adult and $37.50 for a 2 + 2 family.
The 45 minute tour takes you down into the sinkhole and to two caverns where you get views of the underground lake. Hear about the network of caves under the city and the cave diving that goes on there. You'll also learn about the creatures that live in this mysterious environment. If you are doing the cave tour of the city, it is one to have on your list. There is a café and toilets on site.
Tantanoola Caves
This is a magic place. Located 20 minutes from Mount Gambier, this small cave is full of ornate features.  Access is by guided tour only. The tour goes for 30 minutes and there is also a short, easy cliff top walk you can do in the Tantanoola Conservation Park next to the cave.
Valley Lake & Browne Lake
After the Blue Lake, Valley Lake is one of the most popular spots in Mount Gambier. Like the Blue Lake, the water sits in a volcanic crater but unlike the Blue Lake, you can get in and do everything from go for a swim to water ski. On your way there, look out for the Devil's Punchbowl, an old volcanic blowhole.
Valley Lake and nearby Browne Lake are great spots for a picnic. There are tables, BBQ facilities and plenty of room if you want to run around some youngsters or go for a stroll. There is also a playground on the shore of Valley Lake. Another highlight of Valley Lake is the Valley Lake Wildlife Park and we enjoyed it so much it gets its own heading.
Valley Lake Wildlife Park
Free to enter and open from 6.00am, this great little park has all sorts of animals to spot. Look out for kangaroos, wallabies, koalas and lots of birds.  There are boardwalks, bridges and viewing platforms and a variety of habitats which make the park fun to walk around. We visited late in the afternoon and saw lots of kangaroos and wallabies as we wandered around. It's the perfect way to finish your day at Valley Lake.
GO GLAMPING AT PINE COUNTRY CARAVAN PARK
Are looking for a country retreat with the convenience of being in a large town and lots of attractions nearby? Look no further than Mount Gambier Pine Country Caravan Park. You will find yourself in a gorgeous bell tent with an outlook over green meadows, sheep and alpacas. Just perfect!
Railway Lands Nature Play
If you're looking for somewhere quick and interesting to walk your dog or let the kids have a play this is the spot. This long, green corridor in the middle of Mount Gambier blends the old train lines and buildings with bike paths, picnic areas and sculptures.
Depending on when you visit Mount Gambier, the Railway Lands might be hosting markets or various festivals. But, when it is not, it is a fabulous open space to explore whether you want to stretch your legs or settle in for the afternoon with a BBQ.
Cave Gardens Sound & Light Show
This is another in Mount Gambier's impressive collection of sinkholes. Cave Garden is in the middle of town and is the original source of Mount Gambier's water supply. Today, it is a spot surrounded by beautiful gardens. Rose enthusiasts will be especially impressed.
You can gaze into the sinkhole from a couple of viewing platforms. After rain you might also see a waterfall cascading into the hole. Each night at Cave Garden you can also see a sound and light show that tells the story of the area's first people. The timing of the show varies with when it gets dark. Cave Garden is nicely lit at night and seeing the show in the lovely setting is a great activity.
Little Blue Lake
The Little Blue Lake is a water filled sinkhole 15 minutes south of Mount Gambier. Follow the Port MacDonnell Road and look for the turn off near Mount Schank. On a hot day this is a favourite cooling off spot for locals. There is plenty of parking. There are walkways and stairs down to the water.
If cooling off is what you want, it's cooling off you'll get as the water is around 12-14 degrees. It is also deep. We're not talking 5 or 10 metres; think over 40! So, this might not be everyone's idea of where to go for a dip. Unlike its big brother, due to impurities getting into the water it doesn't turn as blue as it once did. That aside, it is still an interesting thing to see.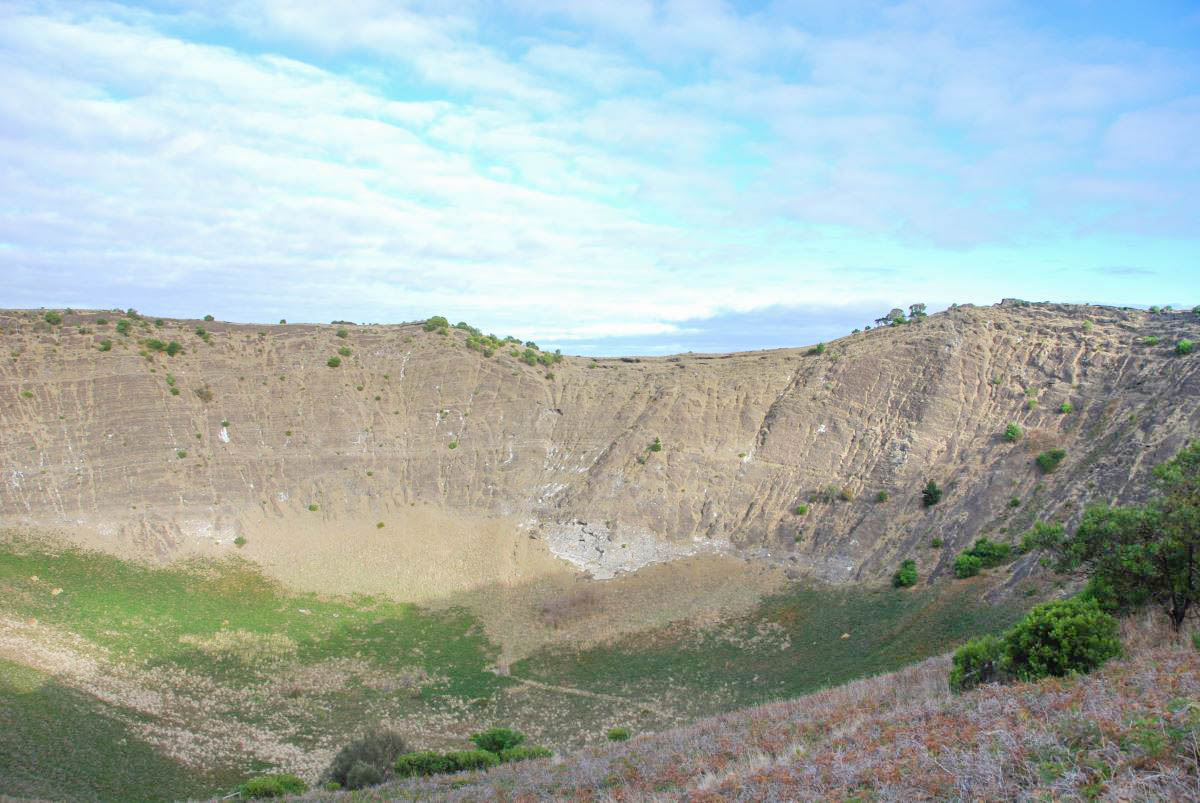 Mount Schank crater
This dormant volcano halfway between Mount Gambier and Port MacDonnell last erupted about 5000 years ago. It towers above the surrounding landscape and looks like… a volcano, you can't miss it! To the rim it is s a solid 1.3km return walk; the views from the top are great. If you do a lap of the rim it pushes the walk out to 2.7km.
There is an un-maintained zig-zagging gravel path down into crater. In warm weather it is alive with lizards, but you should keep an eye out for snakes too. The walk to the bottom and back might add 45 minutes to the hike but it is a pretty cool thing to do. You can't often walk into the centre of a volcano and look back up at the rim.
Carpenter Rocks & Cape Banks Lighthouse
The small fishing town of Carpenter Rocks is 25 minutes from Mount Gambier. It is a pretty place with nice views across Bucks Bay. From the beach overlooking the bay, there is a walking trail you can take over the headland. The elevated views are great, you can also see the next bay over – Lighthouse Bay.
It is worth getting back in the car and following the signs to the Cape Banks Lighthouse 10 minutes away. It sits at the other end of Lighthouse Bay. Here, you can drive onto the beach and check out the seals at the rocks opposite the lighthouse. A little further down the beach you can also see the wreck of the Admella.
If you want to stay longer in the area, there's the Cape Banks Campground which is part of Canunda National Park. There are 6 sites bookable through the Parks SA website. The National Park features rugged coastline and Lake Bonnie. It's a great spot if you want to hit the sand in your 4WD.
Port MacDonnell
If you drive past the Blue Lake and Mount Schank you'll get to the coastal town of Port MacDonnell. For jetty walkers, there is a nice long one to explore here, it is also a popular fishing spot. The foreshore celebrates the town's rock lobster fishing heritage. A little east of the jetty there are beaches with car access.
Cape Northumberland is six minutes west of Port MacDonnell; it's the southern-most point of South Australia. There are viewing platforms to take in the rugged coastline. See if you can make out Rhino Rock and Frog Rock. With Cape Northumberland Lighthouse in the background, sunsets here can be spectacular.
There are a couple of points of interest between Port MacDonnell and Cape Northumberland. At low tide look for the tracks worn into the rock by bullock wagons. In the same area there are also examples of petrified wood. Brown signs point you to both sites.
Dingley Dell Conservation Park
If you have a literary bent, you'll know Adam Lindsey Gordon is one of Australia's best known poets and one of our first poets to gain recognition overseas. Between 1864 and 1867 he lived in a cottage south of Mount Gambier. The cottage and the bushland around it make up the Dingley Dell Conservation Park.
Visitors can look around the grounds and outside the cottage any time. Tours inside the cottage are available by appointment through the Parks SA website. The cottage, the first listed as a heritage site in South Australia, has period displays including items of Adam Lindsey Gordon's.
Ewens and Piccaninnie Ponds
The Ewens Ponds and Piccaninnie Ponds Conservation Parks are both well known to divers but are also great spots for keen snorkellers. The water is crystal clear, and the plant life looks like something you would find in a lush tropical garden – not the 14 degree water of a sinkhole.
Both sites are south of Mount Gambier. We have snorkelled them both and you can read our guides to snorkelling at Ewens Ponds and Piccaninnie Ponds. It is an amazing experience and worth doing if you like donning some neoprene.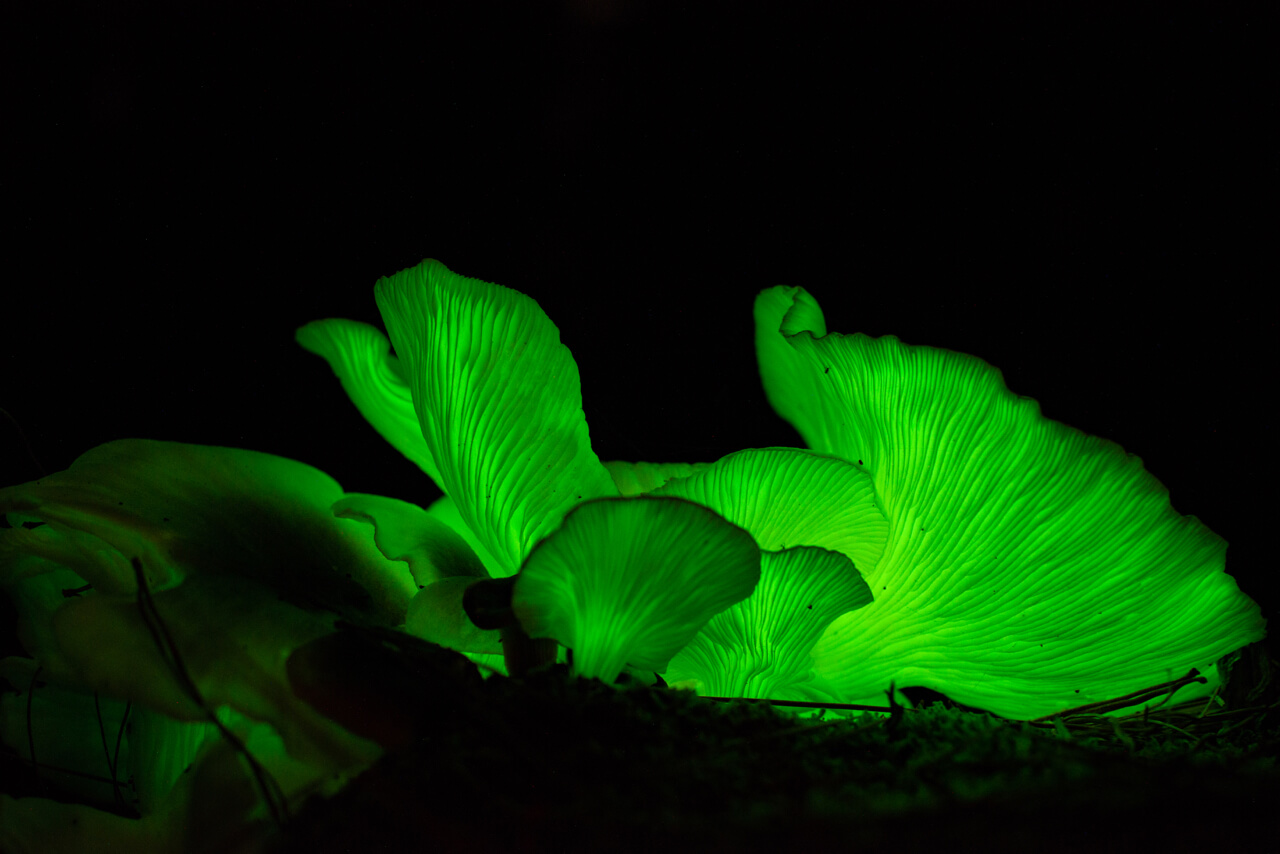 Photo Credit: Discover Mount Gambier
Ghost Mushroom Lane
In May and June each year, the pine forests near Glencoe north of Mount Gambier come alive with the glow of the ghost mushroom. ForestrySA have a map showing where the best places are to see the bioluminescent display. The area, known as Ghost Mushroom Lane, runs through a pine plantation between Kangaroo Flat Road and Blanche Young Forest Road.
The one way lane starts at the Kangaroo Flat end where there are carparks so you can stop and walk through the forest. The walks are set by Forestry SA and change each year depending on where the ghost mushrooms are at their best. They can vary in distance from 100 – 500 metres. Look out for Fungi Hunter Alley, Ghostly Gully and the Neon Forest trails.
PACK THE TORCH - NEBO Redline X Rechargable
When you need a good torch pack the NEBO Redline Torch. It's waterproof, rechargable and up to 1800 lumens, giving you plenty of light. The rechargable battery and USB charging cable are included. Order online now.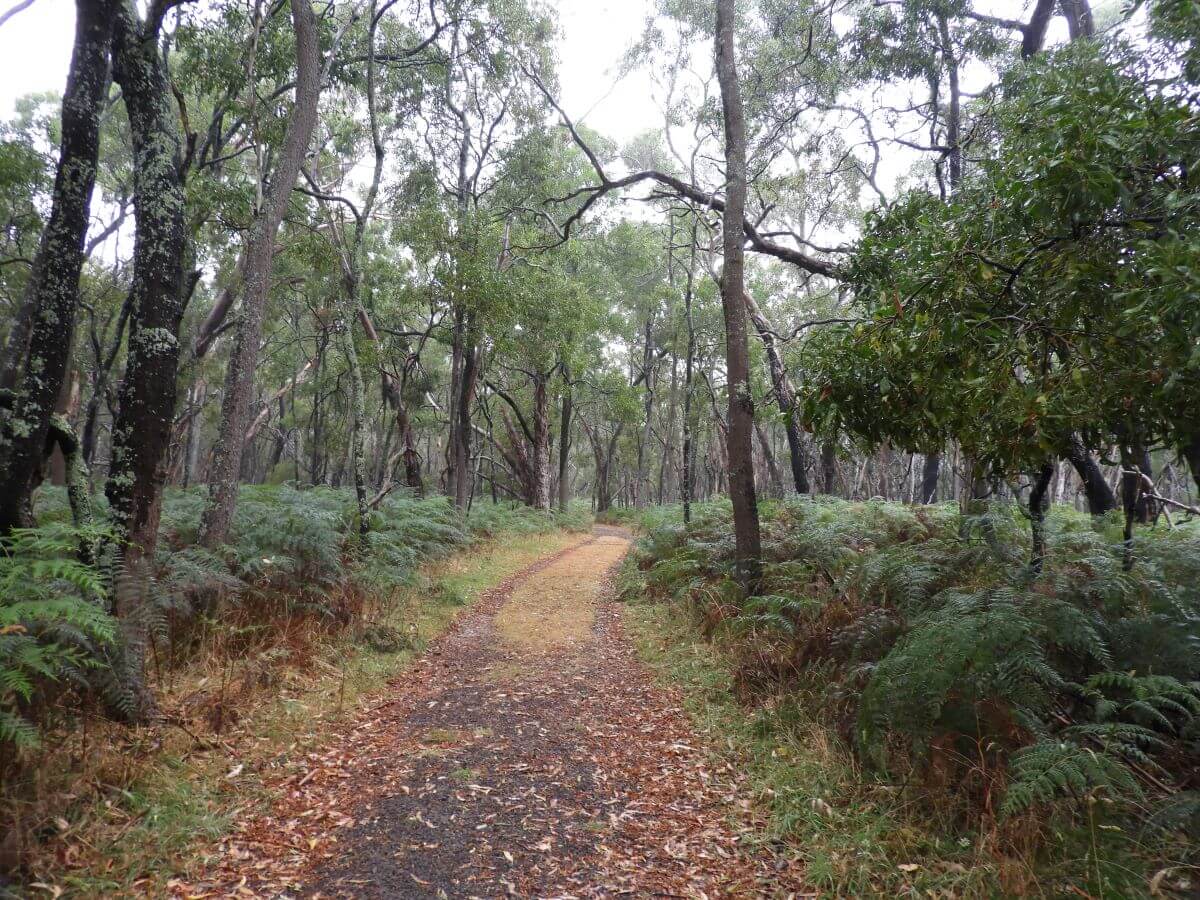 Penambol Conservation Park
This lovely spot is 25 minutes south east of Mount Gambier. Take the Glenelg River Road from Mount Gambier and look for the turn off. This little patch of remnant native vegetation is in the middle of pine plantations and has a few fun features.
There are two marked trails – the Butterfly Walk and the Wombat Walk. The Butterfly Walk is a 1 kilometre loop that takes you through Stringybark forest. We visited in late January and there were butterflies flitting around all over the place. They sat on the path and as we walked towards them, dozens took off around us.
The Wombat Walk is a longer 4.5 kilometre loop and as prolific as the butterflies were, the wombats were not. That said, there were plenty of wombat burrows, distinct cube shaped wombat poo and wombat sized paths through the scrub. There were wombats there all right, but on this occasion we didn't see any. The trail starts at the car park for the Caroline Sinkhole. A viewing platform gives you a great view of the sinkhole.
Telford Scrub
Beautiful place this. We walked around here in the rain and it was still lovely. Telford Scrub Conservation Park is about 20 minutes north of Mount Gambier on the road to Penola. It is a small dense patch of bracken fern, brown Stringybark and swamp gum forest. While the wildlife was probably taking cover, the rain made the forest smell wonderful for our walk.
There are two easy walks; a 5km Stringybark Forest walk and a shorter 1.6km Canopy Walk. Both incorporate a 100m long raised boardwalk. The boardwalk takes you above the forest floor. If rain isn't dripping off the brim of your hat, you'd get a great view of the forest's birdlife and koalas.
STAY AT PINE COUNTRY CARAVAN PARK
We loved our stay at Pine Country Caravan Park. If you are looking for a relaxed country vibe - this is the place for you. Choose from Glamping, Cabins, Ensuite Sites, Powered or Unpowered Sites. Facilities are clean and the park is well maintained. During winter sit around the communal campfire or in summer grab one of the outdoor bean bags and enjoy the sun.
LIKE IT… PIN IT FOR LATER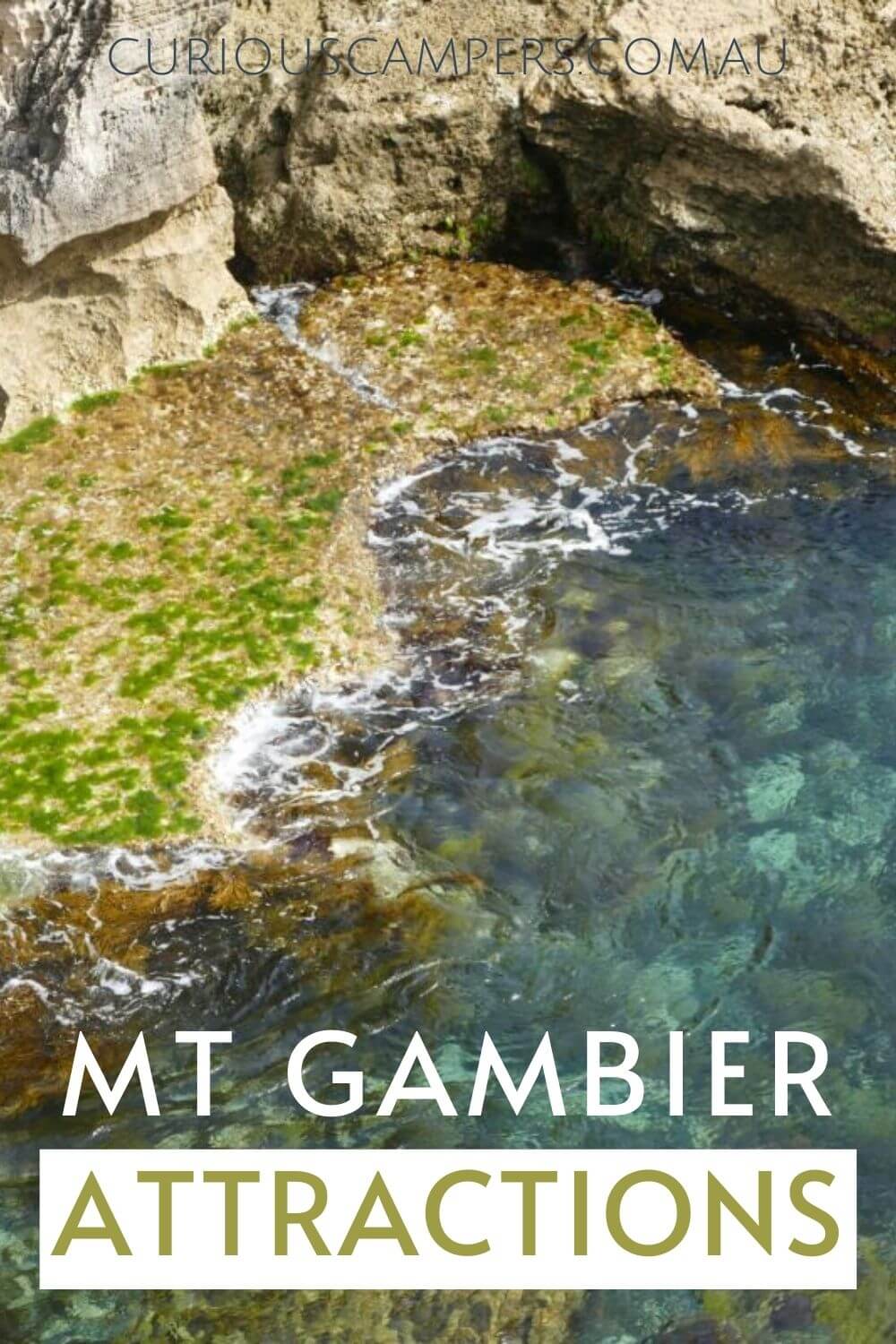 500 Things to do
Join our mailing list and receive our Free Top 500 things to do in Australia. If you love Australian Outdoor Experiences download this list and keep it handy when you are planning a weekend away or a road trip around Australia.