Spend the day exploring the Mount Field Waterfalls and Walks. Tasmania is well known for its pristine wilderness. Getting a taste of it needn't mean taking a helicopter to a remote forest. From Hobart, drive an hour west along the Derwent Valley to Mount Field National Park. 
From towering swamp gums to fern lined gullies, spectacular waterfalls to alpine Lakes, Mount Field is a wilderness experience you can either do in a day or explore for a week.
Disclosure: Please note that some of the links included in this post may be affiliate links, and at no additional cost to you, we earn a small commission if you make a purchase. Commissions are appreciated and go toward maintaining the Curious Campers website.
Getting There
From Hobart, it's takes around sixty minutes to get to the Mount Field National Park Visitor Centre. It's not a long drive, but if you want to break it up there are several points of interest along the way.
It's a scenic drive as you follow the upper reaches of the Derwent River into the Derwent Valley. About twenty minutes from Hobart The Bridgewater Bridge will come into view.
It is an imposing structure that you approach along a causeway across the Derwent River. The little house that sits on top of the bridge is a special curiosity. It's worth the five minute detour to cross the bridge for a closer look. There are places either side of the bridge to stop to admire the bridge and see some black swans.
New Norfolk is a further twenty minutes up the road. It's a pretty little town with many of its old buildings now character Bed and Breakfasts. Here, make sure you check out Pulpit Rock lookout. Follow the signs across the river and up a steep dirt road. The view of New Norfolk and the Derwent Valley are spectacular.
The next point of interest before Mount Field is the Salmon Ponds in Plenty. This is a beautiful and fascinating place where you can hand feed giant rainbow trout. You'll need a good couple of hours to visit here so be sure to include it on your itinerary.
Mount Field Waterfalls and Walks
Mount Field is often described as one of Tasmania's most popular national parks and it is not hard to see why. Whether you have an hour or a week, it is a great place to experience Tasmania's natural beauty.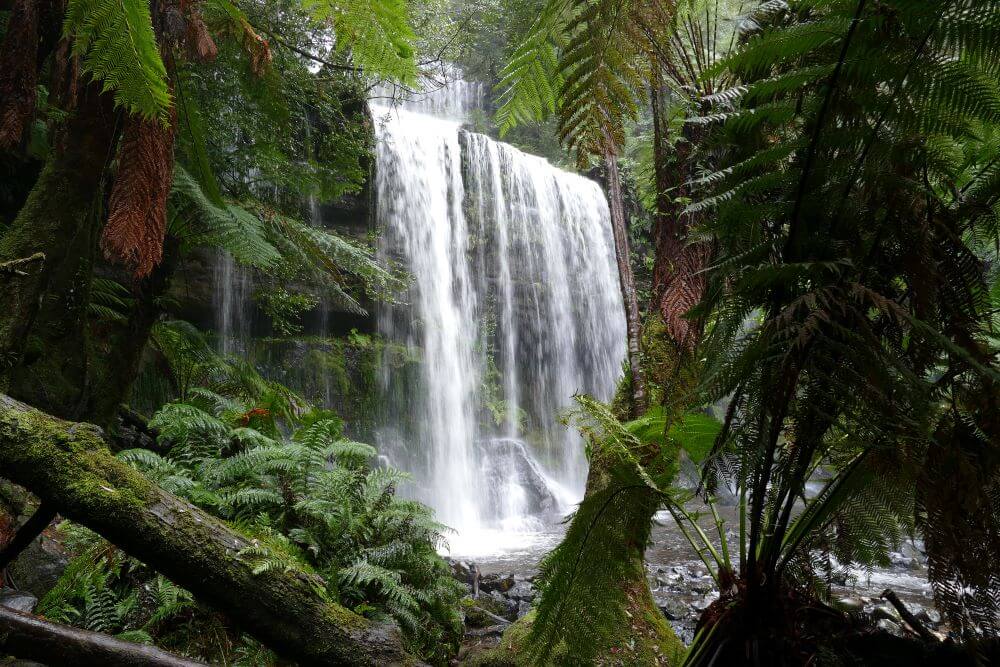 Russell Falls

If you have seen a picture of Mount Field National Park there is a good chance it was an image of Russell Falls. This beautiful three tiered waterfall is an easy 25 minute return walk from the visitor centre. The path is well maintained making it suitable for prams and wheelchairs.
Sure, the accessibility of the falls makes them popular. But, if you're patient, you'll be able to steal some time there on your own to enjoy the roar of the water and the damp of the spray hitting your face.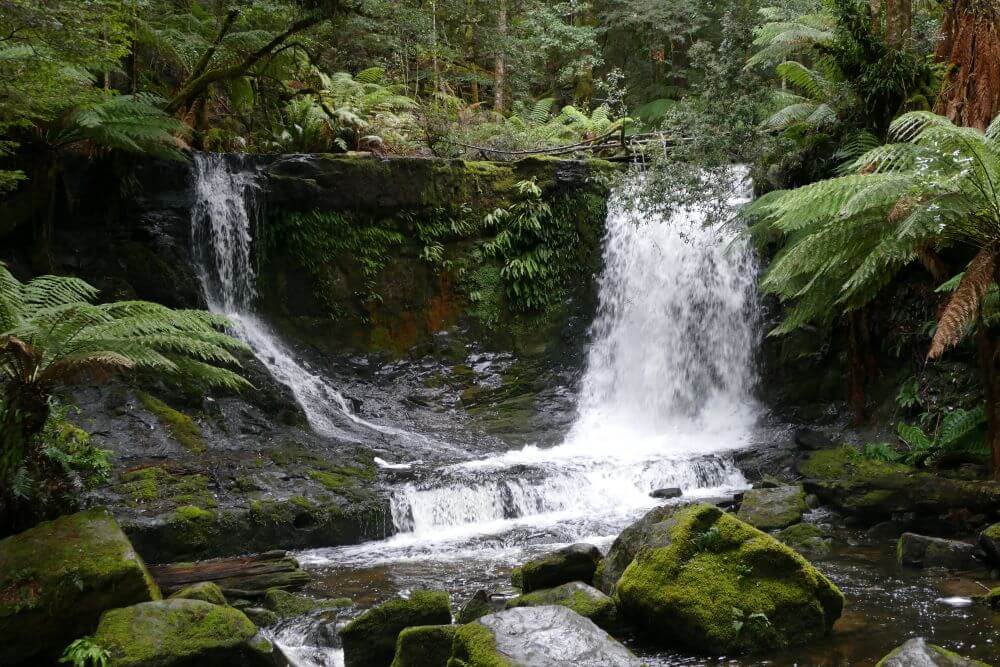 Horseshoe Falls
Horseshoe Falls are nearby.  Getting there involves climbing a flight of 200 stairs so take a deep breath before you start.
They are a smaller than Russell Falls. There needs to be a fair bit of water around to get the curved curtain of water that the name of the falls suggests. The horseshoe wasn't quite complete for our visit, but it was still a great sight.
There are a couple of options for what you do next. You can continue walking for another couple of hours along the Three Falls Track. This takes you to the Tall Trees Track and Lady Barron Falls.
Alternatively, you can walk back to the visitor centre, and drive to the Tall Trees Track. For our visit it was cold, drizzly and there weren't many people around, so it was a no brainer. We walked.
Take in the Forest
Once you leave Horseshoe falls and continue along the Three Falls Track, if you are here in winter, you'll likely find yourself on your own. It's the perfect way to appreciate the forest. Not far along this section of the track there's a sign reminding you to do just that.
It reads 'Take some deep breaths and relax for a while. Have you heard the sound of the wind in the treetops or savoured the fresh air?' It goes on to suggest taking a moment to live your life at the pace of the forest.
The air did smell wonderful. You couldn't get enough of it into your lungs. Scented with the cool, wet freshness of the forest, you could feel yourself relaxing with every breath. The forest is a different world. We found ourselves walking more slowly to take it all in.
Tall Trees Track
The Tall Trees Track is a short loop circuit off the Three Falls walk. Before you get there, you will have already noticed some tall swamp gums. Once you get to the Tall Trees Track, you realise they were just a warm-up.
These trees are enormous – some of the tallest in the world. Around every corner of the path the trees get taller and taller.  They are remarkable. Near the end of the path you get to a group of three trees. It's like seeing the finale of a fireworks display.
With your eyes skyward, you find yourself slowly turning around gazing up into the distant canopies of this trio of giant swamp gums. I had already used up all my words for astonishment on earlier trees. All I could do was look in silent awe. You can try taking a picture or a video, but they don't do them justice. Neither convey the insignificance you feel standing alongside one of these towering giants.
Three Falls Track
The loop re-joins the Three Falls track. The third set of falls to see are the Lady Barren falls. You make your way there through more strikingly beautiful forest. There is a new delight around every corner.
Stands of trees are covered in carpets of bright green moss. Scallop shaped lichens grow on tree trunks. You cross small streams on curving, tree fern lined walkways. The bright red chests of scarlet robins punctuate the green of the leaves.
Lady Barron Falls don't disappoint. It's quiet enough in the forest that you can hear them from some way off. Their water tumbles over several levels of terraced rock. It is a worthy end to the three falls trail.
Stairway from Heaven
From the falls it is a short walk to the biggest challenge of the two and half hour trek. Just as your legs might be growing weary, you have a 239 step wooden staircase to negotiate. There are benches every few flights. While I'm sure they are there for you to stop and admire the view, for some they will be a welcome chance to get your heart rate down.
We had endured light drizzle throughout our walk. As we made it to top of the staircase there was finally a silver lining to the wet weather. A rainbow arced its way into the valley we had walked out of. It was the perfect way to end a walk through this magical place.
Next time – Lake Dobson
We spent a week in Tasmania, and as it happened, our trip coincided with one of the coldest spells of winter. As a result, we couldn't explore the upper reaches of Mount Field National Park because of road closures.
Lake Dobson is a 30 minute drive from the visitor centre. It's the access point for many alpine walks and the ski fields. The hikes in this part of the park are more challenging. Topographic day walk maps are a recommended accessory. They are available from the visitor centre. We will certainly be getting these for our next visit to Mount Field National Park.
Daily Passes are available for $40 per car for entry to national parks for a 24 hour period. (excludes Cradle Mountain). Purchase online at the Parks Pass Portal or at the National Park Visitor Centres.
Alternatively you can purchase a holiday pass for $80 to cover entry to all national parks including Cradle Mountain.  Holiday Passes are valid for 2 months.
Specific daily passes for entry to just Cradle Mountain, can be purchased from the Cradle Mountain Visitor Centre
Mt Field 2 hour Platypus Tour
On our Platypus tours we take you into the natural habitat of this unique creature, giving you the opportunity to see Platypus in the wild. Across two hours we will explore the rivers, ponds and small streams that the Platypus calls home. Watch as the Platypus hunts its prey, patrols its territory and occasionally grooms itself on the rocks and river banks. Learn all there is to know about these magnificent animals from our expert wildlife guides, and experience Tasmania's unique wildlife up close and in the wild. 
Mt Field National Park Active Day-Trip Including Bonorong and Mt Wellington
Enjoy a day full of wilderness, waterfalls and wildlife, all within reach of Hobart. Start with a series of short walks around Russell Falls and Lake Dobson in Mt Field National Park. Enjoy lunch in the park, then head to Bonorong Wildlife Sanctuary see native Australian wildlife up close, including Tasmanian devils, koalas a& wombats. Top off your day with sweeping views over the city from the summit of Mount Wellington.