Maria Island is known for its rich wildlife, beautiful coastline, mountain hikes and early colonial history. While you can see a lot of the island on a daytrip, booking some accommodation on Maria Island lets you see much more. Maria Island accommodation options are on the basic side, but if you like camping or bunkhouse style accommodation, it is worth planning a multi-day stay on this amazing island.
The nearest town to Maria Island is Triabunna which is where the Encounter Maria ferry terminal is. Triabunna is 70 minutes from Hobart, a bit over 2 hours from Launceston and 3 hours from Devonport. Booking accommodation in Triabunna is also a good option if you do just want to spend the day on Maria Island. We have listed some of the best accommodation in Triabunna as well.
Disclosure: Please Note That Some Links In This Post May Be Affiliate Links, And At No Additional Cost To You, We Earn A Small Commission If You Make A Purchase. Commissions Go Toward Maintaining The Curious Campers Website.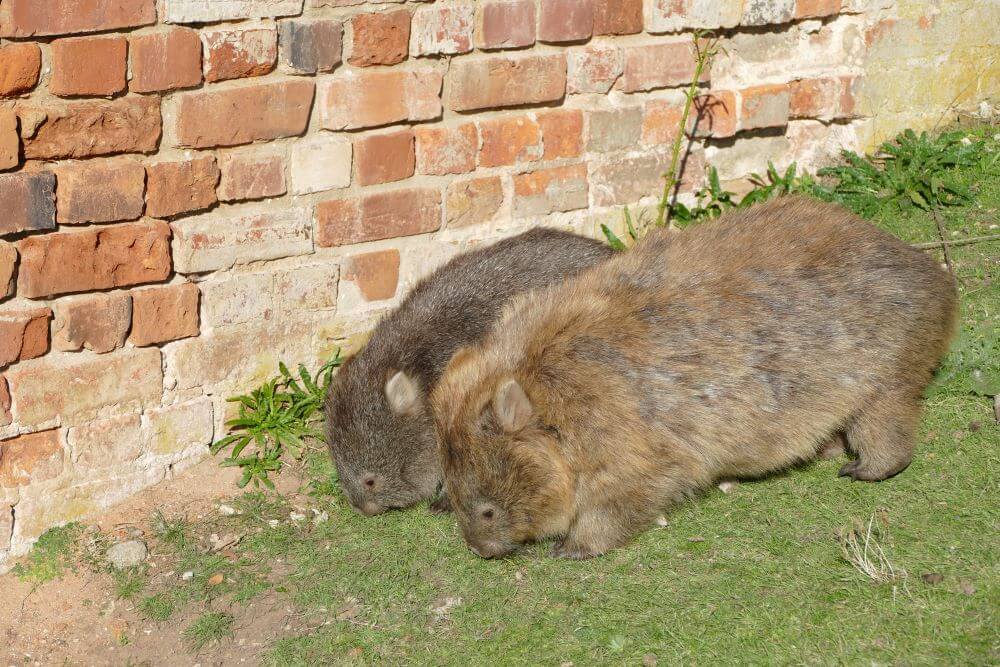 Why you should book Maria Island Accommodation
Having accommodation on Maria Island is great because you:
Have more time to see everything including the sites at the southern end of the island
Get to enjoy the tranquillity of the island once the day trippers leave
See more wildlife at dusk and dawn
And it is just a beautiful spot to relax for a few days
Maria Island Accommodation
There are two types of accommodation on Maria Island – dorm-style rooms with bunk beds in the Darlington Penitentiary or there are three campgrounds. There is a campground in Darlington, the other two campgrounds in Encampment Cove and Frenchs Farm are 11-13km south of Darlington.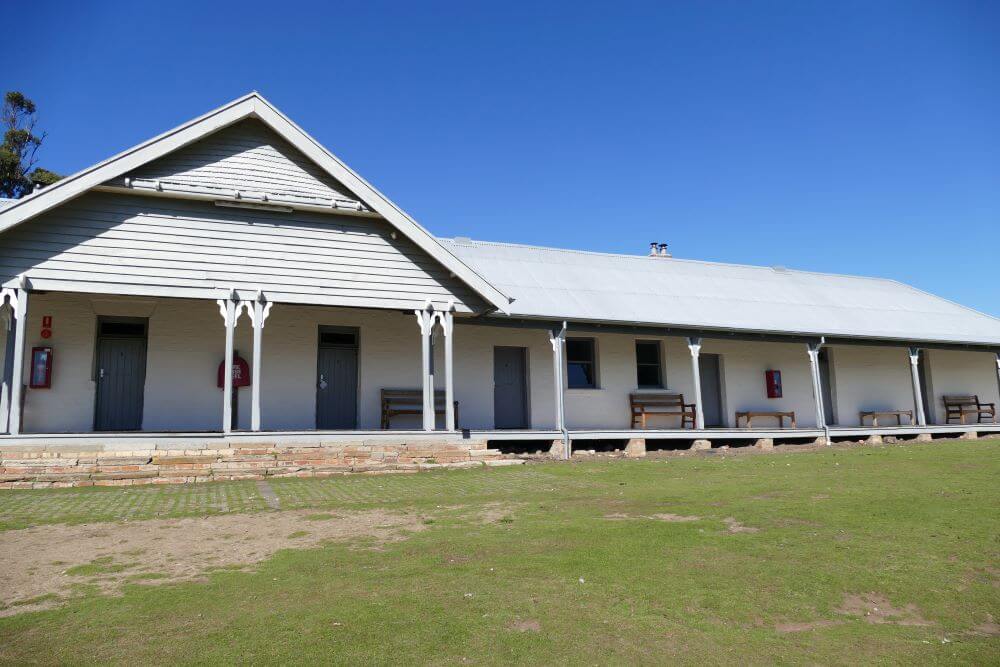 Maria Island Penitentiary Accommodation
It's not every day you get to stay in a world heritage listed convict settlement, but you can at Maria Island. The Darlington Probation Station is made up of 14 buildings, including the penitentiary, is the most intact convict probation station in Australia. In 2010 it was listed as an Australian Convict Site World Heritage Property.
If you don't want to worry about a tent, this bunkhouse-style accommodation is your only option. It is a beautiful old building with a wide veranda along the front. It's the perfect place to relax between walks and watch the wombats trundle by.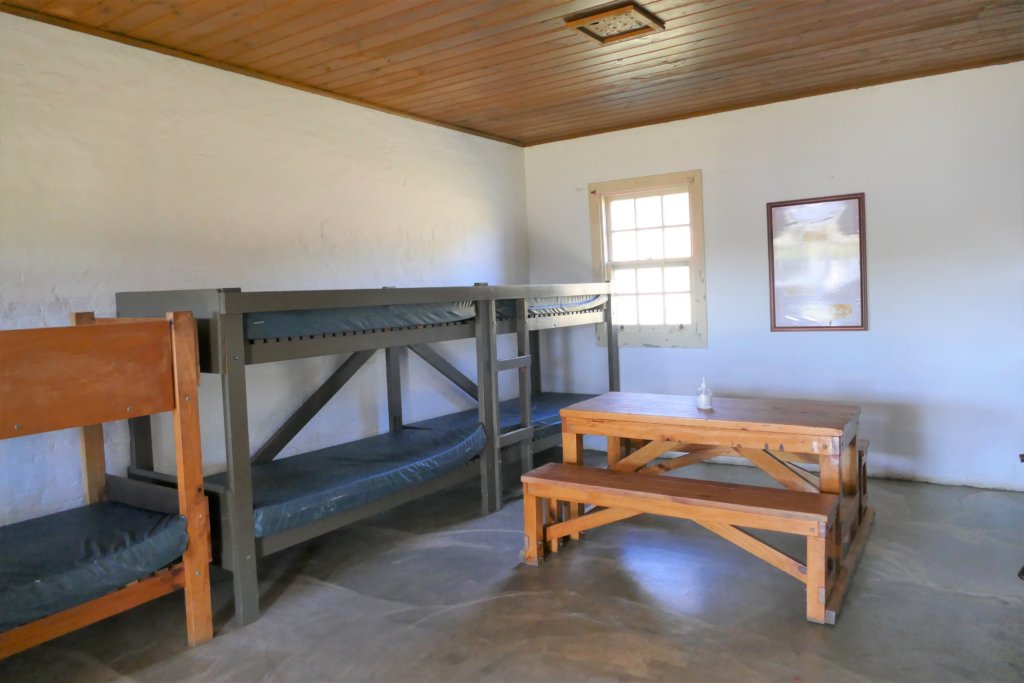 About Maria Island Penitentiary Accommodation
There are 10 dorm rooms in the old Penitentiary building
9 of the rooms sleep 12, there is one room that sleeps 14
There is a 6 month booking window for the Penitentiary
The rooms have no power/lighting
Each room has a picnic style table and seating
There is a wood heater with wood supplied
Room allocation is done when you check in at the Encounter Maria Ferry terminal
Where is it: The Maria Island Penitentiary is in the Island's only settlement, Darlington.
Distance from the Ferry: It is about a 10 minute walk from the jetty to the Penitentiary. There are heavy duty carts you can use to get your gear from the jetty to your room. It's a pretty good work out pulling them up the hill from the ferry to the Penitentiary!
Cost: For 1 or 2 people it is $44 per night and an extra $10 for extra adults. There are separate rates for families and school groups, these are available on the Tasmania Parks and Wildlife website.
Facilities: From your room it is a short walk to the amenities block which has flushing toilets and showers (the showers were being renovated on our trip). There is also a large camp kitchen – or mess hall – with gas stoves and some cooking gear (best bring your own to avoid missing out), washing up areas with cleaning gear, lots of tables and seating, and there were even communal charging points for your phones, tablets, etc.
Things to do from Darlington – This a great central location from where you can get to the Painted Cliffs, Fossil Cliffs, the Reservoir Walk and explore the Islands many buildings and ruins. You are near Hopground Beach on Darlington Bay and the staffed Commissariat Building that has visitor information. It is also a good base for doing the Bishop and Clerk hike.
Just because this is the busiest part of the island, don't think you won't see any wildlife. There are wombats everywhere, on the Oast House walk you'll spot pademelons and in the afternoon Forrester Kangaroos come out of the bush onto the open grass. In the bracken around the campsites, you can spot bandicoots. Devils tend to be at the southern end of the island, that said a couple were spotted near the Penitentiary amenities block when we were there. Nature lovers will have a great time!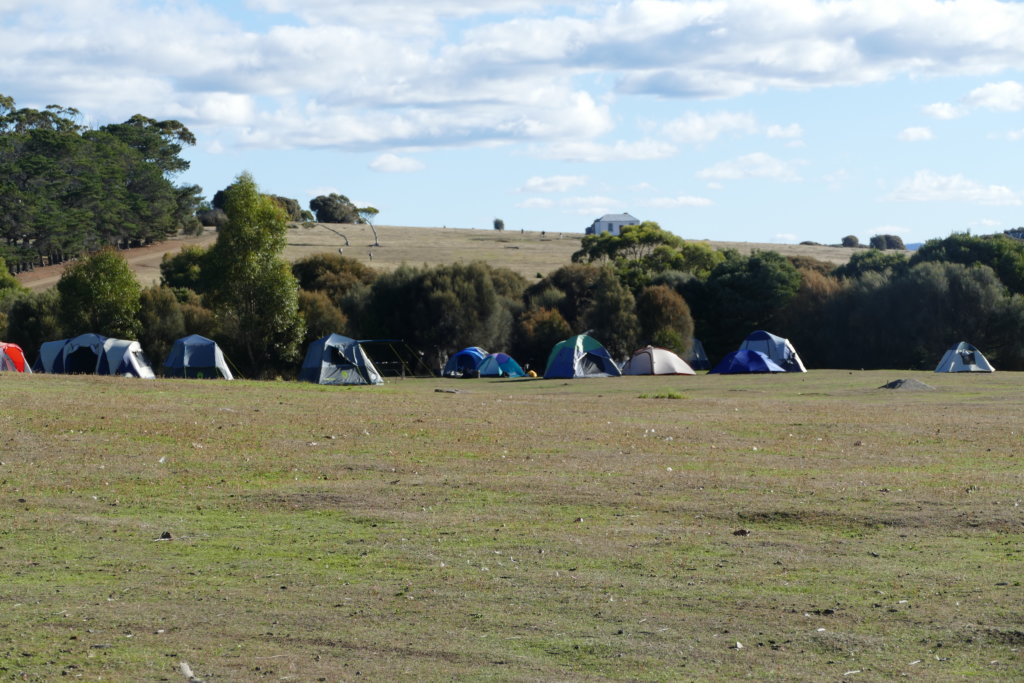 Maria Island Camping
There are three campsites on Maria Island, one in Darlington and two remote campsites at Encampment Cove and Frenchs Farm. If you prefer your camping to have refinements like flushing toilets, BBQs and a camp kitchen Darlington is for you. If your idea of camping is keeping it simple, then you'll love the more remote sites.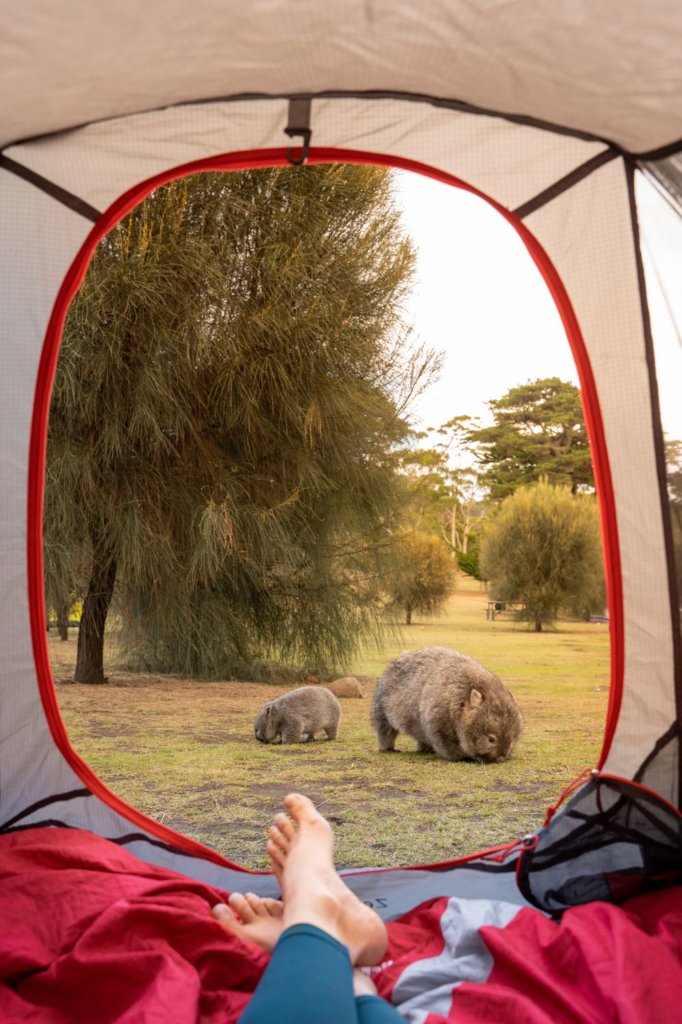 Darlington Campsite
Where is it – The Darlington Campground is located near the beach just 100m from the main group of buildings in the settlement. It is a nice, secluded spot with some protection from the breeze by some small trees.
Distance from the Ferry: It is about a 10 minute walk from the ferry to the campground. You can use one of the trolleys to move your gear most of the way there.
Cost: Camping fees are $7 for 1 person, $13 for 2 people and $5 for additional adults per night. Families (2 + 3) are $16 per night. You can have a maximum of 6 people per campsite. Bookings are not required for the Darlington Campground.
Facilities: There is an undercover BBQ/picnic/washing up area with some picnic-style tables and chairs. Also here are some food lockers to make sure the local wildlife doesn't help themselves to your supplies. There is an amenities block with flushing toilets and showers.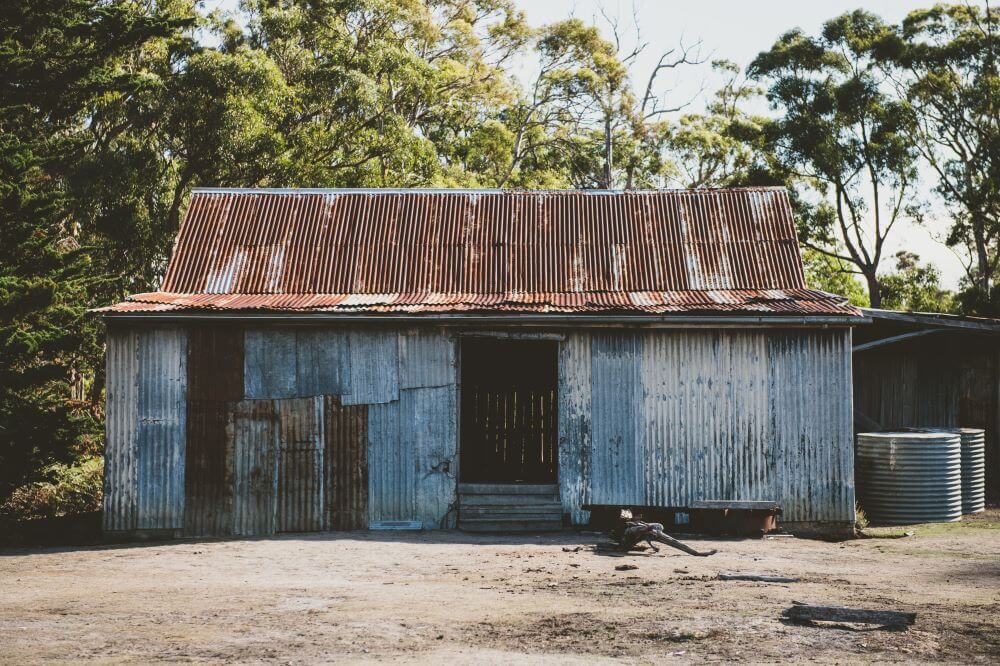 Remote Campsites at Encampment Cove + Frenchs Farm
Where are they: Encampment Cove and Frenchs Farm are both south of Darlington near McRaes Isthmus that connects the north and south sections of Maria Island. If you want to stay away from day trippers, you'll do that at either of these locations.
Distance from the Ferry: Frenchs Farm is 11km from Darlington. Encampment cove is 13km from Darlington. To get to these camps you will have to either walk or ride a bike along the service road, just follow the signs.
Travel time: To Frenchs Farm Campground allow 3 hours on foot or 1-1.5 hours by bike. You can take a coastal or inland route to the campground. The inland route through bushland is a bit tougher so allow a bit more time if you go this way. You will have a few short steep hills to negotiate along the coast, but the road surface is pretty good. You have arrived when you see a couple of old buildings – a farmhouse and shearing shed.
To the Encampment Cove Campground allow 4 hours for the walk and 1-2 hours by bike. You can take either the coastal or inland track to Frenchs Farm then follow signs towards Shoal Bay and look for the ruins of an old home for the campground.
Cost: These are both free campsites. You don't have to book a site for Encampment Cove or Frenchs Farm.
Facilities: Apart from long drop toilets, you are on your own out here so you must be self-sufficient. Rainwater is available at both locations. Boiling or purifying the water is recommended before drinking.
Things to do: It's worth the effort to get to these two remote campgrounds because they are the best base for exploring Shoal Bay, Riedle Bay, Chinamans Bay and McRaes Isthmus. They all have beautiful white sand and clear water. If you are on a bike, the trek along the isthmus is hard going – because of the soft sand you will be doing as much pushing as pedalling.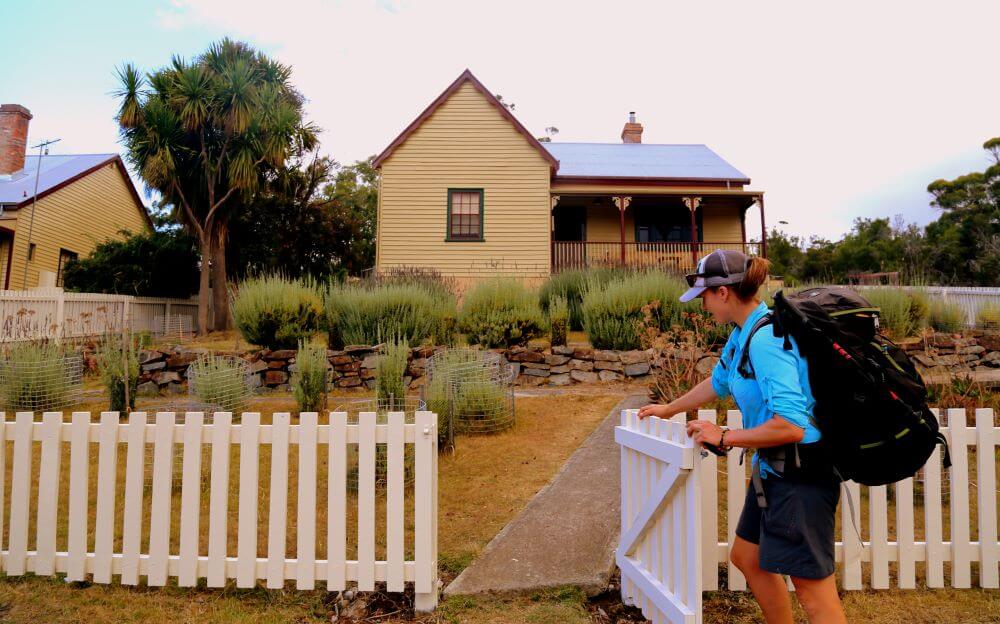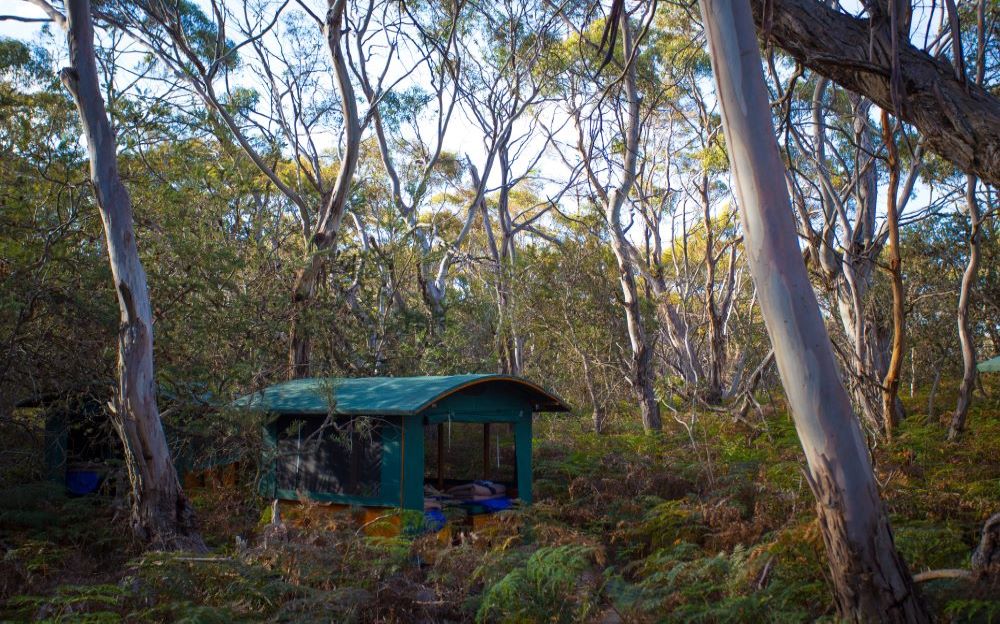 Walking Tour Accommodation
There is another Maria Island accommodation option but to use it, you need to go on the escorted Maria Island Walk with Wild Bush Luxury. These guided 3 or 4 day walks cover Maria Island's best attractions including hikes to Mount Maria and the Bishop and Clerk, Haunted Bay at the far south of the island, Point Lesueur, the Painted Cliffs and Darlington.
The accommodation is a bit special with two or three nights spent in cute and comfortable safari tents followed by a night in heritage listed Bernacchi House in Darlington. The beautifully restored house is only available to people on the walking tour.
Alternative Day Tours to Maria Island
Triabunna Accommodation + Camping
If you leave Maria Island late in the day and want to spend a night or two in Triabunna before moving on there are a range of accommodation options available.
Triabunna Barricks – classy accommodation in restored 1820s sandstone barracks and stable buildings. If you have been roughing it in with Maria Island accommodation, this is the perfect place to freshen up and relax.
Spring Bay Mill – If you like a bit of glamping, try the Glamping Field at Spring Bay Mill 7 minutes from the Triabunna Wharf. The spacious Lotus Belle tents are lovely with super comfy beds, outdoor showers and many luxurious little touches.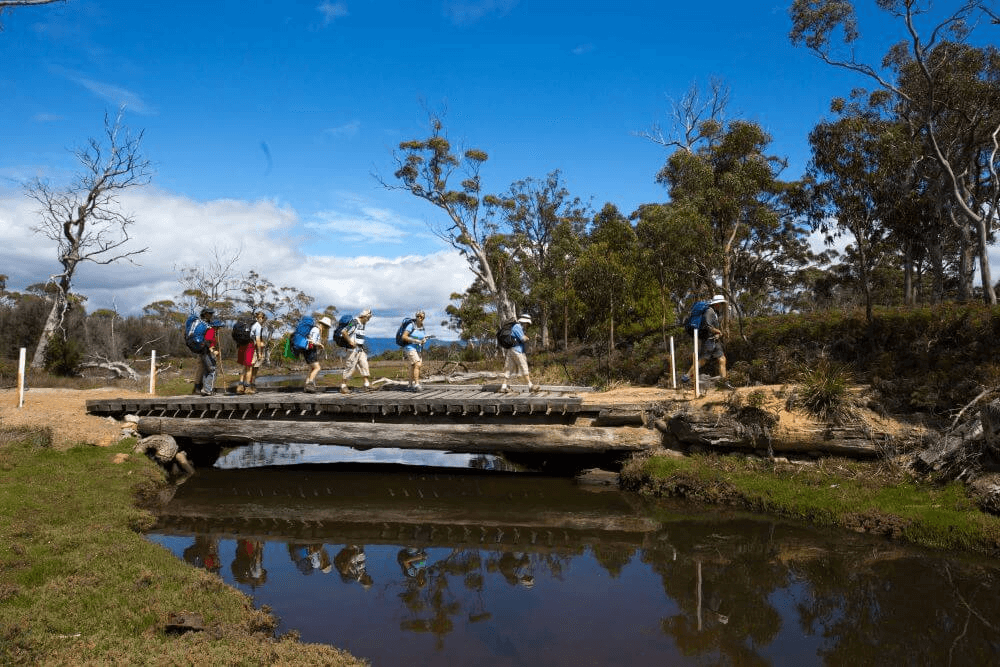 What to Bring when you stay on Maria Island
Maria Island accommodation is basic and there are no shops on the island so you will have to bring all your gear with you. Here is a checklist of things to pack if you are staying for a night or two on the island.
Water bottles and water purifying tablets to treat the rainwater
Torches and lights – there are no lights in the Darlington Penitentiary bunkhouse
Sleeping gear – The bunk beds in the Penitentiary just have a mattress so you'll need sleeping bag/blanket, pillow, fitted single sheet
Cooking – pots, cooking utensils, plates, bowls, cutlery, cups. There are some pots and pans in the mess hall, but it is easier if you have your own stuff. Remote campers will need their own cookers – there are no BBQs at the Frenchs Farm and Encampment Cove campgrounds.
Good walking shoes, and day pack – there is lots to see on Maria Island and you'll be doing a bit of walking
One-dollar coins for the showers
Optional
Snorkelling gear/wet suit – you cannot hire it on the island
Chargers for phones and camera, tablets – there is power in the Mess Hall at Darlington
Maria Island FAQ's
Ferry
Maria Island Ferry
There are multiple ferry trips a day between Triabunna and Maria Island. In winter there are still regular services but the last ferry for the day departs Maria Island earlier than in summer. The ferry is just a passenger service, there are no cars on the island, but you can take across camping gear and even a bike. The crossing between Maria Island and Triabunna takes about 45 minutes – look out for dolphins on the way.
Luggage
How much luggage can you take?
Maria Island accommodation is basic, so you will need to take camping gear with you. Each passenger can have 7kg of carry-on luggage for free. After that, you pay by weight for additional pieces of luggage. The first extra piece of luggage weighing between 7-15kg costs $10 and each subsequent piece in the same weight range is an extra $5. There are extra charges for heavier luggage.
It is best if you keep all your stuff together in tubs or bags, so it is easier to weigh and transport.
Bikes (panniers unattached) and kayaks can be taken across for an extra fee.
Food + Water
Food & Water
There is nowhere to buy food and bottled water on Maria Island, you will need to bring all your supplies with you. Rainwater is available at Darlington, Frenchs Farm and Encampment Cove and it is recommended you boil or purify the water before drinking it. There are no bins, you need to take all your rubbish off the island.
National Park Pass
Do you need a National Park Pass?
Maria Island is a national park, so you do need a national park pass. If you don't already have one for your holiday in Tasmania, you can buy one when you purchase your ferry ticket.
Daily Passes are available for $40 per car for entry to national parks for a 24 hour period. (excludes Cradle Mountain). Purchase online at the Parks Pass Portal or at the National Park Visitor Centres.
Alternatively you can purchase a holiday pass for $80 to cover entry to all national parks including Cradle Mountain. Holiday Passes are valid for 2 months. Specific daily passes for entry to just Cradle Mountain, can be purchased from the Cradle Mountain Visitor Centre
Cycling
Cycling on Maria Island
One of the best ways to get around Maria Island is by Bike. You can take your own across on the ferry or bike hire is available on the island. They are a popular way of getting around, so it is worth booking a bike when you book your ferry ticket.
Phone
Is there phone signal on Maria Island?
There is mobile phone signal in and around Darlington, but it can be patchy elsewhere on the island and coverage might also vary with providers.
Best Things to do on Maria Island
When you book accommodation on Maria Island you can see and a lot more on the island. Here are some of the things to do on Maria when you stay for a night or two.
Walk to the Painted cliffs – best viewed at low tide, these yellow, white, orange and purple striped cliffs are not only colourful, but they look like they have been sculptured buy an ice cream scoop.
Go back in time at the Fossil Cliffs – on the north coast of Maria Island, the Fossil Cliffs contain the remains of thousands of shells, clams, sea fans and corals dating back 300 million years.
Hike to the Summit of the Bishop and Clerk – this 11km, 4-5 hour hike to the peak known as the Bishop and Clerk is challenging but the views from the top are breathtaking.
Explore the island on foot – there are walks on Maria Island for all levels of walkers that show off its diverse habitats. Along with the walks to the Fossil and Painted Cliffs, the Reservoir Circuit and Oast House tracks are fun 1-2 hour hikes.
Learn the History of Maria Island – At different times, Maria Island was a convict settlement and later the site of wine, agriculture and even cement businesses. Many of the buildings are still intact and reflect a fascinating picture of Maria's Island's European history.
Explore the pristine waters around the Island – The Maria Island Marine Reserve makes up part of Maria Island National Park. If you can brave the cold, snorkelling the crystal-clear water around Darlington and the Painted Cliffs you'll see a huge range of marine life. Look out for dolphins, whales and seals off the coast too.
Meet the local wildlife – For us, this is the best thing about Maria Island; it is a wildlife wonderland. You'll spot wombats (so cute!), wallabies, kangaroos, and bandicoots. Maria Island is also a sanctuary for the Tassie Devils. For birders, the island has 125 bird species including all species endemic to Tasmania – even the rare forty-spotted pardalote. You can book birdwatching safaris on the island.
Read More : How to spend your Day on Maria Island
If you enjoyed this story you might also like:
Day Trips from Hobart | Cradle Mountain Short Walks | Strahan Attractions
Like it? Pin it for Later…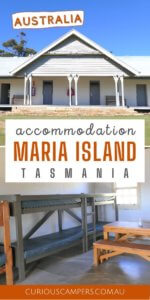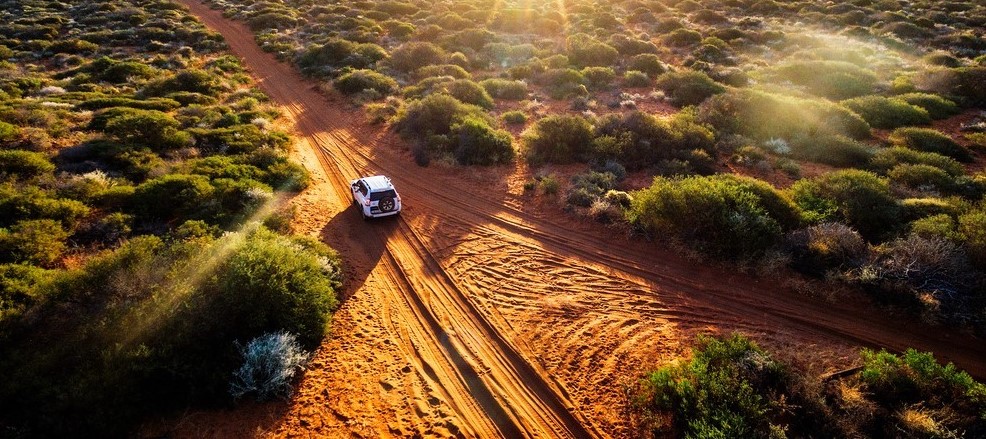 500 THINGS TO DO
Join our mailing list and receive our Free Top 500 things to do in Australia. If you love the Australian Outdoors download this list and keep it handy when you are planning a weekend away or a road trip around Australia.
Recent Posts