Kings Canyon in Watarrka National Park is on a lot of bucket lists. This guide to the King Canyon walks covers everything from the spectacular Rim Walk to easier, shorter walks that will still give you a great experience of the area.
Disclosure: Please note that some links in this post may be affiliate links, and at no additional cost to you, we earn a small commission if you make a purchase. Commissions are appreciated and go toward maintaining the Curious Campers website.
Things to do at Kings Canyon
If you go to Kings Canyon, take your walking shoes. Yes, there are some nice views of George Gill Range. You could also treat yourself to a scenic flight in a helicopter. Otherwise, get ready to explore the area by foot.
Kings Canyon is best known for the Rim Walk. It's a challenging but spectacular walk that takes you through a variety of landscapes.  There are also a bunch of easier walks which let you get a taste for this beautiful part of the world. We describe each of the walks a bit further down.
SEE KINGS CANYON FROM THE AIR
A scenic helicopter flight is the best way to experience the scale and grandeur of Kings Canyon and allows you to view sections of the canyon that are not reachable by ground-based touring. Take to the skies over Australia's Red Centre and be captivated by soaring sandstone cliffs, almost as deep as Uluru is high. Continue on to the domes of the Lost City and the Garden of Eden, before tracking over Kings Creek and Carmichael Crag.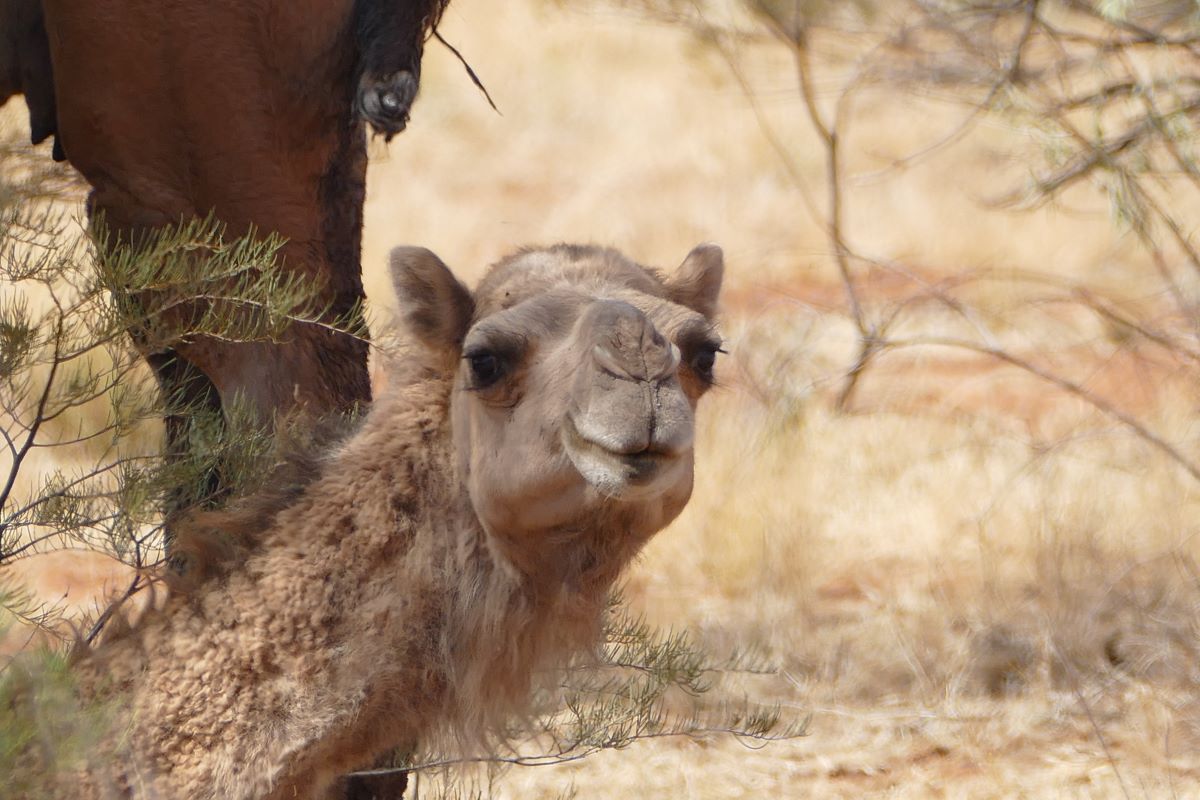 Alice Springs to Kings Canyon
Coming from Alice Springs there are several routes to Kings Canyon. If you want to stay on a sealed road you have one option. Head south on the Stuart Highway to the Lasseter Highway, then keep an eye out for the Kings Canyon turn off. There's a big sign, you can't miss it! It is about a 5 hour drive.
There are more options if you're happy getting off the bitumen. The most straight forward route is on Larapinta Drive and then the Mereenie Loop Road. The Mereenie Loop section is a 155 km dirt track. Conditions on the road can vary. We did 90kph on there, only slowing down for the worst of the corrugated corners.
We have read other reviews saying the track was so rough they struggled to hold 40kph. Ask around before you set off for the current conditions. You need a permit to do the Mereenie Loop. They cost $5 and are available at the Alice Springs Visitor Centre and at Kings Canyon. The scenery is spectacular, you're also a good chance to see camels and wild horses.
Another option for an off-road adventure is to take the Earnest Giles Road south of Alice Springs. Stop and look at the Henbury Meteorite Crater. Again, check conditions before you go.
Yulara to Kings Canyon
The 300 kilometre route between Uluru and Kings Canyon is a well-travelled and simple one. From the Lassiter Highway look for the well-signed turn off on your left about 90 minutes from Yulara. The second part of the drive has amazing views as you drive alongside the George Gill Range. It is a sealed road all the way.
Kings Canyon Accommodation
There are two places to stay in Kings Canyon. Both have accommodation options from campsites to glamping and resort style rooms. You can pick from either Kings Canyon Resort or Kings Creek Station.
There are not a lot of free camping options. There is no camping in the national park. If you are doing a hit and run visit of the canyon, Ginty's Lookout could be an option. It is 30 minutes north of Kings Canyon on Larapinta Drive. You can only stay one night and there are no pets allowed. There are fire pits and nice views.
Kings Canyon Resort and Kings Creek Station
We went for a powered site at Kings Canyon Resort. It was $30 a night per adult. It's a big place. Besides accommodation there's a petrol station, general store and a large bar and dining area.
It is only 10 minutes from the resort to Kings Canyon and it has great views of the ranges. If you want the best views in the park go for a camping site with an ensuite. They get front row views of Kings Canyon at sunset.
The other option is Kings Creek Station which is 25 minutes from Kings Canyon. Powered sites are a couple of dollars cheaper a night than Kings Canyon resort. It is a working cattle and camel property with a laid back vibe.
Wherever you end up choosing, at peak season you'll need to book early. With only a couple of places to stay they get busy. If you go in  mid-year, you'll want to have your accommodation organised in advance.
BOOK YOUR STAY AT KINGS CANYON RESORT
There truly is something for everyone at Kings Canyon – and more importantly – no matter where you stay all the wonders of Kings Canyon are on your door step to for you explore. Choose from budget accommodation to a deluxe king room with balcony or terrace views. Wander up to the lookout to watch the sunset over Kings Canyon.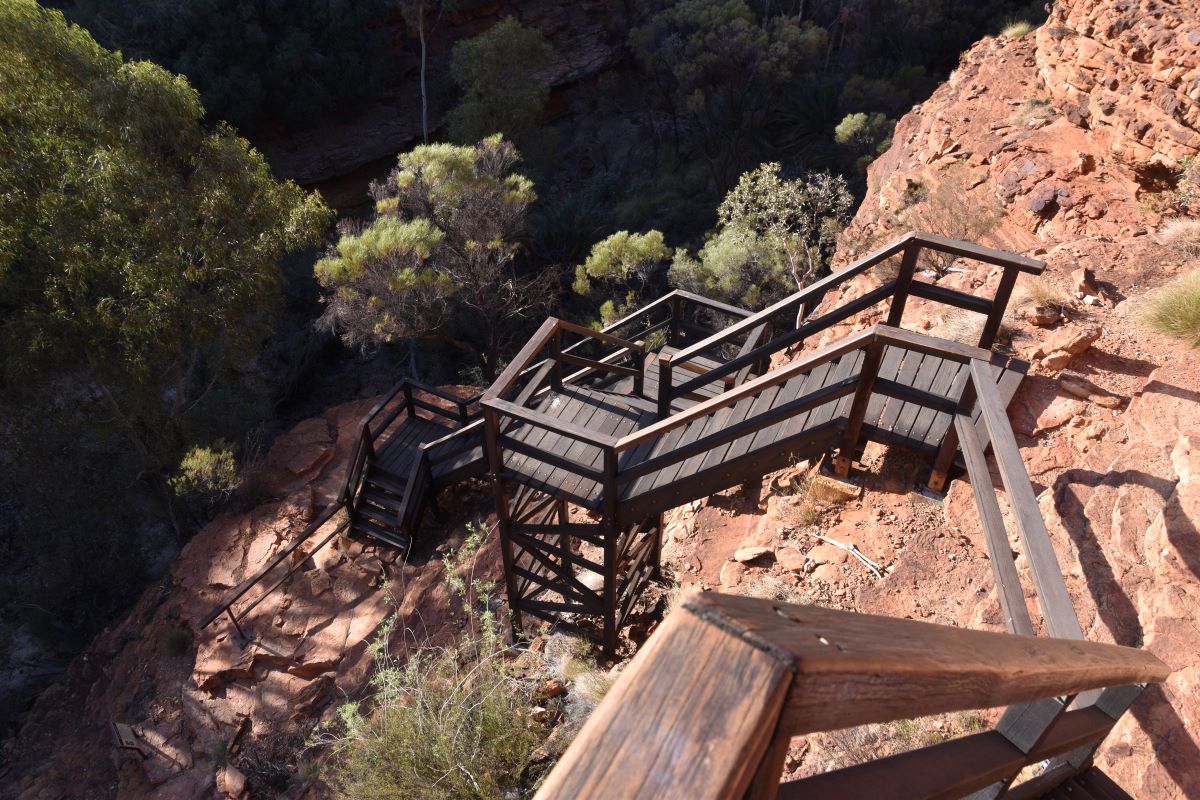 Kings Canyon walks
There are four or five walks you can do. The one most people aim for is the Kings Canyon Rim Walk but there are some shorter walks that will still let you explore this spectacular region.
The carpark at Kings Canyon is the trail head for four walks you can do in the area. They are all colour coded and well-marked, all you need to do is follow the right colour triangle. At the start to the path is also an imposing entrance with interpretive signage and an audio display. You can't miss it, in fact you can hear it from some distance away!
Full rim walk
The Kings Canyon Rim Walk is what brings most people to Kings Canyon. It is a 6-7 kilometre walk that takes 3 to 4 hours. It is a strenuous and exposed walk in parts. If the temperature is forecast to be over 36 degrees, access to the Rim Walk closes at 9.00am.
The walk can be looked at in sections. The first is the challenging hike up the side of a hill to the top of the canyon. There are 500 odd steps to negotiate and this is the hardest part of the entire walk. There are rest stops along the way. A slow and steady approach will still see you at the top in around 20 minutes.
HYDRATION BACKPACK FOR HIKING
Perfect for walking in rugged or slippery terrain when you need your hands free & have to keep yourself hydrated. The Camelbak Sabre is an extremely tough and versatile pack that lets you can carry two litres of water when you're on the go. The closed cell insulation keeps water cool for hours and has extra room for your keys, phone and cards.
Lost City
If you are walking early in the day, the first thing you do at the top is take in the view of the sun rising over Kings Canyon. Wherever you are on this walk there are beautiful views. Not long into the Rim Walk you get to Priscilla's Crack that featured in the movie Priscilla Queen of the Desert. This leads to the Lost City.
The Lost City is a section of the trail where you walk between banded rock domes. As the sun hits them first thing in the morning the different colour bands really stand out. There is one spot where you find yourself on a flat stage of rock surrounded by the domes. It's sights like this that will slow down your walk because you will want to stop for a while to take in the scenery.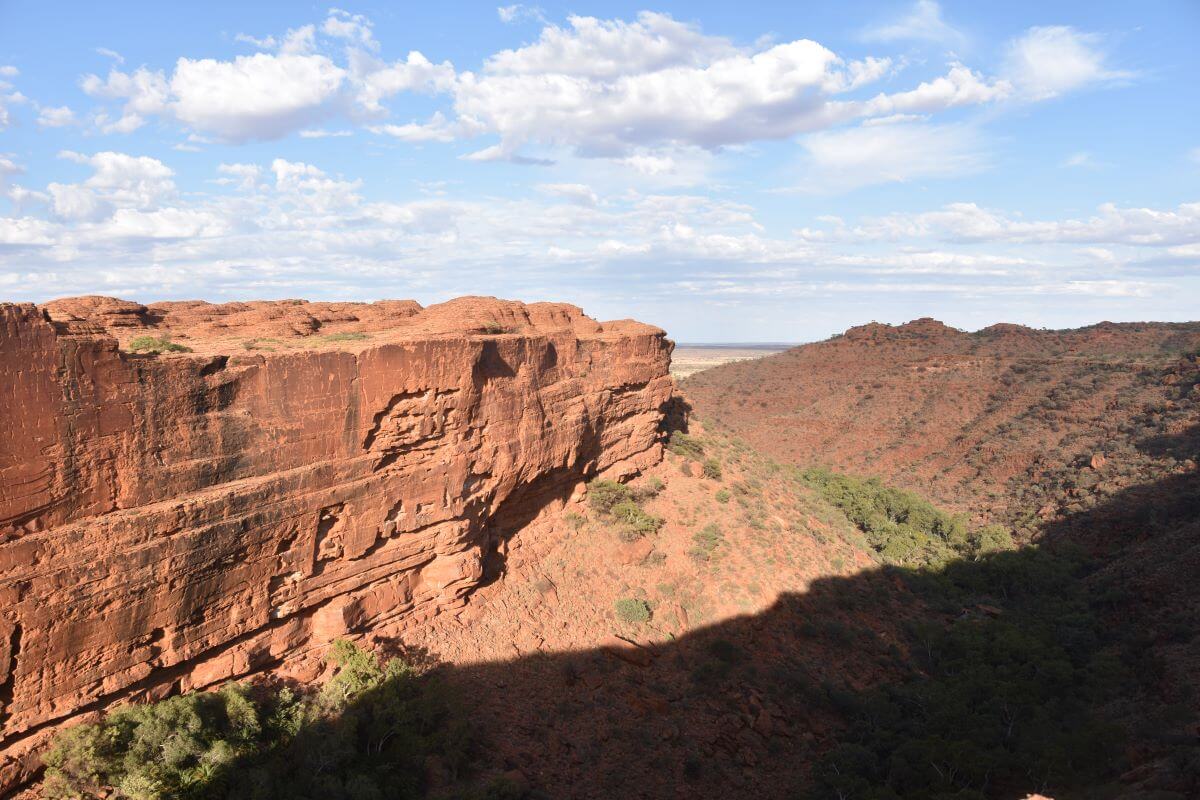 Cotterill's Lookout
This is the first of two detours you can make along the Rim Walk. There's a little bit of rock scrambling involved over a couple of domes. If you don't like heights, be aware there are some steep edges to get past too.
On the way to the lookout there are more views of the domes that characterise the north side of the walk. At the lookout you get great views of the sheer 150 metre tall canyon walls and the canyon floor. It is a 1.2 kilometre out and back walk to the lookout that can add about 20 minutes to your journey.
WEST MACDONNELL RANGES DAY TRIP FROM ALICE SPRINGS
Enjoy highlights such as Simpsons Gap, Ormiston Gorge, Ochre Pits, Standley Chasm and Ellery Creek. Have time to enjoy the region's natural beauty and capture photo ops of the Australian Outback as you hike into rock canyons, swim in hidden waterholes and see historical sites. 

Cotterill's Bridge
If scenic detours feel like a bridge to far on this walk don't worry. There are similar great lookout views from an actual bridge. If you're wondering how you get from one side of a canyon to the other, this is how – Cotterill's Bridge.
On your way to the bridge you'll walk over some rippled rock formed from a time when the area was an inland sea. This was a feature of the Rim Walk; there's always something to look at. The domes, cycads growing out of rock, the colours and the panoramas. One of the best panoramas is from the bridge back down Kings Canyon.
Garden of Eden
Not long after Cotterill's Bridge is the next detour. This one takes you into is the Garden of Eden. It will add another 20 minutes or more to your walk and you have several flights of stairs to get up and down.
It's worth the effort as the cool and peacefulness at the waterhole is the perfect spot for a break. We sat at the waterhole for five or ten minutes watching a variety of birds come and go. The green of the trees and cycads is a striking contrast against the grey and red of the surrounding rocks.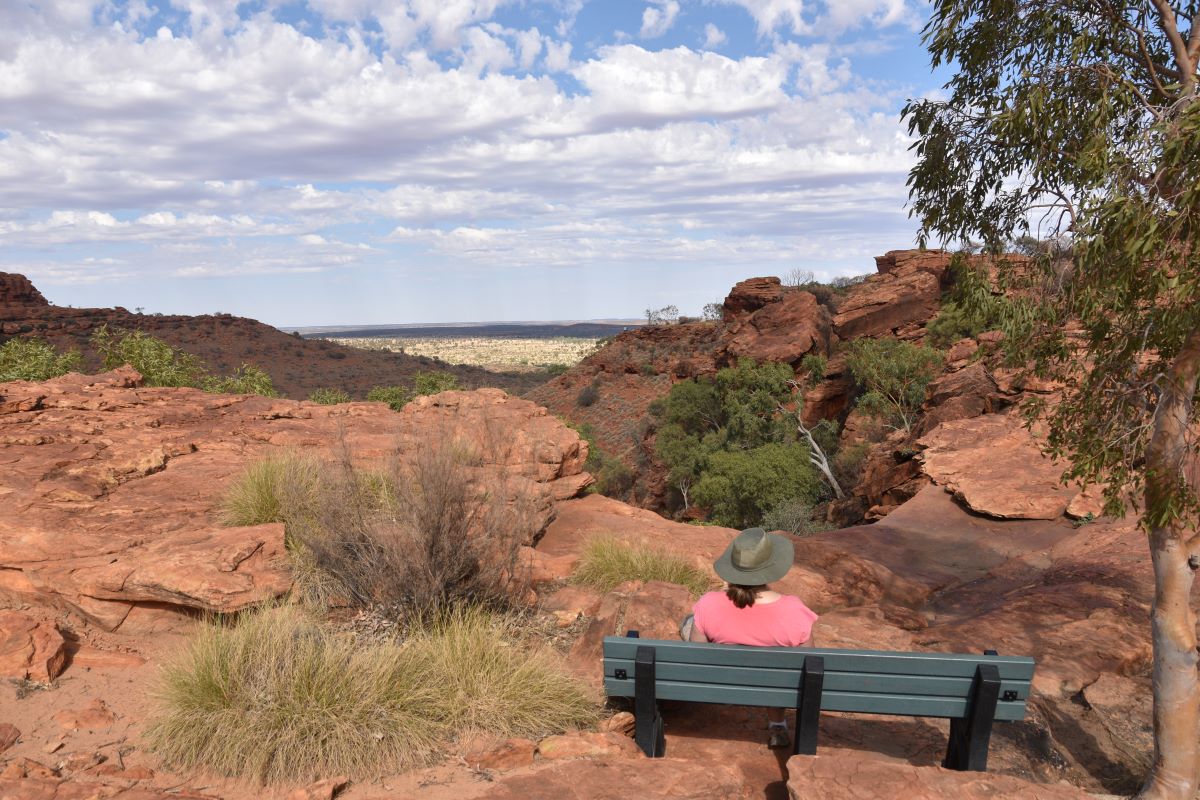 South wall
The final section of the walk is along the south rim. The view back across the canyon at the domes gives you a new perspective on the area you have walked through. The day was heating up as we walked this final section. As amazing as the Rim Walk is, It was good to see the carpark came into view as we made our way down the side of the south ridge.
South Wall walk
This is one of the walks you can do instead of the Rim Walk. It is shorter and less steep than the Rim Walk but still gives you a wonderful Kings Canyon experience. It is a 4.8 kilometre return walk that takes around 2 hours. It is the same walk that makes up the last third of the full Rim Walk.
It begins with a long medium level uphill section to the top of the canyon. From there you get views down into the canyon and across to the sandstone domes that make up the Lost City.  At the return point for the walk is a large gate and big signs that tell you to not go any further.
What you won't get to see on the South Wall Walk is the Lost City, Cotterill's Bridge and Lookout or the Garden of Eden. So, is it worth doing? Yes. The scenery is fantastic and you still get to appreciate the vertical walls of Kings Canyon.
SEE KINGS CANYON FROM THE AIR
A scenic helicopter flight is the best way to experience the scale and grandeur of Kings Canyon and allows you to view sections of the canyon that are not reachable by ground-based touring. Take to the skies over Australia's Red Centre and be captivated by soaring sandstone cliffs, almost as deep as Uluru is high. Continue on to the domes of the Lost City and the Garden of Eden, before tracking over Kings Creek and Carmichael Crag.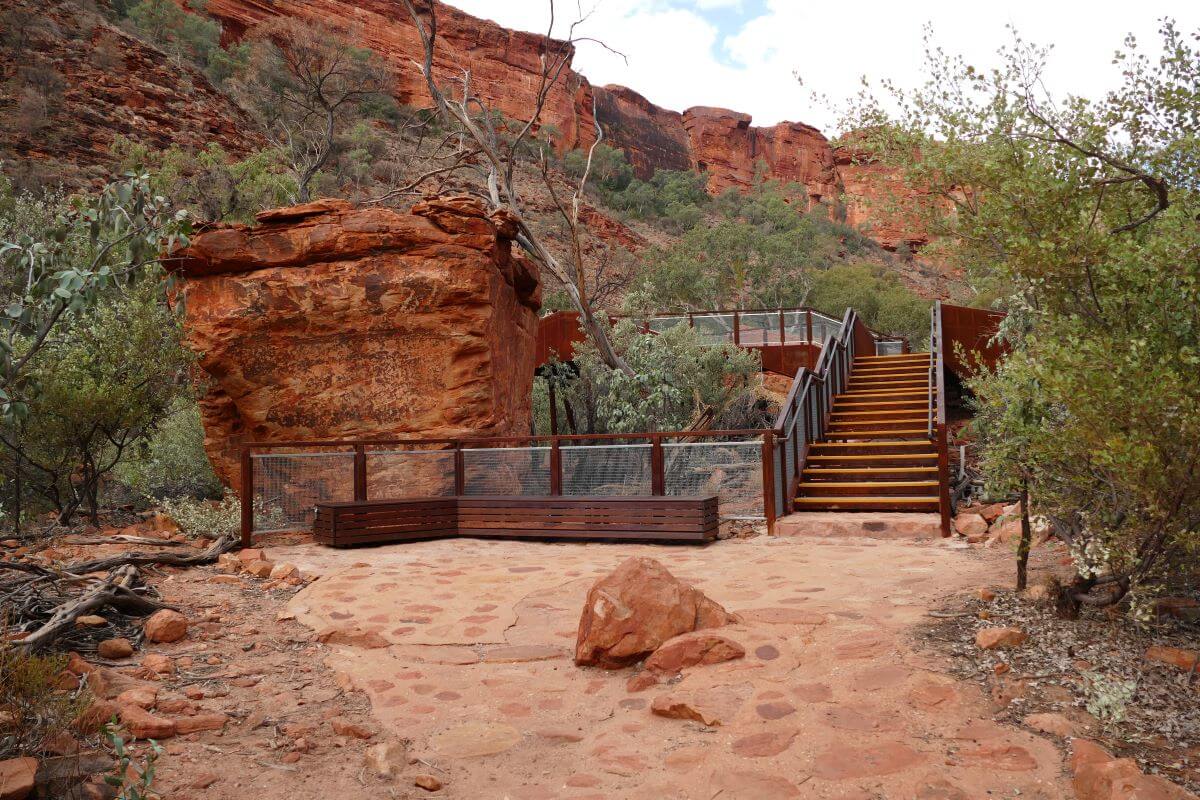 Canyon floor walk
This accessible walk goes into Kings Canyon following Kings Creek. It is a 2 kilometre return walk that takes about an hour to do. It mostly follows a paved track but there are a few rock steps to get across in a couple places.
Surprising to us was the range of plant life. Keep an eye out for everything from river red gums and ghost gums to spinifex, native figs and white cypress pines. There are a lot of shrubs too – grevilleas, wattles and native mint. It was amazing to see so many plants growing out of rock!
At the turn around point of the walk there is a large, multi-tiered viewing platform. It is a great place to take in the views. High above, you can see Cotterill's Bridge. There are sculptures and signage explaining the area's natural and indigenous history. We did the walk in the late afternoon. There were fewer people around and lots of birds darting between the trees.
ORDER YOUR FLY NET - AN OUTBACK ESSENTIAL
Keep flies and mozzies at bay! A fly net is an essential item in the Aussie outback, more-so for your sanity when those pesky flies keep disappearing up your nose, in your ears or even more annoying is when they get stuck between your eye and the lens of your sunglasses. Click and order.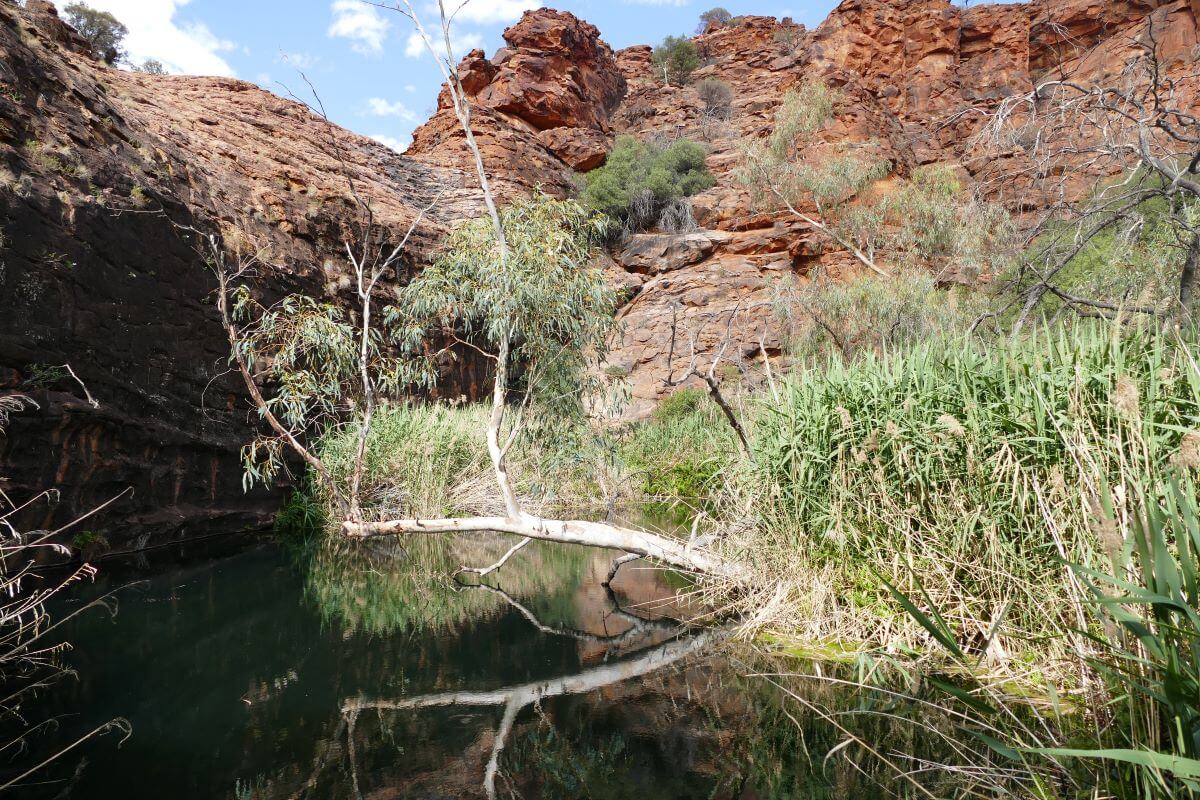 Kathleen Springs
Don't miss this walk when you visit Kings Canyon. Kathleen Spring is about a 15 minute drive from The Kings Canyon carpark. The 2.5 kilometre, 1 to 1.5 hour walk is easy and the entire path is paved.
There is a lot of interpretive signage that explains the areas indigenous culture and recent cattle industry. You can see the ruins of old stock yards at a few points along the way. If you go here in the afternoon the sun hits the surrounding cliffs and they glow orange.
The walk ends at a spring fed waterhole. If you are lucky enough to get this spot to yourself for a few minutes, you'll love the cool and calm of the water. We spotted lots of birds, a few lizards in the reeds and lots of dragonflies.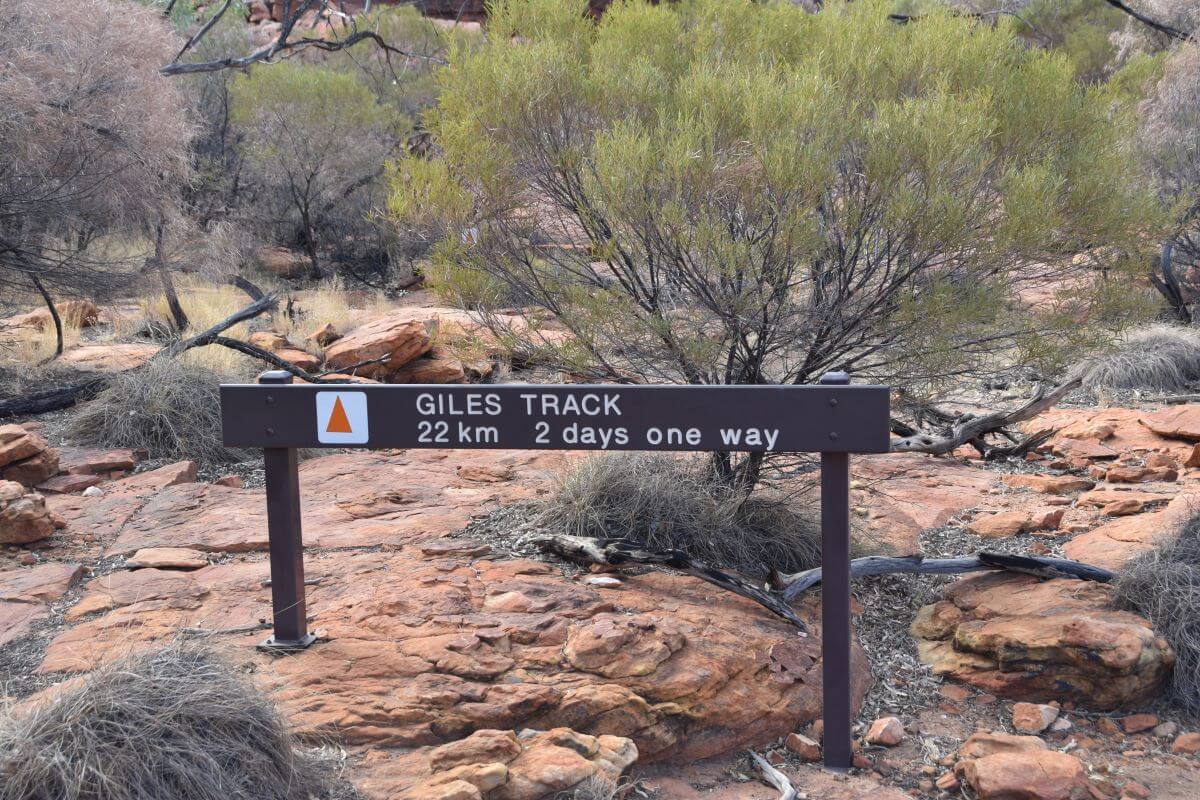 Giles Track
If longer walks are your thing try the 22 kilometre return Giles track. It links Kings Canyon and Kathleen springs. The walk is graded moderate to difficult and is a 2 day hike and starts at the Kings Canyon Carpark. Check out the NT Parks website for more information.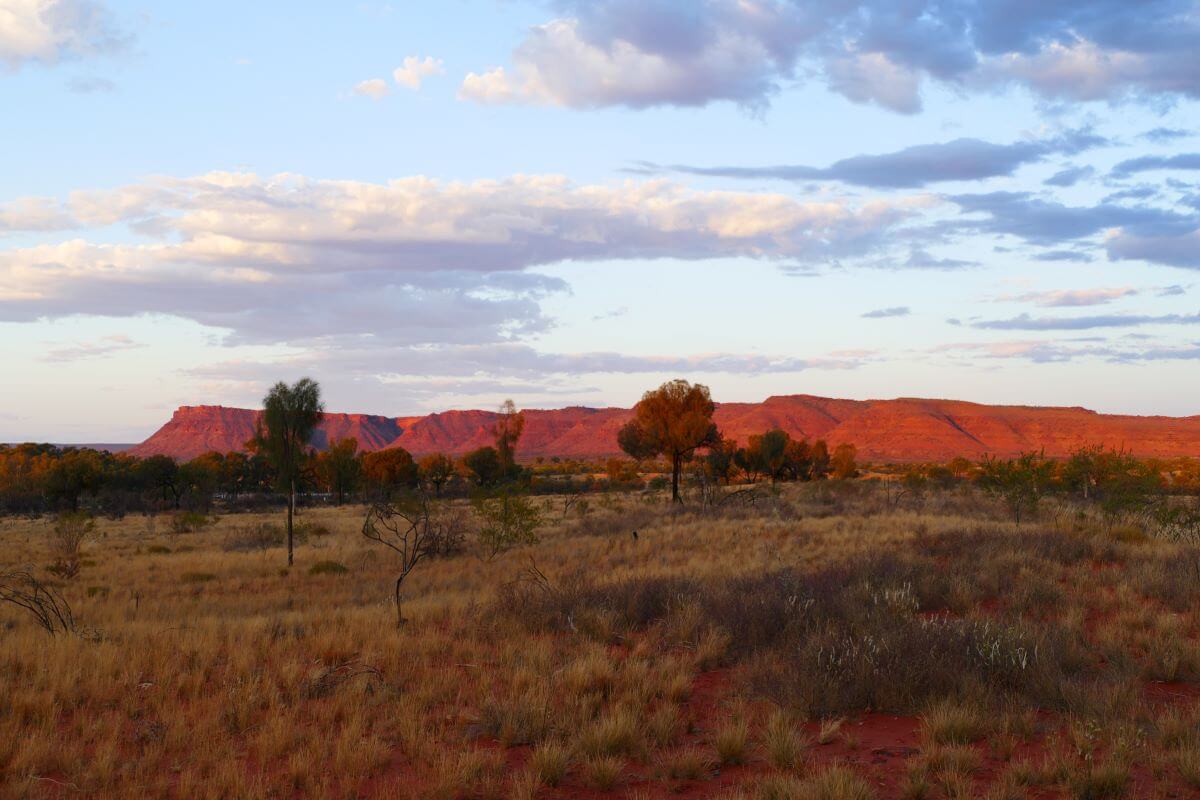 Sunset viewing platform walk
This last walk only applies if you stay at the Kings Canyon Resort and it is a walk that most people in the park do. It's the walk to the sunset viewing platform. The length of the walk will depend on where in the park you're staying. The difficulty of the walk is only determined by the number of drinks or pre dinner nibbles you take with you.
Whether you have just arrived at Kings Canyon or had a day of walking, the sunset lookout is a great spot to end the day. The place buzzes with people and has a great atmosphere. Kings Canyon and the George Gill Range light up then fade in hews of red, orange and purple. It is a great way to round off your visit to Kings Canyon.
Entry into Watarrka National Park is free and doesn't require a permit. If you're travelling via the Mereenie loop (4WD only) you'll be travelling on Aboriginal Land Trusts and will need to purchase a permit.
You can buy the $5 permit from fuel stations at Kings Canyon Resort, Hermannsburg and the Alice Springs Visitor Information Centre.
You'll see plenty of wildlife through Kings Canyon and the Mereenie Loop Road from  kangaroos, dingoes, wild camels and donkeys, wild horses and plenty of reptiles from snakes, lizards and goanna.
Keep a close eye out on the Mereenie Loop as we saw camels, horses and plenty of lizards wandering on the road.
LIKE IT… PIN IT FOR LATER
500 Things to do
Join our mailing list and receive our Free Top 500 things to do in Australia. If you love Australian Outdoor Experiences download this list and keep it handy when you are planning a weekend away or a road trip around Australia.