Kayaking Jervis Bay is the perfect way to get experience this idyllic place. You can hire kayaks and stand up paddle boards from a couple of places in Huskisson. When we travel, our preference is to get a bit of local knowledge, so we booked a half day paddle with Sea Kayak Jervis Bay. If you have never tried ocean kayaking, Jervis Bay is a great place to give it a try.
Jervis Bay is three hours south of Sydney in the Shoalhaven region of the New South Wales south coast. It has crystal clear water, secluded bays, rugged coastline and beaches with some of the whitest sand in the world. The area teems with wildlife. You can spot everything from dolphins, whales and stingrays to colourful fish and sea eagles.
Disclosure: Please Note That Some Links In This Post May Be Affiliate Links, And At No Additional Cost To You, We Earn A Small Commission If You Make A Purchase. Commissions Go Toward Maintaining The Curious Campers Website.
Sea Kayak Jervis Bay
Exactly where the 5 hour tour takes you depends on the weather. It is one of the good things about going with a local operator, they understand conditions so can pick the route that will give you the best experience.
If you're not a regular paddler don't worry about getting tired. The tour includes a break at one of Jervis Bay's beautiful beaches for morning tea. You get homemade cookies, cake from local bakeries and freshly brewed tea and coffee. You'll also have time to explore wherever you have come ashore.
For our paddle, most of us were in double kayaks although there are singles available too. You also get a skirt which is the cover that stops water getting onto you and into your kayak as you paddle.
Our guide, Dane, took pictures along the way which you get copies of. He also carries a supply of warm clothes if you get cold. The tour is well organised, you are in a small group, and Dane is super knowledgeable and passionate about the area which adds a lot to the paddle.
The tour is great value and suitable for all experience levels; we had a great time and highly recommend giving it a go when you visit Jervis Bay.
Kayaking Jervis Bay Tours
We heard from Dane the afternoon before our tour with a revised meeting point. The breeze had picked up and changed direction. Instead of leaving from Huskisson we'd be setting off from Iluka Beach in Booderee National Park and paddling to Murrays Beach. The nice thing about Jervis Bay is that it doesn't matter which beach you go to; turquoise water and clean white sand are a given.
We met at the beach, stored a few things in dry bags and put them into the kayaks. The kayaks have rudders so after a quick lesson on how they work, a safety briefing and run down on the itinerary we were ready to go.
Sea Kayaking at Jervis Bay is Great Fun
If you haven't tried sea kayaking before there is one big difference to paddling in a lake or river – waves. You especially notice them as you launch. Timing your entry is the fun part and as is the case whenever Nat I end up in a two seat Kayak, our timing was a little off.
We managed to launch into a couple of breaking waves. They wouldn't have been big enough to interest even a novice boogie boarder, but they were more than enough for a couple of first time sea kayakers.
We lurched into the air and dropped down with enough rock and roll to send a drink bottle flying into the sea. Even though it was a good test for how well we had fitted our skirts, it was great fun, an exciting change to still water kayaking and a relief not to capsize 2 metres from shore!
Bristol Point & Green Patch
With our group all in the water safely and our drink bottle retrieved we settled into paddling. Our route for the morning was between Iluka Beach, around Buradja Point and on to Murrays Beach for morning tea.
The first part of our paddle took us past Green Patch and Bristol Point which both have campgrounds. Green Patch is also a popular snorkelling spot in Jervis Bay. The calm, clear water we had hoped for was, at this stage, replaced by a small swell. Our sleek kayak made light work of the conditions and steering with the peddles made it easy to stay on course.
As we paddled along Dane talked about the area, revealing a few of the local oddities. For example, most of our group had no idea that we were paddling in the ACT and not New South Wales. The southern end of the Bay is the Jervis Bay Territory and is home to a navy base and a firing range.
Read More : Explore more of Jervis Bay
Scottish Rocks & Hole in the Wall
We continue up the coast past the pretty and secluded Scottish Rocks beach. Off the beach here are some rocks that you need to look out for at low tide. You can kayak between them when the water is a bit higher. It can get a bit bouncy, but we navigated through safely.
A little further on you get to Hole in the Wall – a sandstone rock feature. The 5 metre high rock wall juts out into the water and as you paddle past you can see a section is missing leaving a big…hole. Years ago, there was a thin strip of rock across the top of the hole. If you go to Google images you can see some old pictures of it.
The growing popularity of the site saw more people standing on the roof of the hole, increasing the chance of a collapse. As a result, the top was removed. When you look at the roofless hole now, you can see the straight edges on either side where they cut away the top section.
Murrays Beach
After almost two hours as we near Murrays Beach something wonderful happens – the wind drops, the clouds clear away, and the bay is transformed. The water becomes a clear emerald green and the sand on the surrounding beaches glows white. Sea eagles soar overhead and now we can see right through the water to the bottom.
As we approach Murrays Beach the water becomes shallow and turns turquoise blue. We take in the idyllic view from the water of the beach and headland around to Bowen Island. It is hard to believe this could have been the site of a nuclear reactor.
That's right. This is another of Jervis Bay's quirks. In the late 1960s there were plans to build a nuclear reactor at Murrays Beach. A change of Prime Minister in 1971 saw the project halted but not before they started to clear land for the development. That area is now the carpark at Murrays Beach.
Bowen Island
We spent about 20 minutes relaxing in the water, enjoying the views and refuelling with a great morning tea. There is also time to have a look around the area, so we went for a walk along the Governor Head track to Governor Head lookout with views over Bowen Island. The walk takes you up off the beach, along a bush trail to the headland and lookout.
Along the way there are great views over Murrays Beach. The highlight is the view from the lookout over Bowen Island and the entrance of Jervis Bay. Bowen Island sits 250 metres offshore and acts as a buffer to the swells rolling in from the Pacific Ocean. As a result, you can see some big waves crashing into the island.
Bowen Island is a protected sea bird sanctuary and is home to a colony of around 10,000 Fairy Penguins. You can't go onto the island to see them but If you are lucky, you can occasionally spot a penguin as you paddle around Murrays Beach. The lookout is also a good vantage point for spotting sea eagles that patrol the Bherwerre Peninsula.
Read More : Stay with the Kangaroos at nearby Berrara Waters
Murrays Beach Boat Ramp
As we leave Murrays Beach for the journey back, we push off into the best paddling conditions of the trip so far. The breeze has dropped, the little waves have gone away, and we are paddling on glassy, crystal clear water. They are ideal conditions for spotting wildlife. We make a quick stop at the Murrays Beach Boat ramp and see two or three giant smooth rays gliding along the length of the small jetty there.
As we make our way back to Iluka beach, we spot several schools of fish leaping out of the water. We're on the lookout for the turtles and the Jervis Bay's dolphins. We learn that they are heading our way, but they manage to elude us.
Another Jervis oddity is that as well as wildlife, it is also not unusual to see naval exercises going on in the bay. With the navy base HMAS Creswell in the distance, Dane talks about seeing everything from patrol boats to navy helicopters. As we paddle through another school of jumping fish, he points out a buoy where submarines tie up when they are in the area.
Finish at Iluka Beach
The bay looks so beautiful on the way back we are in no hurry to finish, and we find ourselves dawdling a bit in the hope of still spotting some dolphins. But all good things come to an end and we eventually come ashore. It has been a great experience. Paddling in open water was fun, the bay is stunning and going with a small group was a great way to learn more about the history and wildlife of the area. When you visit, put kayaking Jervis Bay at the top of list of things to do.
Like it? Pin it for Later…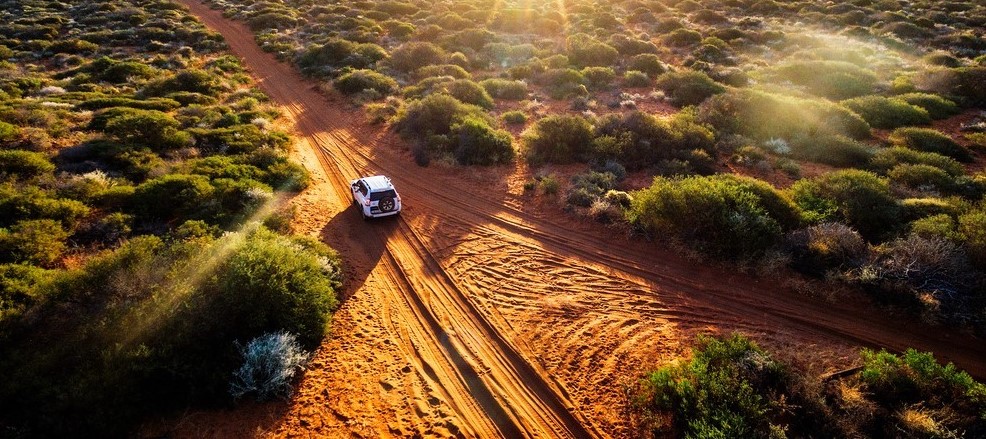 500 THINGS TO DO
Join our mailing list and receive our Free Top 500 things to do in Australia. If you love the Australian Outdoors download this list and keep it handy when you are planning a weekend away or a road trip around Australia.
Recent Posts