For a lot of people, there is one big reason to visit Kangaroo Island – wildlife. If you are looking for an Australian wildlife experience, this island off the tip of the Fleurieu Peninsula in South Australia is the place to go. From kangaroos, koalas and echidnas to seals, sea lions, dolphins and over 40 bird species, Kangaroo Island is a showcase of Australian fauna.
Disclosure: Please note that some links in this post may be affiliate links, and at no additional cost to you, we earn a small commission if you make a purchase. Commissions are appreciated and go toward maintaining the Curious Campers website.
How do you get to Kangaroo Island?
The most popular way to get to Kangaroo Island is on the Sea Link Ferry. The ferry terminal is 90 minutes south of Adelaide at Cape Jervis and the ride across takes 50 minutes. You can take your car on the ferry. While getting your car over adds to the cost, you will need it to get around the island. If you would rather someone else do the driving, there are single and multiday Kangaroo Island tours from Adelaide.
Kangaroo Island Wildlife Experiences
One of the best things about Kangaroo Island wildlife is you can see so much of it for free. Because the island is relatively remote, undeveloped and free from many introduces species, there is abundant wildlife in the conservation and national parks. You will likely come across kangaroos, wallabies, koalas and reptiles as you drive between locations so keep an eye out and take extra care if you drive at night.
There are several locations where you pay to go on tours or get into wildlife reserves or conservation parks. Guided tours are a great way to see some of Kangaroo Island's rarer species and get to more remote coastal locations. There are a few nature parks on Kangaroo Island which have an entrance fee. Keep in mind that as well as providing wildlife experiences, these places also play an important role in the protection of the island's animals and the cost of entry helps with their conservation efforts.
Here are some of the best Kangaroo Island wildlife experiences.
Grab a Gorgeous Sand-Free Towel
Tired of bulky towels? Sand Cloud Towels are not like the old school towels that take forever to dry-- it's 3x faster! Plus, it gets softer and more absorbent with every wash! Leave the sand where it belongs with this sand-free towel.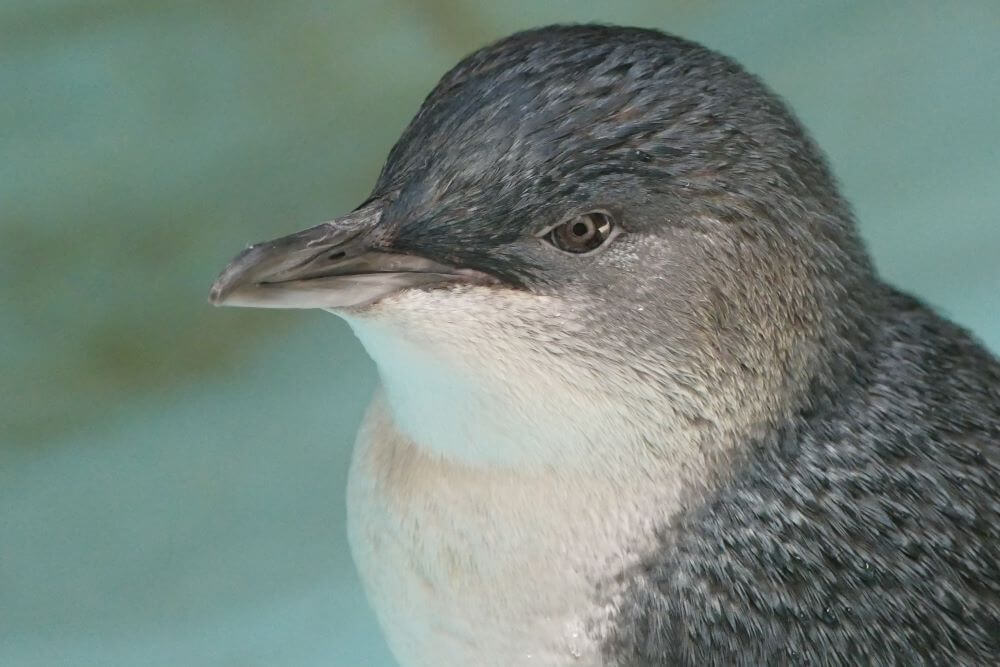 Penneshaw Penguin Centre
As soon as you leave the ferry in Penneshaw, you're only 100m away from some of Kangaroo Island's cutest wildlife. Penneshaw is home to a colony of little penguins – also known as fairy or blue penguins. The Penneshaw Penguin Centre is right next door to the ferry terminal. In fact, during the day, it is close enough to walk through while you are waiting to board. By day you can walk along a boardwalk above the coastal scrub that contains the penguin's dens.
The area is free to access during the day, but you are not likely to spot any penguins. To do that, you need to go on an evening guided tour. The Penguin and Wildlife Night Walking tour runs for 60 minutes, weather permitting, each evening. That start time varies over the year to coincide with dusk which is when the penguins return to shore. The friendly, expert guides know where all their dens are and have an amazing knack of spotting the penguins as they come in. Seeing the penguins in the wild is a fantastic experience. The Kangaroo Island Little penguin tour is a great family activity too.
Penneshaw Tammar Wallabies
Another fun wildlife experience in Penneshaw is walking the Kangaroo Island Sculpture Trail. The entrance is on Frenchmans Terrace, a five minute walk from the ferry terminal. Not only do you get to enjoy the dozen or so sculptures dotted around the ravine, but it is also a good place to spot Tammar wallabies. Your best chance of seeing them is later in the afternoon.
Smaller than kangaroos, Tammar wallabies have a distinct stripe of white fur running from their nose to under their eye. Like all wallabies, they are extremely good at hiding in plain sight so take your time and look carefully under the trees and in the long grass. They're not only good at hiding, but they tread softly too so you might not even notice them moving. We spotted half a dozen as we made our way around the sculpture trail – mostly towards the top of the ravine. We love all wildlife but we especially like wallabies, they are really pretty little animals. Allow 30-60 minutes to walk the sculpture trail, this is a free activity.
Seal Bay Conservation Park
Seal Bay is one of Kangaroo Islands most popular wildlife attractions. It is on the south coast of Kangaroo Island 60 minutes from Penneshaw. Seal Bay is home to a colony of endangered Australian Sea Lions. An entrance fee applies to get into the conservation park. You have the option of getting a guided tour onto the beach or viewing the sea lions from a boardwalk with observation platforms. Book ahead if you want to do the guided tour.
Whichever option you go for, you'll have a lot of fun watching the sea lions play in the surf and relax on the beach. You could spend an hour or more watching what they get up to. There are around 800 in the colony so don't worry about there being no sea lions around. We have done both the tour and boardwalk viewing. Read our full post on what to expect when your visit Seal Bay.
Full Day Seal Bay Experience
Explore Kangaroo Island by 4wd to reach off-road locations that many visitors never see. You'll go in search of island animals like sea lions, koalas, echidnas, birds and kangaroos. Take a bush walk, visit natural habitats like Seal Bay Conservation Park, and enjoy a picnic lunch. Small-group tour for a personalized experience. 
Raptor Domain
Raptor Domain isn't far from Seal Bay, it is just under one hour from Penneshaw. It showcases some of Kangaroo Island's birds of prey including eagles, owls, kookaburras and kites. They have some friendly parrots too. The birds here have all been orphaned or injured and are now unable to return to the wild. Raptor Domain is a great place for getting up close to something you might normally only see soaring high above you.
The Free Flight Birds of Prey show, on twice daily, is fantastic. You will literally have some of these birds sitting on your lap: the barn owls are just the cutest things ever! At the end of the show, you can pay a little extra to hand hold one of the eagles. Feeling the weight of a wedge tailed eagle perched on your forearm and looking into its eyes is something you'll never forget.
As well as the birds, there is also a reptile presentation that features everything from scorpions and spiders to snakes and lizards. You can pay to just see the free flight show or get a package that includes the reptile presentation and free flight show. Raptor Domain really is a once in a lifetime chance to see such amazing and beautiful birds up close. We promise, if you're not a bird watcher before you come to Raptor Domain, you will be when you leave!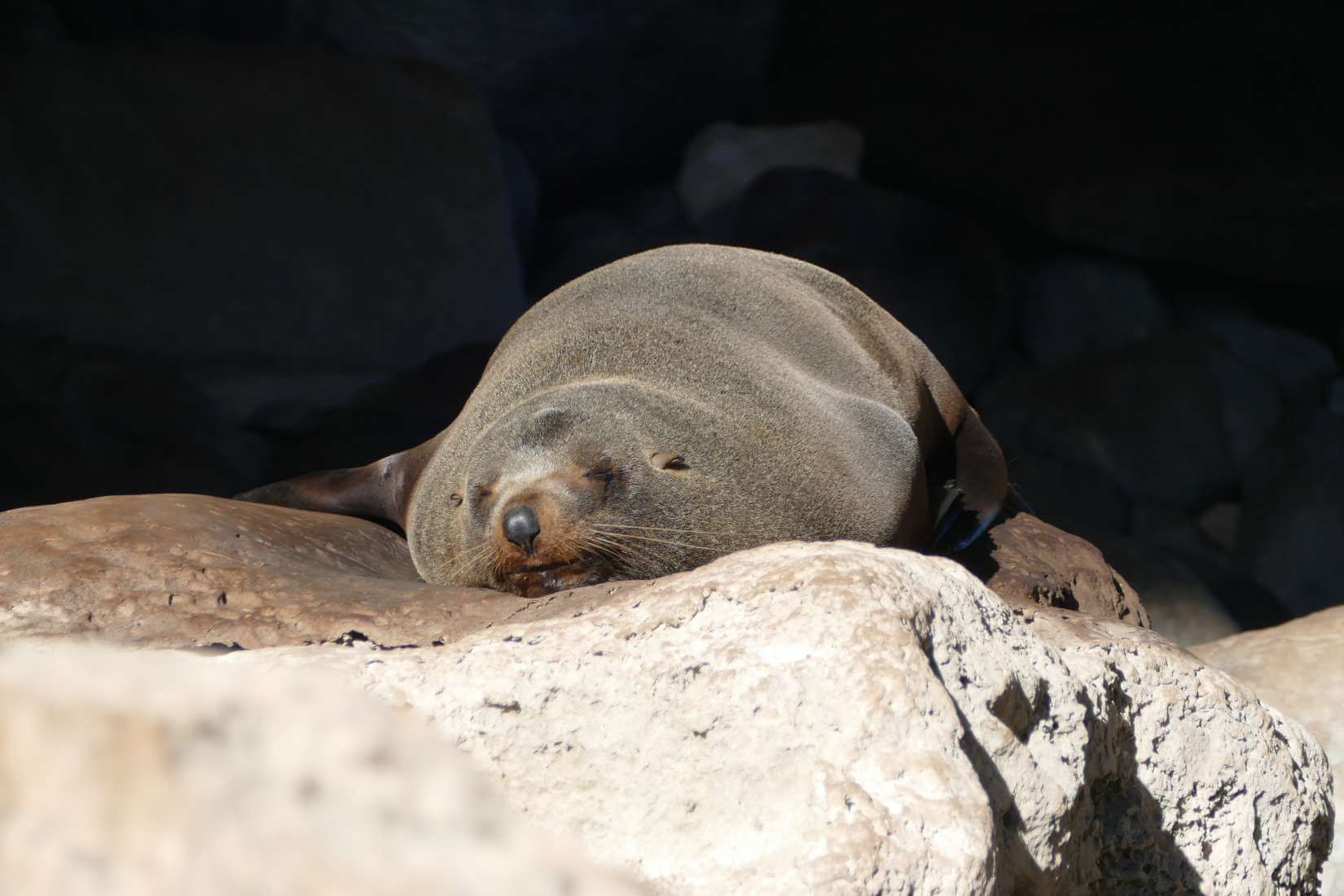 Admirals Arch
This spectacular strip of rugged coastline is on the southwest tip of Kangaroo Island in Flinders Chase National Park. It is a bit under a two hour drive from Penneshaw. There is a lot to see here from the Cape du Couedic Lighthouse, the historic ruins at Weirs Lookout and the arch itself. The wildlife highlight here are more marine creatures – this time it is a colony of Long-nosed Fur Seals. Follow the scent as you make your way along the boardwalk towards Admirals and look down.
Dotted all over the rocky coastline you'll spot the seals; the adults resting and the pups playing or feeding. The more you look the more you will see, you'll be amazed how good they are at climbing up the rock ledges. In a couple of spots, pups play in natural water slides created as the waves crash ashore. The cliffs are 40-50 metres above the seals, but you still get a great view. The only cost here is the National Park pass to get into Flinders Chase.
Platypus Waterholes
Platypus and koalas were not originally on Kangaroo Island, they were introduced in the 1920s. Platypus Waterholes in Flinders Chase National Park is now the only place you can see platypuses in the wild in South Australia. Of course, knowing that a platypus is there and spotting them is two different things, they are notoriously elusive creatures.
Your best chance of seeing them is either at dawn or dusk. Watch for a V-shaped ripple on the surface of the water. You can get to the Platypus Waterholes either along a flat 4.7km return hike from the Visitor Centre or you can shorten the walk to a few hundred metres by driving to the carpark at Shackle Road. Best go there expecting to see nothing; just enjoy the birdlife around the ponds. If you're lucky enough to spot one, it's a bonus.
Kangaroo Island Wildlife Park
Kangaroo Island Wildlife Park is a fascinating place. It has a range of Australian favourites like kangaroos, koalas, echidnas and dingos mixed with a few exotics such as marmosets and serval cats. It is not a big park; a couple of hours is enough time to get around and see all the attractions. There are keeper talks across the day where you can see the penguins (super cute), koalas, pelicans and dingos fed. There is also a large area where you can hand feed kangaroos and wallabies.
The park also offers a range of interactive animal encounters where for an extra cost you can handle or feed wombats, snakes and koalas. If you are after something a bit different, you can also get up close to the teeny, adorable marmosets or the beautiful serval cats.
You might wonder what a couple of sub-Saharan wild cats are doing in a wildlife park in the middle of Kangaroo Island. Not fit for a breeding program, this brother/sister pair faced a grim future until the team at Kangaroo Island Wildlife Park threw out the welcome mat. They are gorgeous things and can now enjoy a full life in Kangaroo Island being looked after by their doting keepers.
Kangaroo Island Wildlife Park is one hour from Penneshaw, a minute or two out of Parndana. There is a gift shop, BBQ and picnic facilities, and a café. There are concession and two family ticket packages available. The park is open 9-5 every day except Christmas day.
Western KI Caravan Park
It might seem odd having a caravan park as a wildlife experience, but that is what you get at Western KI Caravan Park. The park is 90 minutes from the ferry terminal in Penneshaw. It is the perfect base for exploring the western end of Kangaroo Island including Admirals Arch, Remarkable Rocks, Vivonne Bay and Little Sahara. It is also only 2 minutes from Flinders Chase National Park, so it is regularly visited by all sorts of wildlife.
Kangaroos, wallabies, echidnas and koalas can all be spotted around the park. At dusk especially, they move in and graze although koalas can be spotted in the trees all day. Kangaroo Island kangaroos are especially cute. They are smaller and have darker, thicker fur than other kangaroos. There is a short nature walk you can around in the park where you are also bound to spot a lot of wildlife, keep an eye out for the goannas and Cape Barren geese.
Hanson Bay Wildlife Sanctuary
In 2020 the western third of Kangaroo Island was severely affected by bushfires, Hanson Bay Wildlife Sanctuary didn't escape the disaster. They have been instrumental in looking after the island's wildlife since the disaster. They now offer visitors the chance to experience how the local fauna and fauna recovers from fire. You can go on a Guided Koala Walk and Bushfire Ecology Tour or Sunset Nocturnal Adventure Tour.
Despite the fires there is plenty of wildlife to see including wallabies, kangaroos, koalas, bats, possums and echidnas. You'll get a unique insight into how these animals and their environment are recovering from the fires. You won't find more passionate wildlife lovers than the guides who lead you around. Check their website for tour times. Hanson Bay Wildlife Park is 90 minutes from Penneshaw and only 2 minutes from Western KI Caravan Park.
Hanson Bay Guided Koala Walk
Devastated by the bushfires that roared through Kangaroo Island in 2020, the flora and fauna of the island have since bounced back incredibly. This guided tour of Hanson Bay Wildlife Sanctuary will showcase both the landscape and the wildlife's incredible resilience and restoration, as well as the fire ecology of the island.
Fish Cannery Hike – American River
If you are a birder, there are no shortage of park walks where you can try spotting some of Kangaroo Island's 40 plus bird species. We have nominated this walk because it is near the popular township of American River, only 30 minutes from Penneshaw. There is also a great variety of birdlife to see along this dirt track including one of Kangaroo Island's iconic bird species – the glossy black cockatoo. You can hear them high up in the trees as you make your way along the track.
Besides cockatoos and galahs, you could also spot everything from tiny thornbills and finches to a range of honeyeaters. You are also bound to hear the shrill twitter of blue wrens, keep an eye out for that flash of iridescent blue. The trailhead and carpark are at the intersection of Scenic Drive, Wattle Avenue and Lierich Drive. This undulating 3km return walk takes you to the ruins of a fish cannery built back in late 1890s. The walk is well signed, and brochures are usually available at the start of the walk.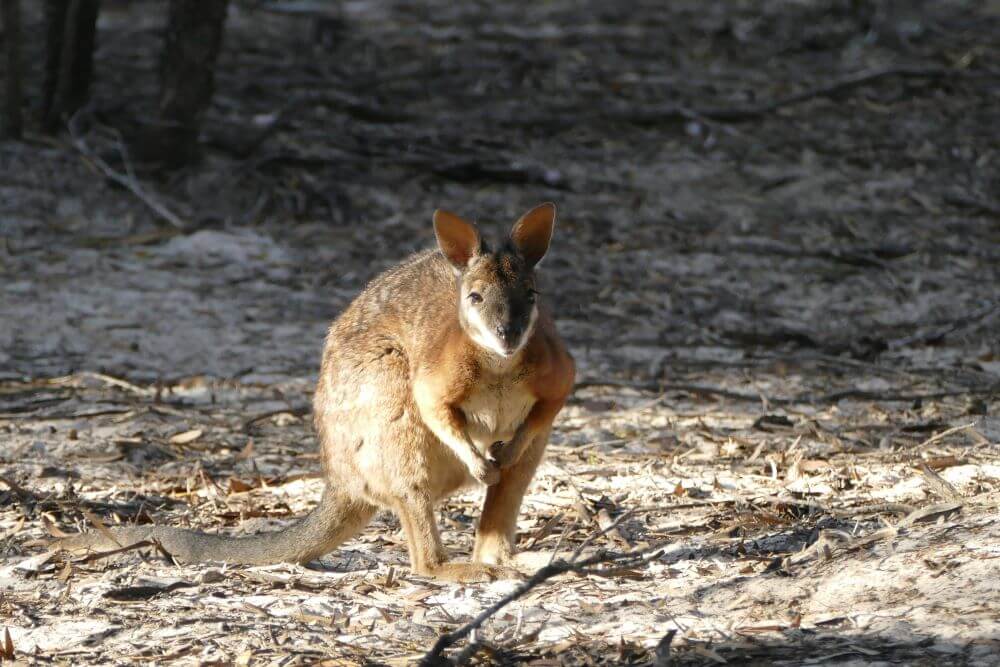 Wallaby Run
This is a free activity on the North coast of Kangaroo Island near Emu Bay. Wallaby Run is a dirt track that runs parallel to Emu Bay Beach. Look for the signed turn off from Emu Bay Road on your right a couple of kilometres before the beach. The road is a bit rough. If you have a 2WD you will get through if you take it easy. The name of the track gives away what you will see here – yes, Tammar wallabies. The best time to drive the 3.5km long track is late afternoon.
We love spotting animals in the wild and this mini nature safari was a lot of fun. A few tips… First, drive slowly. The wallabies are easily spooked by cars. Also, look carefully. The wallabies can be spotted amongst the trees on the beach side of the car. Between hiding behind trees and blending in with the landscape they are easy to miss. look out for other wildlife too. We were so busy spotting wallabies we nearly missed an echidna shuffling along the side of the road.
Emu Bay is 50 minutes from Penneshaw.
Kangaroo Island Dolphin Cruises
If you are in the right place at the right time, you can spot dolphins all around Kangaroo Island's coast. We saw them at Vivonne Bay and Emu Bay. But, if you want a better chance of seeing them or even swimming with dolphins, you can go on a dolphin cruise. Large pods of bottlenose dolphins live on the north coast of Kangaroo Island. There are two providers offering dolphin sightseeing and swims. Kangaroo Ocean Safari operate out of Kingscote and Kangaroo Island Marine Adventures leave from Emu Bay.
We have done the Emu Bay tour and it was fantastic. We saw sea eagles and seals and heaps of dolphins. The pod was dozens strong; we had a great view of them from the boat, but the best bit was getting in the crystal clear water. You are not dragged behind the back of the boat here; you get into the water and swim amongst the very relaxed pod. Of course, everyone's experience will be different, you never know how many dolphins will turn up from day to day and what their mood will be. The scenery is great too, in winter you might even spot a whale.
Kangaroo Island Swim with Dolphins 
Departing from Emu Bay, this guided tour introduces you to the island's spectacular marine life along its stunning north coast. You'll spot seals, sea eagles, osprey and ancient fossil beds, and you'll have the opportunity to swim with wild bottlenose dolphins in shallow water. At any one time, there can be up to 25-80 dolphins in the area. 
Hire a Guide Nocturnal Tours
For a personalised wildlife experience in a small group try the team at KI Hire a Guide. You can go on a guided 4WD tour or guided nocturnal tour of the island. On the nocturnal tour you venture to parts of Kangaroo Island most tourists won't get to and you get to see the wildlife that comes out at night. These tours are a good option if you don't have your own car or want to avoid the crowds and get some personalised attention.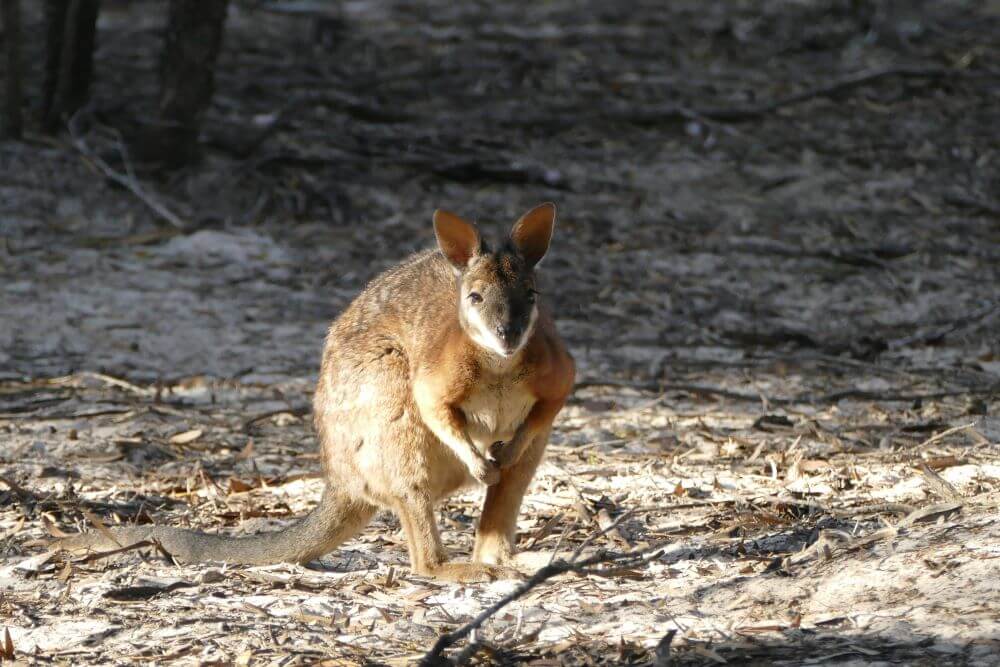 4wd Night Tour of Kangaroo Island
Most of the wildlife is active after sunset, specially in Summer time. Observe kangaroos and wallabies grazing, possums, owls and echidnas. Look for the little penguins at a local beach. Approx 3 hours.
Kangaroo Island Snorkelling
If you like slipping on your face mask and snorkel, there is some interesting snorkelling spots around Kangaroo Island. You will want at least a shortie wetsuit as even in summer the water is cool. Vivonne Bay and Emu Bay both have pockets of reef to look over, we saw a few big schools of fish at Emu Bay. The rocky ledges at Hanson Bay and Western River also have good snorkelling opportunities but you'll want good calm conditions.
If you are up for an adventure, try making the hike down Harvey's Return near the Cape Borda Lighthouse. It's a steep track but the reward is the chance to swim with the blue gropers that live in the rock ledges either side of the bay. Again, you will want a calm day to do this. The narrow bay can make for big swells but seeing the giant blue fish makes up for steep hike up and down and the lumpy water!
National Parks and Conservation Parks
Flinders Chase National Park along with half a dozen Conservation Parks around the island are great places to spot wildlife. The parks all have walking tracks which offer chances to spot kangaroos, wallabies, echidnas, koalas, goannas and a range of bird species. You'll never quite know what you'll see and when you'll see it, but that's wildlife spotting for you! There is so much wildlife on KI you're bound to see something.
LIKE IT… PIN IT FOR LATER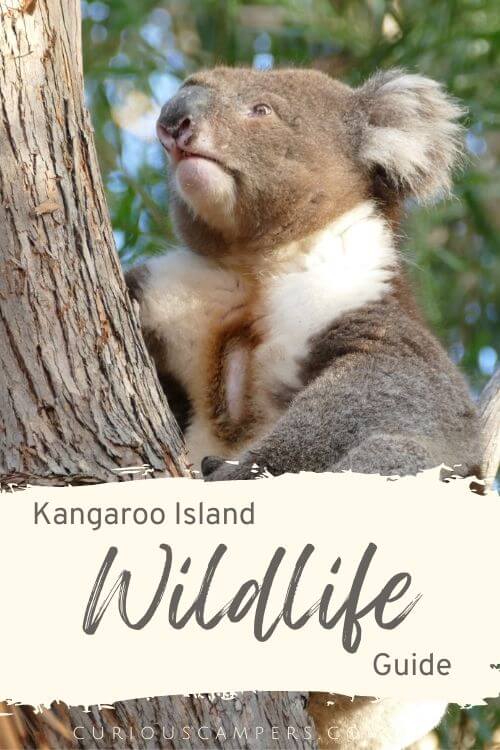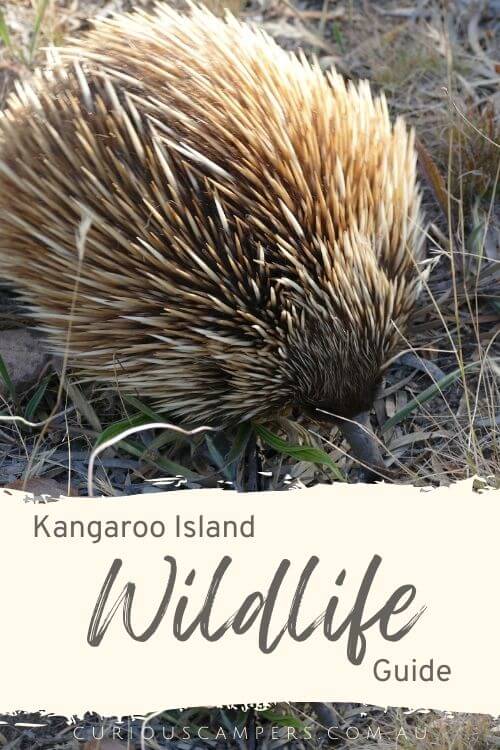 500 Things to do
Join our mailing list and receive our Free Top 500 things to do in Australia. If you love Australian Outdoor Experiences download this list and keep it handy when you are planning a weekend away or a road trip around Australia.