The hop on, hop off bus in Hobart is a great way to see the city . It is an historical degustation. In this 90 minute city loop tour you experience sites which are not only integral to Tasmania's history, they are woven into the fabric of Australia.
The 90 minute city loop officially starts and finishes by the Tasmanian Travel Information Centre in the heart of Hobart. You can buy your city loop Hop on Hop off ticket online.
Spotting the bus is easy. Look for a bright red double decker. If you can, try to sit in the open top deck. If it's a cool day take a scarf and beanie and get up there, it's a great view.
Each seat on the bus has its own audio system. It allows you to listen to the commentary in one of eight languages including English. Complimentary headsets are available on the bus. 
Disclosure: Please note that some links in this post may be affiliate links, and at no additional cost to you, we earn a small commission if you make a purchase. Commissions are appreciated and go toward maintaining the Curious Campers website.
Cascade Brewery and Female Factory
It was a beautiful day for our lap of city. We rugged up and settled into our seats up top. Rather than going into the city we parked in nearby Sandy Bay and hopped on the bus there. Between November and April buses return to each stop every hour. During winter the wait between buses is an hour and a half.
The first thing we liked about this activity was that someone else was doing the driving. It was a nice change to not worry about navigating through a new city or looking out for brown tourist signs.
From where we hopped on, the first two stops are the Cascade Brewery and the Female Factory. I make a mental note of the brewery, Australia's oldest, to be a return location. The harshly named Female Factory was the prison for convict women and children. It's a must visit if you are tracing the state's convict past.
As the bus winds its way around the city in the shadow of Mount Wellington you hear information about each stop and also Hobart's history. It surprised me to learn Hobart was the first city in the southern Hemisphere to have an electrified tram network. Who knew?
The trams were also double-deckers, but they kept toppling over. In the end they cut the tippy trams in half and re-modeled them to be normal height. The trams stopped running in Tasmania in the late 1960's.
Hobart City Attractions
As we joined the bus mid-loop, we next found ourselves in the centre of Hobart. The Tasmanian Museum and Art Gallery, the Maritime Museum and the shopping district are all highlighted. The Cat and Fiddle arcade gets a special mention. On the hour in the middle of the arcade the Cat and the Fiddle nursery rhyme comes to life above the food court. Children will love it.
We drive past Hobart's General Post Office. It was from here that a telegram was sent announcing that Douglas Mawson had reached the South Pole. The sender of the telegram was fellow Antarctic explorer Roald Amundsen.
We stop at the Tasmanian Travel and Information Centre where the bus waits for 10 or 15 minutes before starting its next loop. It is a chance to hop off and have a quick look at the Mawson's Hut replica before continuing. It is right next door to the Information Centre.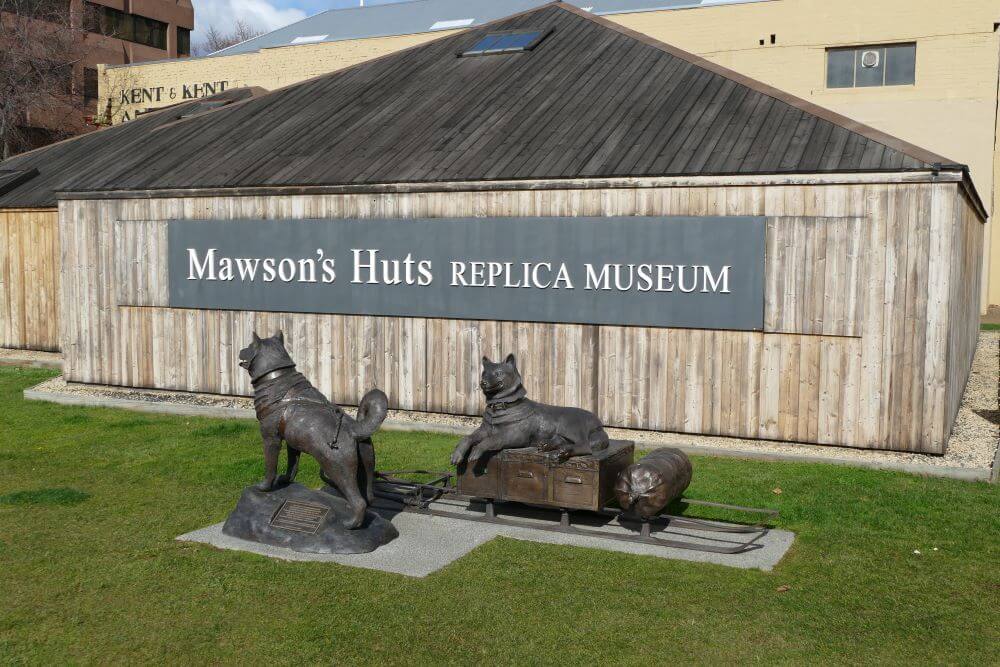 Royal Tasmanian Botanical Gardens
As our journey continues, we pass the heavy blue gates of the now closed Beaumaris Zoo. The zoo is famous for housing the last known Tasmanian tiger. I was surprised to hear the commentary announce that tigers have recently been seen in remote parts of the Tasmanian wilderness. Although we are skeptical, there's something exciting about the thought of an extinct animal still being around.
We stop and drop off a couple of passengers at the Botanical Gardens. If gardens are your thing, this is a must to come back and explore later. From there, we make our way along the waterfront past Victoria and Constitution Dock.
Hobart Waterfront
As the finishing line for one of the world's great yacht races, the Sydney to Hobart, I always imagined Constitution dock being bigger. There are a several old yachts moored there as we go past. I can only imagine the atmosphere between Christmas and New Year's when the dock fills up with boats as they complete the race.
We stop at the Brooke Street Pier where two elaborately decorated boats are docked – MONA 1 and 2. If you want to arrive at the MONA in style, you can ride in one of these ferries up the Derwent to the Museum.
Salamanca Place and Wrest Point
The final leg of our Hobart hop on hop ff sightseeing tour takes us past Salamanca Place, home to the famous Saturday markets, Battery Point and the beautiful St Georges Church. We catch a glimpse of Arthurs Circus – a collection of original cottages. It's an area history buffs will want to appreciate on foot.
The last sight on our lap is a more modern piece of history – Wrest Point, home to Australia's first legal casino. The red double decker bus does a tight U-turn out the front and heads back towards our car in Sandy Bay.
Hop off or stay on
The great thing about this city loop tour is that you can use it in a couple of different ways. We treated it as a preview of what there is to see around Hobart.  As we went along, we put a tick against the things we wanted to return to and explore later. The other option is to hop off and get back on later.
If you are travelling around Tasmania and have a few days in Hobart make sure you hop on the bus tour and see what Hobart city has to offer.
Hop on Hop Off Bus Tour of Hobart –  See the best of Tasmania's capital at your leisure with this great value. Your choice of either a 24 or 48 hour Hop on Hop Off ticket which stops at 20 of Hobart's top attractions and must-see sights. The city loop that this sightseeing bus follows includes stops at essential Hobart highlights such as historic Battery Point, Salamanca Place, St. George's Church, the Cascade Brewery and much more.
500 Things to do
Join our mailing list and receive our Free Top 500 things to do in Australia. If you love Australian Outdoor Experiences download this list and keep it handy when you are planning a weekend away or a road trip around Australia.