Hobart to Strahan is one of the best road trips in Tasmania. From the beautiful harbourside capital, the drive takes you through the Derwent Valley and past some of Tasmania's most popular national parks – Mount Field, and Lake St Clair. You descend to the coast through Queenstown, an historic mining town at the foot of Mt Lyell.
Strahan is a popular access point for the Franklin-Gordon Wild Rivers National Park, the train rides and cruises up the Franklin River are two of the most best sightseeing activities in Tasmania. The 300km drive can easily be done in one day, but there is so much to do on the way the road trip could take you a few days. It is worth spending a night or two in New Norfolk and Lake St Clair if you have time.
Featured Image – 99 Bends Road Queenstown © Pete Harmsen
Disclosure: Please Note That Some Links In This Post May Be Affiliate Links, And At No Additional Cost To You, We Earn A Small Commission If You Make A Purchase. Commissions Go Toward Maintaining The Curious Campers Website.
Hobart to Strahan Road Trip FAQ's
How long is the drive?
How long is the drive from Hobart to Strahan?
The most direct route between Hobart and Strahan is 300km which will take you a bit over 4 hours to drive if you go straight through. But there is so much to do, the drive could easily take as much time as you are able to give it.
Road Conditions
What are the road conditions like between Hobart and Strahan?
The road between Hobart and Strahan is sealed. There are two main things to watch for on the drive. First, the road does get windy as you approach Queenstown and stays like that most of the way to Strahan. The further west you go, the more likely you are to encounter wet and possibly icy conditions so be aware of the weather before you set off.
National Park Pass
Do I need a Tasmanian National Parks Pass?
You will need a National Park Pass for several of the attractions along the way including Mount Field National Park and Lake St. Clair National Park. There are so many great parks in Tasmania, best buy one online before your trip.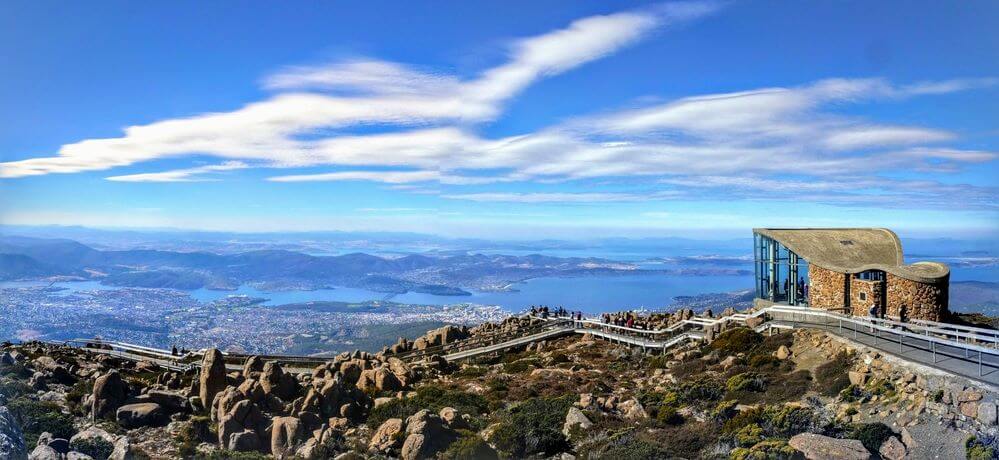 Kunanyi / Mount Wellington
Hobart to Mount Wellington 17km | 30 min
Okay, we know Kunanyi / Mount Wellington is not really on the route between Hobart and Strahan. But, if you want to mark the start of your road trip in style, this is the place to do it. Towering 1200m above Hobart, Mount Wellington is the spot to go for incredible views, bush walks and to see some snow in winter. Check out the Organ Pipe rock features or even go on a bike ride down the mountain. If you want a spectacular start to you Hobart to Strahan road trip, this is the place.
Day Tours to Mount Wellington
Read More : More Amazing Day Trips from Hobart
New Norfolk
Mount Wellington to New Norfolk 78km | 1 hour 20 minutes
New Norfolk might not be far out of Hobart, but it is one of those pretty Tasmanian towns that begs to be explored. In the historic Willow Court precinct, you can go antiquing or try one of the many coffee shops and cafes. The tree-lined river is a picture of autumn colour in April and May. Head up to Pulpit Rock for a bird's eye view of the Derwent River and New Norfolk, it's a magic scene any time of year. For history buffs, New Norfolk has Australia's oldest Anglican church, one of the oldest pubs in Australia – the Bush Inn – and the oldest mental hospital at Willow Court.
New Norfolk Accommodation Options
Base Camp Tasmania A bush retreat for nature lovers. Grab a bungalow or unpowered campsite. Near Mt Field NP.
Old Colony Inn Cute little bed & breakfast in New Norfolk with garden views.
Explorers Lodge Enjoy the cosy guest lounge with fireplace and sundeck. Self contained apartments 2 min from town
Salmon Ponds at Plenty
New Norfolk to Plenty 9km | 8 minutes
This is a fabulous spot in the tiny village of Plenty. The Salmon Ponds Heritage Hatchery and Gardens has a little something for everyone. The grounds ae stunning, if there weren't fishponds everywhere, the place could easily be an arboretum with many mature trees dotted around the grounds.
But it's the trout and salmon ponds that most people come to look at. From Rainbow and Tiger Trout to Atlantic Salmon, you can see the fish up close and feed them which is a splashy good time and a great family activity. There is a café that serves up delicious crepes and pancakes, a fascinating trout fishing museum and picnic and BBQ facilities. You can easily spend a couple of hours here.
Day Tours to Derwent Valley
Drink Derwent Valley – Visit Winery, Distilleries and Farm Bar & taste wine, whisky, rum, gin, cider + more
Read More : Read More : A Salmon Ponds Family Day Out
Mount Field National Park
Plenty to Mount Field National Park 29km | 28 minutes
Mount Field National Park is Tasmania's oldest national park and one of its most popular. There are two sections. The lower rainforest section has Russell Falls which are beautiful and easy to access. The Three Falls Walk takes you past more falls and to the Tall Trees Loop where you can gaze skywards at giant swamp gums – the tallest flowering plants in the world.
The upper part of the park takes you out of the rainforest and up to the sub alpine environment around Lake Dobson. A popular skiing area in winter, the walks around Lake Dobson could not be more different to the forest around Russell Falls. The 1.5km Pandani Grove Nature Walk around the lake and between these amazing palms endemic to Tasmania is a real highlight.
Day Tours to Mount Field
Read More : Great Walks & Waterfalls at Mount Field
Lawrenny Estate
Mount Field to Lawrenny Estate 33km | 32 minutes
Drive past their prize-winning black angus beef cattle and arrive at the gorgeous grounds and mansion originally established in the early 1800s. More recently, the grounds have been brought back to their original glory and make the perfect setting to try their gins, whisky, vodka and liqueurs. The cellar door is open every day, see how their produce makes the journey from the hops grown on the grounds to the fermenting barrels.
Tarraleah Hydro Station
Lawrenny to Taraleah Hydro 45km | 36 minutes
Hydroelectricity has and continues play a huge role in Tasmania. To get a taste of the history of the industry, take a short detour off the Lyall Highway along Oldina Drive to the small carpark at the Tarraleah Lookout. As well as amazing views of the hydroelectric infrastructure, there is also some great signage explaining the historic and technical aspects of the dam. The view down into the valley is good too, well worth the quick stop.
Wall in the Wilderness
Taraleah Hydro to Wall in the Wilderness 44km | 33 minutes
Located just east of Derwent Bridge, the Wall in the Wilderness is a 3m high, 100m long Huon pine carving. It is an absolutely amazing piece of work that depicts various themes and aspects of the natural and human history of the region. The detail is exquisite. We found ourselves staring at sections in disbelief that you could create this kind of texture and detail in wood. From the skin and veins on the back of a hand to the worn leather of saddle, elements of the sculpture and incredibly life-like.
Artist Greg Duncan is the creator of the sculpture, which is housed in a very long, very stylish shed complete with gift shop and open fireplaces. We must admit to baulking at the admission fee of nearly $20 each but after spending and hour walking up and down the wall, we wouldn't hesitate to say it was money well spent. Photographing the wall is not allowed, in a way that made us slow down and take it all in. It was a highlight of our Hobart to Strahan road trip.
Lake St Clair
Wall in the Wilderness to Lake St Clair Visitor Centre 7km | 8 minutes
Part of the Cradle Mountain – Lake St Clair National Park, the size of the carpark, visitor centre and restaurant are a testament to the popularity of the Lake St Clare section. As well as the fishing, kayaking, boating and, for the brave, swimming in the lake, there are also many walks that take you into the old growth rainforests and alpine peaks in the park. If you only have an hour or two, try short walks on the Watersmeet Nature Trail or the Platypus Bay Track. It's one of Tasmania's 60 Great Short Walk.
If you stay overnight at Lake St Clair, the more challenging Echo Point or Mount Rufus hikes might be on your list. Lake St Clare is also the finishing line for the Overland Track, the 65km, 6 day hike between from Cradle Mountain. Whether you go for a short stroll or long hike, you'll love the wilderness landscape and wildlife on offer.
Lake St Clair Accommodation Options
Pumphouse Point Adults only exclusive retreat over the lake. Find a picnic in your room, nearby walks
Lake St Clair Lodge – Located in the National Park choose a studio, cabin or cottage. Stunning lake views
Derwent Bridge Chalets Self catering chalets & studios perfect for couples & families. Just 5km from visitor centre
Franklin River Nature Trail
Lake St Clair Visitor Centre to Franklin River Nature Trail 31km | 28 minutes
This is an unassuming trail right on the Lyell Highway gets a nod as one of Tasmania's 60 Great Short Walks. Just west of Derwent Bridge, the Franklin River Nature Trail is an easy 1km, 25 minute loop that gives you a great taste of the Franklin River and the rainforest. It is the perfect spot to stretch your legs and soak up the beauty of the forest, the sound of the river and take in small things like the delicate fungi growing on the tree trunks. There are toilets here too.
Read More : More Short Walks at Cradle Mountain
Frenchman's Cap Hike
Franklin River Trail to Frenchman's Cap Carpark 4km | 4 min
On your Hobart to Strahan road trip, you might not have time to do the challenging 3 -5 day hike to Frenchman's Cap, but you should still stop here for the much shorter walk to the Franklin River. A short, easy walk takes you to the narrow suspension bridge over the river. And when we say narrow, it is maybe 30cm wide. It is an amazing sight and defiantly worth stopping for.
Donaghy's Lookout
Frenchman's Cap Park to Donaghy's Hill Carpark 5km | 5 min
This is another one of Tasmania's 60 Great Short Walks. The hike to the lookout and back is a fairly easy 2.2km, 40 minute walk. It is slightly uphill on the way there but as you emerge from the forest onto the open ridge, you'll be too distracted by the view to notice the incline. If you get a fine day there are fantastic views of the Franklin River, Frenchman's Cap and the forest.
Nelson Falls Walk
Donaghy's Hill Carpark to Nelson Falls 24km | 21 minutes
This spot between Lake Bunbury and Derwent Bridge is another chance to stretch your legs, tick off another of Tasmania's 60 great Short Walks and see a beautiful waterfall. You get a lot of value from this easy 1.4km, 20 minute return walk. You can follow the time travel path to get an idea of how the forest and climate of the area has changed over hundreds of millions of years.
See how many of the 7 different ferns that grow here you can spot. Some to look out for include the mothershield, fishbone, filmy and hard water ferns. When you are not fern-spotting, admire everything from giant sassafras and myrtle trees to tiny colourful fungi. And then there's Nelson Falls. In this wet part of Tasmania, you'll likely see a good flow down the rocky, moss-covered face. This is a pretty spot with lots of informative signage.
Iron Blow Lookout
Nelson Falls Carpark to Iron Blow Lookout 23km | 21 minutes
As you wind your way down through the Linda Valley towards Queenstown, this is both a sobering and spectacular stop at the site of an abandoned open pit copper mine in Gormanston. From the carpark it is an easy walk to the viewing platform where you can gaze down into the water-filled pit. On a sunny day the water glows turquoise blue, adding a flash of colour to a scene best described as a moonscape. It is a stark contrast to the lush forest walks and wilderness you see earlier in the road trip. There is lots of signage here telling you about the area.
Horse Trail Falls
Iron Blow Lookout to Horse Trail Falls Carpark 1.2km | 2 minutes
The turn off is right across the road from the Iron Blow Lookout Road and it is worth a stop here too. You get to tick off another hike on the list of Tasmania's 60 Great Short Walks. This 1km, 30 min return walk takes you on a boardwalk along the side of a mountain – it is one of those things you look at and wonder how they made it. Moore Creek spills down the 50m+ tall falls in the shape of a horsetail, the wetter it has been, the more spectacular they are. Just a tip, some of the best views are from part way along the boardwalk, the view doesn't really get better the further you go. From the carpark you also get a good view of the 99 Bends Road.
Historic Queenstown
Horse Trail Falls Carpark to Queenstown 5km | 8 minutes
Heavy mining and forestry have created a desolate backdrop for Queenstown, with denuded, mineral stained hills, including the imposing Mt Lyall, surrounding the town. If you can get past the environmental damage, the lunar landscape that has been left behind is quite a sight. The main attraction in town is the old train station, from where you can catch the West Coast Wilderness Railway into the forest. The Miners Siding display near the train station is interesting to look around too. You can also do tours of the old Mt Lyall mine to get an insight into this part of Queenstown's history.
Day Tours from Queenstown
Strahan
Queenstown to Strahan 41km | 44 minutes
When you arrive in Strahan you have made it to the gateway of the Franklin-Gordon Wild Rivers National Park. Cruises and train rides into the national park await. The cruise up the Franklin River and around Macquarie harbour is brilliant. You get both an amazing view of the pristine wilderness and an insight into the town's convict and logging history too. There are more waterfalls to explore, wild coastline to walk along and the beautiful harbour to take in.
Read More : Strahan Wilderness Cruise
Day Tours from Strahan
Like it? Pin it for Later…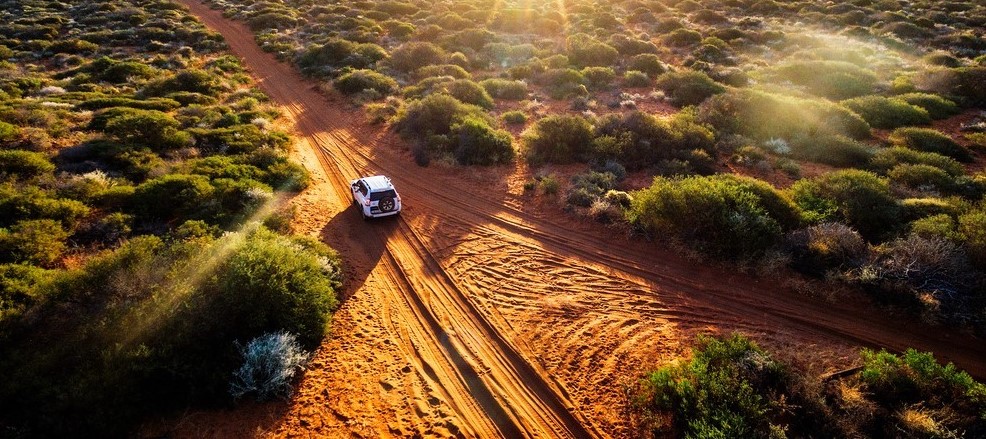 500 THINGS TO DO
Join our mailing list and receive our Free Top 500 things to do in Australia. If you love the Australian Outdoors download this list and keep it handy when you are planning a weekend away or a road trip around Australia.
Recent Posts