The Gundabooka National Park is located off the Kidman Way around 50km south of Bourke. Its centrepiece is the striking Mt Gunderbooka, which rises abruptly 500m above the surrounding plains.
This area is Ngemba country and according to local law, the mountains and other features in this area are the sleeping bodes of ancestor beings, resting after creating the lands.
Guest Post from Andrew Mather, Member of our Facebook Group Australian Wildlife & Outdoor Experiences.
Disclosure: Please Note That Some Links In This Post May Be Affiliate Links, And At No Additional Cost To You, We Earn A Small Commission If You Make A Purchase. Commissions Go Toward Maintaining The Curious Campers Website.
Getting to Gundabooka National Park – The Kidman Way
Running approx. 650km from Jerilderie to the South to Bourke in the North, the Kidman Way is a popular route for travellers making their way to and from Queensland. It's the most Westerly of the main highways through NSW and parts of it roughly follow stock routes traversed by drovers moving stock for the famous pastoralist Sir Sidney Kidman.
Much of the country is arid, but rich in Indigenous significance, as well as the pastoral history of Australia, with the road passing through towns such as Bourke and Cobar and over rivers including the Murrumbidgee and Darling.
From the European perspective, the area was noted by explorer Charles Sturt in 1829, but wasn't settled until much later that Century. In the late 1800's, Bourke was home to the soon-to-be famous Henry Lawson. The area had a profound affect on him and he produced some of his best work during his time in the Outback.
Origin of the Park
After WW1, the area was subdivided into smaller stations for Soldier Settlement. The area is marginal farming country and many of the stations could not remain viable, so they were either amalgamated into larger properties, or simply abandoned.
Three of the smaller stations from that era, Ben Lomond, Belah and Mulgowan, make up the 43,000 hectare Gundabooka National Park. Around the park, visitors can find many signs of the earlier inhabitants, both indigenous and European.
Gundabooka National Park Camping
Gundabooka National Park has 3 campgrounds and 2 sites where accommodation is available in former station buildings. We have stayed at two of the campgrounds, Dry Tank and Yanda.
Due to limited accommodation and seasonal closures, ensure you check availability before heading out. Camping sites must be booked and paid for in advance online. No National Park Entry Fees Apply for Gundabooka National Park.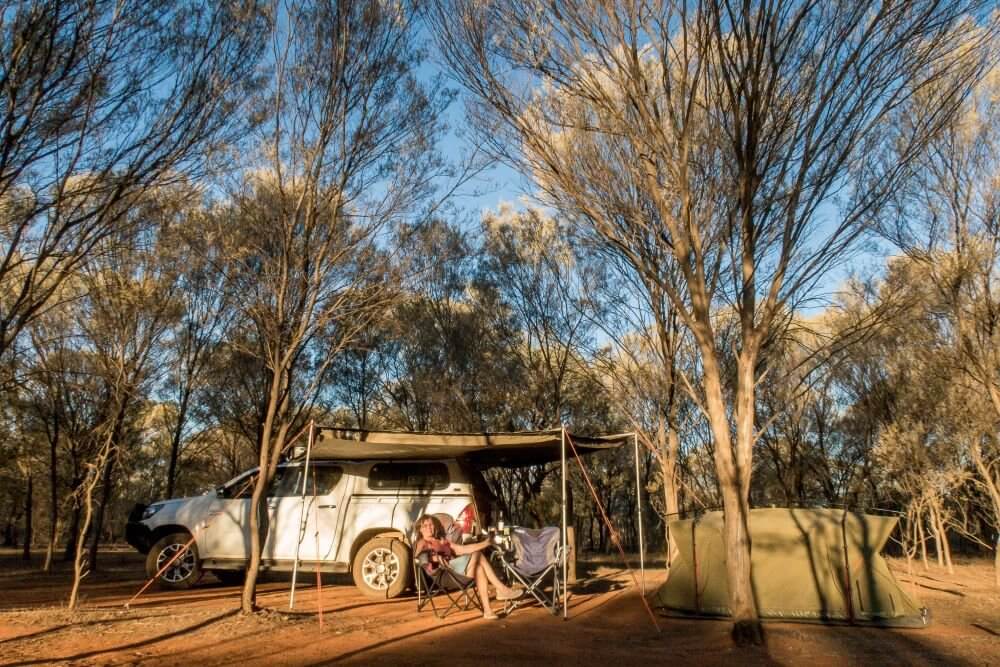 Dry Tank Camp Ground
This is the first campground you come to. It is a 20km drive into the park along a well-made dirt road that is passable in a 2WD unless there has been recent rain. There are long-drop toilets with non-potable handwashing sinks. Camping is available for caravans, camper trailers and tents, including beside your car.
Fire-pits are present at some sites although no firewood is provided and firewood gathering is not permitted, so BYO firewood.
This campground makes an excellent base to explore the indigenous art site at Mulgowan (Yappa) described below.
Yanda Campground
Yanda campground is on the banks of the Darling River and can be accessed from the Bourke-Louth Rd, or via an interesting drive through the Gundabooka National Park from the Dry Tank and Yappa areas of the park. This drive takes you past some of the abandoned station buildings and stockyards. Again, the road is dirt, but should be passable in 2WD except after rain.
The campground at Yanda has long-drop toilets with non-potable water both at the toilets and picnic shelters. Camp sites are available for both caravans and tents and camping beside your vehicle is possible.
Electric hotplate BBQ's are available in a couple of picnic shelters. Due to flooding, it is not possible to camp right on the banks of the river.
When we were there, it was in the worst part of the drought and the river was a series of stagnant pools, but when there is water in the river it would be stunning. Before the drought, fishing was a popular pastime here, but this may take some time to recover. Even though the water was almost gone, there was plenty of birdlife.
There are no marked walks around the camp, but it is possible to walk for miles either way along the river and sunsets and sunrises over the water are spectacular.
Belah Shearers' Quarters
If you would rather have a four solid walls and a roof over your head, try the Belah Shearers' Quarters. You will still have to have your own drinking water but the accommodation that sleeps up to 12 in 6 bedrooms has toilets, showers, kitchen and an BBQ. You need to supply bedding, towels and firewood.
The Shearers' Quarters are not far from the Dry Tank Campground and Little Mountain Lookout.
Read More : Great free & low cost campgrounds in New South Wales
Things to do in Gundabooka
Attractions Gundabooka National Park include walks which explore indigenous sites and remnants from the days when the park was sheep stations. These range from short walks around the camping areas and an indigenous rock-art site, to a strenuous hike to the summit of Mt Gunderabooka.
These walks provide opportunities for wildlife watching and experiencing an unspoiled outback environment. The internal roads within the park are all well-made and should be 2WD accessible other than after rain, so touring in the car is an ideal way to cover the large area of this park. As always and whatever vehicle you travel in, always drive to local conditions.
As with all walks in this area, appropriate footwear, sunscreen, hat and insect repellent are required, as well as plenty of drinking water. The area is remote and there is little to no mobile phone reception. Hikers should exercise caution in summer as temperatures can be extreme.
Little Mountain Walk
This easy 4.8km walk starts at the Dry Tank campground. The well-made track takes you through outback bush country, where at the right time of year, the ground is carpeted with wildflowers.
We visited in early September and the white and yellow everlasting daisies put on a spectacular show. There is a short hill climb towards the end of the walk which includes rock steps, so proper footwear is required. This part of the walk is unsuitable for those with mobility aids.
The Little Mountain walk leads to a lookout, which provides a panoramic view towards the mountain and excellent sunset viewing. Remember your torch to get back to camp!
Mulgowan (Yappa) Indigenous Rock Art Site
A short drive on well-made dirt roads from the Dry Tank campground, this site includes a short 1.4km walk, which starts at a well-equipped picnic area with interpretive signage, long-drop toilets, some picnic shelters and plenty of shady parking spots.
The track is well marked, but does cross some rocky areas and includes some steps and uneven ground. When you reach the site, it's not difficult to imagine the area as it was, with families, ceremonies and kids playing in the waterholes. The art is well-preserved and access is via raised walkways to highlight the area while protecting it.
Valley of the Eagles
This is a 6km return walk that starts in the Bennets Gorge picnic area, where there are long-drop toilets, picnic shelters and plenty of parking. The trail crosses some low country, before making its way up the steep and rocky slopes to the summit of Mt Gunderabooka. Return is via the same path.
The views from the summit of the mountain are well worth the effort to get there. A reasonable level of fitness is required for this walk and although the track is well marked, there are some areas of loose rocks to traverse. Enjoy the stunning 360 degree views and spend some time on the summit and don't forget the camera!
Read More : Visit the spectacular Mungo National Park
Other Things to do in the Region
The district's towns have a variety of historical attractions and streetscapes.
In nearby Brewarrina, you can visit one of two World Heritage listed sites and see fish traps, thought to be between 50,000 and 60,000 years old. The other such site is Budj Bim (Mt Eccles) in Western Victoria.
Another popular attraction near Bourke, is Mt Oxley, which requires a permit, available from the tourist information centre in Bourke. There is local legend that the rocks on top of the mountain explode periodically, and craters and shattered rocks cover the summit.
In Cobar the Great Cobar Heritage Centre and the Heritage walk gives you a great insight into the towns mining history. The Fort Bourke Hill Lookout has views of the open cut mine and is a spectacular place to watch the sun set.
The Mount Grenfell art site walk is 70 Kilometres from Cobar. It is an easy walk that takes you to 3 sites where you can view rock art of the Ngiyampaa People.
If you enjoyed this story you might also like:
Explore Broken Hill | Things to do in Mildura | National Parks NSW
Like it? Pin it for Later…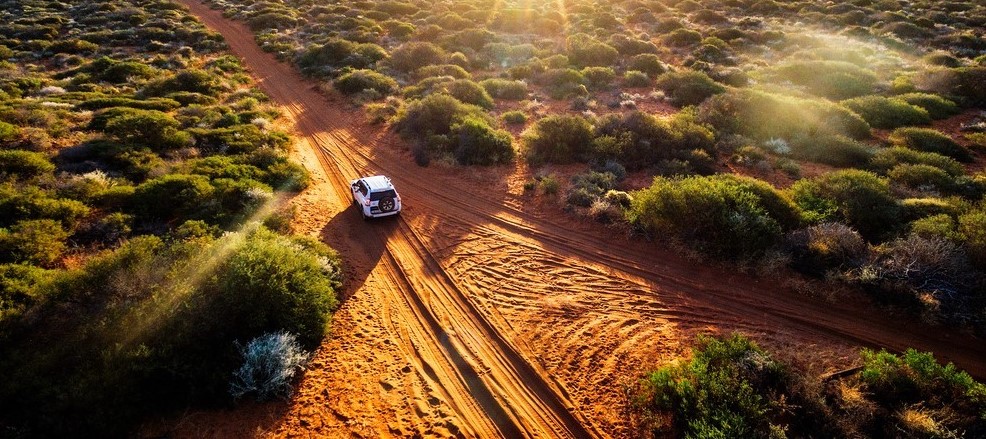 500 THINGS TO DO
Join our mailing list and receive our Free Top 500 things to do in Australia. If you love the Australian Outdoors download this list and keep it handy when you are planning a weekend away or a road trip around Australia.
Recent Posts