Emu Bay is on the North Coast of Kangaroo Island. It has one of the best beaches on Kangaroo Island, but there are lots of other things to do in Emu Bay besides hitting the sand. It is also a great spot to sample Kangaroo Island's wildlife and artisan food scene.
Emu Bay was originally known as Maxwell but its name was changed in 1941. Despite the change of name, one thing in Emu Bay you won't be doing is spotting any emus. There used to be a dwarf emu species on Kangaroo Island, but they became extinct in the early 1800s. The only emu you'll see on Kangaroo Island now is the tiny emu wren that lives mainly on the south and west coasts of KI.​
Disclosure: Please Note That Some Links In This Post May Be Affiliate Links, And At No Additional Cost To You, We Earn A Small Commission If You Make A Purchase. Commissions Go Toward Maintaining The Curious Campers Website.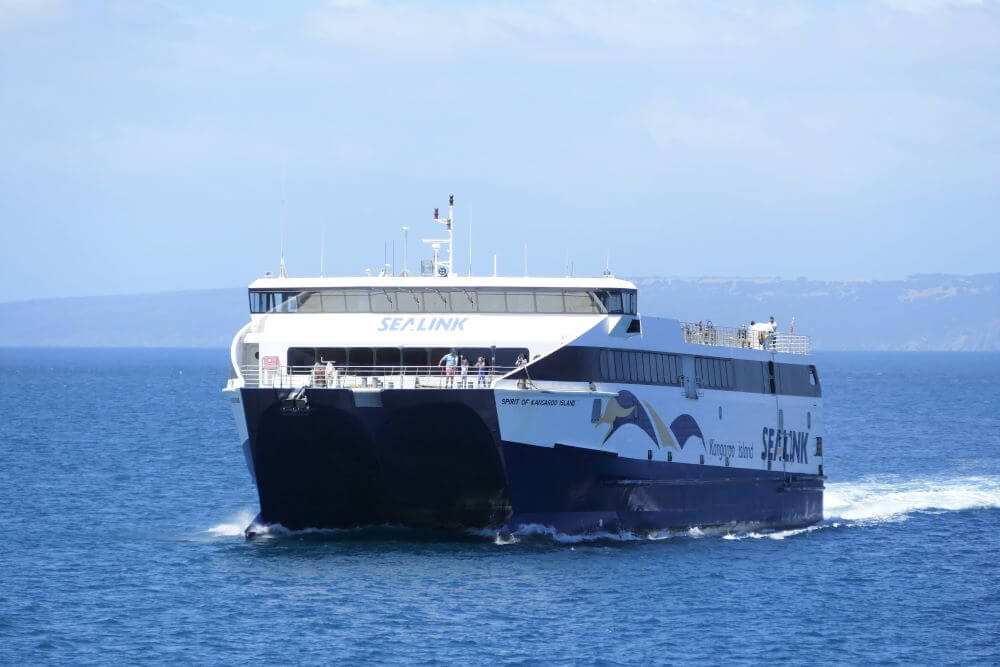 Getting To Emu Bay
Before you get to Emu Bay, you need to get to Kangaroo Island which is located off the tip of South Australia's Fleurieu Peninsula. The SeaLink ferry terminal is in Cape Jervis, 90 minutes from Adelaide. From there it is a 50 minute ferry ride to Penneshaw and a 50 minute drive to Emu Bay. There are multiple services a day between Kangaroo Island and the mainland.
If you are based at the Kangaroo Island's main town of Kingscote, it is a 15 minute drive to Emu Bay. If you have spent some time exploring the west coast of Kangaroo Island, Emu Bay is 70 minutes from the Kangaroo Island Discovery Park (formerly Western KI Caravan Park).
Things to do in Emu Bay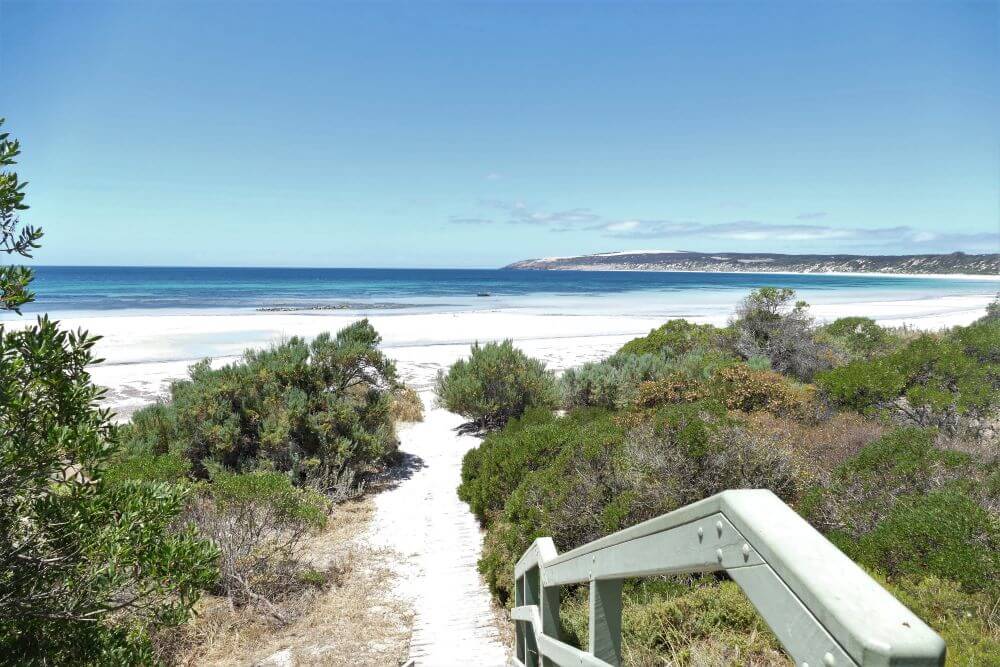 Emu Bay Beach
There is no shortage of beautiful beaches on Kangaroo Island and Emu Bay Beach is one of the best. Situated on the north coast of the island, the water is often calmer here than on the island's western and southern sides. The 4km long bay, white sand and clear turquoise water is stunning.
A highlight of Emu Bay beach is that you can drive onto it. The sand is firm enough that 2WDs can make the journey along the beach too. This means, even when it is busy, you can find your own patch of sand and water to set up for the day. Beach access is off the main road near the Emu Bay Campground, watch for the signs. Spend your day swimming, paddling, fishing or taking in the wonderful views.
If you are a bit of a rock hound you might notice some interesting formations near both the jetty and at points as you drive along the beach. The area is famous for its Emu Bay shale. Just beyond Emu Bay to the east between Bald Rock and Big Gully Creek the rocks have the fossilised remains of over 50 species. It is also one of only two sites in the world that contain a particular species of trilobite.
Snorkelling
The water is so clear here we couldn't resist slipping on our snorkelling gear. We snorkelled out over the sand and onto the patches of rock and sea grass and there was plenty to see. Visibility was 10+ metres and in the calm conditions we spotted all sort of colourful fish and a couple of big schools. Earlier on in the day we saw a dozen dolphins cruise through only 40 or 50 metres from shore. Despite a lot of wishful thinking, we couldn't summon them back but keep an eye out when you are in the water, they are around.
Emu Bay Jetty, Foreshore and Café
If you'd rather not get the feeling of sand between your toes, you can still enjoy Emu Bay views from the foreshore. Clamber over the 500 million year old Emu Bay shales around the jetty. Have a picnic or BBQ on the big grass reserve, and there is a small playground too. In warmer months, between the foreshore area and road onto the beach, you'll find the Mini de Lights pop up café which has a great range of snacks for your day at Emu Bay.
Since being built in 1918 to help local farmers get their produce to market, the Emu Bay Jetty has been shortened and lengthened a couple of times. These days the jetty is a great place to walk for views back across Emu Bay. It's also a good fishing jetty, with patches of sandy and weedy bottom. Keep an eye for the pelicans that appear around the jetty, they are enormous and can tell if someone is cleaning fish from miles away.
Dolphin Cruise + Swim
Emu Bay is one of a couple of locations on Kangaroo Island where you can go on a cruise to spot and swim with wild dolphins. We have been on the Emu Bay dolphin cruise, and it is one of the best wildlife experiences on Kangaroo Island. Kangaroo Island is home to a population of bottle nose dolphins. After a night of fishing, they come back to rest in some in the bays along the island's north coast. While there are no guarantees with wildlife, you'll likely spot dozens of dolphins on the cruise.
The best bit is also having the chance to swim with them. Unlike some dolphin experiences, here you don't get dragged behind the boat, you can get in the water and swim amongst the pod, it's amazing. If you prefer to stay dry, you will still get great views of the dolphins in the clear water. You might spot eagles and seals and even whales in winter.
During summer the half day cruise leaves from the Emu Bay Jetty. During the winter months the cruise departs from Kingscote.. Put it on your list of things to do if you are spending any time in Emu Bay.
Swim with Dolphins on Kangaroo Island – See seals, sea eagles and ospreys, view ancient fossil beds and experience the magic of swimming with wild bottlenose dolphins in the protected waters
Emu Bay Lavender Farm
On your way into Emu Bay, you might notice a purple haze on your right about 5 minutes before you reach the beach. That is the Emu Bay Lavender Farm. There are a lot of reasons to stop and have a look around this working lavender farm. If you visit in summer, you'll see the wide variety of lavender bushes blooming in all their mauve glory. You'll have a lot of fun trying to capture that perfect lavender picture!
There is a huge range of lavender products to see, smell, taste and buy. From teas and honey to a wide range of body and wellness products, if you want to get a little lavender into your life, you'll can do it here. And the café is wonderful too. There is indoor and outdoor dining available. When the bushes are flowering the view from your table outside is fantastic. There is a good café-style menu which is perfect for snacks and lunch. Whatever you decide to have, make sure you finish with one of their delicious lavender scones.
Kangaroo Island Hop on Hop off Wine Tour – Stop at many of the KI Gourmet Experiences such as Bay of Shoals Wines, Cliffords Honey Farm, Emu Ridge, Emu Bay Lavender Farm, Kangaroo Island Spirits + more
Read More : Plan your Kangaroo Island Holiday Here
Kangaroo Island Brewery
If you prefer amber to lavender, only 12 minutes from Emu Bay you'll find the Kangaroo Island Brewery. This place has a friendly atmosphere, and the building has a real old-world charm to it. It is the perfect place if you want to kick back, and sample a few beers especially brewed to capture the essence of Kangaroo Island. Try a Golden, Amber or Indian Pale Ale or for something heartier their Sheoak Stout. Ploughman's boards with bread, cheese, pickles etc are available every day.
Wallaby Run
Wallaby Run is a dirt track that runs roughly parallel to Emu Bay. You'll see the turn off from Emu Bay Road on your right a couple of minutes before you reach the foreshore. If you enjoy a wildlife activity, drive slowly along Wallaby Run in the late afternoon and keep an eye out on the beach side of the car.
Hiding amongst the trees and bushes are Tammar Wallabies. They are easily spooked so take your time and look carefully; they are good at blending in with their habitat. The track is a little rough, low clearance 2WD might want to give it a miss. We also spotted an echidna and a couple of KI kangaroos so if you like the idea of a native wildlife safari give this one a try. Allow 30-60 minutes depending how far along the track you go.
Read More : Find More Wildlife on Kangaroo Island
Emu Bay Accommodation
There is accommodation in Emu Bay to suit all budgets. We have listed a few of our favourites below. Besides these you will also find a lot of Emu Bay holiday houses on Booking.com.
Emu Bay Holiday Homes
Our top pick for Emu Bay accommodation is Emu Bay Holiday Homes. Set up on a hill with views of the beach, this collection of cabins, apartments, cottages and houses is set amongst beautiful gardens. The many birdbaths and beautiful grounds are a magnet for birdlife. You could sit on your porch and watch the birds for hours!
All the accommodation is well equipped and comfortable. We were always finding bits and pieces in the cupboards and drawers and thinking how handy it was to have that. There is a strong environmental focus here from water recycling to the 'green' kitchen and bathroom supplies. Besides the birdlife, keep an eye out too for echidnas and koalas, we spotted both during our stay.
The views, the comfort, the gardens and the friendly hosts make this one of our favourite stops anywhere around Australia. It's worth checking out if you find yourself on Kangaroo Island.
Stay at Emu Bay Holiday Homes – We stayed in a 1br cottage and it was absolutely perfect. We loved the views, wildlife and comfort. Offering convenience, peace and quiet. Make a cottage or house your base as you explore the attractions and beauty of Kangaroo Island
Emu Bay Campground
If you want to be close to the beach and jetty you can't beat the council run campground. Sites are available on a first come, first serve basis, fees are paid through a ticket kiosk at the campground. Pets are welcome here and the sites are suitable for caravans, but the facilities are basic. Toilets, picnic shelters and BBQs are 150m away on the foreshore near the beach.
Discovery Lagoon Caravan & Camping Grounds
This is a magic spot only 7 minutes from Emu Bay. These large unpowered sites are great for caravans or tents. The grounds are dotted with big river red gums and there is plenty of wildlife. In winter, if there has been enough rain, water birds flock to the lagoon and can be a spectacular sight. There is plenty of room to walk around the grounds and explore.
Besides a big site there is an amenities block, camp kitchen and laundry. If you are camping and need to charge your phone or laptop, lockable charging boxes are available. As well as the caravan and camping sites there are also some very cute solar powered eco glamping cottages if you're after a bit more comfort.
Read More : The Best Carvan & Camping on Kangaroo Island
Things to Do in Half a Day from Emu Bay
Emu Bay is a great base for exploring the north and south coast of Kangaroo Island. Here are some great half day activities to do from Emu Bay:
Pop into Kingscote and Brownlow – 15 minutes away
Try some wine and take in the views at Bay of Shoals Winery – 17 minutes away
Meet some native and exotic wildlife at Kangaroo Island Wildlife Park – 35 minutes away
Walk through a rock tunnel to discover beautiful Stokes Bay – 37 minutes away
Spend a day at some of KI's best south coast attractions: Seal Bay, Raptor Domain and Little Sahara – 45 minutes away
Get your car onto the sand again at Snelling Beach – 49 minutes away
Try snorkelling the rock pools and ledges at Western River – 60 minutes away
If you enjoyed this story you might also like:
Kangaroo Island Kayaking | Day Trips from Adelaide | Free Camping in SA
Like it? Pin it for Later…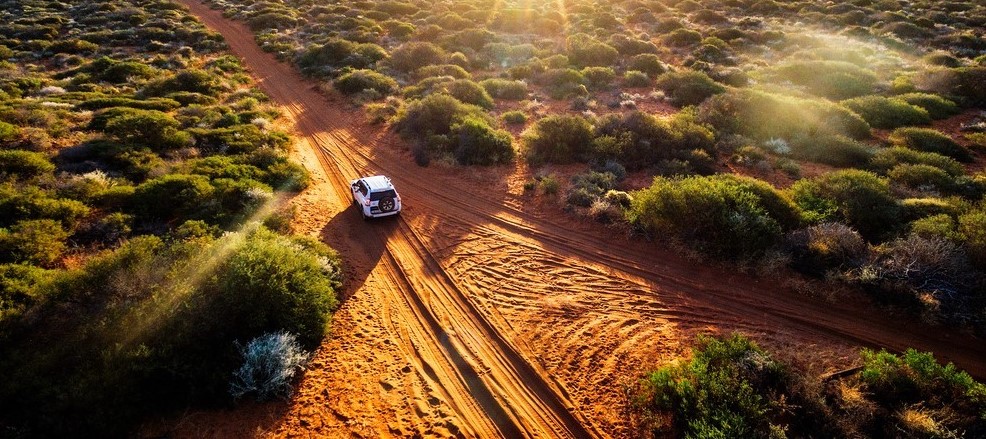 500 THINGS TO DO
Join our mailing list and receive our Free Top 500 things to do in Australia. If you love the Australian Outdoors download this list and keep it handy when you are planning a weekend away or a road trip around Australia.
Recent Posts