Deep Creek National Park is on the tip of Fleurieu Peninsula 90 minutes south of Adelaide. The park has over a dozen walks and challenging hikes. You can explore old growth forests and rugged coastline with views across Backstairs Passage to Kangaroo Island.
Deep Creek not only has a range of camping options, there's also charming cottages and luxury eco-retreats too. No matter your preferred accommodation, you'll find yourself surrounded by wildlife and close to the trailheads of the park's best walks. The park is great to visit year-round, cooler months offer some of the best conditions for walking.
Disclosure: Please Note That Some Links In This Post May Be Affiliate Links, And At No Additional Cost To You, We Earn A Small Commission If You Make A Purchase. Commissions Go Toward Maintaining The Curious Campers Website.
Deep Creek FAQ's
National Park Pass
To enter Deep Creek National Park you will require vehicle park pass. A one day pass can be purchased online for $13.
A 12 month pass for Deep Creek or Multi-Park Passes are also available.
Deep Creek Camping
You can book a site on the National Parks & Wildlife Service website.
Stringybark Campground (showers & flushing toilets) $36.50-$50 for up to 8 people per site
Eagle Waterhole-Wuldi Krikin Ngawanthi Campground (hikers only) $29.50
Cobbler Hill Campground (long drops) $25-$36 for up to 8 people per site
Tappanappa Campground (long drops) $25 for up to 7 people per site
Trig Campground (long drops) $25-$36 for up to 8 people per site
Deep Creek Wildlife
Look out for kangaroos, echidnas and plenty of birds that can be spotted in the park. Take care when driving at dawn or dusk as wildlife is often on the roads. Between May to October, southern right whales migrate along the southern coastline of Australia so keep an eye out from the lookouts.
Deep Creek Camping + Walks
There are five campgrounds spread across the park. Each has its own character and gives you easy access to different walks. Despite their variety, the Deep Creek campgrounds do have some things in common.
They can all be accessed by 2WD. Campfires are allowed in the designated pits from May to the end of October (but confirm restrictions when you visit), BYO firewood. All sites are un-powered, and you'll need to bring your own drinking water. Four legged family members will have to stay at home as there are no pets allowed.
You need to book your site prior to arrival. Camping at Deep Creek is popular in school holidays so plan well ahead if you are visiting then. Make your bookings through the National Parks and Wildlife SA website.
As well as the walking trails in the park, South Australia's famous Heysen Trail also weaves through Deep Creek. The 1200km long trail connects the Flinders Ranges with Cape Jervis which is just outside the park. Several walks in Deep Creek incorporate the Heysen Trail – look out for the red and white trail markers.
Here's what you can expect at each of the Deep Creek campgrounds and the walking trails near them…
Read More : Visit Rapid Bay for an Amazing Snorkel
Stringybark Campground
Located on Tapanappa Road, Stringybark Campground is the furthest from the coast, but you won't miss out on great scenery. The campground is set in an old forest of stringybarks, ferns and Xanthorea; it's stunning! The grounds have plenty of shade and protection from wind. The forest is teeming with wildlife. You could see kangaroos, wallabies, echidnas and all sorts of birds.
There are 16 campsites at the Stringybark Campground. It is the dearest of the campgrounds but for the extra money you get flushing toilets and hot – yes hot – showers. This is also one of two campgrounds that has multiple sites suitable for caravans. There is a picnic shelter available too.
Stringybark Campground Walks
Three of Deep Creek's easiest walks start in or near the camping area. The Forest Circuit (60 minutes) and Spring Wildflower (2.5 hours) walks both start in the campground. Down the road is the short but beautiful Stringybark Loop Walk (30 minutes).
The Spring Wildflower walk is obviously best…in spring. The two forest walks are great year round. At dawn and dusk you're a better chance of seeing wildlife but they look and smell great any time of day. All three walks are perfect for families.
The Park Headquarters are also near the Stringybark Campground. There is a picnic area there and you can get more information about the park.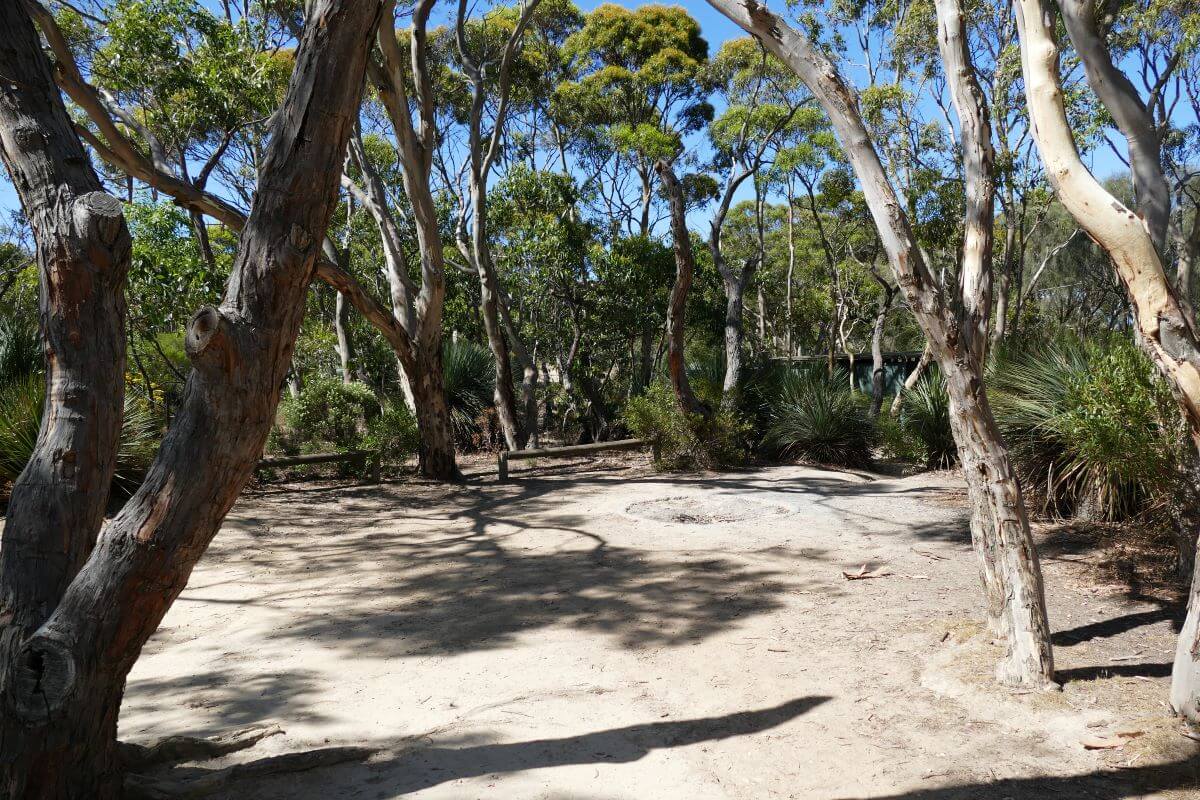 Trig Campground
This is the largest of the four campgrounds at Deep Creek with around 25 campsites. It is located at the end of Tent Rock Road. It is the other ground, along with Stringybark, that has sites for caravans. In fact, some of the sites are enormous! . There are drop toilets and picnic facilities and a fire pit on your site.
You are out of the dense forest here; the campground is instead dotted with spikey Yacka plants and trees. We are always amazed how spacious these campgrounds feel. As nice as it is to have that 'open' feel, it means you're a bit less protected when the wind gets up, and at Deep Creek it can get up.
Don't let that put you off though. There is still plenty of shade and we find there is a nice and relaxed vibe at Trig. It is also a convenient access point for three of Deep Creeks most popular and challenging walks.
Read More : More Camping Options in SA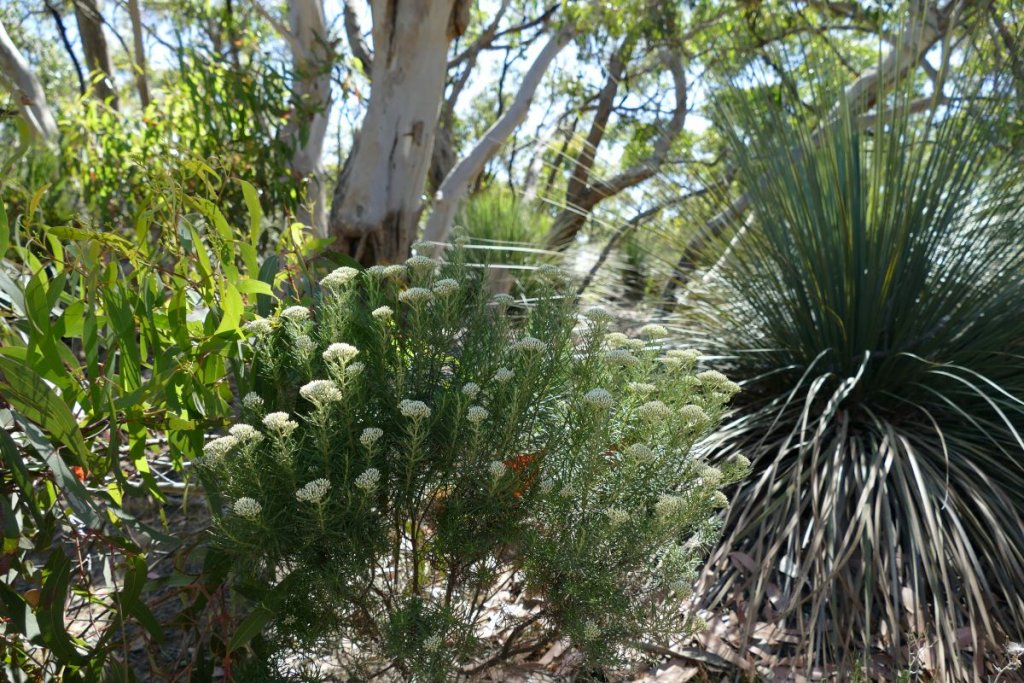 Trig Campground Walks
The Deep Creek waterfall hike is a 3.5 km, 2 hour hike to these always running falls in Deep Creek Valley. The track follows the Heysen trail. For coastal views, the Deep Creek Cove hike starts at the nearby Trig Picnic area. At the end of the walk there's a bit of a rock scramble to see where Deep Creek enters the ocean.
For serious, well prepared walkers the 7 hour, 11km Deep Creek Circuit hike starts at the same point as the waterfall hike. The circuit covers the two walks mentioned above plus two more accessed from the Tapanappa Lookout. It's as rewarding as it is demanding and shows off the best of the park. Beware, in winter, some creeks you need to cross can be impassable.
Read More : Spend the Day in Victor Harbor
Cobbler Hill Campground
The Cobbler Hill Campground is the smallest in Deep Creek with around 6 sites. Access is off Blowhole Beach Road. There are drop toilets and all sites have fire pits. There are a couple of sites that will fit a caravan, but most are better suited to tents.
Not every site here will give you shade and shelter. But what you do get is accommodation close to one of the Deep Creeks most popular spots – Blowhole Beach. This small beach is nestled between a couple of tall ridges and is one of the most beautiful spots in Deep Creek. The water can be turquoise blue and there are great views across to Kangaroo Island. Read our post about Blowhole Beach here.
Cobbler Hill Campground Walks
There are two walks near the campground that both incorporate Blowhole Beach. The Blowhole Beach hike is a short but steep walk from the Cobbler Hill Picnic area. The Cobbler Hill Marrano Creek Hike is a challenging 3.5 hour, 6.7 km loop track. It starts from the campground or picnic area and has great views of Kangaroo Island and the Pages Islands.
The Aaron Creek Picnic area is 5 minutes by car from the campground and is the trail head for the Aaron Creek Circuit hike. This 3 hour, 5.5km hike takes you through farmland, open bush dotted with huge yakka plants and down into Aaron Creek. It is big on views and wildlife. We saw heaps of kangaroos, lizards, an echidna and lots of birds.
You can extend the walk by 5km and do an out and back detour that takes you down a steep hill and along a rock scramble to where the creek meets the ocean. The full Aaron Creek walk is a tough but spectacular hike. Allow 6 hours for the 11km walk.
Read More : Don't miss Blow Hole Beach, it's is just down the road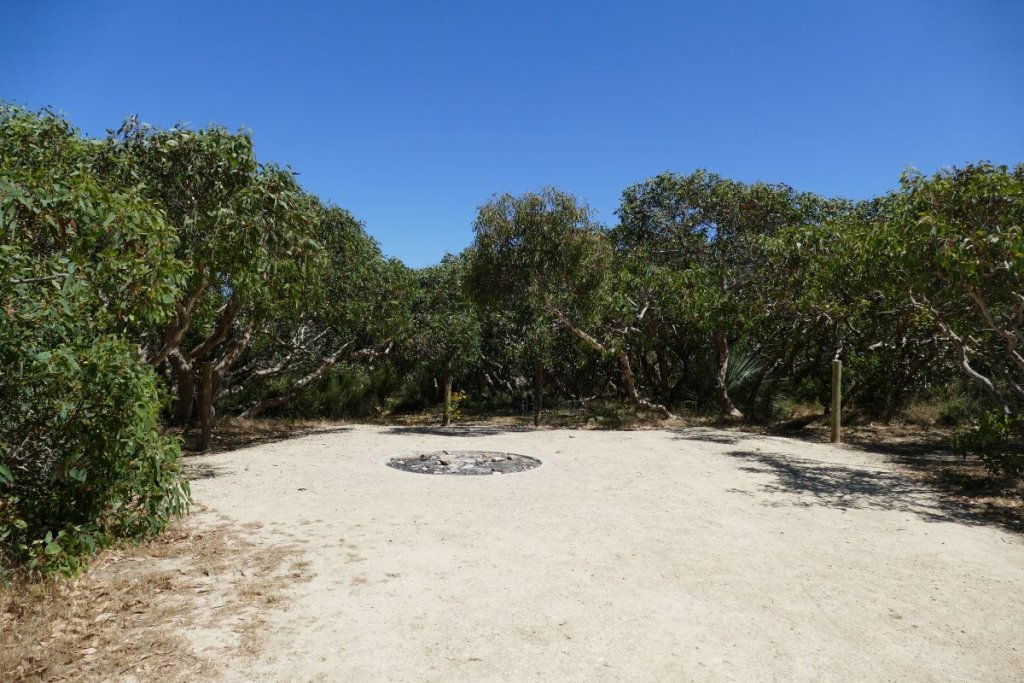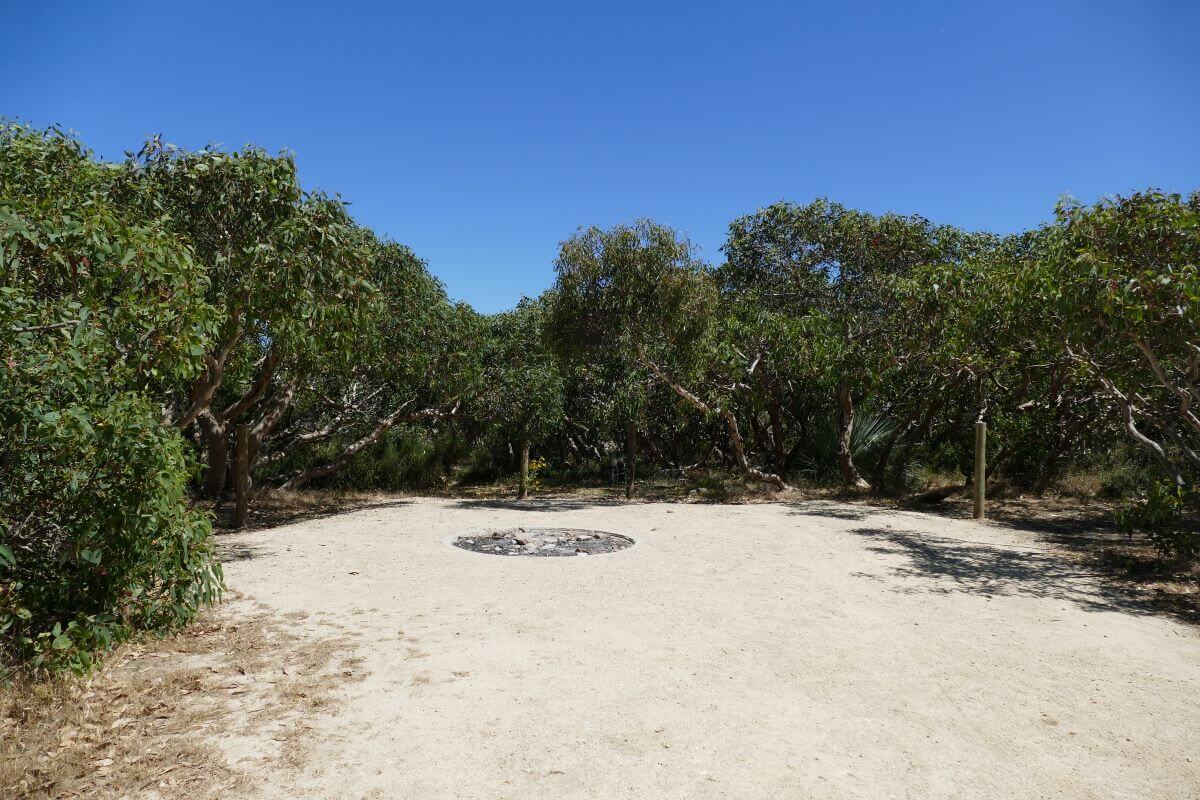 Tapanappa Campground
Tapanappa Campground is one of the most popular in the park as it located near the trailheads for several walks. You won't get a caravan in here, but the 17 sites do cater for tents and there are a couple of bigger sites that will fit a campervan or camper trailer. All sites have fire pits. There are drop toilets and no showers.
The campground has plenty of coastal vegetation giving all sites some shade and shelter. You are quite close to the coast here and sitting up on a hill, at times, the shelter provided by your site will be appreciated! The campground is located halfway between the Tapanappa and Pages Lookouts and there are plenty of great coastal views to take in.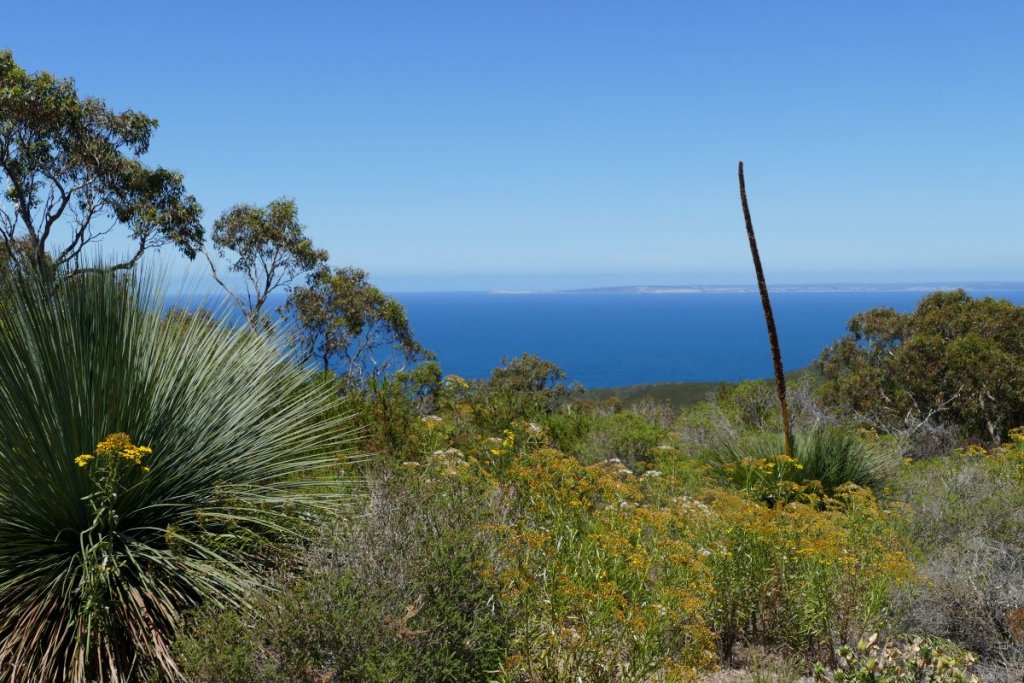 Tapanappa Campground Walks
The Tapanappa Lookout, 3km from the campground, is the starting point for the 3.4km, 2.5 hour Deep Creek Cove hike. It's also another access point for the Deep Creek Waterfall (7km, 3.5 hours) and the Deep Creek Circuit Hike. The phrases 'steep terrain', 'dense vegetation' and 'rock hopping' are all used to describe these walks – so they're tough but rewarding.
The Boat Harbour Circuit Hike starts from just the other side of the Tapanappa Campground on Tapanappa Road. This 7.3km, 4 hour walk takes in part of the Heysen Trail and has great views of Kangaroo Island and the Pages Islands. A short, steep detour from the circuit will take you down to Boat Harbour Beach. A smaller version of this walk can be started at Pages Lookout.
Eagle Waterhole Campground
This is a 'walk in' campsite and is found on the Heysen Trail which passes through Deep Creek. You'll also get to if you follow the Aaron Creek circuit trail. The site has a shelter with bunk beds, a picnic table and a water tank. There are no toilets and campfires are not permitted.
The shelter can accommodate up to 16 people and you still need to book your spot on the National Parks website before your arrival. Fees for the campground are $20 per night. Besides the bunks, the campsite is also suitable for tents and swags.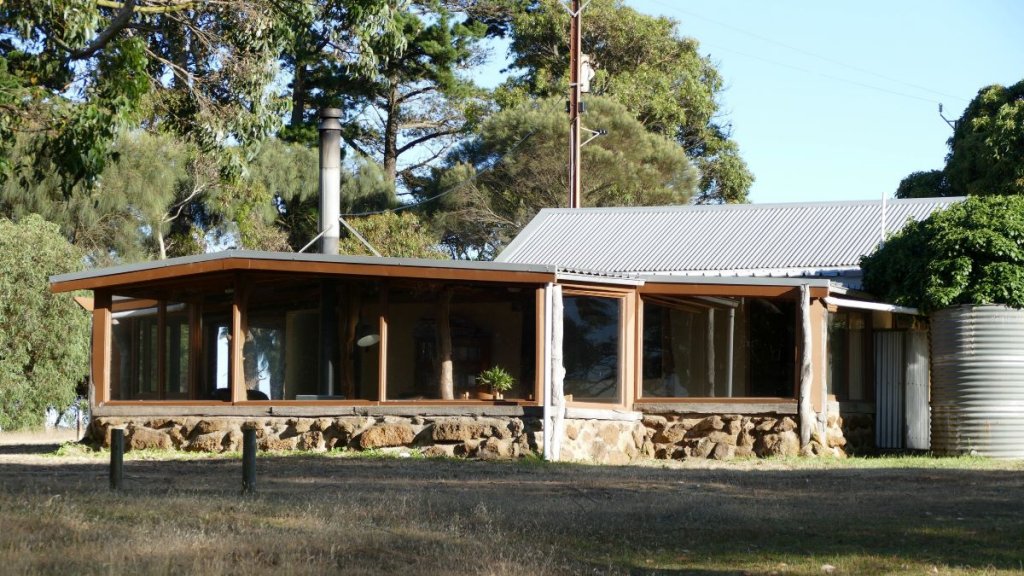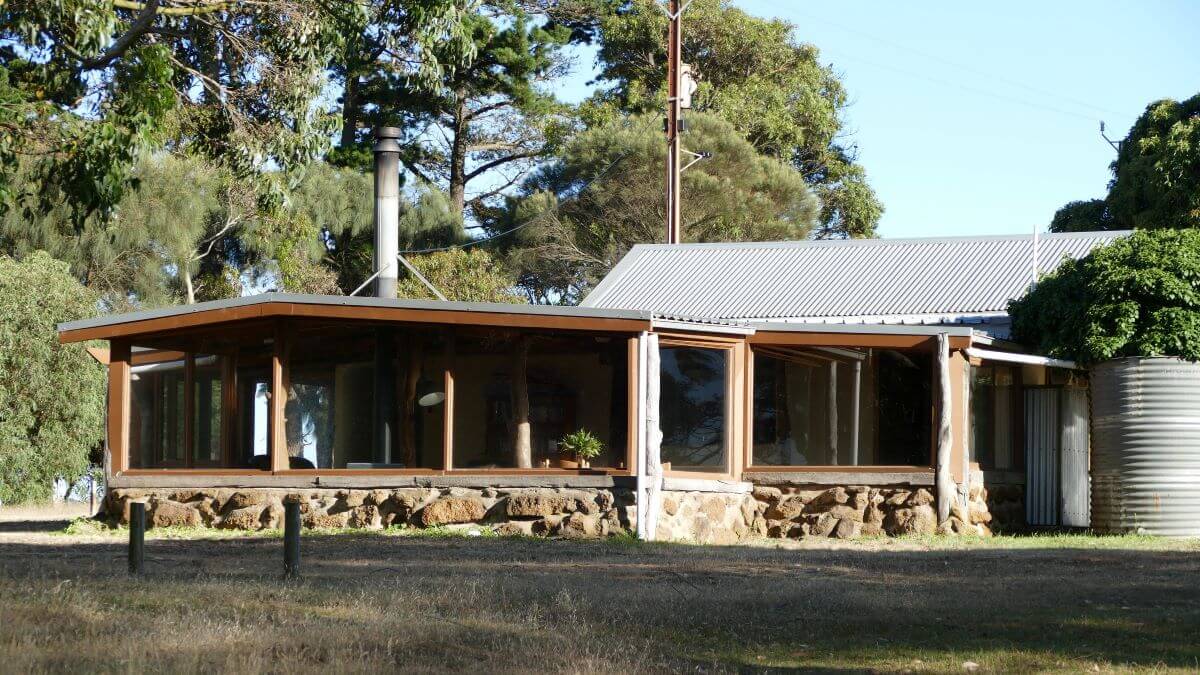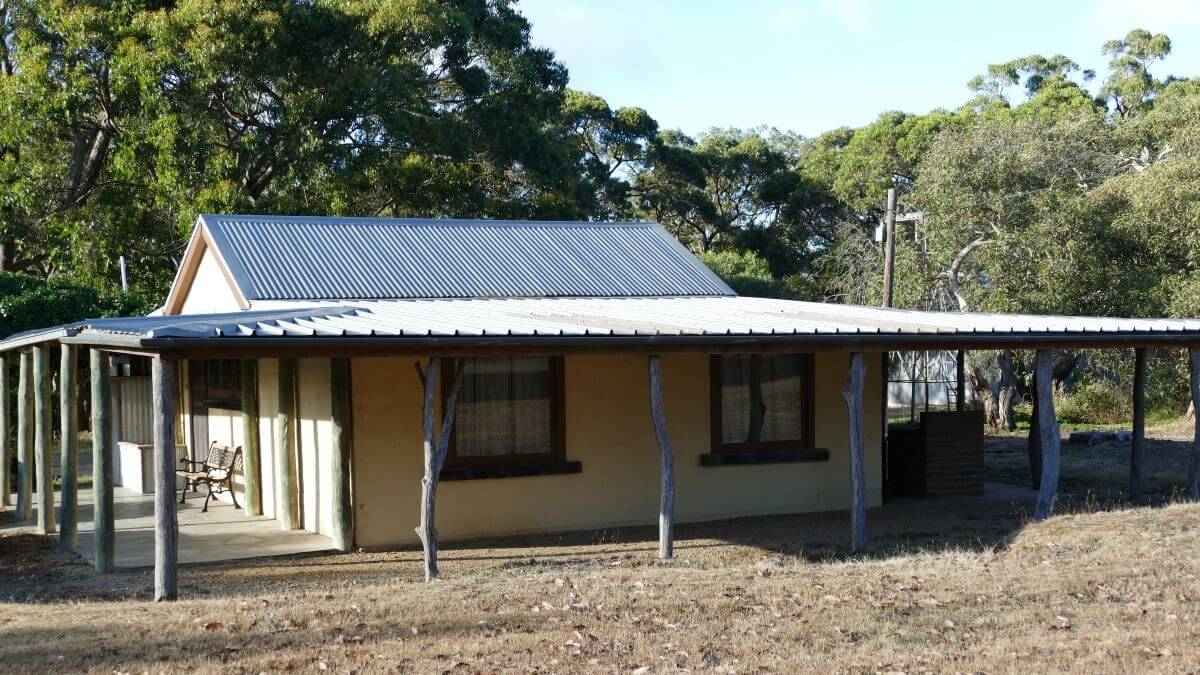 Homestead, Cottage + Glamping Accommodation
If you like the outdoors but campgrounds aren't your thing, there are some great options at Deep Creek. Managed by Southern Ocean Retreats, you can choose from everything from rustic cottages to luxury eco-villas.
Deep Creek Cottages
Glenburn Cottage is located near the Stringybark Campground and has views of the stringybark forest. It is close to the forest walks and you'll have plenty of wildlife around you. It is a great option for families. There are four bedrooms, and it sleeps up to 10. There's a wood fire for winter or relax under the balcony in summer.
We have stayed in Goondooloo Cottage near Blowhole beach and it is lovely. It has 2 bedrooms and sleeps up to 6. It has a real bush cottage rustic charm. The big verandas are perfect for relaxing under. The lounge area at the back has a wood fire and big windows that let you take in the views. Dozens of kangaroos came in at dusk and grazed as we cooked a BBQ.
Luxury Homestead
The Deep Creek Homestead is in a secluded valley between the Tapanappa and Stringybark Campgrounds. There are four bedrooms, and it sleeps 8. With polished jarrah floorboards, king sized beds, wood fireplaces and a selection of balconies to choose from, the homestead is a great national park getaway for families or groups.
Deep Creek Glamping
For the ultimate Deep Creek experience, where style and comfort match the beauty of the park, try the Ridgetop Retreats. These award winning villas set in the stringybark forest have floor to ceiling windows that let you feel immersed in the forest. There have quality fittings and furnishing from top to bottom. There's even a continental breakfast included. Ridgetop Retreats are the perfect South Australian Glamping option and are sure to impress the most discerning camper!
Deep Creek Experiences
If you enjoyed this story you might also like:
Adelaide's Best Beaches | Snorkel Second Valley | Day Trips from Adelaide
Like it? Pin it for Later…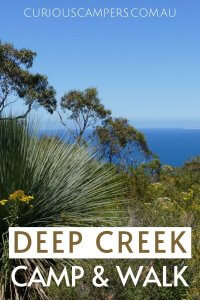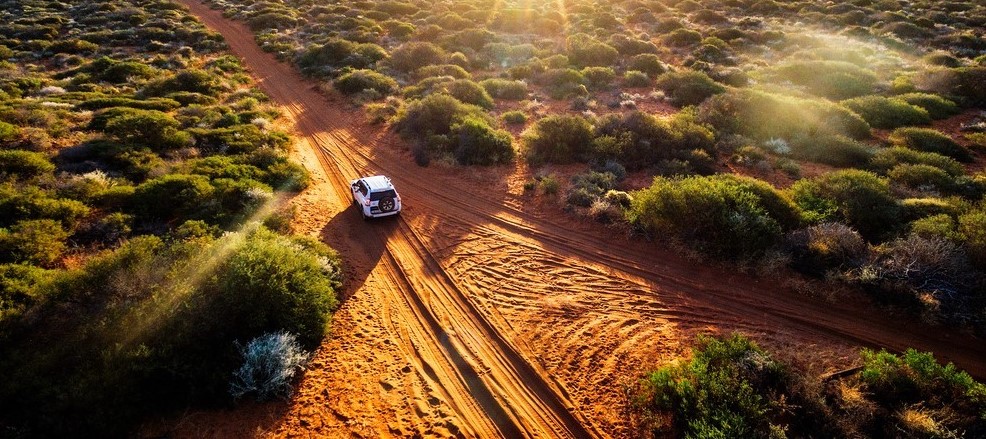 500 THINGS TO DO
Join our mailing list and receive our Free Top 500 things to do in Australia. If you love the Australian Outdoors download this list and keep it handy when you are planning a weekend away or a road trip around Australia.
Recent Posts