Day trips from Hobart showcase everything from Tasmania's convict history to wildlife and wilderness. Check out these 8 great day trips from Hobart and explore the best that Tasmania's east coast has to offer.
Disclosure: Please note that some links in this post may be affiliate links, and at no additional cost to you, we earn a small commission if you make a purchase. Commissions are appreciated and go toward maintaining the Curious Campers website.
Tasman Peninsula
The Tasman Peninsula is approximately 90 minutes from Hobart. It is home to one of Tasmania's most iconic attractions – the Port Arthur Historic Site. Port Arthur is incredibly well preserved with dozens of buildings providing a great insight into Tasmania's convict past.
The grounds are beautiful and together with the old buildings create a park-like atmosphere that belies the harsh history of the place. You could spend a full day looking around Port Arthur. Your ticket gives you access for two days and you will need it to see everything and take in a couple of guided tours.
The Tasman Peninsula also has many natural wonders. Remarkable Cave, the Tessellated Pavement, Tasman Arch, Devils Kitchen and the Tasman Blowhole are all coastal features you should check out on a day trip from Hobart.
For a different view of the coastline, and to see some marine wildlife, try a Tasman Island cruise.
If you prefer your nature experiences on land, visit the unzoo. There are no enclosures here, instead you venture into the world of the animals. It is a great place for an Australian wildlife experience. The Port Arthur Lavender Farm is a great spot to stop for a snack and sample all things lavender. When the flowers are in bloom it is a spectacular sight.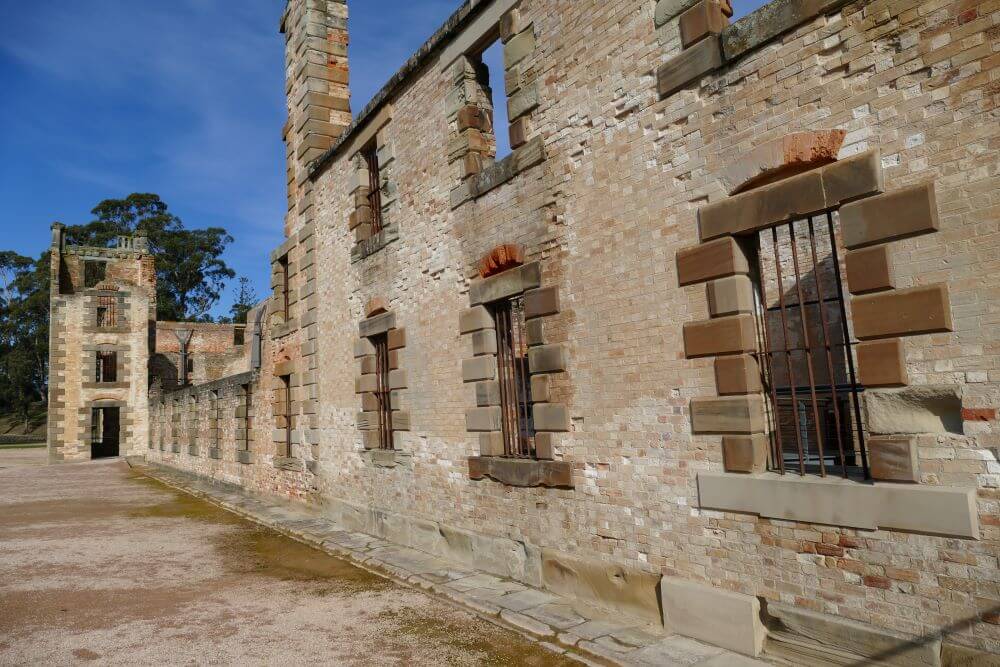 VISIT PORT ARTHUR & TASMAN ISLAND CRUISE
Explore the spectacular coastline between Port Arthur and Eaglehawk Neck via this award winning eco cruise. The custom-built yellow boats cruise into deep-sea caves, past waterfalls, archways and to the foot of Australia's highest sea cliffs and Cape Pillar. Join the search for a range of sea and coastal wildlife such as seals, dolphins, migrating whales and sea birds. After the cruise, you will enjoy lunch and a 3 hour visit to the Port Arthur Historic site.
Tahune Airwalk and Hastings Caves
The Tahune Airwalk is in the Huon Valley, 90 minutes south west of Hobart. There are a couple of routes to get there. Both follow the Huon River. The more southerly route through Geeveston takes you through more towns.
The main feature here is the 650m airwalk. You get a spectacular bird's eye view of the Huon pine forest and the junction of the Huon and Picton Rivers. There are a few steps involved so you'll need to be of average fitness. The airwalk takes about 50 minutes to complete.
Back at ground level, you can do the Swinging Bridges Walk over the Huon and Picton Rivers. The swaying bridges are both over 60 metres long. The walk takes about one hour. The new 20 minute Huon Pine walk gets you right into the beautiful forest.
Kayaking and rafting adventures are also available here. If you want to get on the water, between the walks and kayaking your day will be full. Otherwise, the next stop is Hastings Caves 90 minutes south.
There are tours of the cave that highlight its many beautiful features and the wildlife that lives there. The tours run for 45 minutes. If caves aren't your thing, there are nature walks and picnic facilities, or you can take a dip in the thermal springs.
At a constant 28 degrees, a dip in the thermal pools can be the perfect way to end your day. There is an admission fee that gives you all day access to the area as well as use of picnic and shower facilities. There are also walks in the area where you might spot a platypus.
TAHUNE ADVENTURES WITH AIRWALK ADMISSION
If you're up for hair-raising heights and unbeatable views over the lush Tasmanian forest, you need to visit Tahune Adventures and take on the Airwalk. You'll climb the stairs up to a viewing platform suspended 30 metres above the forest floor and feel your adrenaline pumping as you soak up the incredible panoramic view.

Bruny Island day trip from Hobart
Kettering is just over 30 minutes from Hobart. It is from here you catch the ferry to Bruny Island. It might not sound like a much of a daytrip. But, if you like a like a gourmet food trail, Bruny Island has plenty to offer.
Gin, chocolate, berries, cider, honey, cheese, craft beer, wineries… You can try them all on Bruny Island. From Get Shucked Oysters to the Bruny Island Smoke House, Bruny Island is foodie heaven.
To burn off a bit of the fine food, there are walks and beaches all over the island to explore. The 230 steps to the top of The Neck lookout are worth climbing for great views. Keep an eye out for the little penguins that return to the area around dusk.
Do a tour of the Cape Bruny Lighthouse that sits atop the cliffs at the southern end of the island. The dirt road to the lighthouse is suitable for 2WD. There is wildlife everywhere along Lighthouse Road so give yourself plenty of time and take the drive nice and slow.
BRUNY ISLAND WILDERNESS CRUISE 
You'll explore deep sea caves, pass The Monument sea-stack and get the chance to see wild dolphins and fur seals. And if you cruise during whale migration season (May-July and Sept-Dec), you may see the graceful Humpback or Southern Right Whales. It's an experience you will never forget.

Mount Field National Park
Mount Field National Park is only 90 minutes from Hobart. The drive takes you through the Derwent Valley. If you want a big day you could explore the Derwent Valley on your way through, but we have left this to a separate day trip. There is plenty to do at Mount Field!
Mount Field is the perfect place to get a taste of the Tasmanian wilderness. The best known feature of the Park is the multi-tiered Russell Falls. It is an easy ten minute walk from the carpark.
From Russell Falls, you can walk for a couple of hours and see Horseshoe and Lady Barron falls and the Tall Trees Track. The forest is stunning. Giant swamp gums will have your eyes looking skywards. The air is cool, clean and damp. You will see everything from giant tree ferns to colourful fungi and Lichens.
Further into the park along Lake Dobson Road you can explore Seagers Lookout, Lake Fenton and Lake Dobson. The wonderful views never end. You can get a great feel for the park in a day. Check in at the Visitor Centre to collect all the maps and information you'll need.
FULL DAY OF WATERFALLS, WALKS & WILDLIFE
Visit some of the top attractions outside of Hobart on this day trip to Mount Wellington, Mount Field National Park, Bonorong Wildlife Sanctuary, and the historical town of Richmond. Entry fees are included for a hassle-free experience. See Tasmanian devils at Bonorong Wildlife Sanctuary Take a scenic drive along the Derwent River Round-trip transport provided from Hobart Tour limited to 11 people for a small-group experience.

Derwent Valley day trip from hobart
Start your day by crossing the River Derwent and driving 30 minutes to Bonorong Wildlife Sanctuary. With a focus on Australian native wildlife, at Bonorong you can get up close to everything from Kangaroos to Tassie Devils. There is a big kangaroo feeding area too.
From Bonorong, make your way to Bridgewater to see the wonderful old iron bridge. Stay on the Bridgewater side of the Derwent – Boyer Road – and drive towards New Norfolk. Before you get to New Norfolk, go to Pulpit Rock Lookout. There are amazing views back over the valley.
New Norfolk is a pretty town with plenty of places for morning or afternoon tea. The Riverside Walk features the town's historic buildings along the waterfront. More of the town's history is on show in the Willow Court Heritage precinct.
Ten minutes up the valley in Plenty you will find the Salmon Ponds Heritage Hatchery and Garden.  You can feed the fish, check out a fascinating fishing museum and,explore the lovely gardens.  The café serves possibly the best pancakes in the Derwent Valley.
On your way back to hobart you'll drive right past MONA, Tasmania's iconic modern art museum. You can either pencil it in for another day or it's a great place to end the day with some cheese, wine and quirky art.
AFTERNOON WINE & CRAFT BEER DERWENT VALLEY TOUR
Derwent Valley is one of the most beautiful places to see in Tasmania, and it's also a great place to try to some of the best cold climate wine and beers around. If you like exploring wineries and breweries, sipping on delicious drinks, and seeing amazing scenery, this tour is the perfect choice.

Heritage Drive
Does walking through Georgian villages and relaxing on elm-lined riverbanks sound relaxing?
The Heritage Highway between Hobart and Launceston features beautifully preserved buildings and structures. The drive can take anywhere from a couple of days to over a week as you soak up the history from one end of the state to the other.
You can still get a taste of this from your base in Hobart. Campbell Town is 90 minutes from Hobart and boasts over 100 buildings over 100 years old. Follow the Convict Brick Trail around the town or walk along the Elizabeth River and see Red Bridge built by convicts in 1838.
Between Campbell Town and Hobart there are stops at Oatlands, Ross and Richmond. Ross and Oatlands are full of sandstone buildings and cobblestone lanes that will take you back to a time of horse drawn carriages.
Bothwell, near Oatlands, is home to the oldest golf course in the southern hemisphere. Richmond, 20 minutes from Hobart, has Australia's oldest gaol, oldest standing catholic church and oldest stone bridge.
RICHMOND HISTORIC AFTERNOON TOUR 
Spend some time in the Richmond, one of Australia's most unique and historic towns dating back to the 1820s. Along with passing Richmond Goal, and crossing the Richmond Bridge, you'll experience the colonial charm of the area with a guide who tells you about the city's history during this Richmond historic tour from Hobart. 

Maria Island day trip from hobart
If you are on the east coast of Tasmania, a trip to Maria Island is a must. The island is bursting with wildlife. There are wombats everywhere (we're not exaggerating), kangaroos, pademelons, and Tassie devils. The birdlife is wonderful too.
There are several walks you can do that showcase Maria Island's beauty and history. The highlights are the Painted Cliffs and the Fossil Cliffs. You can see both of these in a couple of hours. There are longer walks where you can explore the islands peaks. From the Bishop and Clerk summit, you can see as far as Freycinet National Park.
The island also has a fascinating history. You can see many intact buildings and ruins as you walk between the natural features. The island is accessed by a passenger ferry.
The ferry terminal is in Triabunna, only 75 minutes from Hobart. It is a picturesque drive. The highlight is the approach to the Oxford. The Tasman Highway hugs the Prosser River and provides some lovely views. The Encounter Maria Island ferry runs multiple services a day to and from the island.
We can't wait to get back to Maria Island. 
MARIA ISLAND WALKS, WILDLIFE & PICNIC LUNCH
Explore Maria Island National Park on a scenic journey from Hobart via land and sea. Follow a guide on two of Tasmania's best short walks along dramatic coastal scenery to see wildlife such as Wombats, Tasmanian Devils, Cape Barren geese and Kangaroos. Lunch is a feast of fresh Tasmanian produce.

Hop on hop off bus
This last day trip from Hobart is a bit different – because you never even leave Hobart! Let someone else do the driving and get on the Red Decker hop on hop off bus.
The big red double decker bus does circuits of the city stopping at Hobart's best attractions. Stops include Battery Point, the Female Factory, Salamanca Markets and the Wrest Point Casino. A commentary provides information on sites of interest as you ride around.
You can join and hop off the bus at any of its 20 stops. Spend the Morning in the Botanic Gardens, hop back on the bus and have lunch at Constitution Dock. Catch the bus again and finish the day at the Cascade Brewery.
The top deck of the bus provides great views of Hobart and Mount Wellington. You can do worse than complete a lap, decide where you'd like to spend an hour or two then hop off on the next lap around. You can buy tickets online or at the Hobart Visitor Centre on the corner of Davey and Elizabeth Street.
500 Things to do
Join our mailing list and receive our Free Top 500 things to do in Australia. If you love Australian Outdoor Experiences download this list and keep it handy when you are planning a weekend away or a road trip around Australia.