Going to Cradle Mountain doesn't have to mean doing a day long hike to a snow-capped mountain – although that is an option! Cradle Mountain has many short walks that let you appreciate the beauty of the area and make a Cradle Mountain day trip worthwhile from Devonport, Launceston and Strahan.
Cradle Mountain is one part of the Cradle Mountain-Lake St. Clair National Park. It also forms part of the Tasmanian Wilderness World Heritage Area along with Southwest National Park and Franklin-Gordon Wild Rivers National Park. The alpine and sub-alpine glacial landscape, wildlife, and scenic views make Cradle Mountain one of the most popular walking areas in Tasmania.
Disclosure: Please Note That Some Links In This Post May Be Affiliate Links, And At No Additional Cost To You, We Earn A Small Commission If You Make A Purchase. Commissions Go Toward Maintaining The Curious Campers Website.
Cradle Mountain FAQ's
Getting to Cradle Mountain
How far is it to Cradle Mountain?
Devonport to Cradle Mountain – 1 hour 27
Launceston to Cradle Mountain – 2 hour 15 minutes
Strahan to Cradle Mountain – 2 hours
Hobart to Cradle Mountain – 4 hours 20 minutes
Day Trips
Can you do Cradle Mountain in a day?
Yes, it's a big day but you can. The easiest day trip is from Devonport, but you can go from Strahan and Launceston too. There are several good Cradle Mountain day walk options like the Dove Lake, Rainforest and Enchanted Forest walks that have beautiful scenery.
Dove Lake
Can you drive to Dove Lake?
The best way to get to Dove Lake is on the Shuttle Bus but you can drive there before and after the shuttle buses stop operating for the day.
How Many Days?
How long should you spend at Cradle Mountain?
You can see Cradle Mountain on a day trip, but a stay of 2 or 3 nights will also let you do some of the longer walks and visit other attractions like Devils@Cradle.
National Parks
Do you need a national park pass?
Yes, you do need a park pass for Cradle Mountain. You can buy it online or get one from the Visitor Centre when you first arrive.
Daily Passes are available for $40 per car for entry to national parks for a 24 hour period. (excludes Cradle Mountain). Purchase online at the Parks Pass Portal or at the National Park Visitor Centres.
Alternatively you can purchase a holiday pass for $80 to cover entry to all national parks including Cradle Mountain. Holiday Passes are valid for 2 months. Specific daily passes for entry to just Cradle Mountain, can be purchased from the Cradle Mountain Visitor Centre
What to expect at Cradle Mountain?
When you are planning a trip to Tasmania, you will have heard of Cradle Mountain but what should you expect when you get there? Here is a brief user guide to Cradle Mountain so you know what to expect before you arrive.
Cradle Mountain Road Conditions
There is one road into and out of Cradle Mountain that finishes at Dove Lake. Along it you will find all of Cradle Mountain's accommodation, the Visitor Centre, the shuttle bus terminal and access to all the park's walks and attractions.
Cars are not permitted to drive the length of the road when the shuttle buses are operating which is 9.00-5.00 from April to the end of September and 8.00-6.00 from October to March. You can drive as far as the interpretation centre.
Cradle Mountain Shuttle Bus
The shuttle bus service will be the main way you get around Cradle Mountain, it is reliable and very efficiently run. To use the shuttle bus, you will need a shuttle bus pass – which you get at the Visitor Centre. The pass is valid for 72 hours.
The main shuttle bus terminal is at the Visitor Centre and there are 4 stops beyond there – the Interpretation Centre and Ranges Station, Snake Hill, Ronny Creek and Dove Lake.
Interpretation Centre stop
Last place you can drive to
Interesting displays and info about the region
5 minute walk from Peppers Cradle Mountain Resort, spa and general store
Access to the Rainforest Walk, Enchanted Walk, Knyvet Falls Walk and the Cradle Valley Boardwalk
Snake Hill stop
Access to the Cradle Valley Boardwalk
Ronny Creek stop
Access to the Overland Track which goes onto the Lake Lilla Track (and on to Dove Lake) or Crater Lake
Access the Cradle Valley Boardwalk
This is the stop closest to Weindorfers Forest Walk
Good place for wombat spotting
Dove Lake stop
Hop off point for all Dove Lake walks, Lilla Lake and Wombat Lake walks and Crater Lake and Marion's Lookout walk
Cradle Mountain Visitor Information Centre
The Visitor Centre should be your first stop when you arrive at Cradle Mountain. Here you can get your shuttle bus pass, National Park Pass and up to date information on all the walks in the area – long and short. It is an impressive looking place with a huge carpark and displays inside.
Cradle Mountain Day Trips
Best time to walk at Cradle Mountain?
Unless you are a seasoned, well-prepared walker, you might want to avoid Cradle Mountain in winter. While the snow might look beautiful, even for short walks the cold and wind can make conditions hazardous. If you can pick a fine day, daytime temperatures will likely still be below 5 degrees Celsius.
Spring and summer – October to April – is the best time to visit Cradle Mountain but still be aware of what the weather holds for the day. Conditions can change quickly, and it can rapidly become cold, windy, wet or snowy. One of the best things about doing short walks at Cradle Mountain is that you can squeeze them in when the weather is good.
Read More: The Best Places to Find Wildlife in Tasmania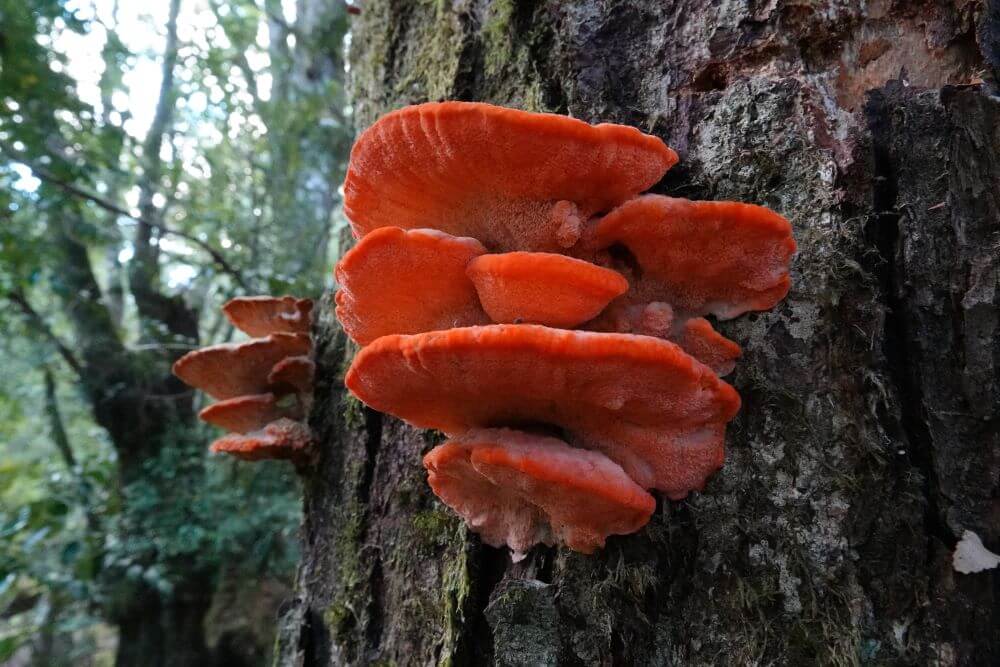 Cradle Mountain Short Walks
So, what is a short walk? A short walk will mean different things to different people. Here, we are calling a short walk anything under 3 hours including walks as short as 15 minutes. This is one of the great things about Cradle Mountain – no matter your level of fitness and ability level, there is a short walk for you. Several of the short walks in Cradle Mountain are on the 60 Great Short Walks list put together by Parks Tasmania so you can tick a few more off here if you are aiming to complete them all.
Rainforest Walk
Length and difficulty – 430m easy circuit, 10-15 minutes
Starting point – Interpretation Centre
Description – Don't let this very short, very easy walk fool you, it is a great walk which if you really want to take everything in will take you longer than the estimated 10 minutes. There is rainforest, waterfalls, lots of birdlife and fields of coral fern. We could have spent hours just waiting for a pink robin to appear. The access-friendly boardwalk is easy to get around and interpretive signage is dotted around the path. If you are doing a day trip to Cradle Mountain, the Rainforest walk is worth a look.
Enchanted Walk
Length and difficulty – 1.1km gentle circuit, 20 minutes.
Starting point – Across the road from the Interpretation Centre and finishes at Cradle Mountain Lodge.
Description – This beautiful flat walk follows Pencil Pine Creek and is on the 60 Great Short Walks list. About 50 metres along the boardwalk, we saw an itchy echidna that tried to walk and scratch at the same time – hilarious and cute! There's mossy old growth forest and lots of bright red Strawberry bracket fungus. Towards the end of the walk near the lodge, look out for the resident wombats. We spotted them around here a couple of times.
King Billy Walk
Length and difficulty – 2km easy circuit, 40 minutes.
Starting point – At the back of Cradle Mountain Lodge. Park at the Lodge or the Interpretation Centre across the road.
Description – We loved this walk. It is a bit quieter than the Enchanted Walk, there is a gentle climb up wooden steps at the start, but it is still accessible to most people. This is a walk of contrasts – on the one hand there are the beautiful and enormous King Billy pine trees but when you stop and look closely there is also a lot of colourful small fungus. We spent a lot longer than the suggested 40 minutes just looking at the detail in the forest, all the time being carefully watched by the shy pademelons.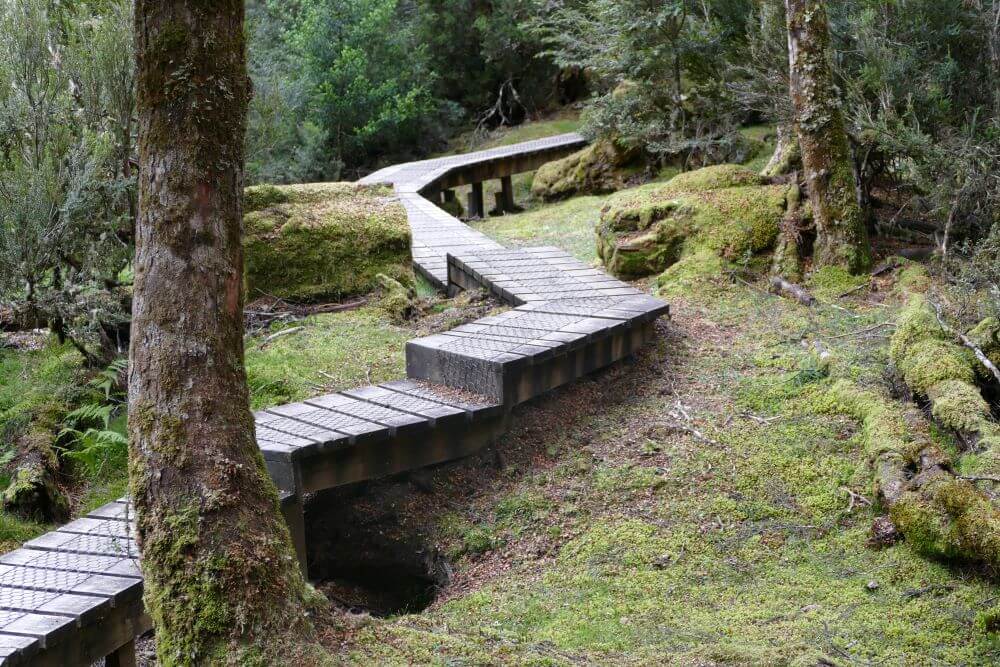 Knyvet Falls
Length and difficulty – 1.2km easy return walk, 45 minutes. Follow a generally flat boardwalk but there are a few small well-spaced steps.
Starting point – Opposite Cradle Mountain Lodge, look for the small carpark on the left as you head towards Dove Lake.
Description – This was the last walk we did on our Cradle Mountain visit and our legs were pretty tired – but this short walk was worth the effort. Every part of the forest on this walk was carpeted in moss, it was incredibly beautiful. A few minutes into the walk you get to Pencil Pine Falls, then it is another 10 minutes to Knyvet falls. Keep an eye out for wombats – their burrow and poo are everywhere.
Weindorfers Forest Walk
Length and difficulty – 750m easy circuit, 20 minutes plus 20 minutes for the walk from Ronny Creek bus stop.
Starting point – This short walk isn't the easiest to get to. You'll need to get off the shuttle bus at Ronny Creek and walk back up the main road to Connell Street or follow the signs from the Overland Track.
Description – While this walk has lots of stunning mossy pine and beech forest, it is the glimpse into the settlement of Cradle Mountain that makes it unique. There is an interpretive display at the Waldheim Chalet that gives an insight to the work of Gustav and Kate Weindorfer who were pioneers in the conservation of the Cradle Mountain area.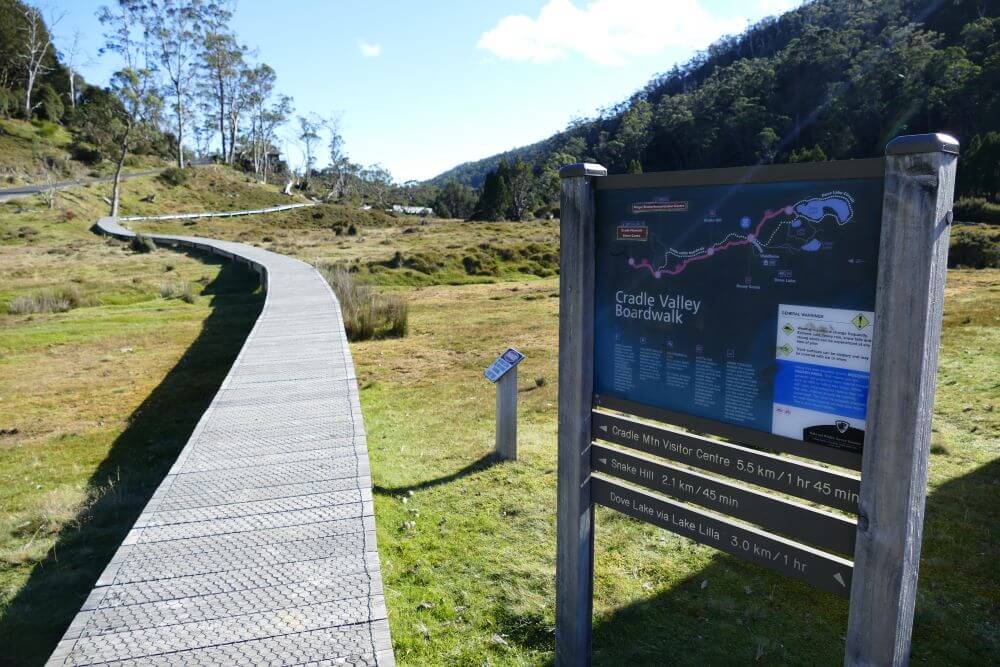 Cradle Valley Boardwalk
Length and difficulty – up to 3 hours, easy, 6km one way. It is gently downhill if you walk from the Interpretation Centre, there are a few small steps along the way.
Starting point – Interpretation Centre or any shuttle bus stop between there and Dove Lake.
Description – This is a great walk that follows Dove River between the interpretation Centre and Dove Lake. It's not as busy as some walks which is crazy because the sub alpine landscape is beautiful and views along the way are stunning.
The best part is you can join the walk or get off the walk at any of the shuttle bus stops. So, if you don't want to do the whole thing, join the boardwalk at Snake Hill and get back on the bus at Ronny Creek or just do the Ronny Creek to Dove Lake section. The shortest stretch is between Snake Hill and Ronny Creek, the walk is about 45 minutes. The other sections take about one hour to do. The walk is even lovelier when there is a bit of snow around.
Dove Lake Circuit
Length and difficulty – 6km moderate circuit, 2-3 hours, there are a few steps and hills to negotiate in the last third of the walk before the boat shed.
Starting point – Dove Lake Car Park. Easiest access is on the shuttle bus unless you plan to be here all day, then you could drive.
Description – Not surprisingly, this is on the list of Tasmania's 60 Great Short Walks, and it is one of the most popular walks in Tasmania. There is a lot on offer in this walk. You can see the Cradle Mountain summit (on a clear day), the lake is stunning, and you can get right down to the water. Our favourite section was the Ballroom Forest and its mossy King Billy Pines and Sassafras.
If you don't want to do the whole walk, a lot of people just do the 10 minute stroll to either the heritage Boat Shed, or in the other direction, to the Glacier Rock Lookout – both good options if you want to fit more walks in on one day.
Crater Lake Circuit
Length and difficulty – 5.5-6km moderate circuit, 2-3 hours. There are steep big steps and rocky terrain to get up/down between Wombat Pool and Lake Lilla.
Starting point – Ronny Creek or Dove Lake. We recommend starting at Ronny Creek, so you walk down the big steps and rocks around Lake Lilla. There was a lot of pain in the faces of people walking past us in the other direction!
Description – This is a more demanding walk, but the scenery is breathtaking. From Ronny creek you walk across button grass plains through prime wombat spotting territory, then make the steady ascent to the Crater Lake Rim. It will get you puffing but the views at the top are sensational. You then weave your way past Wombat Lake (it really is wombat-shaped) and pretty Lake Lilla before finishing near the Dove Lake Boat Shed.
This was one of our favourite short walks in Cradle Mountain, it is also on the list of 60 Great Short Walks to do in Tasmania.
Marions Lookout
Length and difficulty – 7.5-8km walk to the lookout then complete the Crater Lake Circuit, 2.5 – 3 hours. The last part of the walk to the lookout is hard – there is a chain to hold onto for assistance.
Starting point – Ronny Creek or Dove Lake, this is an extension of the Crater Lake walk.
Description – If you are doing the Crater Lake Circuit, at Crater Lake you can't miss the line of people heading up to Marions Lookout. From Crater Lake it is about 30 minutes more to get to the Lookout but be warned – it is steep going. That said if you have a bit of fitness and take your time you'll get there, and stunning views await. Be prepared, at 1200m the weather can change quickly so know what's coming wind and snow-wise before heading off.
Many rate this one of the best walks at Cradle Mountain. It's at the top end of the range for a short walk but if you like a challenge it is an extremely rewarding hike.
Cradle Mountain Accommodation
Cradle Mountain Highlanders – Be surrounded by wildlife and the wilderness in these cute little log cabin retreats, across the road from the Visitor Centre
Cradle Mountain Wilderness Village – Self-contained villas & chalets, nestled in a rainforest setting with native wildlife throughout the property. 5 minute walk to the Visitor Centre
Peppers Cradle Mountain Lodge – Stunning wood cabins with views of the surrounding Tasmanian wilderness in the heart of the Cradle Mountain Village. Shop, restaurants and luxury day spa
Like it? Pin it for Later…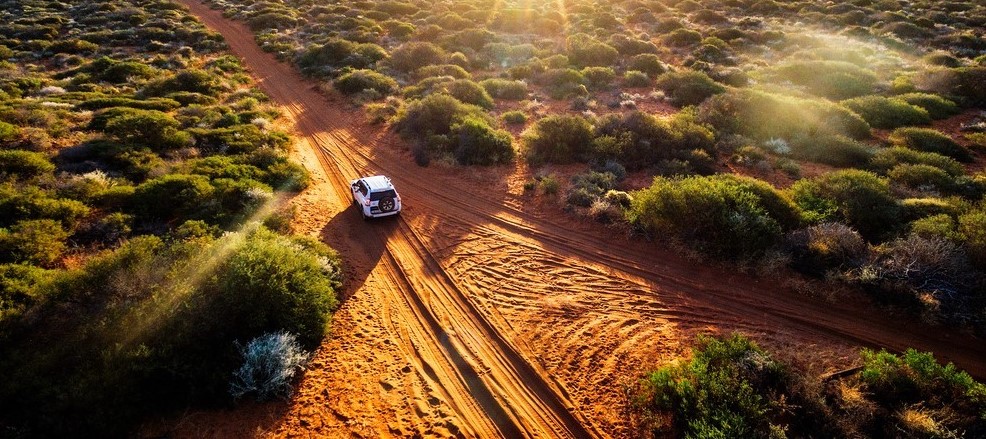 500 THINGS TO DO
Join our mailing list and receive our Free Top 500 things to do in Australia. If you love the Australian Outdoors download this list and keep it handy when you are planning a weekend away or a road trip around Australia.
Recent Posts