When I started writing a story about amenities blocks, I couldn't decide if it would have much appeal. I think they're an integral part of any camping experience. Every set of amenities has its own character which, for better or worse, can shape our opinion of a caravan park.
On the other hand, I was concerned my interest was a bit unusual, so I decided to move the story to the 'unfinished' folder on my computer.
Later, I was reading some caravan park reviews for an upcoming trip. I couldn't believe it when the first six reviews for one park all mentioned the amenities blocks. So, people do care!
With renewed confidence I got back to work on the post.
Disclosure: Please Note That Some Links In This Post May Be Affiliate Links, And At No Additional Cost To You, We Earn A Small Commission If You Make A Purchase. Commissions Go Toward Maintaining The Curious Campers Website.
And the Winner Is…
The tributes here stretch back over several years. Some of the facilities will still exist. Others, unfortunately, will have been renovated or bulldozed all together.
To be clear, these acknowledgments are not criticisms – quite the opposite. It's a nod to their uniqueness and what they add to our travelling experiences. Even so, I haven't mentioned any parks by name – just the region they are in. Some might sound familiar to you.
The first two prizes go to a block in the Lakes Entrance region of Victoria.
Best Bathroom Floor
Floor treatments take a many of forms, and terrazzo is still a common sight, especially in older parks. Here, it was the colour of the terrazzo that made it a winner.
The floor was so bright it deserved a health warning. 'Staring at this floor may result in damage to your eyes' seemed appropriate. The red, white, yellow and orange chips produced a finish with a retina burning intensity. I was torn between shading my eyes and wanting to look at one of the brightest floor surfaces in Australia.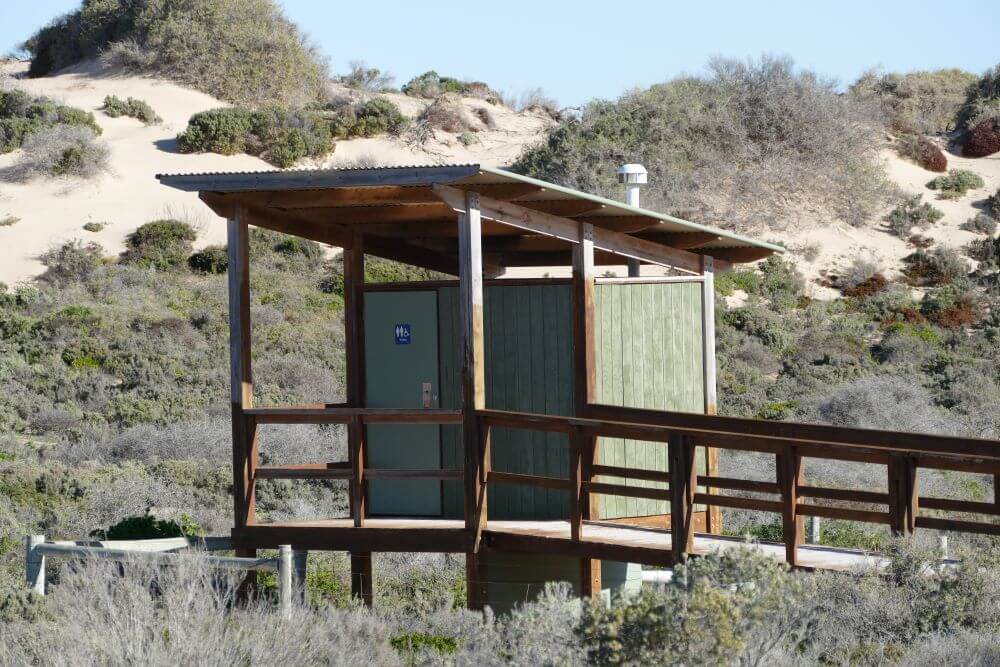 Best Impersonation of a Western Saloon
Once my eyes had adjusted to the floor, I noticed a set of saloon style between the entrance and the next room. I don't know why, the glow of the floor might have affected me, but all I could think of was the entrance to a western saloon full of card playing cowboys.
It was all I could do not burst through the doors and shout 'stick 'em up!' or shout an order to the bar keeper to set up a drink. There is, however, a time and place for such behaviour and this was not it. Instead I nudged the doors aside and walked to my position.
When I saw another person using the facilities, I had to restrain myself from nodding him a 'howdy partner'. Proper urinal etiquette prevailed. I said nothing and avoided eye contact.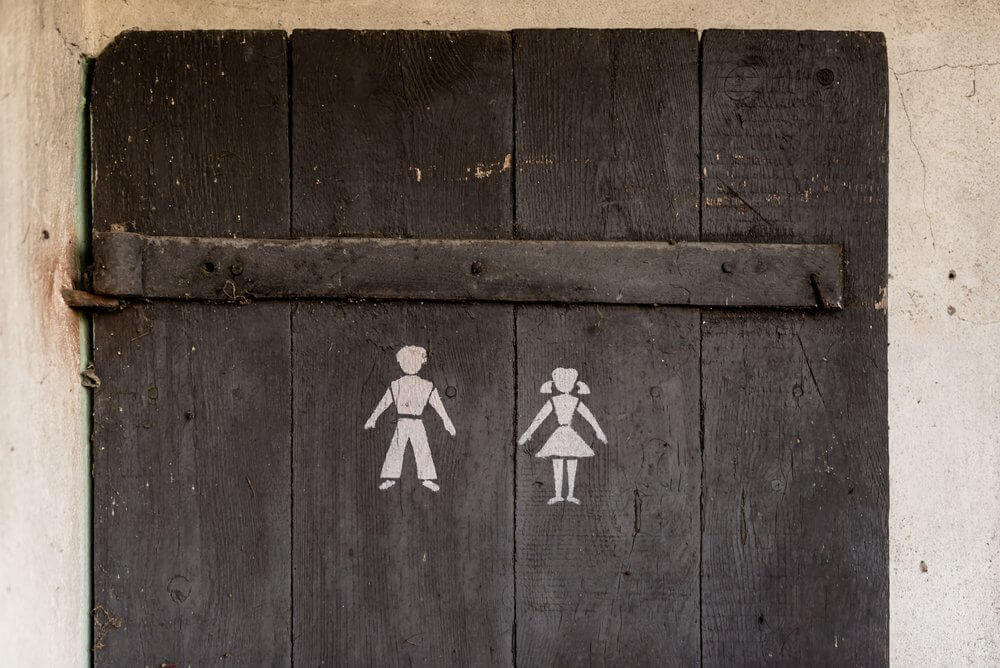 Best Tiles – Geelong
Even from the outside, this block had character. Its Mission Brown woodwork sent me back to the mid 1970's and our family home in Sydney. I'm sure for many of us, it is a nostalgia-invoking colour scheme.
Inside, you couldn't miss the patterned, multi coloured tiles around the sinks and showers. It's hard to pinpoint what colour they were. There were swirls of blue, red, brown and purple. The best way to describe them is that they looked like the Magic Eye pictures that tortured us the 1990's.
These are the pictures made up of busy geometric patterns and a mess of colours. When you stare at them the right way, a 3D image bulges from the page. I hoped I had stumbled onto one of the biggest Magic Eye pictures in Australia.
I stared and stared but nothing leapt from the colourful patterned surface. But then again, who could ever get those things to work anyway?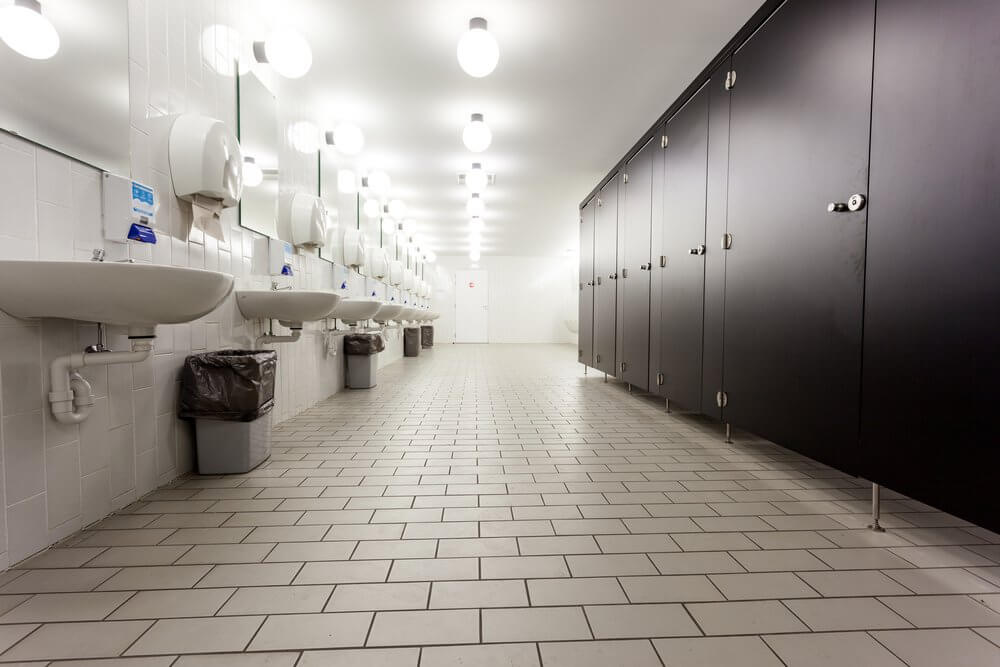 Mini Amenities – Co-Winners in Canberra & Geelong
This next prize is a subjective one. I'm six foot four so notice when things are at a lower height than normal. In this case though, even someone of average height would have thought this was a bathroom built for five year olds.
At both parks your knees were near your chin when you sat on the toilet. The basins were so low to the ground I thought they were some kind of fancy foot spa.
The showers were to the same scale. I'm amazed someone got away with fixing the shower heads one metre from the floor. Trying to clean anything above your waist needed a level of flexibility I hadn't possessed for years.
As it turns out, the kneeling position needed to wash your hair was the perfect height for using the mirrors. These too were low, and only useful for checking the length of your toenails. In both locations, the amenities were so impractical they were hilarious!
The ít rains, it pours' award – Merimbula
The showers at this park were fantastic. They were spacious, had well positioned showerheads and were spotless. The only thing missing was water.
With both taps turned on full, the best they could produce was a light drizzle. There was just enough pressure for the water to seep through the holes of the shower head.
Without doubt, the regular storms we had during our stay produced greater water pressure.
I arrived early for a shower one day and found all the showers free. Out of desperation I tried each of them to see if there was a better one. To my amazement, as I turned on the last shower in the row the water almost blasted a hole through the floor.
It was no wonder none of the other showers could manage more than a trickle. This one shower had enough pressure to strip paint. It seemed everyone else in the park had wised up to the situation. I enjoyed one good shower but after that, the good shower was busy every time I went to use it.
Most Bug Infested – Adelaide River, NT
Most amenities blocks in northern Australia could be a contender for this award. Our park in Adelaide River won out. Before getting to the amenities block, you had to negotiate a hopping minefield of cane toads.
You showered with green frogs looking on and chirping geckos chasing bugs across the ceiling. The biggest stick insects I'd ever seen sat on the door frames, and the lights attracted all sorts of other bugs. There were no pythons unfortunately but I'm sure they would have appeared had we been there long enough.
The animal and insect life added a whole new dimension to taking a shower. You were either in and out in a hurry or you took your time to watch the wildlife show going on around you.
Worst Experience in a Bathroom Award – Sunshine Coast
This wasn't going to be a category, but Nat made me include it.
At some point each day amenities blocks close for cleaning. On this day Nat arrived 15 minutes before closing time and went straight to the shower.
The cleaner arrived shortly after and shouted to her that the block was closing, she would have to leave. Nat replied that she was rinsing off and would be right out. No sooner had the words left her mouth; her shower stopped flowing. The cleaner had turned off the water!
They came back in and told her again she had to leave. With her long hair still full of shampoo, she told them she couldn't and wouldn't go until she had rinsed. After a couple of minutes, the water came back on. She rinsed, dried, ripped the cleaner a new one and left.
The fact she insisted this get a mention suggests there are still some anger issues to work through. Even so, turning off the water?
Congratulations to the inaugural winners. I salute you for the contribution you've made to our travelling adventures. I look forward to adding to the list as our journeys continue.
And that park with the reviews that made this story possible? It is in Streaky Bay in South Australia. Their private bathrooms are amazing!
If you enjoyed this story you might also like:
Long Drop Survival | Backing the Camper | Sandflies
Like it? Pin it for later…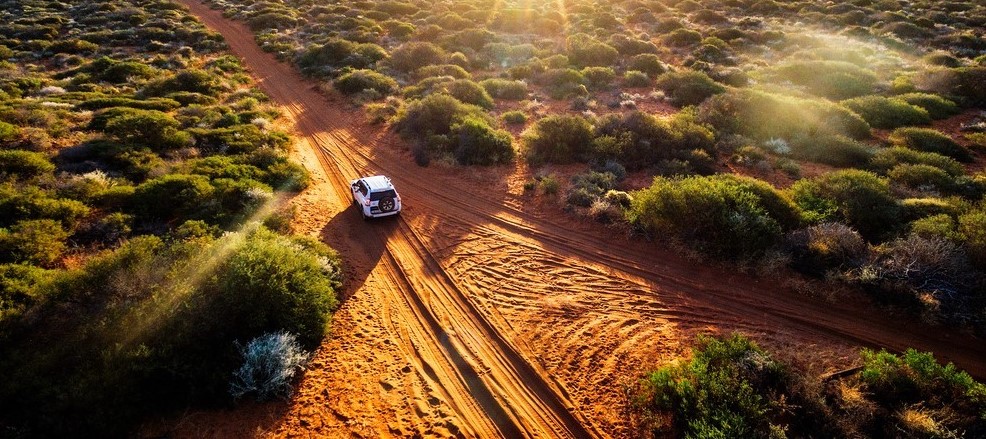 500 THINGS TO DO
Join our mailing list and receive our Free Top 500 things to do in Australia. If you love the Australian Outdoors download this list and keep it handy when you are planning a weekend away or a road trip around Australia.
Recent Posts: