Berrara is a quiet little holiday village on the south coast of New South Wales. If you are looking for a peaceful getaway it is the perfect place to relax near the water. If you feel like being a bit more active there are lots of things to do in Berrara and the neighboring area. Think watersports, national park walks, spectacular coastline and great beaches.
Disclosure: Please note that some links in this post may be affiliate links, and at no additional cost to you, we earn a small commission if you make a purchase. Commissions are appreciated and go toward maintaining the Curious Campers website.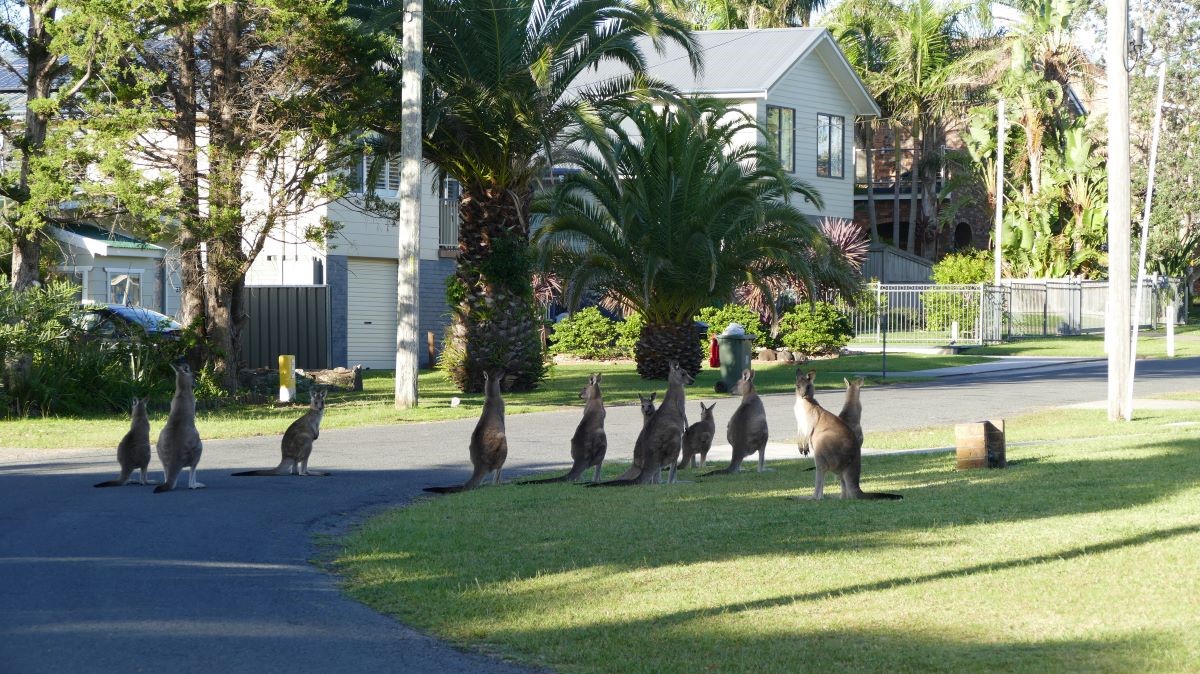 Things to do in Berrara
Berrara Beach is 3 hours from Sydney and is a perfect weekend holiday spot. Along with neighboring Cudmirrah, it is one of two small villages near Sussex Inlet. Our highlights were the friendly kangaroos at Berrara Waters and feeding the stingrays at nearby Boat Harbour Beach. Check out our list of things to do in Berrara and see why it should be on your list of places to explore in New South Wales.
Berrara Beach
While it might not be your picture postcard Shoalhaven beach it is still great for cooling off and relaxing on the sand. The rocky headlands at either end make it a great spot for exploring rock pools and going for a snorkel. There is parking off Silver Sands Drive. Berrara Cove Reserve is right behind the Berrara Beach and has a small playground and picnic tables.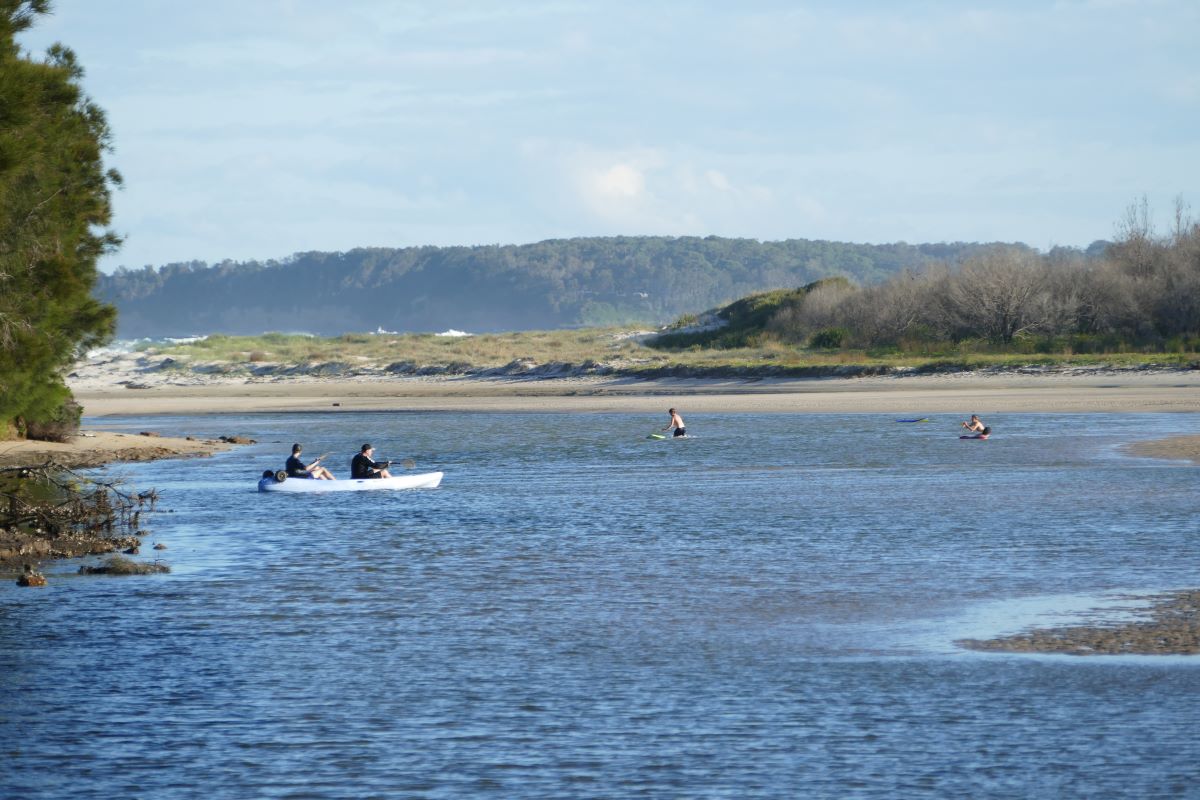 Berrara Lagoon Reserve
Located off Lakeland Avenue, this little reserve is a good launching spot for kayaks and stand up paddle boards. The reserve is also the access point for the Berrara Creek Walk that takes you through the bush along to Fisherman's Rock. This is a great walk if you like spotting birds. The reserve has a BBQ and picnic area.
BERRARA LAGOON CHALET
We loved our stay at Berrara in a Lagoon Çhalet fronting on to the water. We watched the kanagroos on the lawns and the sunset over the lagoon. Put the kayak in the water or perhaps try a spot of fishing right out the front of your cabin. This two bedroom cabin with full kitchen and bbq is the perfect way to kick back and relax.

Cudmirrah Beach
This long surf beach is home of the Sussex Inlet Surf Life Saving club so in summer look out for the red and yellow flags for a safe place to swim. There are a couple of lookouts at either end of the beach. There's the Third Avenue Reserve Lookout at the southern end and north Cudmirrah Beach lookout at the other.
Best access to the beach is near the surf club but there are other access points at either end of the beach.
Swan Lake
No, not the ballet but a beautiful spot to launch a kayak, stand up paddle or sailing boat or wet a line. The Swan Lake Walk between the Cuddy Café and Swanhaven has great views over the lake and includes areas where your pooch can run off leash. There are picnic and BBQ areas dotted around the lake which make for a very peaceful place to have lunch. There is a lot of  birdlife around the lake so keep an eye out for a wide range of waterbirds and the kookaburras that like to eye off your lunch.
Green Island and Manyana Beach
Well known as a surfing and snorkelling destination, Manyana beach is 25 minutes south of Berrara. Cunjurong Point is at the southern end of the beach and from there, at low tide you get to Green Island. With the inlet to Lake Conjola and Lake Berringer, the island and the open coastline, you can get some interesting currents and surf. So, keep an eye on the conditions but it is a fun and beautiful spot to explore.
Lake Conjola
Lake Conjola is 30 minutes form Berrara and is a great spot water sport. There is access to Conjola Beach which backs onto the Conjola National Park.  If you like off road cycling head for the trails through Conjola National Park. Look for the Walter Hood Ride from Cudmirrah Beach. Rides through the Narrawallee Creek Reserve and the Monument Beach ride from Bendalong are popular too.
FISHERMANS PARADISE ECO-WALK
Explore the peaceful village of Fishermans Paradise on a 90 minute guided walk with locals. Hear stories of natural environment, history and the bushfires of 2019-2020. See a diverse range of wildlife and regenerating bush. You'll see Lake Conjola  from the riverside walking route.
Sussex Inlet
Sussex Inlet is the biggest town near Berrara but when we say big, it still little more than a water-side holiday village. It is a pretty spot though and is where you'll go for supplies and a good bakery. It is a hub for kayak and stand up paddle board hire, fishing and sailing.
If the weather turns bad, check out the Sussex Inlet Cinema. Built in 1948, and updated over time, it still retains all the charm of a small holiday town movie house.
For a bite to eat the Pelican shores café has lovely views over the water and a relaxed vibe. It is easy to spend an afternoon there having a coffee and a meal as you watch the pelicans cruise by or come in and land on the poles of the wharf. It is a very relaxing spot.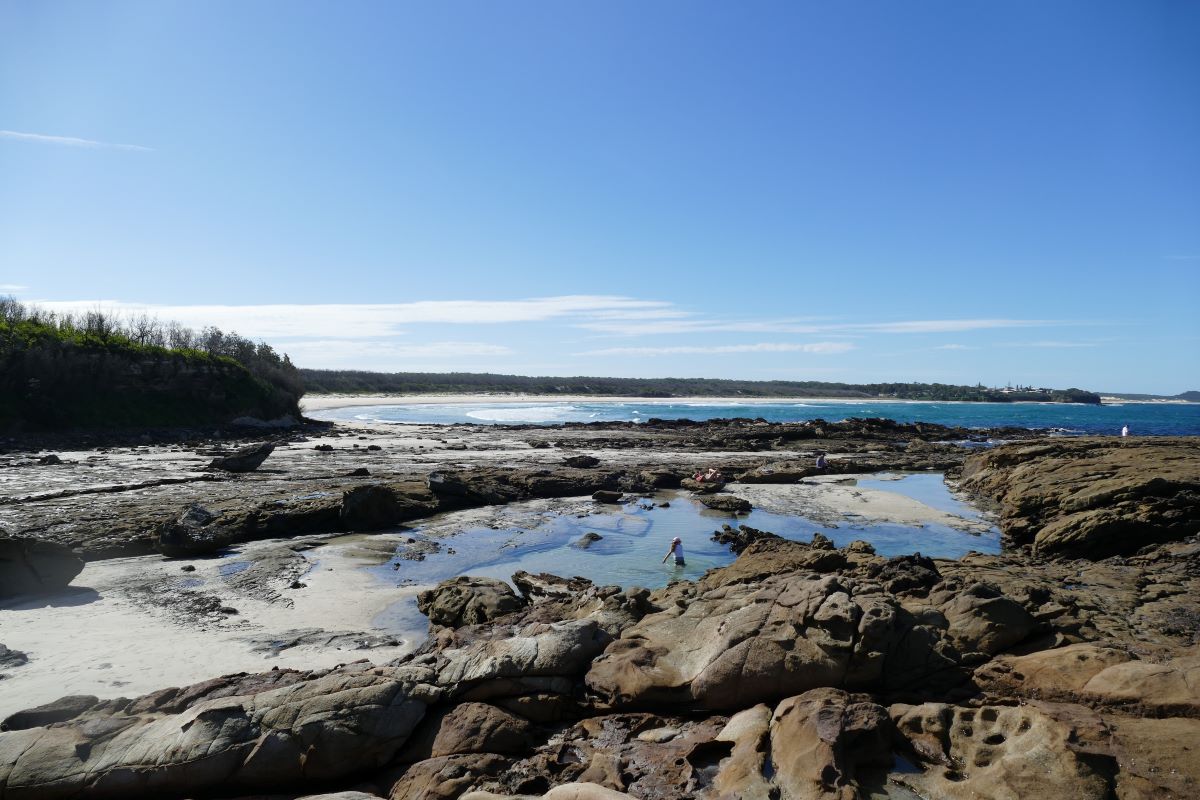 Berrara Walks
From Berrara Beach there are some great walks. If you only want a short stroll you can head up the beach to Mermaid Pool. Plan your walk to get there at low tide or the pool won't be visible, but when it is you'll see a pretty little rock pool perfect for cooling off. The walk from Berrara to Mermaid Pool and back is about 45 minutes.
For a longer stroll continue to Tiny Shell Beach and the Walter Hood Monument before you get to the mouth of Nerrindillah Creek. If you want to really stretch your legs, keep going to Washerwomans Beach and onto Boat Harbour Beach in Bendalong. Allow 3.5 – 4 hours for the entire walk.
Bendalong
Even if you don't feel up for walking to Bendalong, it is worth the 30 minute drive to visit Boat Harbour Beach. The beach has become well known for the eagle rays that come to the water's edge to be hand fed. It is quite a sight! Up to a metre long, the stingrays will swim in less than 30 centimetres of water and take food right from your fingers.
When you're done feeding the stingrays you can take your choice of other beaches to relax on. Bendalong (Inyadda) Beach or the lovely Washerwomans Beach are nearby.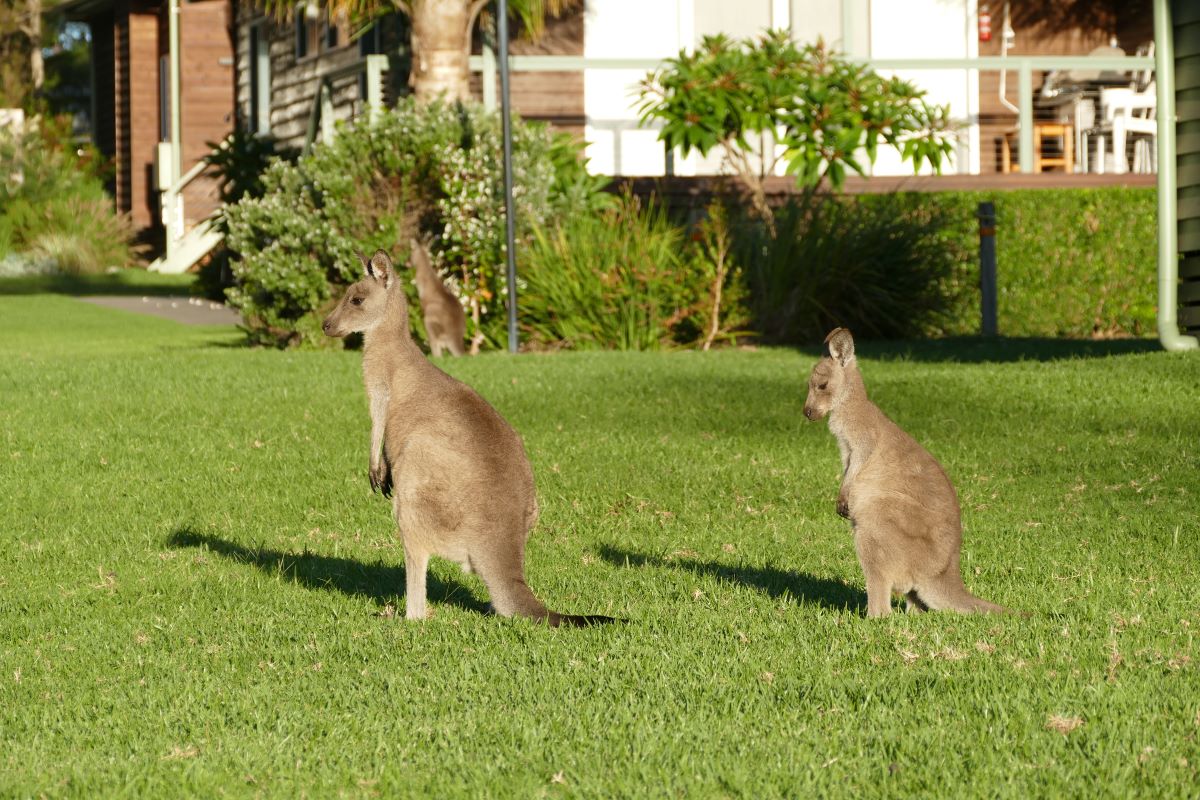 Berrara Lagoon Chalet
There is no shortage of places to stay around Berrara, but we loved our spot in Berrara Waters. There are several cabins available in Berrara Waters and if you get the chance, they are a great base for exploring the area or to sit around and take it easy. They overlook the lagoon, and from there it is a fun walk across the sandflats to Berrara Beach.
The highlight was the wildlife, and in particular the resident eastern grey kangaroos. They are all over the property and not at all concerned by people. They come up to say hello as you sit on the front porch having breakfast or an afternoon drink. As we discovered, they don't mind coming right up to see what you have in your brekky bowl.
The birdlife is great too. Kookaburras, rosellas, lorikeets and lots of small birds flit between the trees around the cabins. The place has a great atmosphere, lots of open grass areas and we recommend it if you are looking for a quiet getaway or somewhere to take the family.
BERRARA LAGOON CHALET
We loved our stay at Berrara in a Lagoon Çhalet fronting on to the water. We watched the kanagroos on the lawns and the sunset over the lagoon. Put the kayak in the water or perhaps try a spot of fishing right out the front of your cabin. This two bedroom cabin with full kitchen and bbq is the perfect way to kick back and relax.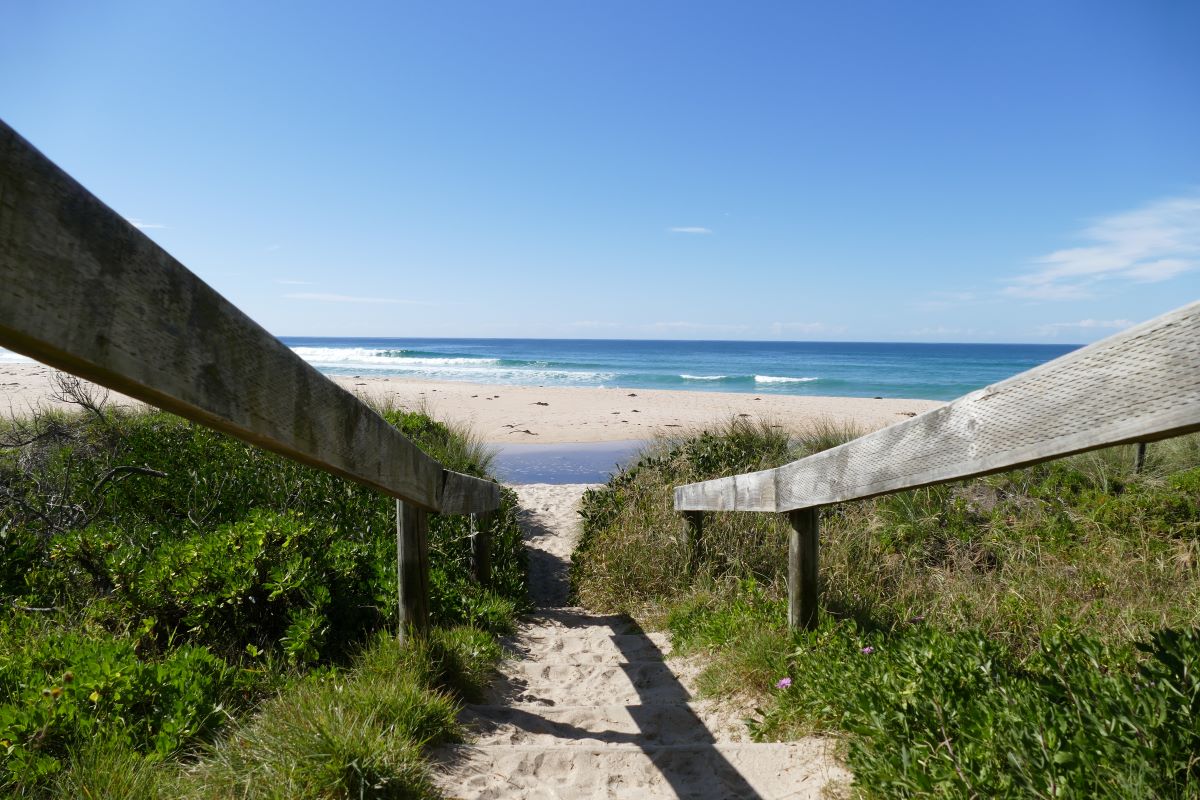 Jervis Bay
If you are looking for a great day trip from Berrara head around to Jervis Bay. It is a 45 minute drive, but it is a great place for exploring stunning beaches, going for a kayak, snorkelling or a bit of lighthouse action. It is a fascinating place – part national park, part artillery range – full of wildlife and great views. Read our guide to Jervis Bay to plan your visit.
LIKE IT… PIN IT FOR LATER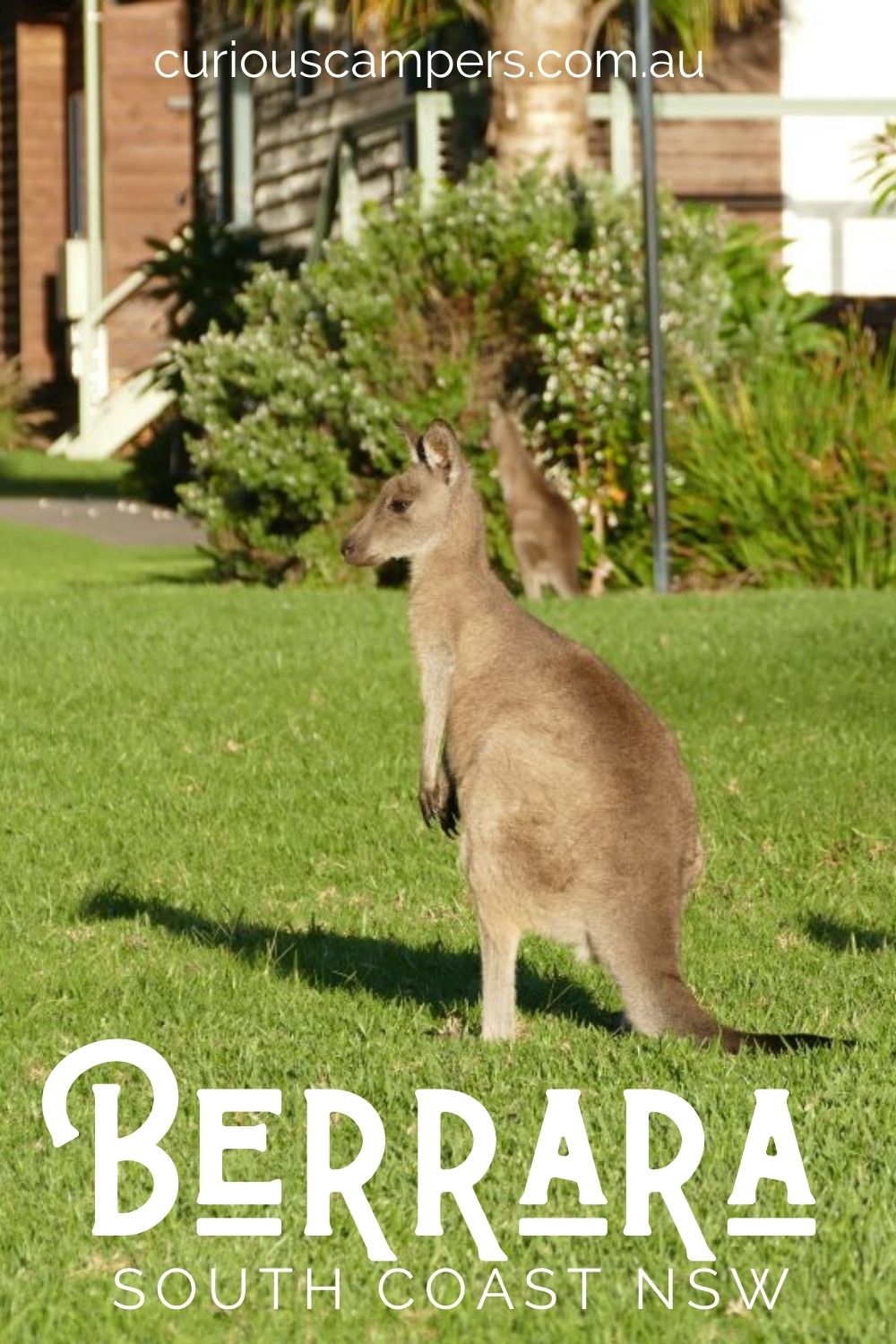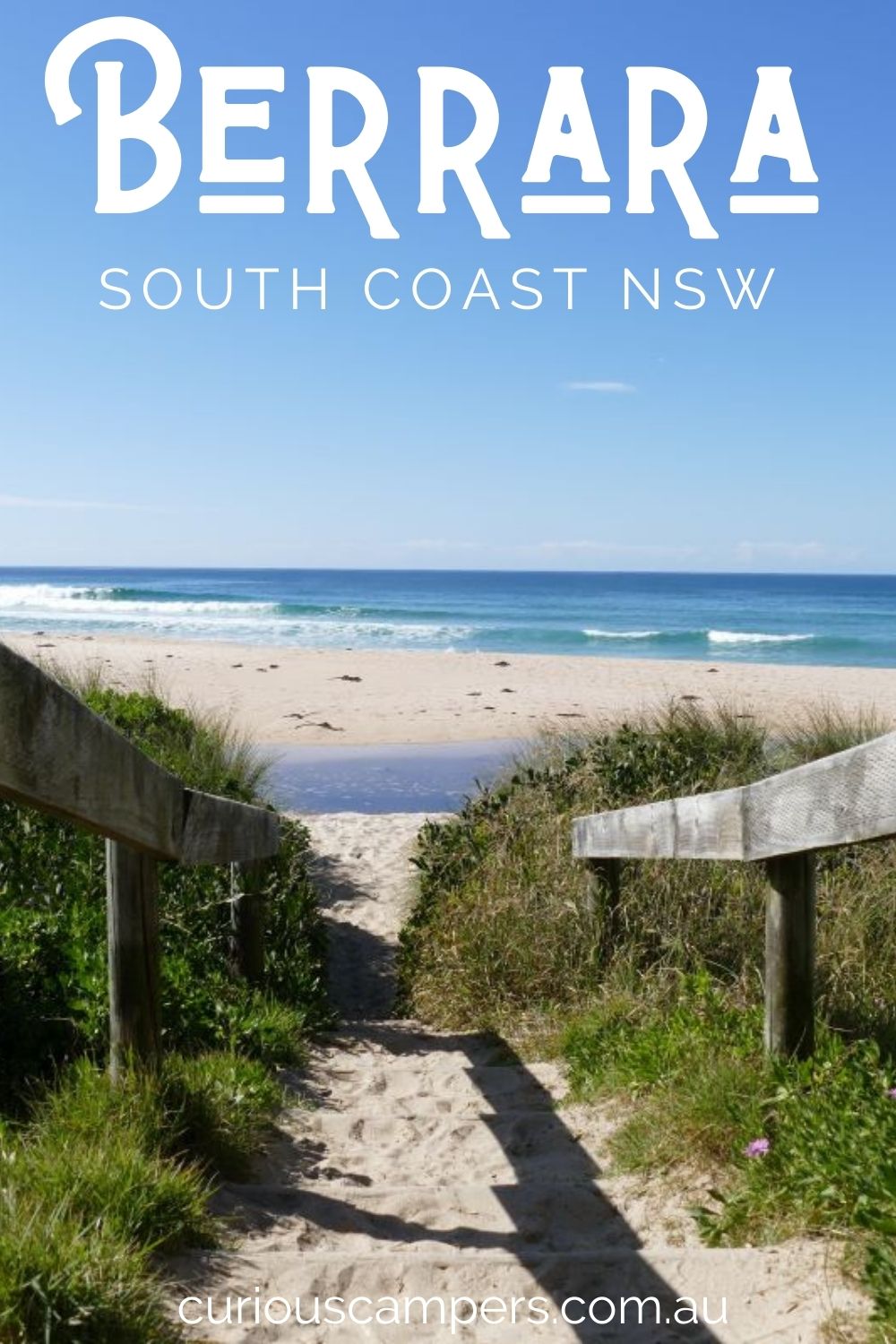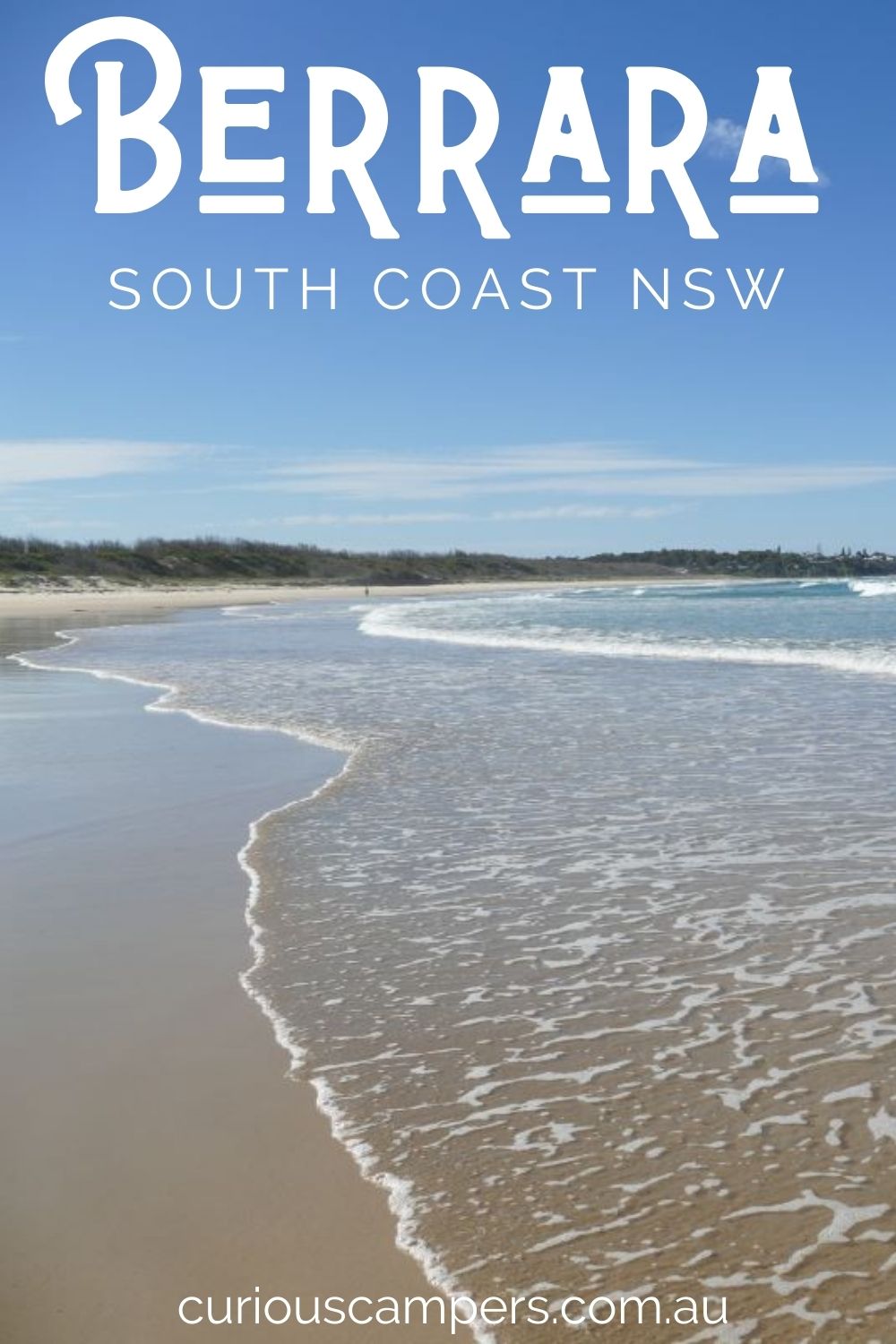 500 Things to do
Join our mailing list and receive our Free Top 500 things to do in Australia. If you love Australian Outdoor Experiences download this list and keep it handy when you are planning a weekend away or a road trip around Australia.