Victor Harbor is a beloved seaside town on South Australia's Fleurieu Peninsula. Whether your interests are wildlife, history, or art it is a great place to visit year round.
Located just over an hour from Adelaide, Victor harbor can be a great day trip or the perfect spot to spend a week. It is one of South Australia's most popular holiday spots so expect it to be busy during school holidays.
Disclosure: Please note that some links in this post may be affiliate links, and at no additional cost to you, we earn a small commission if you make a purchase. Commissions are appreciated and go toward maintaining the Curious Campers website.
Victor Harbor or Harbour?
For people worried that the word harbor is misspelt, fear not. In 1921 the South Australian government declared that all South Australian harbors be spelt without the 'u'. Rather than being the American spelling, it is an archaic English form of the word.
In the 1980s the local paper, the then Victor Harbour Times, ran a campaign to get rid of all uses of 'harbour' in the town. Now, apart from the Victor Harbour train station, everything from the local high school to the fish and chip shop go by Victor Harbor. 
Onshore and offshore fun
One of the features of Victor Harbor is Granite Island. You can walk to the island from the foreshore along the 650 metre long causeway. The causeway offers great views, lots of bird life and the chance to spot a leafy sea dragon. Don't let the size of Granite Island trick you. It might not look big, but there is a lot to see and do there.
Since you could spend a couple of days just exploring Granite Island, our list of things to in Victor Harbor starts there.
Granite Island is also known as The Granite Island Recreation Park. There is plenty to do whether you are exploring the island's sculpture trail or taking in the wildlife. Here are a few of our favourite things to do on the island. A lot of the activities are so much fun we have separate posts for them which we link to in the list.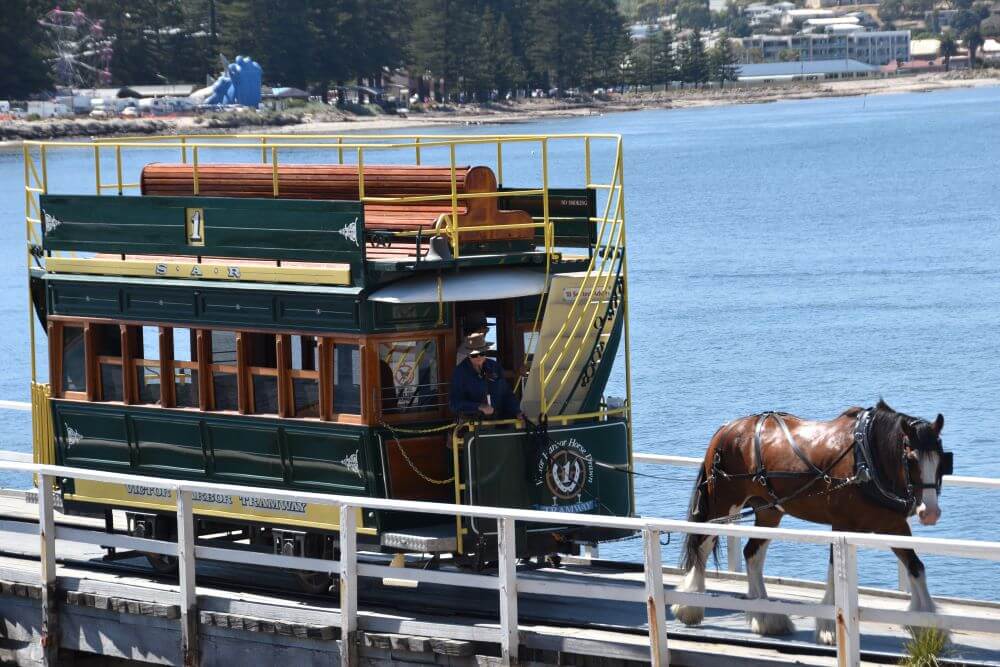 1. Horse drawn tram
A fun and more relaxing way to get to Granite Island than walking, is riding on the restored heritage trams pulled by Clydesdale horses. The tram leaves from the Victor Harbor Visitor Information Centre and stops at the Island Cafe.
Return fares start from $15 per adult, children 13 and under accompanied by an adult are free. The tram runs regularly over summer although it can be cancelled in wet, windy or very hot weather.
The 150 year old horse drawn tram.  causeway is being replaced over the course of 2020/21, but the original structure is being retained until the new one is complete. The trip over is a lovely way to begin your granite island experience.
2. Big Duck Boat Tours
Halfway along the causeway you will see signs for the Big Duck Boat Tour. These are a great way to see the areas marine wildlife including dolphins, seals and whales. The coastal scenery is also spectacular.
Between June and September southern right whales are a common sight.  Big Duck Boat Tours are a great way to see them – although you can't predict when and where they will appear. We have done the tour a couple of times, it's fantastic! Read about it here.
SEAL ISLAND DOLPHIN & SEAL CRUISE
Take an exhilarating 45-minute boat ride from the Granite Island Causeway to Seal Island and Wright Island to look for seals, sea lions, and bottle-nose dolphins. Hear the history of whaling in Encounter Bay. During winter you might be lucky enough to spot a few whales along the way.

3. Little penguins
Granite island is home to a population of little Penguins. You probably won't catch sight of them during the day. You can go on a 90 minute dusk tour to see the penguins return to shore after a day at sea.
The island closes to visitors by the time the penguins come in, so the tour is the only way to see them. Spotting the little penguins returning to shore and waddling to the nests is a wonderful sight.
4. Tuna swim
Granite Island is also the access point for the Oceanic Victor tuna swim. This is one amazing experience! You get to swim, feed and interact with southern bluefin tuna. The 2 hour experience incorporates a range of other activities too.
Even if getting in the water isn't your thing, the tour is still worth doing. Watching the tuna from the viewing platform is great. You also get to meet some very friendly sharks!
5. Kaiki Walk
When you find yourself on a small island there is a natural urge to walk around it. On Granite Island there is a 3 kilometre trail that allows you to do just that. The Kaiki Walk starts right in front of you as you come off the causeway.
The start of the walk has lovely views back to Victor Harbor. As you make your way around to the exposed southern side of the island it become obvious how it got its name. There are some spectacular granite outcrops.
In places the granite is coated in orange lichen which, on a sunny day, looks iridescent against a blue sky and deep blue water. Further around, the boulders have weathered into sculptured shapes. Look out for Umbrella Rock. It's a hollowed out boulder where visitors to the island used to take shelter from the rain.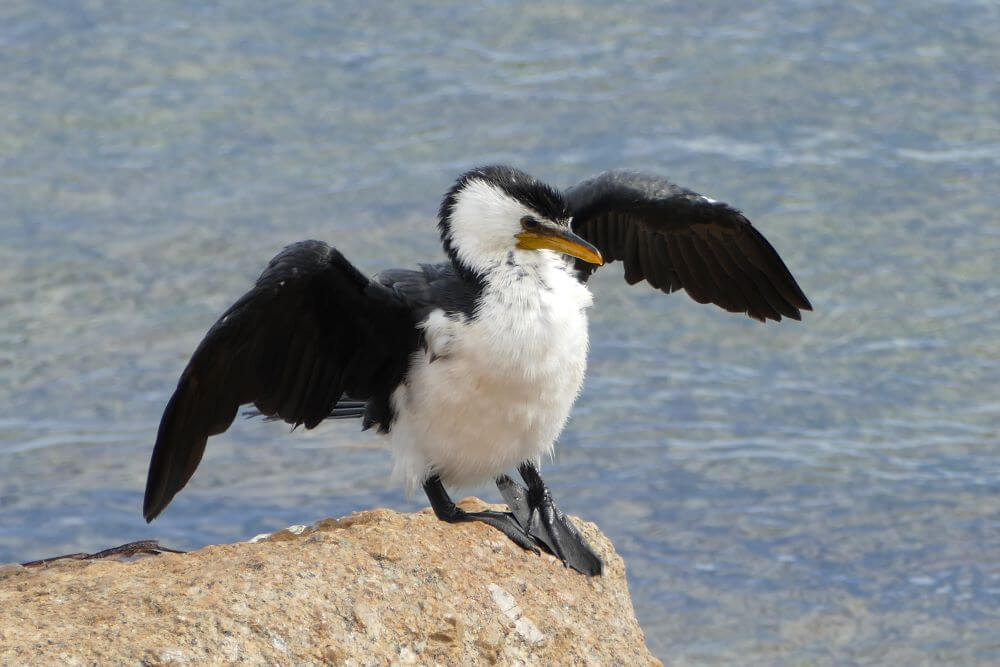 7. Birdlife
Granite Island is also home to several bird species.  You can't miss the striking black faced cormorants sitting on the rocks around the island. Pacific gulls often sit atop the lights along the causeway. These aren't your average chip stealing seagulls, they're huge! Crested terns live on the islands around Granite Island and often stop in for a visit too.
FULL DAY DEEP CREEK, RAPID BAY & VICTOR HARBOR
Enjoy a guided walk through Deep Creek Conservation Park, home to diverse wildlife including Western Grey Kangaroos, Echidnas and native birds. Enjoy a gourmet picnic. Visit Rapid Bay Beach & follow the Victor Harbor Discovery Trail. Watch out for dolphins and whales offshore. Tasting at Alexandrina Cheese & Mt Jagged Wines.
8. Granite Island Café
Because Granite Island will be a bit of a walk from your car, it's great that it has a nice café. When you finish the sculpture trail or watching waves crash on the breakwater, the Island Café is a great place to relax.
It's more than just an ice cream shop. There is everything from regular café-style food to meals featuring the areas seafood. It is a great way to round out your visit to Granite Island.
9. Foreshore fun
The Victor Harbor foreshore has all sorts of things to do. In school holidays there is an amusement park complete with Ferris wheel, dodgems and other rides. There is Dunes Mini Golf which features many of the areas iconic birds and animals along the course.
The G T Fisher Nature playground is fun for kids of all ages. They can swing, hide, climb and balance in this brilliant playground designed by the local community.
The centrepiece of the playground used to be an old steam train engine. In mid-2019 the park was redeveloped in the nature play theme. Train lovers needn't despair. The old engine is still there.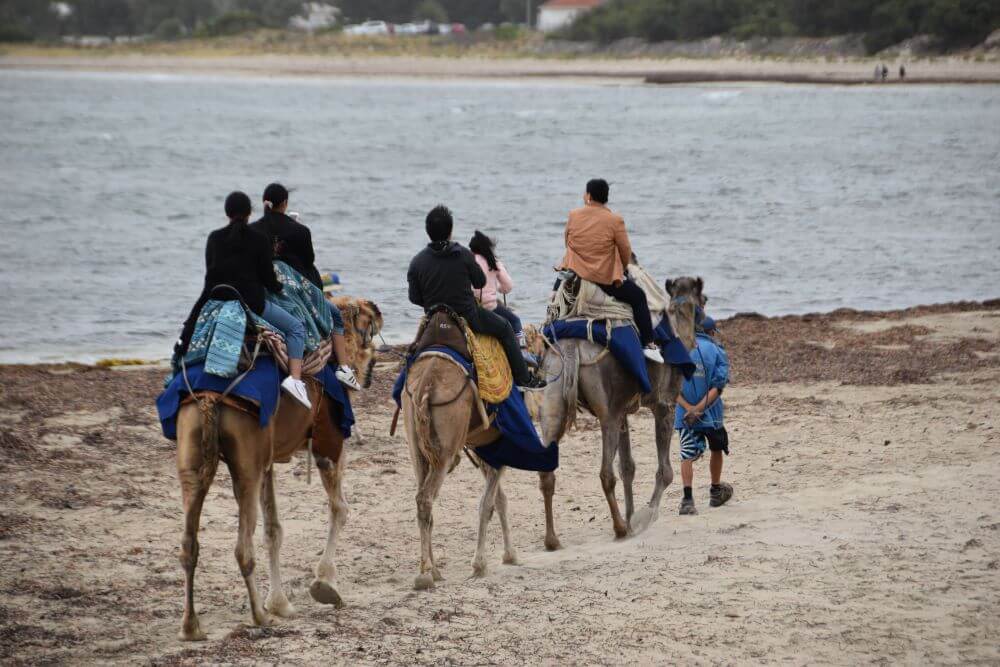 10. Camel and pony rides
Okay, so it might not be Broome's Cable Beach, but a camel ride along the sand at Victor Harbor is still great fun. If you haven't hopped on top a camel before, you should. There is a great rhythm to their walk as they stroll along the beach. If the camels look a bit big there are pony rides too.
11. South Australian Whale Centre
The waters around Victor Harbor are great for whale watching. The whale season runs from April to October. All the information you'll need to see them is at the South Australian Whale Centre. Located in the heart of Victor Harbor, the whale centre does a lot more than report daily whale sightings.
There are interactive displays, touch tables and a fossil dig area. Kids can even walk through the insides of a giant squid! Family passes to the whale centre are $25.
Photo Credit: Big Duck Boat Tour Victor Harbor
12. Whale watching
Whales can bob up in any of the waters around Victor Harbor. The best way to keep track of where they are is to follow the Whale Centre's Live Sightings Log.
Sometimes they can be quite close to shore. A mother and calf once tuned up in the bay not far from the causeway connecting Granite Island to Victor Harbor. Bashams Beach and The Bluff are also popular whale watching locations.
BIRD & WILDLIFE WATCHING BINOCULARS
Tasco Essentials Binoculars have 12 times magnification. Whether you're camping, birdwatching, hiking, kayaking, sightseeing or watching live sports, you won't be disappointed by the optics of this binocular. They are waterproof, so pack them for a walk or paddling down a river.
13. Beaches
The beaches around the township of Victor are family friendly. They are well protected compared to the nearby surf beaches. Try Kent Reserve and the Soldiers Memorial Garden for easy beach access, toilets, and picnic and BBQ facilities.
The beaches around Victor Harbor are prone to collecting sea grass but there is still plenty of sand. For 'cleaner' beaches, check out Goolwa or Bashams Beach. Just look out for the heavier surf conditions.
14. The Bluff
The Bluff, or Rosetta Head, is a prominent headland about 10 minutes drive from the middle of Victor Harbor. It is a spectacular place. Encounter Bay is on one side of the headland. There is a boat ramp there and, tucked in next to The Bluff, a small jetty.
On the other side of the Bluff is Petrel Cove. As friendly as the beaches around Victor Harbor are, the beach at Petrel Cove is not. It is a rugged and beautiful bay but be careful swimming there as strong currents and big waves are common. There are also a lot of rocks near the shoreline.
Between Petrel Cove and Encounter Bay is The Bluff itself. The Rosetta Trail is a solid 800m climb up a sometimes slippery track but it's not a long walk. Five or ten minutes will get you to the top and there are rest stops along the way.
The views from the top are fantastic. Although it is not that high, it is quite exposed and it can get windy. Look out for whales between April and October and look up for white bellied sea eagles.
MCLAREN VALE WINERY TOUR & LUNCH
Visit the best wineries, distilleries, breweries and eateries in McLaren Vale with the guided experience of a local. During the full day tour visit to 2-4 wineries or breweries in McLaren Vale. Once you have heard the best options, choose where you would like to stop for lunch. 
15. Cockle train
It doesn't matter how old you are, everyone likes a steam train ride. The Cockle Train runs between Victor Harbor and Goolwa and stops at the towns of Middleton and Port Elliot.
From the old carriages and the sound and smell of the engine to the blast from the horn at the train crossings, it is a magic experience. It is a half hour ride one way. The train stops near the Goolwa Wharf and the main street.
Along the way there are views of the coast, townships, beach houses and farmland. At every crossing there are people on the road waving as you choof past. Return family tickets for the Cockle Train are $76. Check out the SteamRanger website for all the details about this and other train rides
16. Urimbirra Wildlife Park
We do enjoy a wildlife park here at Curious Campers and Urimbirra Wildlife Park is a beauty. It is 10 minutes from Victor Harbor on the main road to Adelaide. Not as big as some parks, it is a great place if you want to get up close to Australian birds and animals.
You can hand feed kangaroos and emus and there are parrots to talk to and koalas to pat. We visited the park in January and there were joeys everywhere – very cute. They also had our favourite kangaroos – the Kangaroo Island variety. Their thick fur, dark face and laid back personality are lovely. Get all the details about Urimbirra Wildlife Park here.
We've included plenty of links if you want more information about the things on our list. We love learning about anything we have missed. So, if you have a great Victor Harbor attraction or experience, we'd love to hear from you.
500 Things to do
Join our mailing list and receive our Free Top 500 things to do in Australia. If you love Australian Outdoor Experiences download this list and keep it handy when you are planning a weekend away or a road trip around Australia.