Victor Harbor is a beloved seaside town on South Australia's Fleurieu Peninsula. Whether your interests are wildlife, history, or art it is a great place to visit year round.
Located just over an hour from Adelaide, Victor harbor can be a great day trip from Adelaide or the perfect spot to spend a week. It is one of South Australia's most popular holiday spots so expect it to be busy during school holidays.
Featured Image: Horse Drawn Trams, Victor Harbor © Graham Scheer
Disclosure: Please Note That Some Links In This Post May Be Affiliate Links, And At No Additional Cost To You, We Earn A Small Commission If You Make A Purchase. Commissions Go Toward Maintaining The Curious Campers Website.
How to get to Victor Harbor
From Adelaide there are a couple routes to Victor Harbor. The quickest way is via the Southern Expressway which takes about 70 minutes. If time is not an issue and you fancy a more scenic drive, you can take 90 minutes to get to Victor Harbor through the Adelaide Hills and the historic town of Strathalbyn.
Victor Harbor FAQ's
Can I Swim?
Where can you swim at Victor Harbor?
You can swim at Victor Harbor, but it must be said, there are nicer beaches in the area. But, if you are after a bit of sand and family friendly conditions, you can swim near the causeway of further along at Kent Reserve.
Car Parking
Car Parking in Victor Harbor
Much of the parking in the heart of Victor Harbor and near the causeway is ticketed.
Free Things to Do
Free Things to Do in Victor Harbor
Walk across the causeway to Granite Island and do a lap of the Island, go whale watching, walk to the top of the bluff, explore the rock pools at Petrel Cove or Kings Beach, play on the beach at Kent Reserve.
Things to Do with Kids
Things to do with Kids in Victor Harbor?
Have a putt at Dunes Mini golf on the foreshore, feed local wildlife at Urimbirra Wildlife Park, Ride the horse drawn tram across to Granite Island, relax by the amazing nature play playground on the esplanade, go for a camel or pony ride on the beach, catch the Cockle Train to Goolwa.
Schoolies
Schoolies at Victor Harbor
Victor Harbor is the go to place for Year 12 students celebrating the end of school. If you want to avoid the festivities, steer clear of Victor Harbor in late November. Accommodation is hard to get around this time too.
Victor Harbour?
Victor Harbor or Victor Harbour?
For people worried that the word harbor is misspelt, fear not. In 1921 the South Australian government declared that all South Australian harbors be spelt without the 'u'. Rather than being the American spelling, it is an archaic English form of the word.
In the 1980s the local paper, the then Victor Harbour Times, ran a campaign to get rid of all uses of 'harbour' in the town. Now, apart from the Victor Harbour train station, everything from the local high school to the fish and chip shop go by Victor Harbor.
Explore Granite Island
Granite Island Recreation Park, or just Granite Island to locals and visitors, is one of the best attractions in Victor Harbor. There is plenty to do whether you are walking around the island, enjoying the views from the causeway or taking in the wildlife. You can walk to the island from the foreshore along the 650 metre long causeway. Don't let the size of Granite Island trick you. It might not look big, but there is a lot to see and do.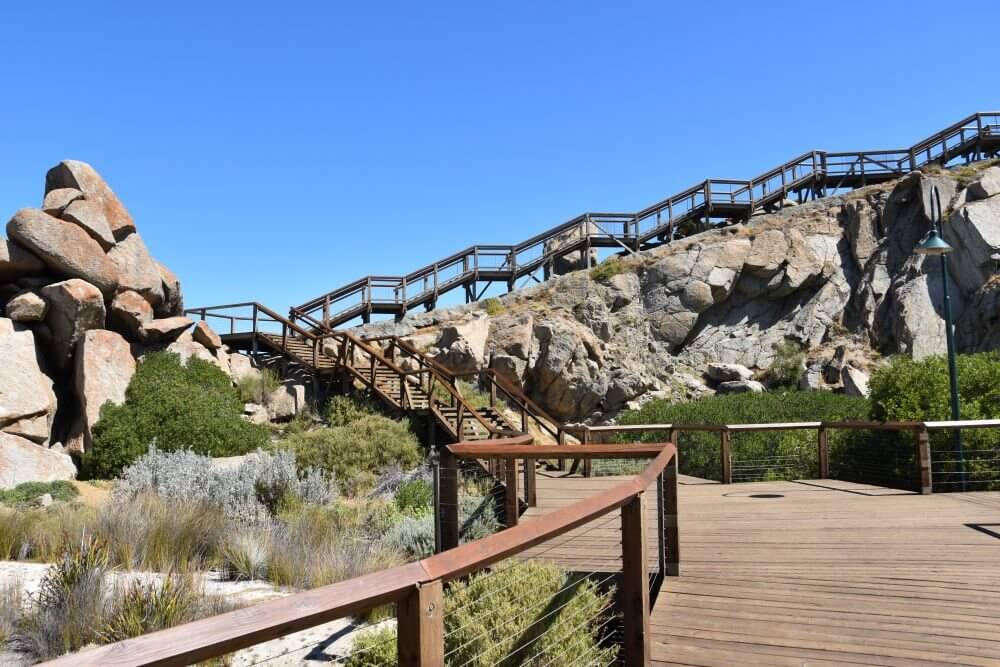 Kaiki Walk
When you find yourself on a small island there is a natural urge to walk around it. On Granite Island there is a 3 kilometre trail that allows you to do just that. The Kaiki Walk starts right in front of you as you come off the causeway. It is an easy undulating track with a few steps at the end. We suggest walking around in an anticlockwise direction – the views will get better and better as you go around. You'll walk down the steps at the end and you will finish near the horse drawn tram station.
The start of the walk has lovely views back to Victor Harbor. As you make your way around to the exposed southern side it become obvious how the place got its name. There are spectacular weathered granite outcrops, some coated in orange lichen which glows on a sunny day against the blue of the sky and sea. Look out for Umbrella Rock. It's a hollowed out boulder where visitors to the island used to take shelter from the rain.
If the wind is up, on the last part of the walk near the breakwater, you can see some big waves and sprays as the swells hit the island.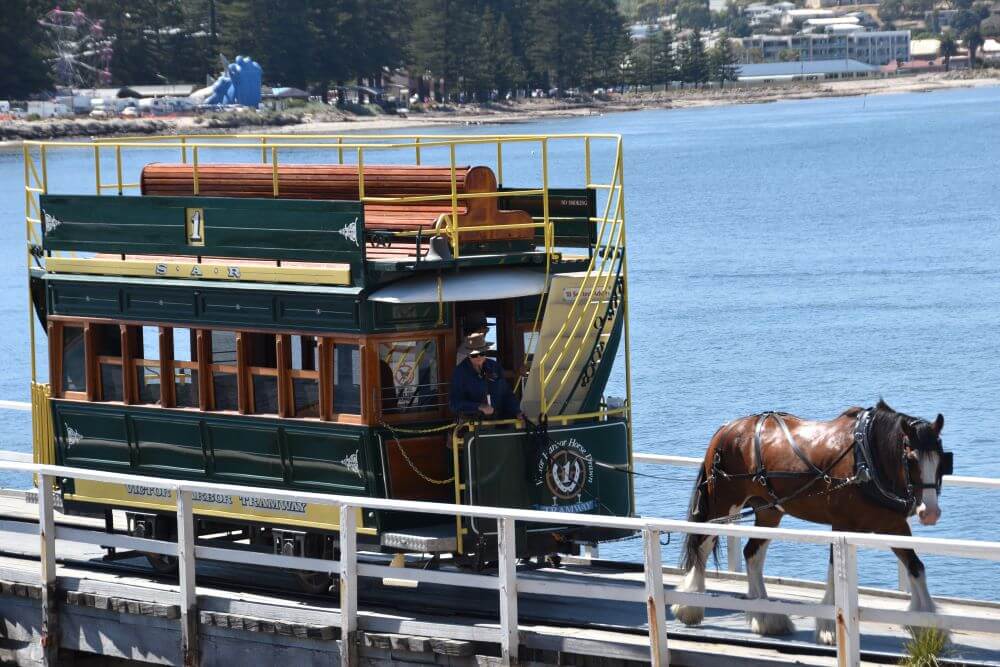 Horse Drawn Tram
A fun and relaxing way to get to Granite Island is to go for a ride on the horse drawn tram. Wonderful Clydesdale horses pull restored heritage trams across the causeway from the Victor Harbor Visitor Information Centre to the Granite Island breakwater. The tram runs regularly daily from 10.30am, it can be cancelled in wet, windy or very hot weather.
There is a team of 8 horses that take turns working half a day each. Between times they relax in a very good paddock and enjoy regular visits to the beach. The driver can tell you the name of the horse; a few of the beautiful animals to look out for are Chester, Scotty, Jay Jay, Isabella and Albert.
Relax at the Island Cafe
Having received a bit of a facelift the Island Café on Granite Island is back to being one of the best places in Victor Harbor to grab a coffee or snack. On a warm summer day, you can't beat the views from the veranda back over Screwpile Jetty, towards the Causeway and township and across to Boomer Beach and Port Elliot. There is a super relaxed vibe, it's pretty easy to unwind as you watch the horse drawn tram go back and forth or keep an eye out for dolphins in the marina.
Big Duck Boat Tours
Halfway along the causeway you will see signs for Big Duck Boat Tours. These are a great way to see the areas marine wildlife including dolphins, seals and whales. The coastal scenery including the Waitpinga Cliffs, Encounter Bay and the local islands is also spectacular.
The Seal Island and Southern Ocean Explorer tours are the most popular, we have done the Ocean Explorer tour 3 times, it's fantastic! Between June and September southern right whales are a common sight. If they are nearby, Big Duck Boat Tours are a great way to see them.
Read more about Victor Harbor Big Duck Boat Tours here including the fantastic Sea Wirrina Tour that leaves from the other side of the Fleurieu Peninsula.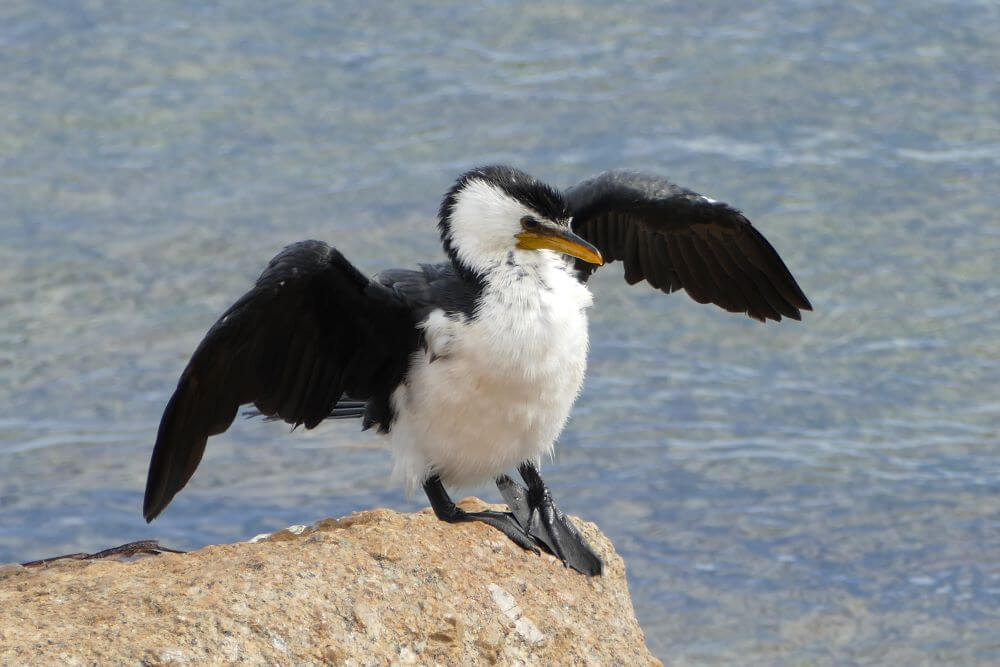 Spot the local Birdlife
Granite Island is home to several bird species. You can't miss the striking black faced cormorants sitting on the rocks around the island. Pacific gulls often sit atop the lights along the causeway. These aren't your average chip stealing seagulls, they're huge! Crested terns live on the islands around Granite Island and often stop in for a visit too. If you are lucky, you spot a sea eagle hovering overhead too.
Things to do in Victor Harbor
Many of the best things to do in Victor Harbor are in the precinct around Warland Reserve. On two sides it is surrounded by the Hotel Victor, the Hotel Crown, cafes and restaurants including the Victor Ice Creamery, Klaus's German Hot Dog Cart, the Encounter Bistro and Bruch on Albert, to name just a few. On the other side of the reserve is the South Australian Whale Centre, the G T Fisher Nature Play Playground, Dunes Mini Golf, access to the causeway across to Granite Island and Victor Harbor Horse Drawn Tram. The reserve is a great base for enjoying Victor Harbor's best attractions.
South Australian Whale Centre
From April to October the waters around Victor Harbor are great for whale watching. All the information you'll need to see them is at the South Australian Whale Centre. Located in the heart of Victor Harbor, there are also interactive displays, touch tables and a fossil dig area. Kids can even walk through the insides of a giant squid! Family passes to the whale centre are $15.
Urimbirra Wildlife Park
We do enjoy a wildlife park here at Curious Campers and Urimbirra Wildlife Park is a beauty. It is 10 minutes from Victor Harbor on the main road to Adelaide. Not as big as some parks, it is a great place if you want to get up close to Australian birds and animals.
You can hand feed kangaroos and emus and there are parrots to talk to and koalas to pat. We visited the park in January and there joeys everywhere – very cute. They also had our favourite kangaroos – the Kangaroo Island variety. Their thick fur, dark face and laid back personality are lovely. Get all the details about Urimbirra Wildlife Park here.
Find more fantasic Wildlife Experiences in South Australia
Swim & Play at the Beach
The beaches around Victor Harbor are family friendly. They are well protected compared to the nearby surf beaches. Try Kent Reserve and the Soldiers Memorial Garden for easy beach access, toilets, and picnic and BBQ facilities. The beaches around Victor Harbor are prone to collecting sea grass but there is still plenty of sand. For 'cleaner' beaches, check out Goolwa or Basham Beach. Just look out for the heavier surf conditions
Victor Harbor Amusement Park
Right at the start of causeway to Granite Island, you'll find this fun little amusement park. Operating on weekends, school holidays and most public holidays, the sideshows and rides bring a fun atmosphere to the seaside. The family run business has been in Victor Harbor for around 60 years. There is a Ferris wheel, dodgems and other rides, it is one of the attractions in Victor that has made it such a popular family holiday spot for generations.
Victor Harbor Markets
If you love strolling through a market, there are a couple of options in Victor Harbor. The Victor Harbor Beachside Markets run every second and fourth Sunday of the month from 9am-4pm in summer and 9am- 3pm in winter. In January, they run every Sunday.
They are held in the Soldiers Memorial Reserve on The Esplanade. You'll find everything here from local produce and arts and crafts to vintage clothes and bric-a-brac. For a more foodie flavour, try the Victor Harbor Farmers Markets. These are on Every Saturday from 8am to12:30pm in Grosvenor Gardens opposite Victor Central Shopping Centre.
Mini Golf
If you are looking for a fun thing to do in Victor Harbor, get along to Dunes Mini Golf. Located in prime position right on The Esplanade near the Granite Island Causeway and horse drawn tram, Dunes Mini Golf is a fantastic family activity. The fun and challenging course is themed up with many of the area's iconic birds and animals, keep an eye out for the pelicans, dolphins and whales as you putt your way around. Check their Facebook page for opening times, in cooler months they might be closed midweek.
J T Fisher Adventure Playground
The G T Fisher Nature playground is fun for kids of all ages. They will swing, climb, balance and play in this brilliant playground for hours. There are plenty of cafes and food vans nearby, so it is a great place for parents to relax. Previously, the centrepiece of the playground used to be an old steam train engine, but train lovers needn't despair, the old engine was included in the upgrade to the playground. If the kids want a change of scenery, the beach is right next door too.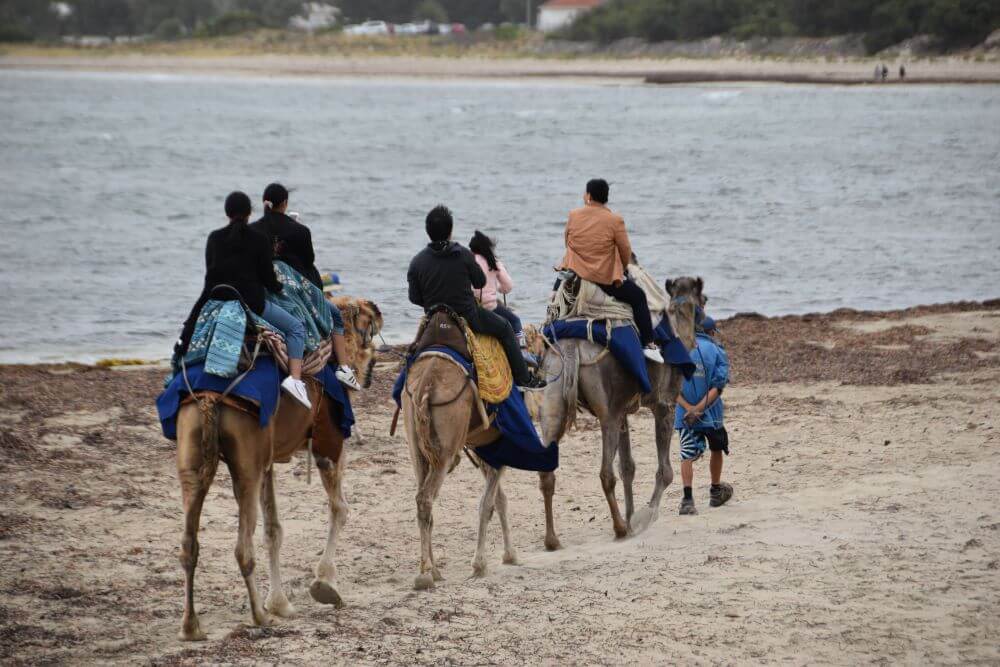 Camel & Pony Rides
Okay, so it might not be Broome's Cable Beach, but a camel ride along the sand at Victor Harbor is still great fun. If you haven't hopped on top a camel before, you should. There is a great rhythm to their walk as they stroll along the beach. If the camels look a bit big there are pony rides too.
Ride the Cockle Train
It doesn't matter how old you are, everyone likes a steam train ride. The Cockle Train runs between Victor Harbor and Goolwa and stops at the towns of Middleton and Port Elliot.
From the old carriages, and the sound and smell of the engine to the blast from the horn at the train crossings, it is a magic experience. It is a half hour ride one way. The train stops near the Goolwa Wharf and the main street.
Along the way there are views of the coast (for the best views of the water, try to get a seat on the right side of the carriage as you go towards Goolwa), townships, beach houses and farmland. At every crossing there are people on the road waving as you choof past. You can buy tickets online at the SteamRanger website or on the day at the station at Victor Harbor and Goolwa.
Ride or Walk on the Encounter Bikeway
This generally flat 30 km trail (one way) links Victor Harbor, Port Elliot, Middleton and Goolwa. Much of the ride is along the coast, along a combination of shared paths and roads. At the Victor Harbor end, the Encounter Bikeway starts at Rosetta Head (the Bluff). The shared sections of the path are suitable for cyclists, walkers/joggers, skaters and scooters. From Victor Harbor you can do shorter return rides to Port Elliot or Middleton. If you want to do the full length, but want a ride back to Victor, jumping on the Cockle Train for the return leg is a fun and less tiring option.
If you don't want the hassle of taking your bike to Victor Harbor you can hire a bike there. Spinway Adelaide has bikes for hire at the Esplanade near the Causeway and at the Victor Harbor Beach Front Caravan Park. If you want to start your ride from the middle of the track, you can hire a bike from Surf and Sun in Middleton.
Climb Rosetta Head – The Bluff & Petrel Cove
The Bluff, or Rosetta Head, is a prominent headland about a 10 minute drive from the middle of Victor Harbor. It is a spectacular place. On one side of the headland is Encounter Bay. There is a boat ramp there and, tucked in next to The Bluff, a small jetty which is a popular fishing spot.
On the other side of the Bluff is Petrel Cove. As friendly as the beaches around Victor Harbor are, the beach at Petrel Cove is not. It is a rugged bay with strong currents and big waves are common. There are also a lot of rocks near the shoreline. Best swim elsewhere.
Between Petrel Cove and Encounter Bay is The Bluff itself. The Rosetta Trail is a solid 800m climb up a sometimes slippery track but it's not a long walk. Five or ten minutes will get you to the top and there are rest stops and great scenery along the way.
The views from the top are fantastic. Although it is not that high, it is quite exposed, and it can get windy. Look out for whales between April and October and look up for white bellied sea eagles.
Coral Street Art Space
A relatively new centre, the Coral Street Art Space is a hub for creative exhibitions and events featuring local and visiting artists. The local Ngarrindjeri / Ramindjeri culture features throughout the space which is known in the local languages as Tumbi Tjil-urmi Titi (Living Arts Centre). Keep an eye on their website for current and upcoming exhibitions.
For more local art you can also have a look through the nearby Victor Harbor Regional Art Gallery or the Victor Harbor Art Haus. There is also a lot of public art scattered around Victor Harbor. A couple of highlights are the whale sculpture Kondoli at Kleinig's Lookout which overlooks Victor Harbor as you approach from Port Elliot, the Botanical Wonder mural on the Telstra Exchange building in Ocean Street and the Elemental sculpture also in Ocean Street.
Axe Throwing Alley
If you think you have done everything Victor Harbor has to offer, have you tried axe throwing? If you want to do something new or want to get out of the weather, head to Chop It Axe Throwing Alley. Even if you don't think hurling an axe at a target is for you, give it a try. It is surprisingly addictive. There is a family friendly vibe at Chop It and an emphasis on safety – kids get to throw a rubber axe.  Relax at the licensed café or extend your visit and see if you are up for the challenge of their Escape Room.
Victor Harbor History – Museums + Harbor Heritage Trails
If you want to immerse yourself in Victor Harbor's rich history, there are two heritage trails and a wonderful family friendly museum to visit. The National Trust Museum is between Flinders Parade and Warland Reserve. There are also two heritage trails; one is a walking tour around the town, the other covers sites around the district.
Victor Harbor National Trust Museum
Open from Wednesday to Sunday and everyday in school holidays and public holidays, the Victor Harbor National Trust Museum tells the story of Victor's evolution from a 'pioneer port to a seaside resort'. There are all kinds of artefacts, hundreds of pictures and interactive displays that that cover the town's early explorers, whaling history and indigenous culture. The museum includes the Discovery Centre Gallery and Customs House Museum so there is plenty for history buffs and a range of games, dress ups and displays designed to keep children engaged too.
Town Centre Heritage Trail
The 3km, 90 minute Town Centre Heritage Trail is a great way to learn more about the history of Victor Harbor. There are 38 sites along this compact trail which are marked by oval-shaped plaques that give a history of each location. The trail starts at the Visitor Information Centre, where you can grab a map, and weaves through Victor Harbor's streets past everything from the early churches, bank buildings and the police station to old cinemas and the town hall. There are plenty of places to grab a coffee along the way.
Outer Heritage Discovery Trail
The Heritage Discovery Trail goes beyond the centre of Victor Harbor and includes historical sites and building either side of the town centre and on Granite Island. There are a further 26 sites to look at on this trail. You will a car to get between them as they are quite spread out although several are clumped together in walking distance. You could spend half a day ticking them all off or see them over a few visits. You'll be seeing jetties, bridges, shops, mills and grand old homes along the trail.
Things to do near Victor Harbor
Whale Watching
Whale season runs from May to September and the Encounter Sanctuary Zone within the Encounter Marine Park is a great spot to see migrating souther right whales. Mothers and calves are regulary sighted in the protected waters around Victor Harbor. The whales can bob up in any of the waters around Victor Harbor and the best way to keep track of where they are is to follow the Whale Centre's Live Sightings Log.
Sometimes they can be quite close to shore. A mother and calf once tuned up in the bay not far from the causeway connecting Granite Island and Victor Harbor. Basham Beach between Port Elliot and Middleton has a great whale watching platform complete with signage and a big set of binoculars. The seaward side of Granite Island is another good viewing location as is the elevated view from The Bluff.
Read More : Our Experience on the Big Duck Wildlife Cruise
Play in the rock pools at Kings Beach
Kings Beach is a 15 minute drive southwest of Victor Harbor, look for the turn off from Waitpinga Road. This is a beautiful spot to go beachcombing or playing in the rock pools; kids will find all kinds of little critters. The views along the coast and out to West Island are amazing. On a good day you can go for a swim, just keep an eye on conditions. It is also a perfect spot to sit back, watch the waves and see if you can spot some of the local dolphins.
If you want to really spoil yourself, stay for a night or two in the beautiful accommodation at Kings Beach Retreats. If you like coastal views and accommodation with a touch class and the best views on the Fleurieu Peninsula, this is the spot for you. It's the perfect place to put up your feet and stare out at the ocean.
Read More: The Ultimate Guide to Adelaide Beaches
Waitpinga Cliffs to Kings Beach Walk
If you want to stretch your legs, the walk from the Waitpinga Cliffs to Kings Beach is a beauty. The walk starts at the carpark near the Waitpinga Campground where it winds through scrub before turning towards the coast and the beautiful Waitpinga Cliffs. The 11.5km undulating walk finishes at Kings Beach and takes 4-6 hours. Take plenty of water if it's warm, it is quite an exposed walk, but the views are fantastic. Waitpinga Campground is 20 minutes from Victor Harbor, the track is part of the Heysen Trail.
Walk to Hindmarsh Falls
Picturesque Hindmarsh Falls are about 20 minutes north of Victor Harbor, look for signs from Hindmarsh Tiers Road. The falls are at their best after rain, so winter or spring are the best time to see them. From the carpark it is a short 200 metre walk to the lookout, there are a few sets of steps as you near the waterfall. As you walk to and from the falls, keep an ear and eye out, there are plenty of birds in the scrub along the path.
Softfoot Alpaca Farm
If you find it hard to resist an alpaca's big eyes, long eyelashes and woolly coast you should pay a visit to Softfoot Farm. Located in the Hindmarsh Valley only 15 minutes from Victor Harbor, there are guided tours aboard an ATV buggie where you will get to meet and feed these totally cute animals, your heart will melt when you see them up close on the tour. Softfoot Farm is also a wildlife sanctuary, and their Moonlit Wildlife Tour is a great chance to see some usually hard to spot native wildlife such as bettongs, potoroos and bandicoots in their natural habitat.
There are also some luxurious accommodation options at Softfoot Farm, their retreat cabins are beautiful, lunch or dinner at the Swagman Chargrilled Restaurant is the perfect way to top off your stay there.
Visit nearby Goolwa + Port Elliot
While you could spend a weekend seeing all of Victor Harbor's attractions, there are a couple of other fun town within 20 minutes of Victor Harbor. Nearby Port Elliot and Goolwa are great daytrips on their own, but if you are spending a few days in the area, you should check out some of the things to do in these towns too. Here are the highlights:
Goolwa – Spend a day walking, swimming, surfing or fishing at Goolwa Beach, wine dine and relax at the Goolwa Wharf Precinct, Goolwa Markets every other Sunday, drive to Hindmarsh Island to see the mouth of the Murray – Read our full Guide to things to do in Goolwa.
Where to Eat in Victor Harbor
Causeway Café
Small but yummy breakfast and lunch menu and seriously good coffee right in the heart of Victor Harbor next door to Dunes Mini Golf.
Ninos Café
Delicious dine in or take away Italina food for breakfast, lunch or dinner. The casual atmosphere and great food are a perfect fit for Victor's holiday vibe.
Mums Beard Café
Amazing cakes, coffee and meals made with locally sourced ingredients, there is a coll relaxed vibe here, a must try when you are in Victor.
Strawberries Galore
You can't miss this food stand just near the Hotel Victor. If you love strawberries, you have plenty of sweet treats to choose from here!
Seaside Fish & Chips
What's a day at the beach with some fish and chips? And some of the best you'll find is here opposite Warland Reserve, the batter is perfect!
Yilki Store
A couple of minutes out of the centre of Victor on Franklin Parade, the Yilki Store is an institution – best known for simple,great food, amazing service and relaxed atmosphere.
Victor Harbor Accommodation
If you enjoyed this story you might also like:
McLaren Vale Wineries for Lunch | Romantic SA Mystery Picnic | Plan a Trip to Robe
Like it? Pin it for Later…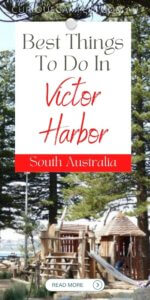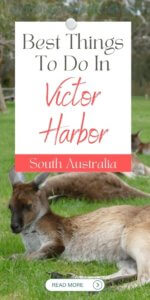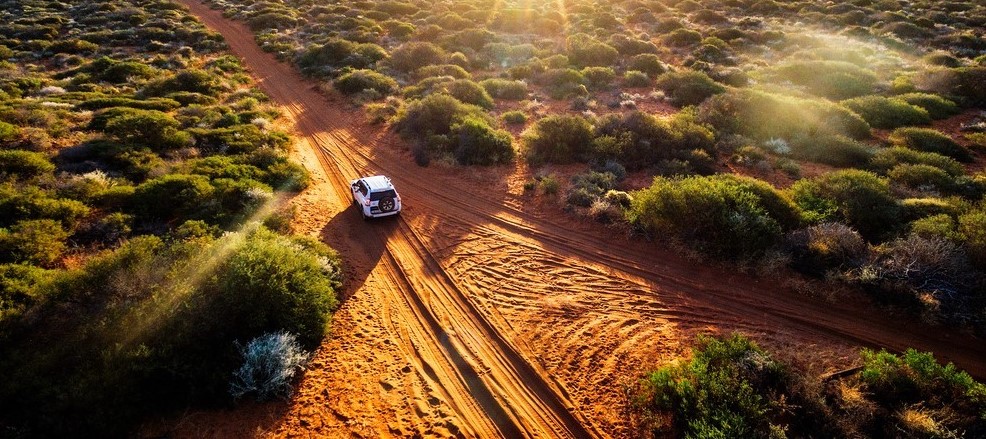 500 THINGS TO DO
Join our mailing list and receive our Free Top 500 things to do in Australia. If you love the Australian Outdoors download this list and keep it handy when you are planning a weekend away or a road trip around Australia.
Recent Posts