The Alice Springs Desert Park is the perfect way to learn more about arid landscapes. The park doesn't just have wildlife. You also get an insight into different desert habitats and plants. How the Arrernte people have lived in this environment for thousands of years is also a feature.
It wasn't your average October day in Alice Springs for our visit. The temperature struggled into double digits and it started to rain. While it wasn't quite what we expected, we still had a great time exploring the park.
Disclosure: Please note that some links in this post may be affiliate links, and at no additional cost to you, we earn a small commission if you make a purchase. Commissions are appreciated and go toward maintaining the Curious Campers website.
Location and cost
The Alice Springs Wildlife Park couldn't be easier to find. It is 10 minutes from Alice Springs on Larapinta Drive. If you are feeling energetic, there is a pedestrian and bike path access. There are 'Drive and Ride' options from Albrecht Oval and Flynn's Grave either side of the park.
Admission is $37 for adults, $18.50 for kids 5-16 and under 5 are free. There are also a range of concession discounts and family group packages. If you want to beat the heat, the park opens at 7.30am. The nocturnal house opens at 9.00am. The parks website suggests you allow 3 – 4 hours to look around.
ALICE SPRINGS DESERT PARK ENTRY
Avoid the queue and grab your tickets online to Alice Springs Desert Park. Explore the plants, animals, and people of the desert during a self-guided visit. Learn about the arid regions of central Australia, find out what resides in a waterhole and which critters come out at night. See native Australian desert birds and wildlife in natural enclosures.
Animals
What we didn't realise when we arrived at the Desert Park was that it is about more than animals. If you are expecting a normal wildlife park, with lots of enclosures, think again. There are dingo and red kangaroo exhibits but that's about it.
That said, it was great to see these animals. As we approached the dingoes, they popped out of their den to see what we were up to. The red kangaroo area is a walk through exhibit. We don't see red kangaroos in the Adelaide hills, so it was good to these up close too.
But don't worry, there is still plenty for wildlife fans. The nocturnal house and the bird aviaries are fantastic. They are worth the entry fee alone.
Birds
No matter where we were in Central Australia, we couldn't get over the number and variety of birds. So, it isn't surprising that birds are such prominent feature at the Alice Springs Desert Park.
There are no fewer than seven bird exhibits spread around the park. Every one of them are full of colourful, noisy birds of all sizes. We got the shock of our lives when we saw a huge Australian bustard walk in front of us.
You can walk through two of the aviaries. Take your time, stay nice and still and you'll see birds everywhere. From parrots to tiny honey eaters, there's colour and bird calls all around you.
BOOK YOUR STAY AT OORAMINNA HOMESTEAD
Book your outback station stay at Ooraminna. Choose from four unique cabins - stone, timber, log or tin.  The 600 acre property is only 30 minutes from Alice Springs.  It has a rugged desert beauty with rocky escarpments and views of the Ooraminna Hills. Relax in style.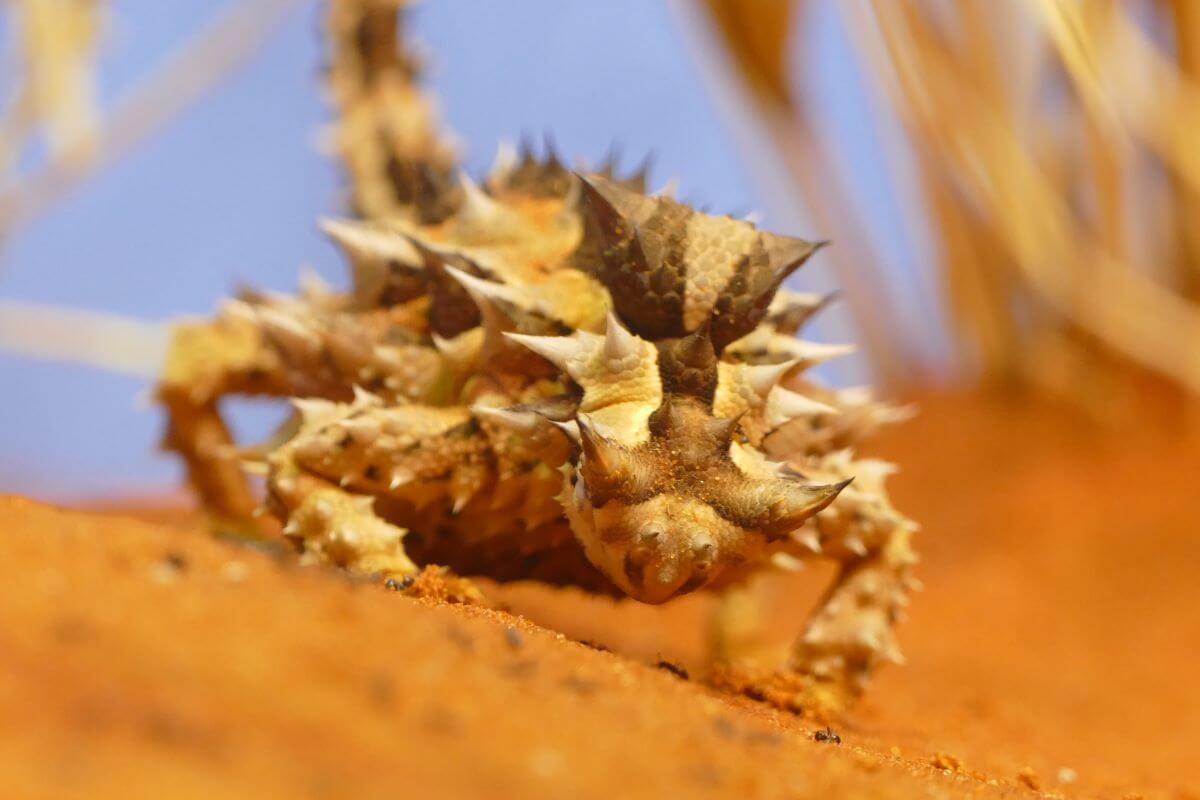 Nocturnal House
This is the best nocturnal house we have been to. It's big in every way. There is heaps of room to move around and the exhibits are big too so everyone can get a good look. We have to admit, on this cool, wet day in Alice Springs, crowds weren't much of a problem!
The nocturnal house has over 30 animals, most of which you'll be lucky to spot in the wild. Seeing the rare mala (rufous hair-wallabies), bettongs, bilbies and spinifex mice were highlights. There are also some reptile exhibits near the nocturnal house.
We were walking past the thorny devils when it was time for them to get fed. It's fair to say that thorny devils don't react to feeding time with the same excitement that some animals do. Still, when a fresh tin of blank ants is on offer, the thorny devils were as busy as they can be hoovering them up.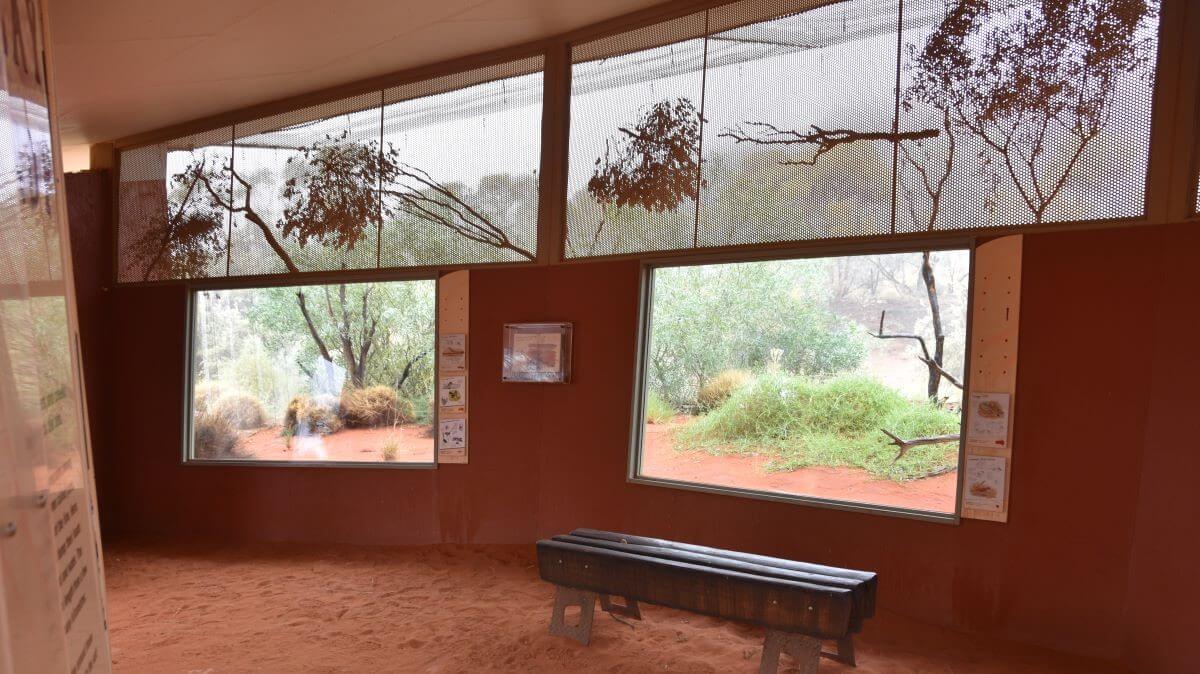 Presentations and Activities
Throughout the day there is a full schedule of information sessions and events. There are keeper talks, cultural activities and free-flying bird demonstrations. There are also several screenings of Changing Hearts. This short movie looks at the geological history of the desert.
Our reward for walking around the park in the rain was that we had three keeper talks to ourselves. We went to the Desert Woodland and Desert Rivers bird feeding sessions. We also got to the Old Man Kangaroo talk in the red kangaroo exhibit which was interesting.
Despite the small crowd and dreary day the keepers were still enthusiastic and generous with their time. The bird feedings were fascinating. We heard how all the species co-exist in the aviaries and seeing them swarm the keepers for food was great fun.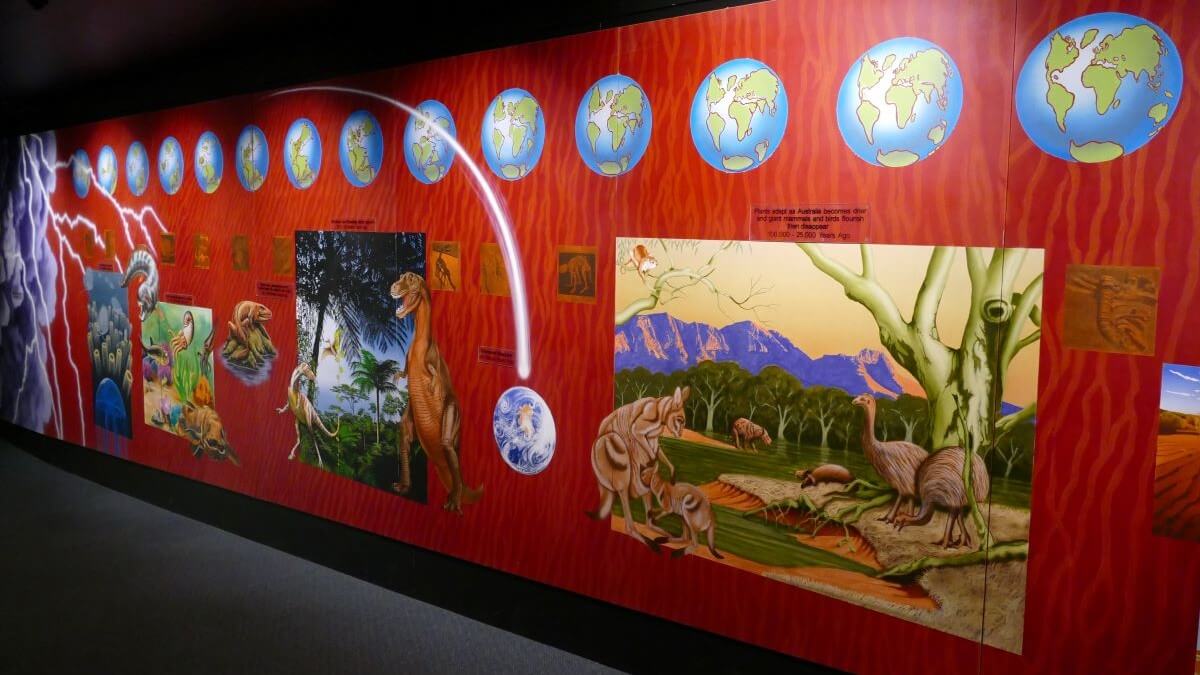 Changing Heart Movie
This 20 minute short film covers the 4 billion year history of the desert. It is really well done. You get a brief but clear picture of how the landscape and the creatures living in it has changed over time.
The movie screens three times a day beginning at midday. It is a lovely modern theatre and the afternoon sessions would usually be a nice break from the heat of the day. Instead, we enjoyed being dry!
The film ends with the story of the formation of the MacDonnell Ranges we see today. The finale is the screen disappearing to reveal a stunning view of the ranges in front of you. All we saw were the ranges shrouded in low cloud, it was a tad anti-climactic but still well done.
BEST CAMERA FOR WILDLIFE PHOTOGRAPHY
We love our Panasonic Lumix Fz1000 Compact Camera. It is the perfect camera for wildlife photography. It has the most amazing zoom and is not too heavy or big. You can easily use this camera in auto mode or switch to manual settings. The auto scene modes such as sunset are fabulous!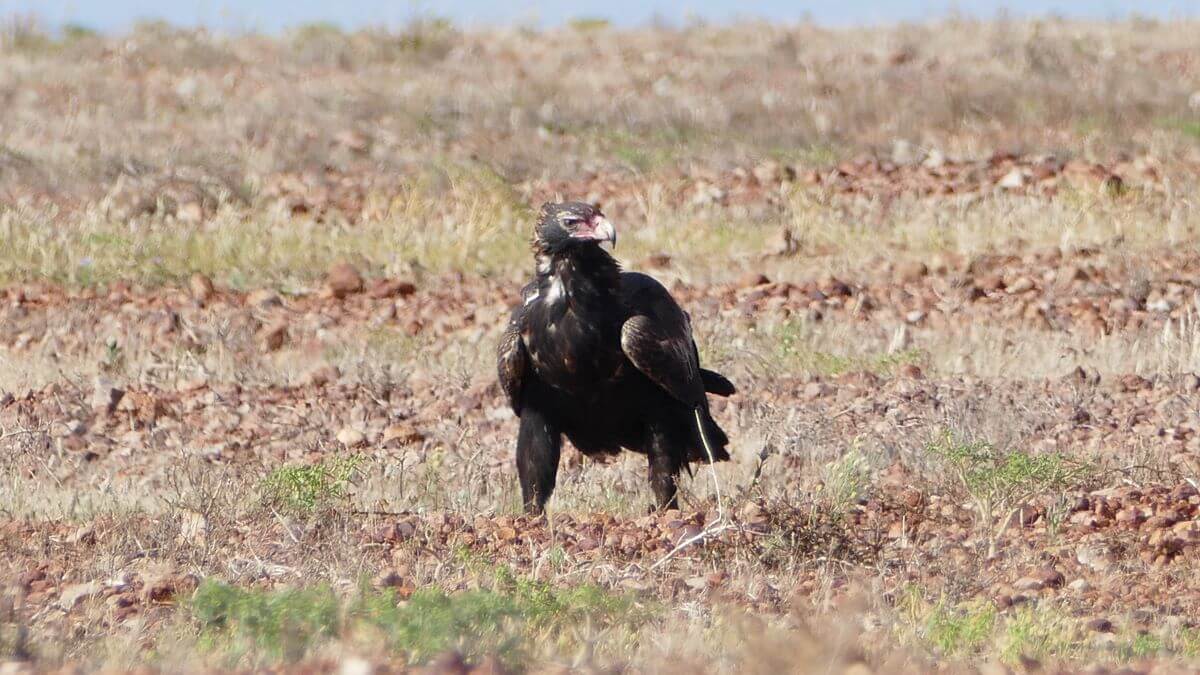 Nature Theatre
Another feature of your day at the Desert Park is the free-flying bird demonstration. Here, birds of prey showcase their natural hunting behaviours. There are two shows a day in the Amphitheatre. Gates to the shows open 15 minutes before the demonstrations begin.
Most of the birdlife we saw at the Desert Park was having a great time in the rain. In all the aviaries there was a lot of chirping and feather fluffing going on. The keepers said there hadn't been rain for some time and they hadn't seen the birds this happy for ages.
The exception to this was the birds of prey. We missed the first show and because of the rain the second show didn't go on. To be honest, we'd seen so many eagles, falcons and kites as we drove around Alice Springs we didn't mind.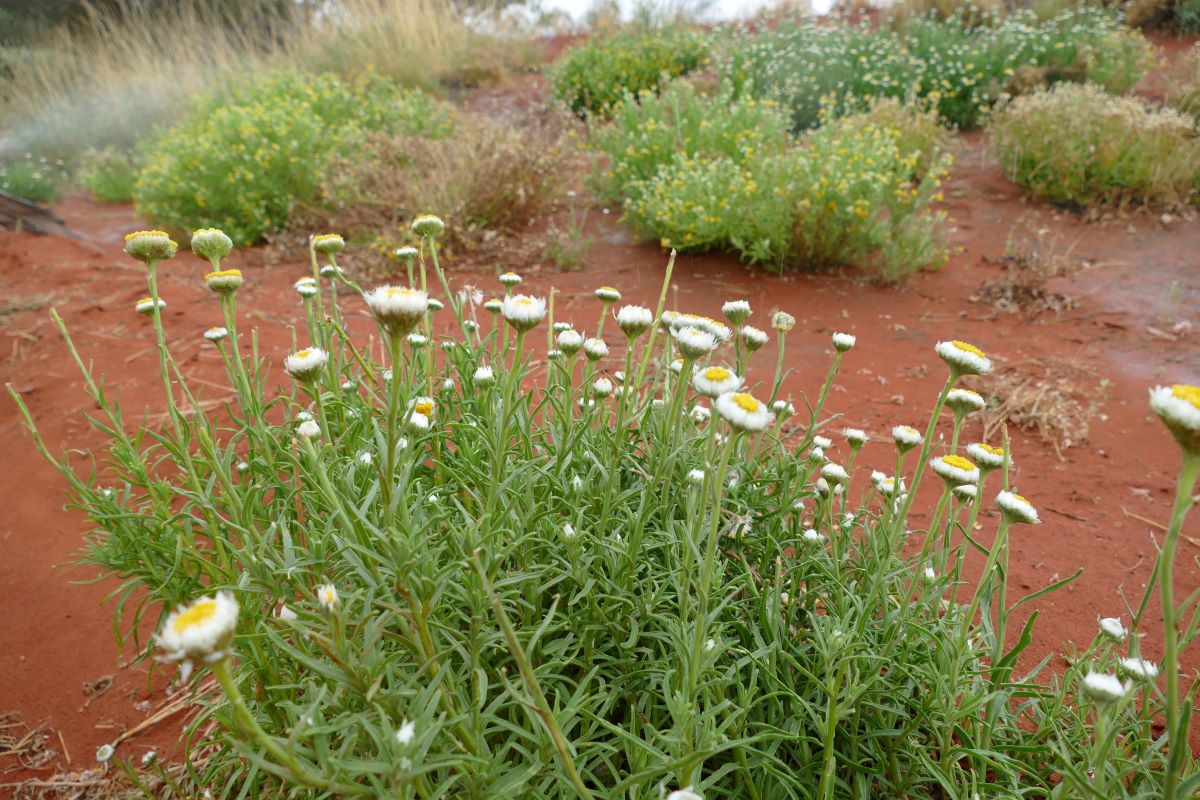 Botanic Gardens
Besides the birds and animals, the park features three habitats. There is the Sand Country, Desert Woodlands and Desert Rivers. With the ranges in the background it is nice walking through them seeing the diversity of plants.
While there's plenty of interpretive signage, there is also an online audio tour you can do. There is a QR code you can scan with your phone that links to the Trees of the Desert botanical tour. A second QR code accesses a general park tour.
Other things to do
We lasted around 4 hours but as the puddles got bigger, and the red dirt turned into gluggy red mud it was time to call it a day. We'd hoped to see the Dingo Dreaming talk at the end of the day, but the weather beat us. We walked past the dingoes on the way out. They didn't bound up to see us this time, they looked quite happy curled up in their den out of the rain.
There is a 90 minute evening Nocturnal Tour you can do in the Mulga Enclosure. There is an extra cost to do it. It wasn't on when we visited but it would be a great chance to see the desert come alive at night.
There is a big cafe and playground at the entrance to the park. You'll be doing a bit of walking when you visit so travelling light and having lunch at the café is a good way to go. The kids will love climbing on the giant thorny devil outside the café.
ALICE SPRINGS DESERT PARK ENTRY
Avoid the queue and grab your tickets online to Alice Springs Desert Park. Explore the plants, animals, and people of the desert during a self-guided visit. Learn about the arid regions of central Australia, find out what resides in a waterhole and which critters come out at night. See native Australian desert birds and wildlife in natural enclosures.
LIKE IT… PIN IT FOR LATER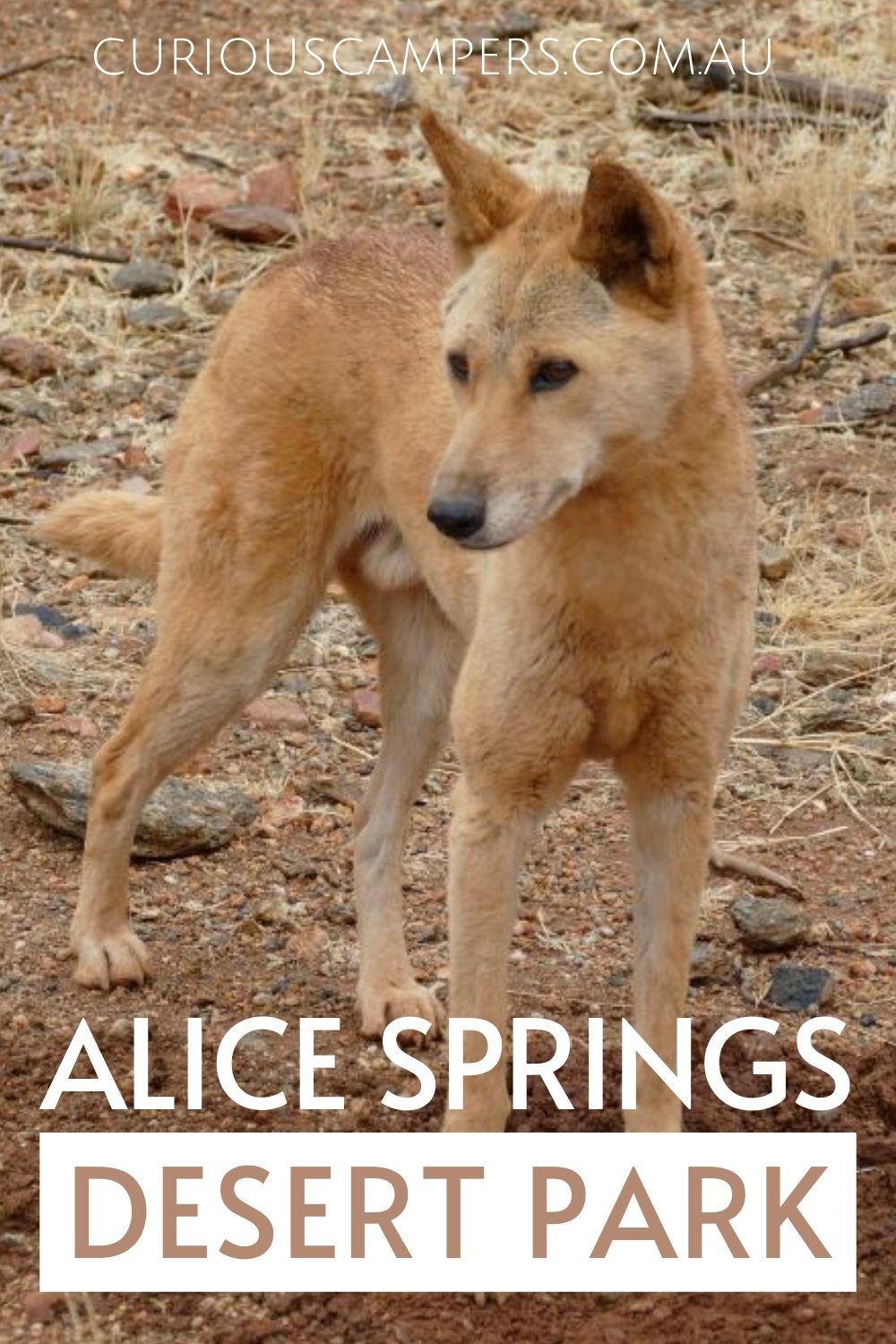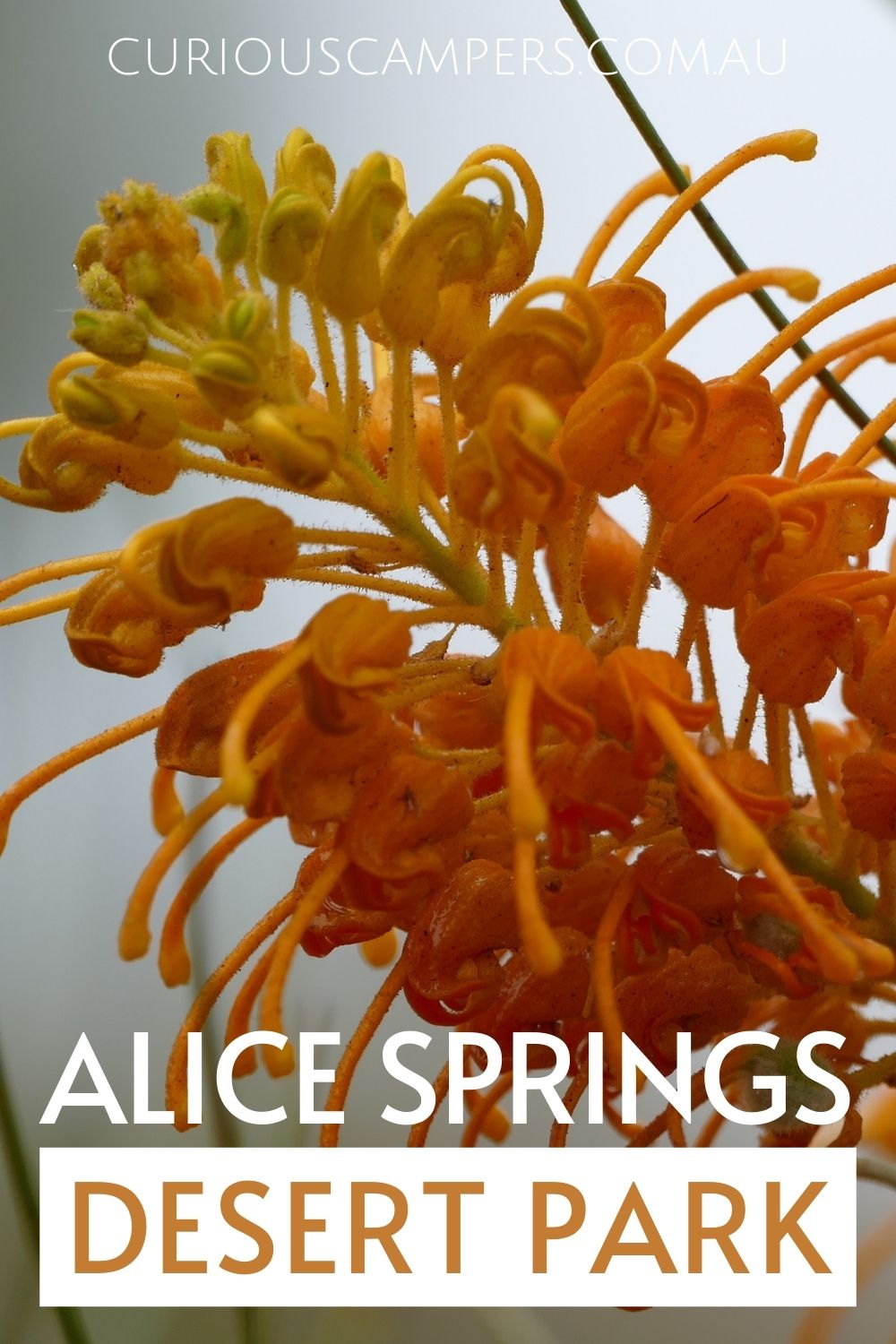 500 Things to do
Join our mailing list and receive our Free Top 500 things to do in Australia. If you love Australian Outdoor Experiences download this list and keep it handy when you are planning a weekend away or a road trip around Australia.